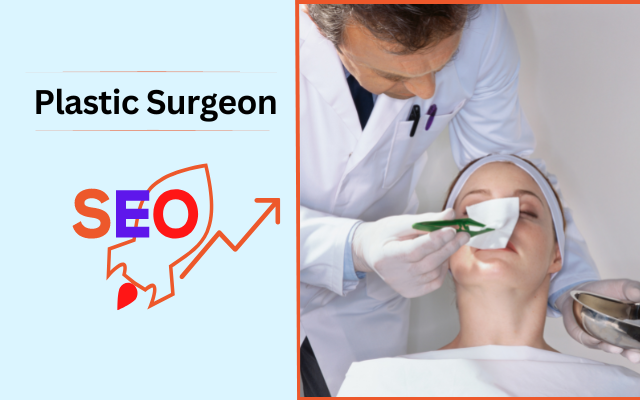 If you're a plastic surgeon, chances are you're always looking for ways to attract new patients and grow your medical practice. And one of the best ways to do that is by implementing plastic surgeon SEO.
When people search for plastic surgeons in their area, you want to ensure your name comes up first. SEO for plastic surgeons can make that happen.
We've put together this easy-to-follow guide to help you get started.
Table of Content
Let's dive in:
What is Plastic Surgeon SEO?
Plastic surgeon SEO is the process of optimizing a plastic surgeon's website and online presence to rank higher in search engine results pages (SERPs) for relevant queries. This can be achieved by optimizing the website content, improving the site architecture, building high-quality backlinks, and generating positive reviews and social shares.
Why do Plastic Surgeons Need SEO?
Plastic surgeons need SEO because their industry is highly competitive. Patients are searching for the best plastic surgeons online. So plastic surgeons need to have a robust online presence and get found on the first page of Google and other search engines. SEO can help them do that.
Additionally, SEO can help plastic surgeons generate more leads from interested patients. Using targeted keywords and phrases, plastic surgeons can create content that appeals to potential patients searching for information on specific procedures. This content can then be used to drive traffic to the surgeon's website or blog posts.
Top SEO Tips for Plastic Surgeons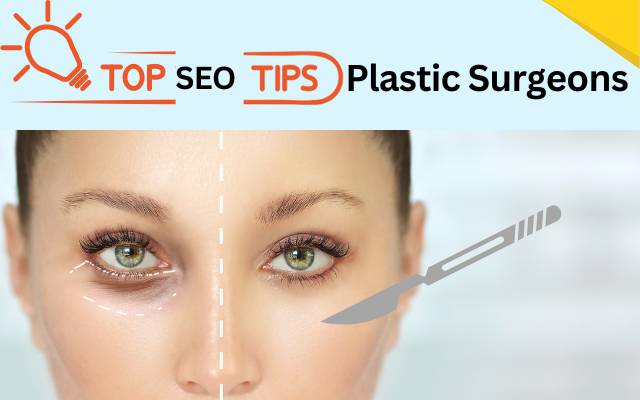 The following are eleven proven SEO tips to improve the ranking of your plastic surgery practice website:
1. Conduct a Thorough Keyword Research
When it comes to cosmetic procedures, people often have a specific goal- getting rid of wrinkles or getting a tummy tuck. This means potential patients search for particular terms when looking for a plastic surgeon.
As a result, plastic surgeons must conduct thorough keyword research to ensure their website is optimized for commonly searched terms and phrases related to their specialty and services.
By targeting the right keywords, potential patients are more likely to come across the surgeon's website, leading to increased leads and, ultimately, success.
In addition, constantly monitoring and updating keyword research helps ensure that the surgeon stays ahead of any changes in search trends and remains visible on search engine results pages.
In other words, investing time and effort into keyword research can truly make or break the success of a plastic surgeon's SEO strategy.
Related: The Biggest Mistakes You Should Avoid in SEO Keyword Research
2. Use Relevant Keywords throughout Your Plastic Surgery Website
Did you know that most potential plastic surgery patients begin their search for a qualified surgeon online? That's why it's crucial for your plastic surgery website to be optimized with relevant keywords.
A well-thought-out keyword strategy helps your site appear higher in search engine results, attracting more potential patients to your practice.
In addition, including targeted keywords on your website helps to demonstrate your expertise in specific procedures and can lead to better conversion rates as visitors are more likely to schedule a consultation.
Maximizing the use of keywords on your plastic surgery website is an essential step in growing your practice and attracting high-quality patients.
Related: Results-Driven SEO Packages to Boost Organic Traffic & Leads By 10X
3. Create Useful Content that Addresses Patients' Queries
When prospective plastic surgery patients go online to research doctors and procedures, the content on a surgeon's website can make all the difference.
High-quality, informative content educates potential clients and helps with search engine optimization (SEO). A plastic surgery website can improve its ranking on search engines like Google by including relevant keywords in blog posts and website copy.
Additionally, regularly updating a website with fresh content signals to search engines that the site is active and relevant, improving its chances of appearing at the top of search results.
In today's digital world, having strong content on a website is crucial for driving organic traffic and ultimately attracting new clients.
A plastic surgeon's SEO success depends heavily on the quality and timeliness of their website content.
Here are critical types of content you should produce to boost plastic surgery SEO:
Blog posts
Explainer videos
Infographics
Checklists
In addition to creating useful content relevant to the services you offer, you should make a plan to promote your content. This is because content promotion determines the success of SEO for plastic surgeons.
Related: Content Promotion Tips to Increase Your Content's Reach
4. Fix On-Page SEO Issues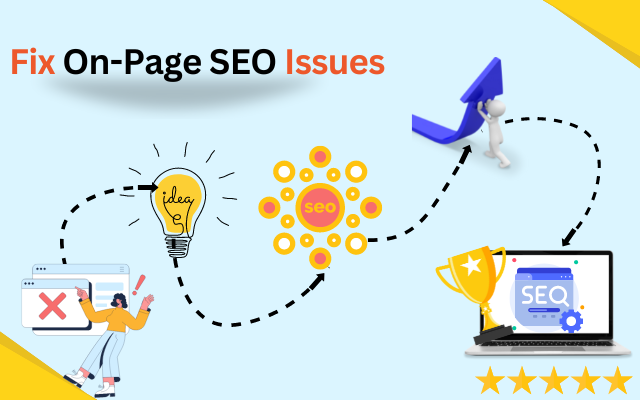 Regarding website optimization, many plastic surgery practices focus primarily on off-page SEO, like link building and online reviews.
However, it's essential to pay attention to on-page SEO as well. This includes everything from the structure and content of your website to meta tags and page titles.
Why does this matter for plastic surgery SEO?
On-page factors significantly impact your search engine rankings and can make it easier for potential clients to find you for specific procedures or treatments.
In addition, a visually appealing and user-friendly practice website can enhance the trustworthiness of your practice and encourage visitors to schedule a consultation.
So, pay attention to on-page SEO when crafting your plastic surgery online marketing strategy – it could make all the difference in attracting new clients.
Related: 12 Essential On-Page SEO Factors You Need to Know
5. Fix Technical SEO Issues
Technical issues can prevent search engines from properly crawling and indexing your website, leading to lower search rankings of your plastic surgery's website.
A slow-loading website can also negatively impact user experience and drive potential clients away. As such, it's important to regularly audit technical SEO factors to ensure that your plastic surgery website is easily accessible and functioning properly for search engines and users alike.
This includes improving page speed, fixing broken links, and 404 errors.
By taking care of technical SEO issues, you'll create a stronger foundation for successful plastic or cosmetic surgery marketing efforts in the long run.
Related: Technical SEO Audit Checklist You Should Follow This Year
6. Improve Mobile SEO
In the modern age, it's almost impossible to go a day without checking our phones. We use them for everything from communication to entertainment to finding information. That's why plastic surgeons must have a solid mobile SEO strategy.
Patients are likely conducting their research on their phones, searching for terms like "best plastic surgeon in [city]" or "breast augmentation near me."
If your website doesn't appear in these mobile searches, you could miss out on potential patients.
In addition, websites that aren't optimized for mobile devices can appear unprofessional and may even lead customers to click away in frustration.
Mobile SEO can ensure that your website looks excellent and easily accessible no matter what device it's being viewed on, helping you attract and retain more clients.
Keep your plastic surgery practice from falling behind – invest in mobile SEO today.
Related: A Definitive Guide to Mobile SEO (That You Can Easily Follow)
7. Run Off-Page SEO Campaigns
It's not enough to have a functional website – you also need to focus on off-page SEO. This involves building links to your site through directories, guest posts, online reviews, and digital PR.
In a competitive market, off-page SEO can be crucial in enticing new patients to choose your practice over others. Off-page SEO helps improve your ranking on search results and build trust and credibility among potential clients.
So, pay attention to this critical aspect of digital marketing – nurture your online presence and watch your practice grow.
Here are a few tips to improve the effectiveness of your off-page SEO campaigns:
Encourage happy patients to leave online reviews
Connect with local businesses and organizations through networking and partnerships
Submit your business information to relevant industry directories
Earn high-quality links from other websites through guest blogging or being featured as an expert in articles
Encourage satisfied customers to share their results on social media
Sponsor events or charitable causes within your community
Obtain press coverage through press releases or interviews
Off-page SEO is huge and can make or break your plastic surgery SEO campaign.
Related: The Ultimate Guide to Off-Page SEO
8. Focus on Local SEO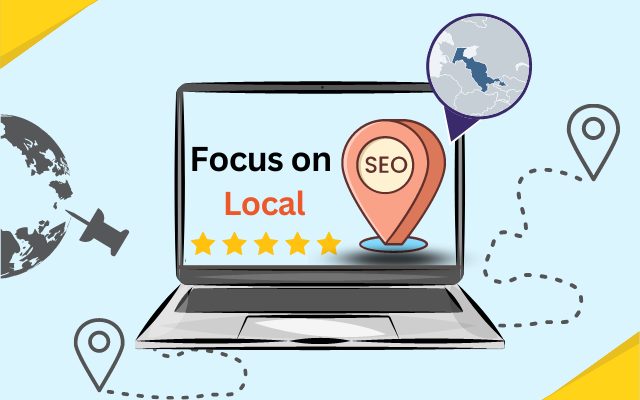 As a plastic surgeon, there is fierce competition in your field to attract new clients. One of the keys to standing out among the crowd and reaching potential clients in your area is through local SEO.
Claiming your Google Business Profile (formerly Google My Business), optimizing your plastic surgery website with location-based keywords, updating your online listings with accurate contact information, and actively managing your online reviews can increase your visibility to those searching for plastic surgeons in your community.
Moreover, leveraging online directories and review sites like Yelp can improve your local SEO while building trust among potential clients.
Local SEO allows prospective clients in your area to discover your practice and choose you among the competition. Investing time and effort into enhancing your local search presence can prove invaluable in building a successful plastic surgery practice.
Related: Top Local SEO Tips to Boost Your Local Search Rankings
9. Leverage the Power of Content Marketing
In the competitive world of plastic surgery, making sure your website stands out and ranks high on Google Search is essential. This is where content marketing can come in handy.
By offering valuable and informative content on your website, such as blog posts or video tutorials, you can improve your plastic surgery SEO and drive more traffic to your landing pages.
Additionally, sharing creative and inspiring content on social media can increase your online presence and attract potential clients. However, ensuring that the content is relevant to your industry and targeted toward your audience is essential.
Crafting an aggressive content marketing strategy can significantly enhance your plastic surgery business's online visibility, leading to increased success of your SEO campaign.
Here are a few tips for content marketing success for your plastic surgery clinic:
Highlight your unique qualifications and experience with a well-designed website and clear bios on review sites.
Regularly post engaging content on social media, such as before and after photos, testimonials from satisfied clients, and educational articles about plastic surgery procedures.
Stay current in your field by sharing news or events related to plastic surgery on your blog or social media pages.
Cultivate positive relationships with local businesses that may attract similar clientele and consider collaborating on blog articles or social media promotions.
Keep track of what content performs well with your audience and adjust your strategy accordingly by experimenting with different types of posts and targeting specific demographics.
By following these tips, you can boost the visibility of your plastic surgery practice and attract new patients.
Related: Most Important SEO and Content Marketing Trends You Need to Know This Year
10. Amplify Your Social Media Reach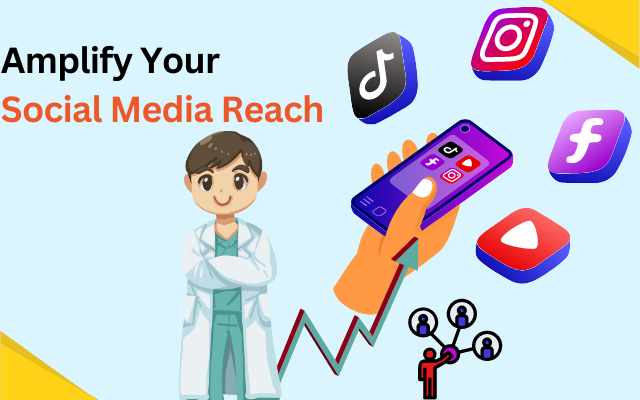 In today's digital age, social media is an invaluable tool for plastic surgeons looking to enhance their online presence and connect with prospective clients.
By posting before and after pictures, sharing industry news, or even hosting live Q&A sessions, they can attract potential clients and establish their credibility as experts in the field.
Additionally, engaging with comments and messages shows the potential patients that the surgeon values customer satisfaction.
But creating a robust social media presence goes beyond just making a Facebook, Instagram, or Twitter account. To leverage the power of social media to improve plastic surgery SEO, you have to adopt a strategic approach.
Here are some proven tips for plastic surgery practices to boost success on social media:
Choose a consistent username that incorporates your practice name across all platforms
Fill out all profile information altogether, including contact information and specialties
Use appropriate keywords in your bios and post descriptions
Utilize hashtags relevant to your industry, but avoid unprofessional or overly generic ones
Post consistently and frequently, sharing a mix of before-and-after photos, informative videos, and positive reviews from satisfied clients.
Social media can support plastic surgery SEO by helping to increase website traffic and developing brand awareness.
Related: 33+Twitter Hacks to Follow to Get Engagement Like Superstar
11. Track, Analyze, and Improve
By tracking and analyzing plastic surgery SEO, you can know how well your website ranks for important keywords and how much traffic is driven to your site. This information can then be used to make changes and improve your SEO, helping potential patients find you more easily.
Additionally, analyzing your SEO can also provide insights into the effectiveness of your digital marketing efforts and inform necessary adjustments.
In a competitive industry like plastic surgery, taking the time to track and analyze plastic surgery SEO can give you a significant advantage over rivals who neglect this aspect of their online presence.
How to Choose the Right Company for Plastic Surgeon SEO?
You want the best partner for your SEO efforts when it comes to your plastic surgery practice. A poor choice can lead to ineffective campaigns, wasted money, and lost opportunities for growth.
On the other hand, the right SEO company can boost your online presence on organic search and generate valuable leads.
Here are a few tips to choose the right SEO company for your plastic surgery website: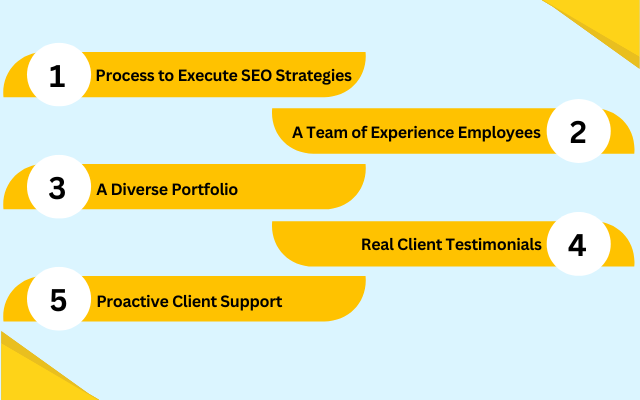 1. Clear Process to Execute SEO Strategies
When considering a company for plastic surgery SEO services, it is essential to look at the processes it uses to execute SEO strategies. A good digital marketing company will have a clear and defined process for conducting keyword research, developing content, and analyzing data.
It will also plan to make ongoing changes and adjustments to improve the search engine rankings of a plastic surgeon's website. Without a robust process, an SEO company may be unable to effectively track its progress or respond to changes in your industry.
So, when choosing an SEO partner, ask about their approach and ensure that it aligns with your goals and objectives. Trusting a company with a solid process can give you confidence in its ability to drive success for your business.
2. A Team of Experience Employees
When looking for a top-notch SEO company to increase traffic to your website, it's essential to consider its team composition.
A reputable agency will have a diverse group of experts, each with specialized skills and areas of knowledge.
An experienced SEO manager can help optimize website content and improve search engine rankings, while someone skilled in technical aspects such as web development can ensure a smooth user experience.
In addition, having analysts on staff helps the team track and measure the success of their efforts.
Without this combination of specialties working together, an SEO company won't be able to drive results for its clients effectively.
So, inquire about the team's qualifications before deciding which agency to hire. The right group of individuals can make all the difference in achieving successful online presences for plastic surgery practices.
3. A Diverse Portfolio
When looking for a reputable SEO company for a plastic surgery website, one of the best ways to gauge its expertise is by checking out its portfolio.
Do they have case studies showcasing successful campaigns for clients in plastic surgery and cosmetic surgery? Can it provide measurable results and specific strategies that led to these successes?
These are all essential factors to consider when evaluating a potential partner. Not only will a strong portfolio demonstrate their knowledge and abilities, but it can also give you insights into how they approach their work and how they might handle your plastic surgery practice's unique needs.
Don't be afraid to ask questions and dig deeper into the details of their past work.
A company offering plastic surgery SEO services will have no problem providing transparency in its portfolio and explaining its strategies in depth.
And remember, if a company doesn't have any relevant examples to show, that's a red flag.
Trust in an experienced team with proven success in your field for the best chance at long-term growth for your plastic surgery practice.
4. Real Client Testimonials
One of the most important factors to consider when searching for a reputable SEO company is reviews from other plastic surgeons.
A company offering plastic surgery SEO services will have genuine testimonials from actual plastic surgeons, not just generic praise on their website. These reviews should come from different plastic surgeons and should provide specific examples of the SEO company's success in increasing organic traffic and improving rankings on search engines.
Client testimonials also offer insight into the quality of customer service and the effectiveness of a particular SEO company's communication.
So before signing onto an SEO contract, make sure to do some research and look for genuine client testimonials to ensure you're choosing the best possible option for your plastic surgery practice's website.
Related: Importance of Online Reviews and Testimonials for Plastic Surgeons
5. Proactive Client Support
When searching for a company offering SEO for plastic surgeons, it's essential to consider its client support policies.
Of course, receiving prompt and helpful responses after contacting them is crucial, but a truly exceptional company will also take a proactive approach. This involves proactively addressing any potential issues, regularly providing updates and analysis on the effectiveness of their SEO strategies and suggesting new tactics as necessary.
In addition to improving overall results, this level of support shows a dedication to the client's success and helps build trust in the partnership.
So, it is imperative to prioritize proactive client support as part of service offering when looking for an SEO for plastic surgery.
Related: Ways to Spot If Your SEO Company is a Scam
Frequently Asked Questions
What is plastic surgery SEO?
Plastic surgery SEO is optimizing a website or online presence for plastic surgery procedures to increase web traffic and get more patients. This can include optimizing content, improving website structure and design, developing an effective search engine marketing strategy, and more.
What does SEO mean?
SEO is an acronym for "Search Engine Optimization." Its main objective is to improve the ranking of a website on search engine result pages (SERPs). The higher the ranking, the more likely people find the website.
How do you promote a plastic surgeon?
There are a few things that you can do to promote a plastic surgeon. One of the most important is ensuring the surgeon's website ranks high in Google search results. This can be done through search engine optimization (SEO).
Another thing you can do is to earn online reviews of the surgeon's work. These reviews will help to attract new patients and boost the surgeon's reputation. You can also post articles and videos about the surgeon's work on social media platforms like Facebook and Twitter. This will help to build awareness about the surgeon's work and attract new patients.
How much time does it take for SEO to show results on a Plastic Surgery website?
The time it takes for SEO to show results on a plastic surgery website can vary and is dependent on several factors, such as the current website ranking, the competition in the niche, website quality, speed and relevance of the website's content, and the effectiveness of the SEO strategy. Generally, it can take anywhere from 2 to 4 months to start seeing results from SEO efforts.
Conclusion
SEO is an integral part of any business, and plastic surgeons are no exception. By utilizing the top tips for plastic surgeon SEO listed in this blog post, you can help your plastic surgery website rank on the top of search engine results pages, bringing more patients to your practice. If you're looking for assistance with your SEO campaign, our team at Ranking By SEO is here to help.
Contact us today to learn how we can improve your website visibility and drive more traffic (and patients) to your plastic surgery practice.
Additional Resources