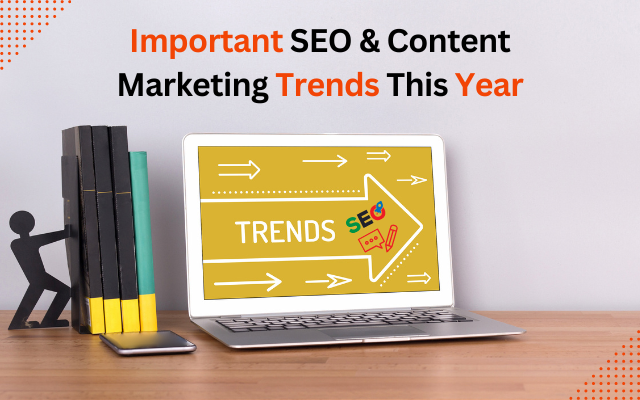 The COVID-19 pandemic did render most businesses useless. However, one industry did experience a huge boom – the search engine optimization market.
According to a report by researchandmarkets.com, the SEO industry is all set to grow from$41.97 billion in 2021 to $51.25 billion in 2022. The market is expected to reach $108.89 billion in 2026 at a CAGR of 20.7%.!
Given the current situation, the old marketing tactics don't seem to work anymore. Content is getting better, and search engines smarter. This automatically means that you need to stay up to date with its latest trends if you're in the industry.
There is no one-size-fits-all anymore!
Let's see the most important SEO and content marketing trends this year.
1. Content personalization leaves a powerful impact
Gone are the days when you could pitch the same content to different age groups and expect outstanding results. Today, the consumer has become smarter than ever and demands a personalized user experience.
Imagine showing content related to beard maintenance to women. They'll outright reject it; it's not relevant to them!
To help you share personalized content, 65% of consumers are willing to share their behavior in exchange for a better shopping experience.
Moreover, 91% of consumers claim that they will only engage with personalized content.
All the more reason to ensure your content marketing efforts are personalized!
So, one of the most important trends in content marketing is creating dynamic, personalized content that appeals to customers who need information that helps them.
Here are some numbers on how content personalization helps.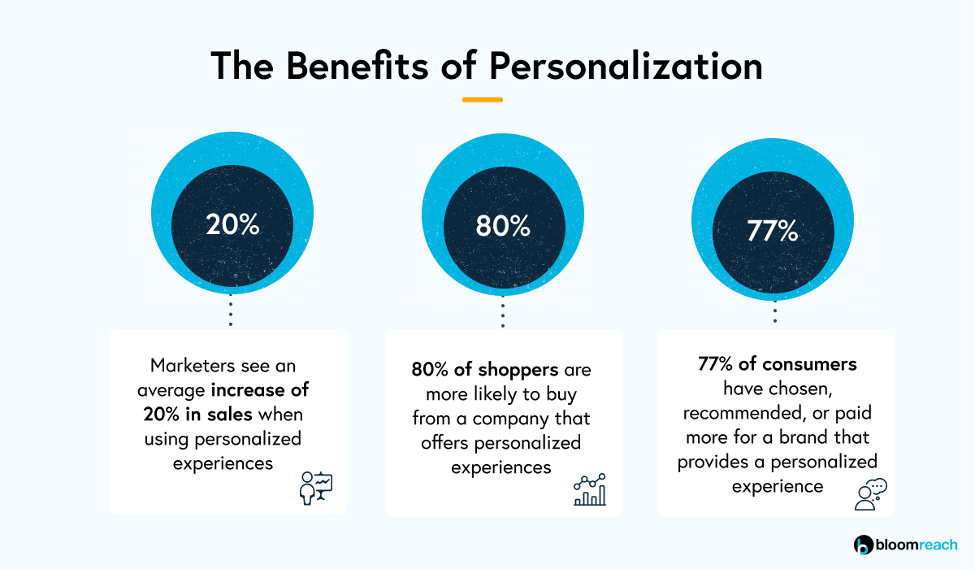 Source: Bloomreach
When a customer experiences personalization, they are more likely to engage with your business. This is because it automatically has a powerful impact on customer relationships.
So, this is not a trend for this year. But, this will always remain a trend because informational and high-quality content helps you rank better on one of the most powerful search engines in the world, Google.
Remember to research, engage with different communities, and see what your consumers are seeking.
As soon as you know them better, you will be able to create content that connects with them more deeply.
2. Video content and webinars are the new in-thing
Think about it; when was the last time you read a 2000-word article in one sitting with complete focus?
And now think of the many videos you watch online even when they aren't directly related to your business.
Clearly, video content leaves a lasting impact on the audience because people tend to remember it better. Moreover, it shows more stuff in a smaller timeframe than an article does.
So, no cookies for guessing that most businesses reported a positive ROI for video marketing!
Source: Wyzowl
Well, that's something you already knew, right?
Now, let me tell you something you perhaps didn't know. The pandemic caused an ultra-high increase in the demand for live videos!
Really, really give it a thought.
Suppose you were someone who went to a dance class or a fitness center, and suddenly, COVID-19 brought a hard stop to your routine. Your coach started offering video tutorials to help you come at least a tad close to maintaining your schedule.
You'd love to attend those!
Similarly, live webinars have made it to the top when it comes to content marketing and SEO trends because people enjoy A2As and are able to get involved with leaders from various industries.
Given all this, today, 91% of businesses are leveraging video to marketing their products and services in 2023.
So, if you're planning to launch a new campaign, have some sort of video content or webinar as part of it!
3. Enhancing Expertise, Authoritativeness, and Trustworthiness (E-A-T)
If you want your website and assets to perform well on Google, you need to keep yourself updated with its core updates.
Most of these updates are about improving expertise, authoritativeness, and trustworthiness.
Source: Slideshare
According to one of Google's blogs, understanding how raters assess content and websites helps the owner figure out how to improve content to match a users' needs. You can leverage this information in your content to improve your search engine rank.
Content is assessed on three factors majorly:
Expertise
Authoritativeness
Trustworthiness
This means that if your content showcases your expertise in the subject-matter and is reliable, you are automatically up ahead with the top rankers.
Authoritativeness primarily means whether your website or content has been linked by high authority websites.
To enhance your E-A-T, you need to perform the following actions:
Earn links or mentions by high authority websites
Add a bio and credentials to your content and create author pages
Link your content to reliable sources with supporting statistics and data
Update your content regularly with accurate and fresher information.
And lastly, don't forget to keep your content neat, to-the-point, grammatically correct, and well-presented.
4. Adding interesting visuals to content is trendy!
Did you see how Instagram and TikTok suddenly saw a surge in the last few years? Think Instagram Reels!
In fact, TikTok users grew by 85.3% in the US alone in 2020.
Gen Z and Alpha are obsessed with these platforms and post all kinds of content there, giving rise to more people doubling down on the trend.
And this isn't just limited to entertainment reasons. Today, marketers are leveraging TikTok and Instagram Reels to communicate with users about their products and services.
Moreover, the pandemic gave a boost to this – with people stuck at home, they had a good way to remain in touch with their friends and family.
Similarly, YouTube and Facebook remain the most famous among the Millennials and Xennials.
The increased usage of these platforms has given rise to demand and liking for visuals in content.
The trends for 2021 include Instagram AR filters, allowing users to create their own Stories, Snapchat's filters and lenses that add objects to an image, and Giphy to allow users to create their own GIFs from video clips.
About 50 percent of Millennials and Gen-Z say that they can't survive without video.
Leveraging these features and presenting dynamic, customized, and branding content will help you increase your reach.
5. Repurposing content across channels is quicker and more effective
Imagine creating a content strategy involving creating many, many pieces to get the attention of different users. One of these days, you're going to run out of ideas!
How about creating a big piece and then repurposing it into smaller chunks of appealing content to present to different groups and engage with your audience better?
Not only does it save time, but it also helps you increase your organic search.
Consider the following examples:
Turning a video series of an hour into 12-14 smaller videos, covering a variety of topics
Creating blogs around each of those 14 smaller videos
Posting the smaller videos on social media channels in the form of a series
Creating data sheets and product brochures of the big video
Distributing the video as a gated asset as part of a newsletter or email
Creating an eBook around the topics covered in the video
Designing different infographics for each of the smaller videos
The graph below shows how repurposed content influences purchase decisions.
Source: Neil Patel
Repurposing content has become a recent content marketing and SEO trend, and, as a marketer, taking advantage of it can help you make your marketing efforts more effective.
6. Artificial Intelligence just might take over
Did you know AI is all set to revolutionize content?
Not leveraging AI to analyze customer lifecycle and user intent can slowly make your business obsolete.
Not just that, smart marketers are also leveraging AI-powered content to convert and engage customers more effectively.
Here's how artificial intelligence and machine learning can help increase your customer base.
Source: Smart Insights
There are a few tools on the internet that use data to create summaries, blogs, and captions. In 2021, they have become even more readily available. API GPT-3 and Contentyze are two of them.
But that doesn't mean that you need to worry about your job as a content marketer.
Did you see how PPC got automated, but now PPC experts have even more to accomplish, and they are able to focus on more important things? So, AI-powered content is only going to help you succeed in engaging your audience even better!
Take a Leap – Action These SEO and Content Marketing Trends Today!
Keep your focus on creating high-quality content no matter what you do, and your content marketing and SEO strategy will surely come through.
Remember to repurpose your content and make it highly personalized so that your audience keeps coming back for more. These trends should help you increase your business reach this year and beyond. Let me know how it worked out for you!
Additional Resources: