Twitter has about 335 million monthly active users as of the second quarters of 2018, reports Statista.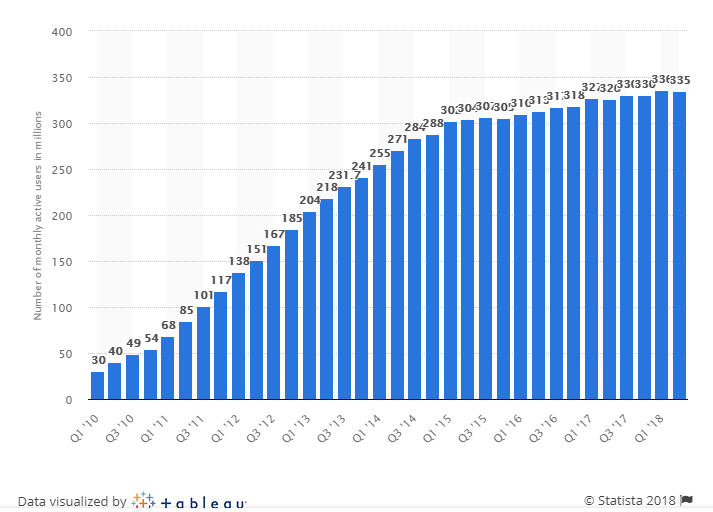 With a whopping 335 million monthly active users, Twitter can work for you as a lead generating machine. But not all are successful to harness the true power of this ever popular microblogging site.
Are you lagging behind on Twitter? Are your tweets not earning engagement?
If the answer to these two questions is Yes, you are at the right place.
In today's post, I'm going to discuss 23 powerful Twitter hacks to follow in 2019.
After reading this post, you will know what you should do to supercharge your Twitter activities.
Without further ado, let's dive in:
Twitter Bio Hacks
What does your Twitter bio say? Does it include the following buzzwords?
Growthhacker
Networking Ninja
Marketing Guru
Well, my friend, these words are just fancy words and don't tell people what you actually do. So you should explain clearly what you actually do or what you actually like instead of filling your bio with these vague words.
Here are some tips to write a kickass twitter bio for your profile.
1- Remove buzzwords from your Twitter bio and state clearly what you do. Your audience should be able to know what you exactly do.
Following is my Twitter bio.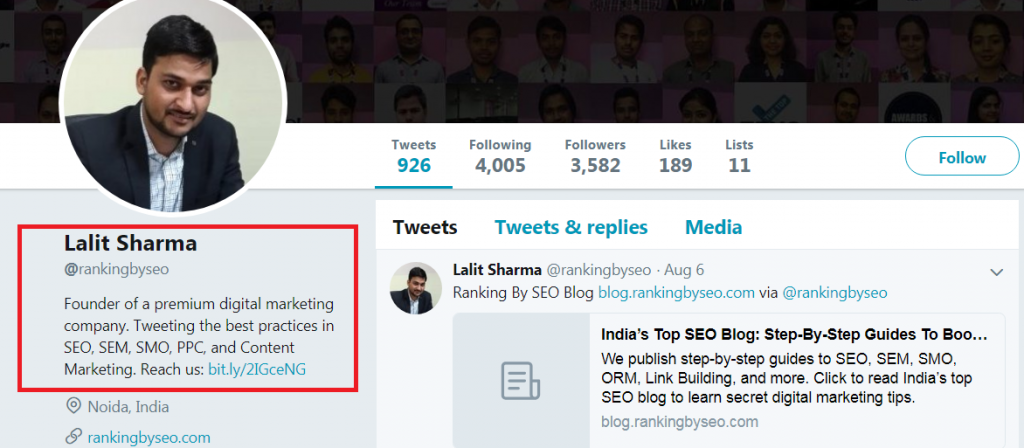 State clearly what you do and avoid using buzzwords in your author bio.
2- Use keywords in your author bio like SEJ has done in its Twitter bio.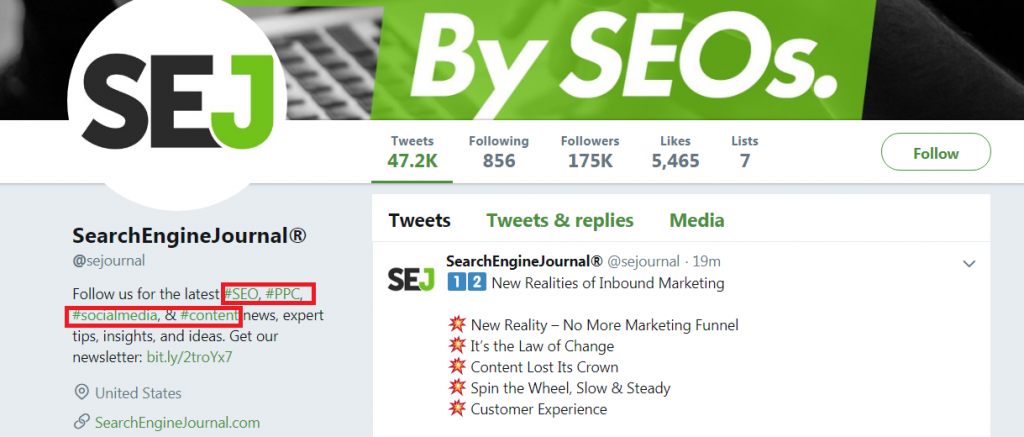 3- If you want people to remember you, use a funny/unusual line in your Twitter bio.
See how Aaron Lee has created his twitter bio.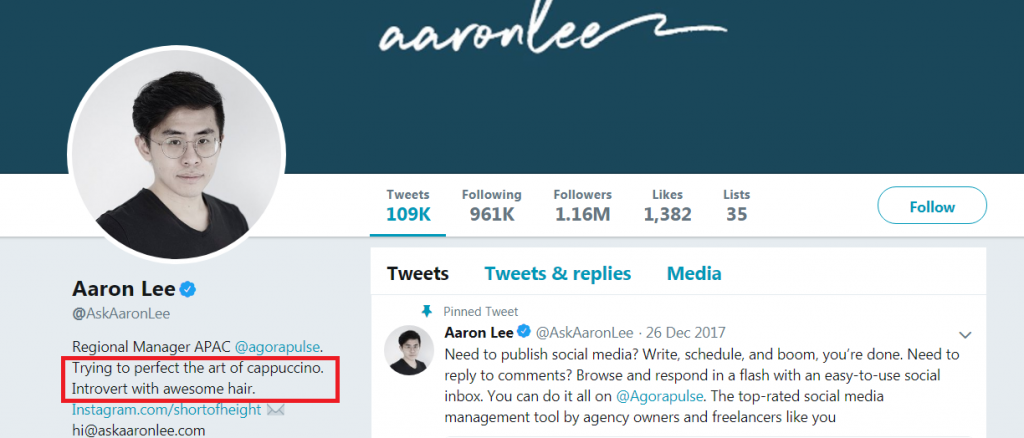 Do you have a quirky personality? Let the world know about it through your author bio.
4- A Twitter bio without call-to-action will not help you generate leads. So to make your website a lead generation machine, you must include a call-to-action in your Twitter bio.
Here is how Unbounce has added a call-to-action button to their Twitter bio.
5- What is your biggest achievement? Have you achieved something recently? If so, you should mention it in your Twitter bio. Doing so will work as social proof.
Here is how Jeff Bulla has included social proof in his Twitter bio.

6- Include hashtags in your author bio. This will help you connect with similar people.

Tweet Hacks
To get super engagement on your tweets, you will have to tweet like a superstar. How can you do that?
Here are some tips:
7- Don't tweet randomly. Instead, keep your tweets focused on your niche. This will help you build your authority in your niche. Also, try to break the news first. Staying on top of the latest will help you earn retweets increasingly.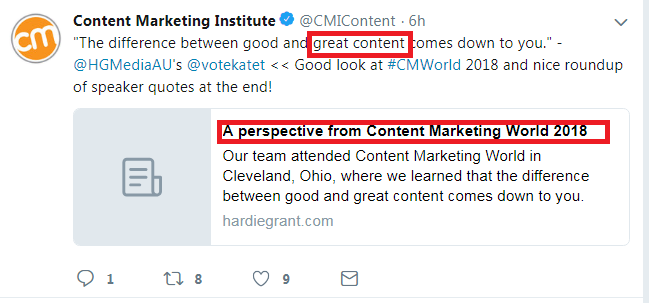 8- Are you a compulsive tweeter? If yes, then you should change your habit. The best practice is to tweet consistently throughout the day. Schedule your tweets and keep at least 30 minutes interval among them.

9- Don't promote your business in each and every tweet. Follow 5-1 rule: share five informative tweets, then promote your business in the sixth tweet.
10- Include keywords in your tweets. This will help you attract a specific audience. Also, keywords in your tweets improve discoverability of your tweets.

11- Ask your audience's questions in your tweets and answer their questions in your tweets. This increases engagement with your followers.
12- It has been found in research that tweets with images earn more engagement than that of tweets without images. Include images in your tweets.
13- Don't forget to add relevant, popular hashtags in your tweets. This will enable your tweets to appear in hashtag searches.
14- Though you can use as many hashtags as you like, Twitter recommends two hashtags per tweet.
15- You won't get it if you don't ask for it. Ask for RT at end of your tweet.
16- Use a URL shortener to maximize the use of the Twitter character limit.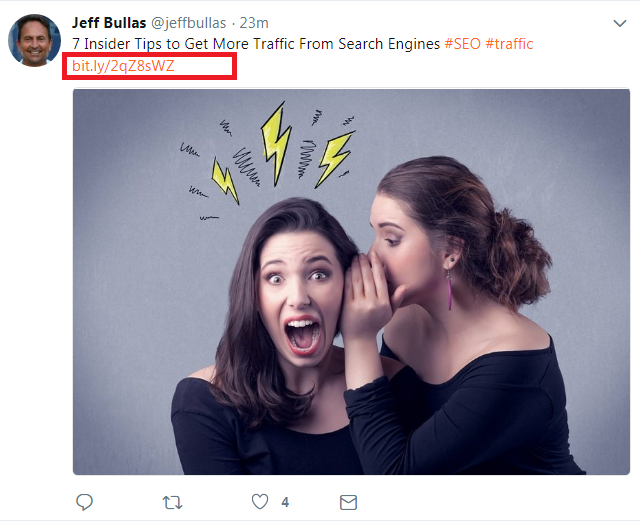 17- As the Twitter Stream moves fast, you need to tweet the same content more than once. Create at least 10 snippets for a content piece and share it multiple times.
18- Focus on quality over quantity. It might seem sometimes to tweet more, but only quality tweets earn engagement.
Retweet Hacks
To build an active community on Twitter, you need to engage with your audience. This means you should your like and retweet your audience's tweets and reply to their tweets.
If you engage with their tweets, they will engage with your tweets. It is always a two-way street, my friend.
Here are some best practices to retweet your audience's content.
19- Don't retweet any random stuff. Instead, retweet the stuff that is relevant to your niche. It will help you build your thought leadership in your niche.
20- When you retweet any stuff, don't just retweet it. Mentioning the people you are retweeting is a good strategy to follow. Add RT@name of the people to your retweet.

21- To make a strong relationship with people on Twitter, you should choose a certain number of people each month for retweeting. Repeated retweeting will make them remember you.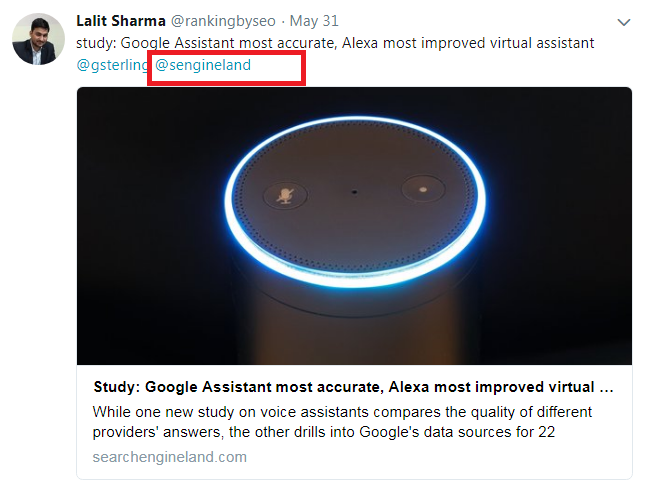 22- Avoid using any tool to do random retweeting. There is no substitute for manual retweeting. If you don't have time to do so, hire a social media virtual assistant to delegate twitter management.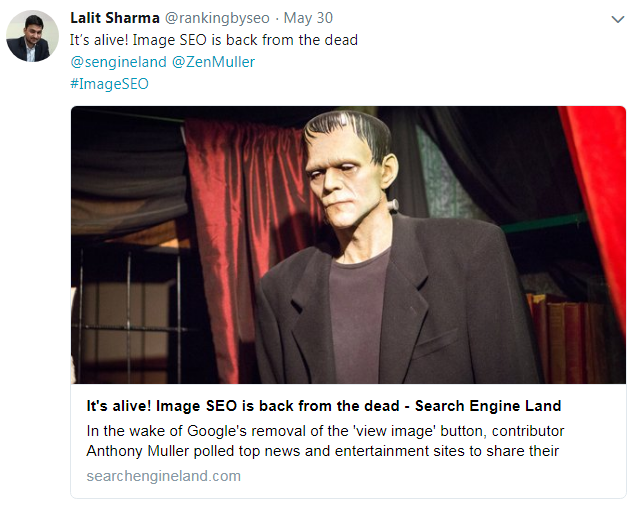 23- Retweet on current happening in your industry. People tend to engage with tweets on current topics.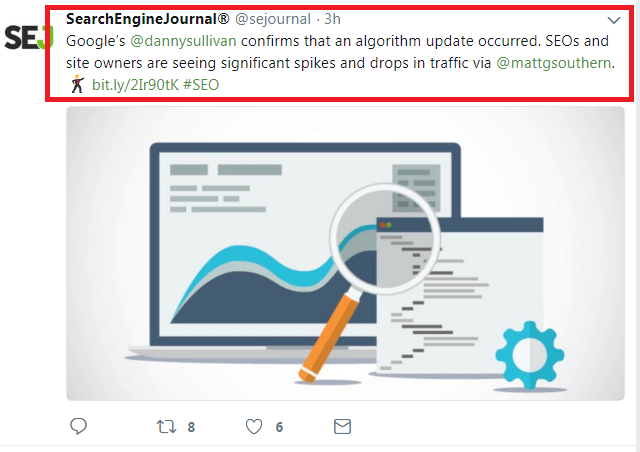 Tweet Reply Hacks
Twitter replies can be a good way to engage with your audience and promote your business.
However, you need not be pushy in promoting your business through twitter replies, or else it will adversely affect your brand.
The following are some proven tips on how to use twitter replies to build engagement.
24- Pick relevant tweets to reply. Replying to random tweets will not serve the purpose.
25- A picture is worth a thousand words. So don't forget to add relevant images to your Twitter replies.
26- Adding relevant GIFs to Twitter replies is a surefire way to make your replies get noticed.
27- Strategically adding twitter polls to twitter replies boost engagement.
28- If you want to ask questions in Twitter replies, always go for open-ended questions.
Hashtag Hacks
To be successful on Twitter, you should learn the art of using hashtags strategically. Why?
A hashtag puts the conversions of different Twitter users into one stream. And people can check this stream by searching this hashtag in Twitter Search. In other words, hashtags index keywords or topics on Twitter.
How can you use hashtags smartly? Here are are some proven tips:
29- Try to use keyword-based hashtags more for your tweets. Be it industry keywords or brand keywords, using keywords based hashtags are good for your business.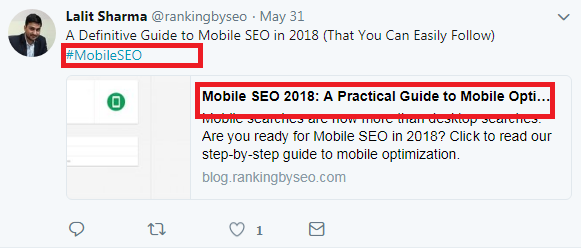 30- Try to avoid using hashtags that has a potential to get abused by twitters.
31- Promote your hashtags on other social channels as well.
32- Never try to hijack a hashtag that was created for a sensitive issue.
33- As Twitters users are allotted a certain number of characters only, you should keep your hashtags short so that people can have more space to craft their messages.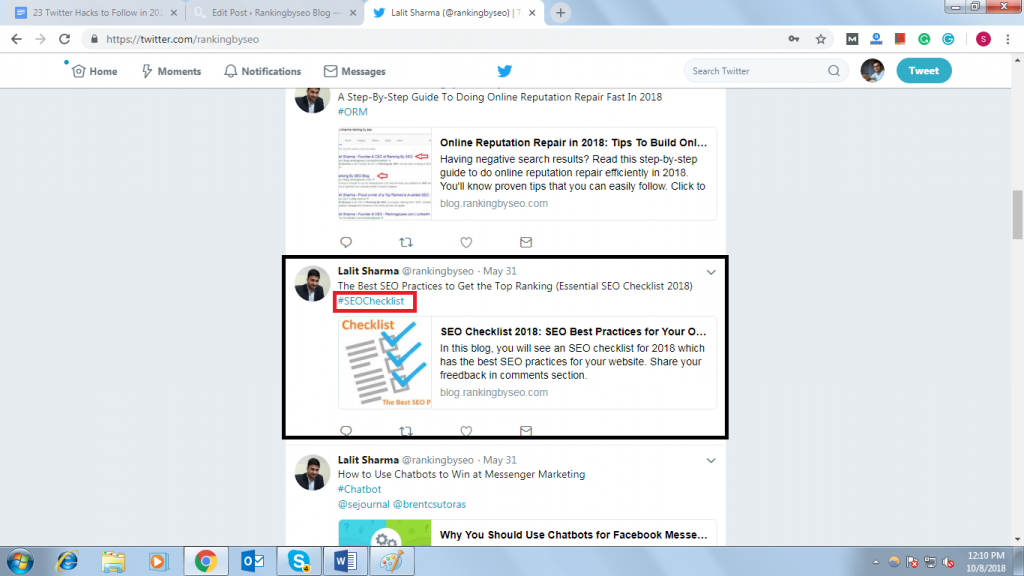 34- Never include irrelevant hashtags in your tweets just to gain attention. It will adversely affect your brand image.
35- Use the third party apps along with Twitter native to find trending hashtags and look for opportunities if you can use them to your benefits. Avoid hashtags created for sensitive topics.

Conclusion
Twitter is a powerful platform to build a brand and promote a business. You can also generate many leads from this platform if you use it optimally.
By following twitter hacks explained in this post, you can certainly improve engagement on your tweets and build a stronger brand.
What about you? Do you want to share a few Twitter hacks to follow in 2019? Please leave them in the comment section, I'd love to know about them.