Twitter recently recorded a whopping 237.8 million daily active users, as per the latest reports by Statista.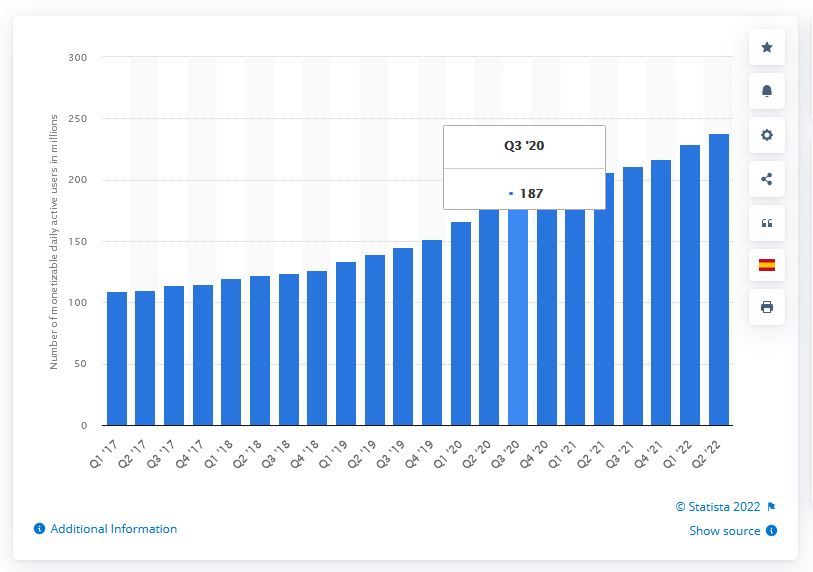 No wonder this micro-blogging site can be a lead generating machine for any business. But not all entrepreneurs and businessmen are successful in harnessing the true power of this ever popular site.
Feel you're lagging behind on Twitter? Are your tweets not earning the desired engagement?
If the answer to these two questions is Yes, you are at the right place.
In today's post, I'm going to discuss 38 powerful Twitter hacks to follow in 2023.
After reading this post, you will know what you should do to supercharge your Twitter activities.
Without further ado, let's dive in:
Twitter Bio Hacks
What does your Twitter bio say? Does it include the following buzzwords?
Growthhacker
Networking Ninja
Marketing Guru
Twitter Expert
Well, my friend, these are just fancy words and don't tell people what you actually do. That's why you need to explain clearly as to what you actually do or like instead of filling your bio with these vague words. Moreover, the buzzwords aren't utilized in searches to locate twitter profiles and can make a bio look too inauthentic.
Here are some tips to write a kickass twitter bio for your profile.
1- Remove buzzwords from your Twitter bio and state your work credentials clearly.
Following is my Twitter bio.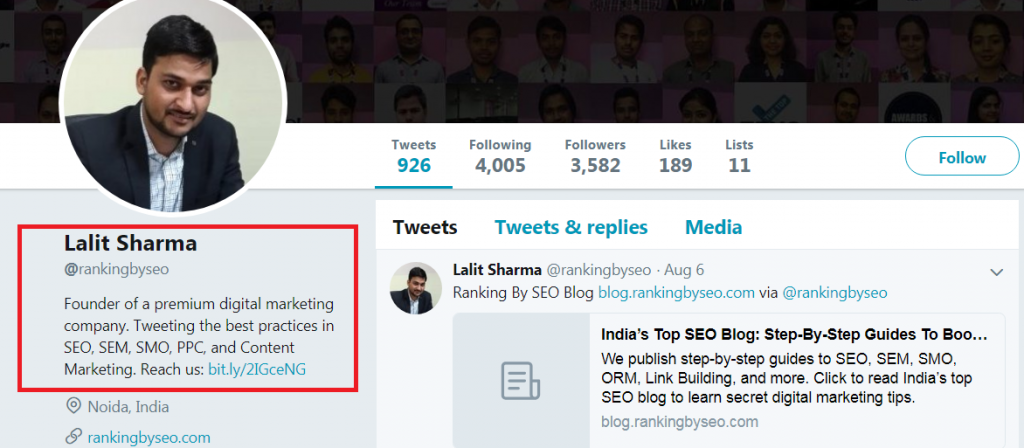 State clearly what you do and avoid using buzzwords in your author bio.
2- Use keywords intelligently in your author bio, like SEJ has done in its Twitter bio.
Remember that you shouldn't overcrowd the bio with too many keywords, as that can affect your SEO and search rankings.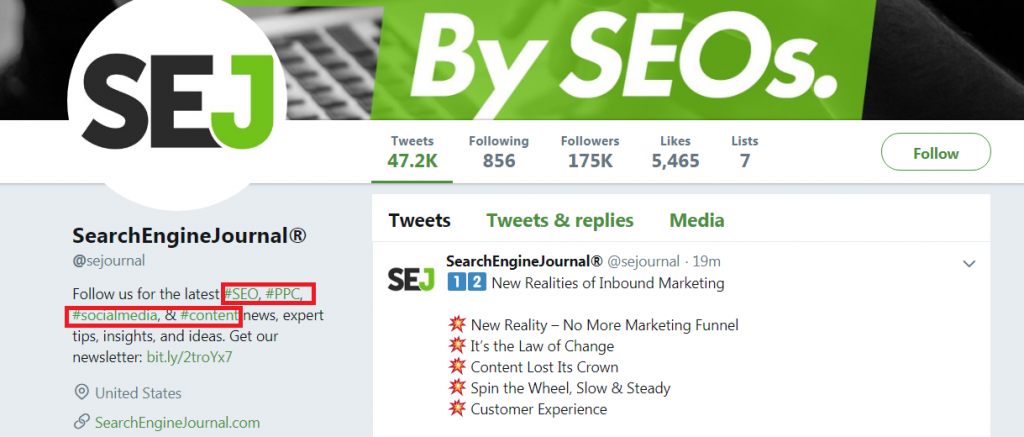 3- If you want people to remember you, use a funny/unusual line in your Twitter bio.
Also, you should be succinct in introducing your voice, message, or brand, as that will help project a better picture of your business.
See how Aaron Lee has created his twitter bio.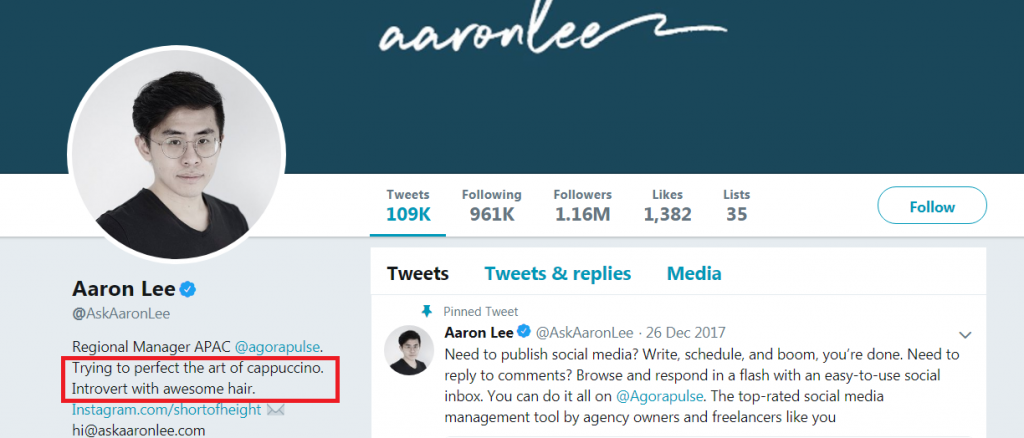 Think you have a quirky personality? Let the world know about it through your author bio.
4- A Twitter bio without call-to-action will not help you generate leads.
So, to make your website a lead generation machine, you must include a call-to-action in your Twitter bio. Some effective CTA ideas for a twitter bio are links to newsletter sign-ups, campaign landing pages, or specific web pages.
Here is how Unbounce has added a call-to-action button to their Twitter bio.
5- What is your most significant achievement? Have you achieved something big recently?
If so, you should mention it in your Twitter bio— it works as a social proof.
Here is how Jeff Bulla has included social proof in his Twitter bio.

6- Include hashtags in your author bio. This will help you connect with similar people.

Tweet Hacks
To get super engagement on your tweets, you will have to tweet like a superstar. How can you do that?
Here are some tips:
7- Don't tweet randomly. Instead, keep your tweets focused on your niche and ensure they resonate with your target audience. This will help you build your authority in your niche.
Also, try to break the news or update first. Staying on top of the latest tweets will help you earn retweets increasingly.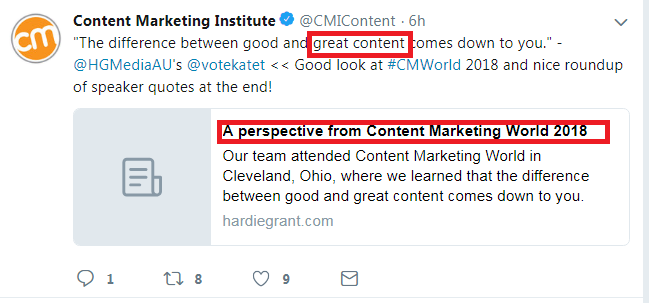 8- Are you a compulsive tweeter? If yes, then you should change your habit. The best practice is to tweet consistently throughout the day.
Schedule your tweets and keep an interval of at least 15 minutes between them— this is the average lifespan of any tweet as on date.
Remember that a tweet might be lost in the timeline if it's not timed perfectly. You can leverage third-party apps to identify the time when a social media channel can provide the required engagement.

9- Don't promote your business in each and every tweet. Follow 5-1 rule: share five informative tweets, then promote your business in the sixth tweet.
10- Include keywords in your tweets. This will help you attract a specific audience. Also, keywords in your tweets improve discoverability of your tweets.

11- Ask your audience's questions in your tweets and answer their questions in your tweets. This increases engagement with your followers.
12- It has been found in research that tweets with images earn more engagement than that of tweets without images. Include images in your tweets.
13- Don't forget to add relevant, popular hashtags in your tweets in an authentic manner. This will enable your tweets to appear in hashtag searches. However, just like keywords, hashtags work best when used sparingly. As recommended by Twitter, it's best to use two hashtags per tweet.
14- Ask for a Retweet at the end of your tweet. You won't always get it if you don't ask for it. Do note that a swift succession of connected tweets, usually called a tweetstorm, are more likely to fetch shares and retweets.
15- Use a URL shortener in your tweets— it's a great way to maximize use of the Twitter character limit. Adding visual content also works quite well in expressing your ideas briefly.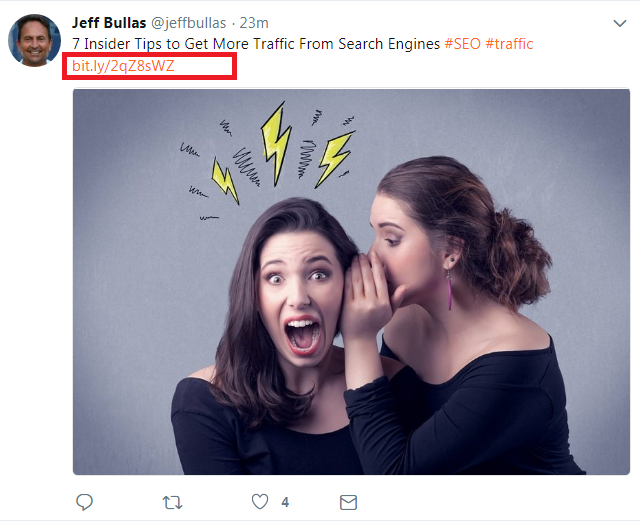 16- As a Twitter Stream moves fast, you need to tweet the same content more than once. You can create at least 10 snippets to break a content piece and share it multiple times to attract your followers' attention.
17- It's vital to focus on quality over quantity. It might seem sometimes to tweet more, but only quality tweets earn engagement.
Also, don't miss promoting the tweets that earn maximum engagement. These may prove useful in attracting new followers for your brand and help improve its presence on social media.
18- Use Gated Content
Gated content is a good way to enhance engagement while driving traffic to your website. Users can access such content only after they complete a specific action such as retweeting or sharing a post.
19- Create Variations In Your Tweets
In case you run a blog for your website or brand, tweet variations can help extend the reach and lifespan of a particular content piece. You may write 10 posts/tweets in such a way that they emphasize a different aspect of the content.
Retweet Hacks
To build an active community on Twitter, you need to engage with your audience. This means you should like and retweet your audience's tweets and reply to their tweets.If you engage with their tweets, they are more likely to engage with yours— it's always a two-way street, my friend.
Here are some best practices to follow when retweeting your audience's content.
20- Make sure not to retweet random stuff. Instead, retweet the stuff that's relevant to your niche. This will help build your thought leadership in your niche.
21- When you retweet any stuff, don't merely click on the retweet option. Mentioning the profiles from which you are retweeting is a good strategy to follow. Just add RT@ the username to your retweet, and you're good to go.

22- To build a strong relationship with Twitteratti in your niche, it's best to choose a certain number of people each month for retweeting. Repeated retweeting will make them remember you.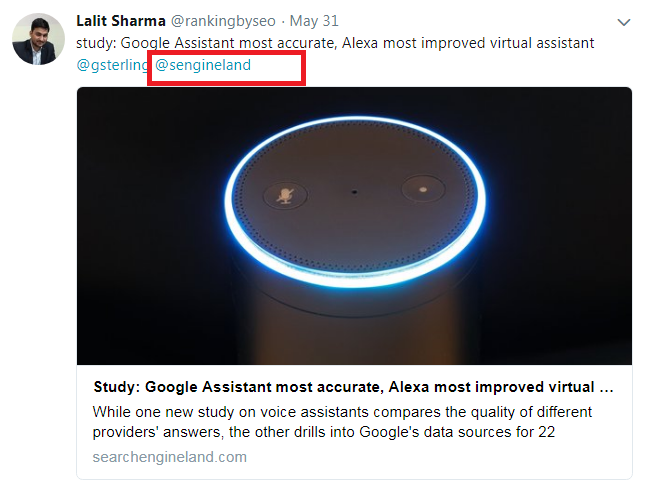 23- Avoid using any tool to do random retweeting. There is no substitute for manual retweeting. If you don't have time to do so, hire a social media virtual assistant to delegate twitter management.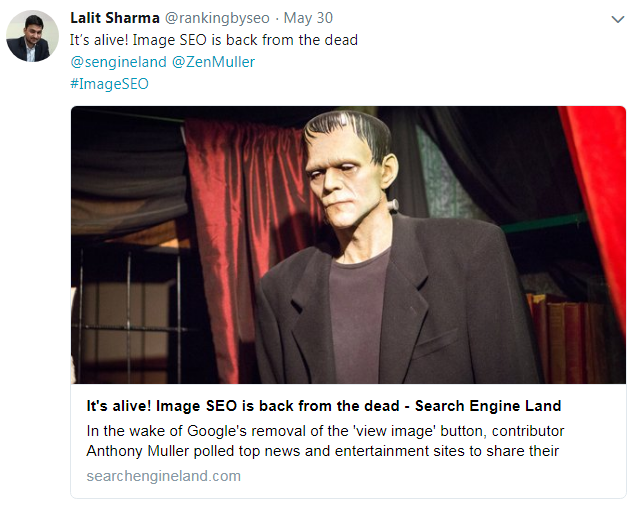 24- Retweet on the current trends and events in your industry—- tend to engage with tweets on current topics.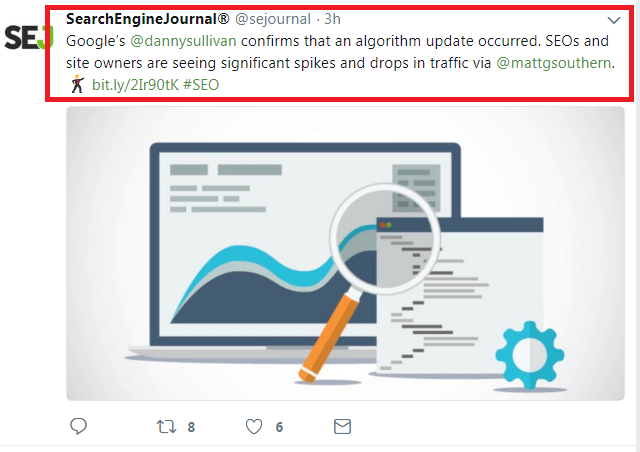 Tweet Reply Hacks
Twitter replies can be a good way to engage with your audience and promote your business.
However, you need not be pushy in promoting your business through twitter replies, or else it will adversely affect your brand.
The following are some proven tips on how to use twitter replies to build engagement.
25- Pick relevant tweets to reply. Replying to random tweets will not serve the purpose.
26- A picture is worth a thousand words. So don't forget to add relevant images to your Twitter replies.
27- Adding relevant GIFs to Twitter replies is a surefire way to make your replies get noticed.
28- Strategically adding twitter polls to twitter replies boost engagement.
30- If you want to ask questions in Twitter replies, always go for open-ended questions.
Hashtag Hacks
To be successful on Twitter, you should learn the art of using hashtags strategically. Why?
A hashtag puts the conversions of different Twitter users into one stream. And people can check this stream by searching this hashtag in Twitter Search. In other words, hashtags index keywords or topics on Twitter, which ultimately helps expand your reach on this leading micro blogging site.
How can you use hashtags smartly? Here are are some proven tips:
31- Try to use keyword-based hashtags more for your tweets. This refers to the hashtags that your target audience may use when they're searching for something on Twitter. Be it industry keywords or brand keywords, using keyword-based hashtags will be beneficial for your business.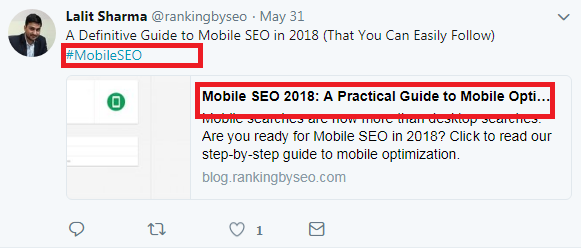 32- Try to avoid hashtags that have a potential to get abused by twitters. For this, you'll need to research carefully to understand the context of a particular trending hashtag. Ensure that your tweets don't seem out of touch, insensitive, or tone-deaf, which can result from using irrelevant hashtags.
33- Promote your hashtags on other social channels as well. You'll need to conduct some prior research to assess the relevance of the hashtags with regard to a particular channel.
34- Never try to hijack a hashtag that was created for a sensitive issue.
35- As Twitter users are allotted a certain number of characters only, you should keep your hashtags short so that people can have more space to craft their messages.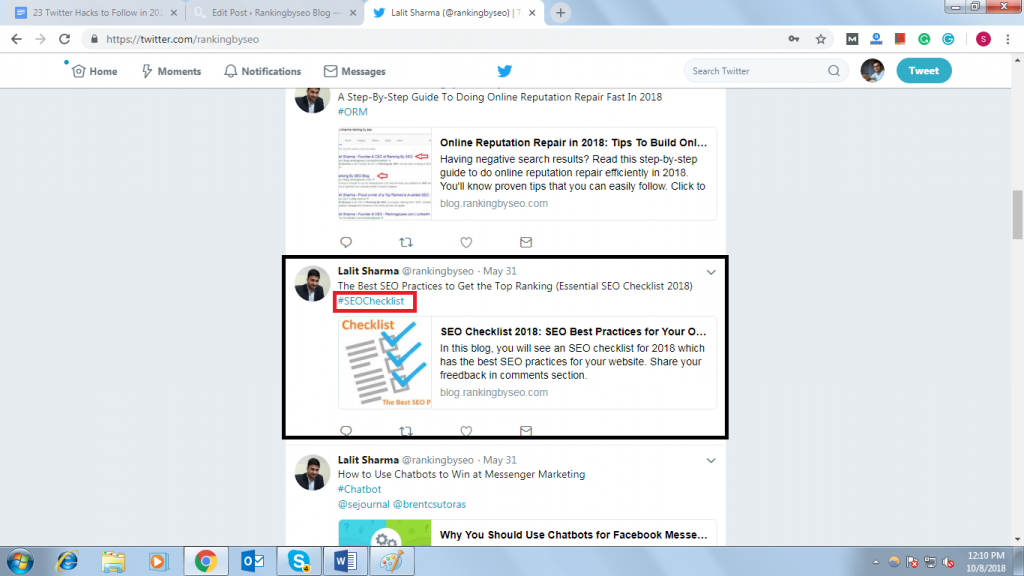 36- Never include irrelevant hashtags in your tweets just to gain attention. It will adversely affect your brand image.
37- Utilize third party apps along with Native Twitter to find trending hashtags and look for opportunities to use them to your benefits. Avoid hashtags created for sensitive topics.
38- In case you're aiming for branded hashtags, try to make it simple yet memorable to catch the attention of your audience. You can also integrate the name of your business to make the hashtags more conversion-worthy. And once you've done framing a hashtag, make sure to verify that no other entity has used it.

Conclusion
That's about it on how you can maximize engagement on Twitter like a pro. All you need to do is incorporate them effectively in your existing digital marketing strategy. And soon, you'll see your business generating more leads and gaining more recognition on social media.
Can you think of any other effective Twitter hacks for 2023? Then please drop a comment below, I'd love to know about them.