What comes to your mind when you think of a huge building (think skyscraper if you like)? I'm talking beyond beauty and awe. How do you think such a greatly sized thing could be created?
Or forget the skyscraper, think of your own house. Nobody just thought about building a house one day and started laying bricks the next day. They started with a plan first – a design.
Similar is the case with a website. You can't just code and create a website overnight.
Every excellently performing website on the internet went through weeks of planning and designing first.
Collecting content, deciding colors, and planning how the user will browse through your website takes time, effort, and most of all – a plan.
In a world where users do not want to waste too much time understanding a website's dynamics, it is only wise to create a web design that appeals to all and increases user engagement. You would be surprised to know that 47% of people expect a website to load in a maximum of two seconds!
So, in this post, I will be describing what website architecture is and its importance.
Moreover, if you decide to stick to this page longer, you will also spot interesting and easy-to-perform tips to curate a compelling website architecture plan.
What is Website Architecture?
Website architecture alludes to the manner in which we structure a site to guarantee we meet our business objectives while offering an incredible experience to our clients.
A website's architecture includes:
Web design
Content strategy
Information design
Usability
Graphic design
User interaction design
A sound site architecture reinforces your site's user experience. An intuitive website allows users to easily discover the information they came searching for. In fact, studies suggest that 94% percent of people judge a business by its website.
In addition, when your user experience is solid, your overall search engine rankings will automatically improve. Users will invest more time on your website and keep flipping between the different pages, which are both substantial indicators that your website has quality content.
Another factor is that a good site architecture helps search engines crawl your website more effectively.
Why is Website Architecture Important?
There are many reasons that a website architecture is important. The three major ones are listed below:
1. Increased flow of link authority
A good website architectural plan includes internal linking of the high-priority pages. These are the pages to which you want to drive your users.
Check out the image below for a clearer understanding.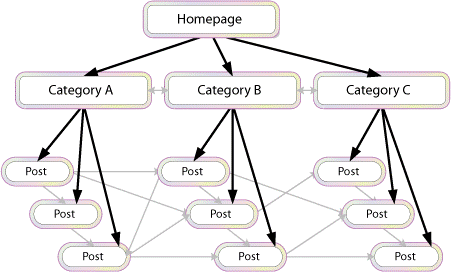 Source: Neil Patel
In this image, the website owner wants to drive all the traffic to the home page. This is why, all the posts are interlinked, taking a user to different categories, which further lead the user to the home page.
The more the internal links, the more is the link authority, which you can check on PageRank. This leads to improved rankings on search engine web pages.
2. Google learns which post/page is more important
One of the most undermined aspects of a site structure is the importance of each post or page. When you don't define the importance of your posts, you compete against yourself on Google.
How?
Let's see an example.
There is an artist, Derek, who has all the paintings in his room lying in a clutter. Now, maybe one day he sits down and puts them all up in a neat pile.
Looks good? Nothing wrong with this?
Well, one thing is. Whoever would take a look at the pile would never know which ones are the best paintings. They will have to go through the entire pile and ask Derek which he thinks is the best.
Now imagine if Derek's paintings were organized in a bunch of different piles – the most beautiful ones in one pile, those of cars in another, those of superheroes in yet another. This way, a fan could easily figure out the pile they wanted to see and look at the most beautiful ones without having to go through the one big pile.
Similarly, unless you tell Google which of your posts you deem most important and which one you would like to be shown to the most users, Google would not know! And so, all your pages will be fighting for attention – essentially competing against each other.
The solution? Again, plan a good internal linking structure and let Google know the priorities.
A well-thought internal linking structure leads to a 40% increase in organic traffic, as per a case study by Ninja Outreach.

Source: ahref
3. Search engines can easily index your pages
A website in which the user will have to perform a lot of clicks to reach the home page will create a problem for a search engine crawler to find and index that page.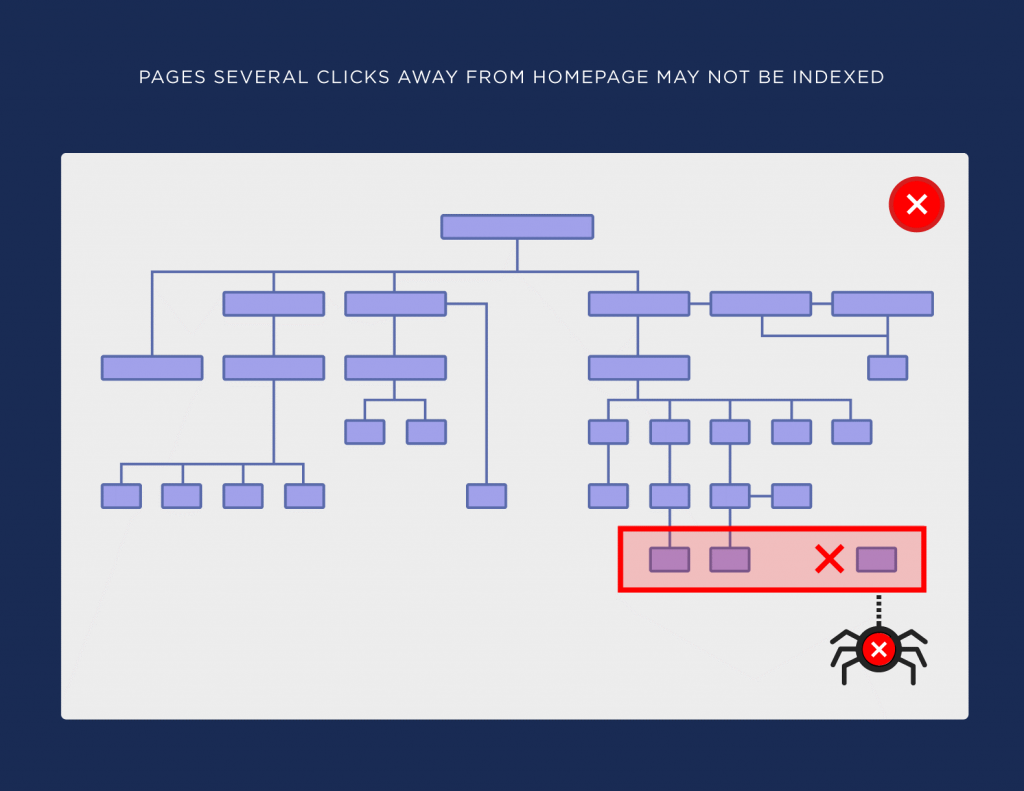 Source: Backlinko
The same is the case when you haven't interlinked a page with the other pages at all.
Interlinking allows the crawler to find its way to all the pages of the website.
How to Create a Compelling Website Architecture?
There are several things you need to take care of while creating a website architecture. Here are some of them:
1. Follow the K.I.S.S. principle – Keep it Simple, Sweetheart
If your website is content-heavy and has hundreds of pages, you need to keep things simple. The more complicated the website structure, the worse it is for SEO.
Here is an example of a bad site structure.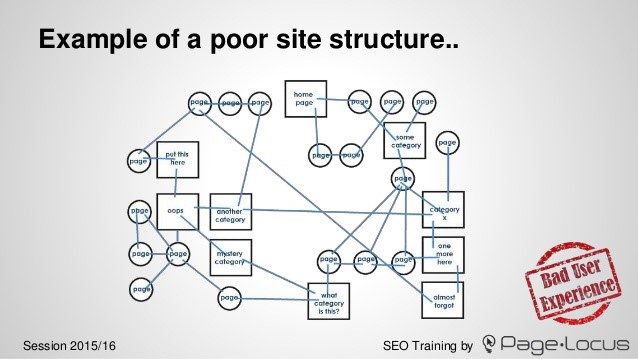 Source: SlideShare
On such websites, finding what you need by browsing through the different pages is quite improbable.
Whereas, a simple and uncomplicated website structure can do wonders to your SEO and add to the overall user experience.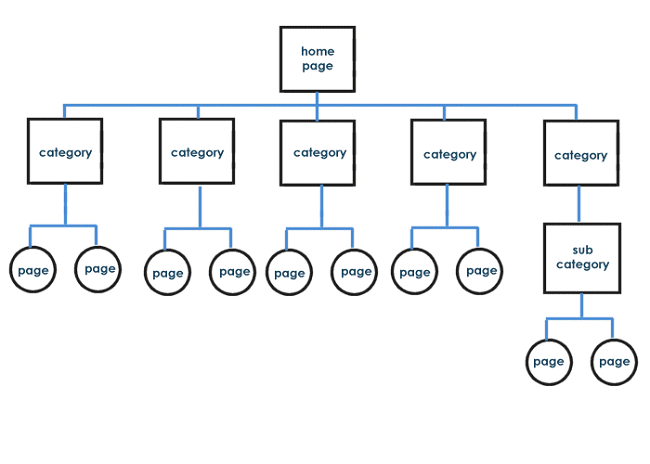 Source: SEOPoint
Once you have created a site hierarchy, you will not face any confusion when you try to add more pages at a later stage.
2. Maintain consistency
Ensure that your website's design, links, and navigation format follow a set pattern. Consistency drives user engagement.
Users will easily be able to navigate through your website and discover what they need hassle-free.
3. Make navigation quick and easy
Regardless of whether your site has a million pages, the design ought to allow users to begin from the landing page and end up on any page within three to four mouse clicks. 94% of people prefer websites that offer easy navigation.
To do this, plan a top-level route that can guide users to all your site's principal categories.
At that point, from every one of your site's primary pages, ensure they can navigate to all the sub-category pages.
4. Create easy-to-understand URLs
Your URL structure ought to coherently follow your categories.
Here's a case of a URL structure that a ton of websites use: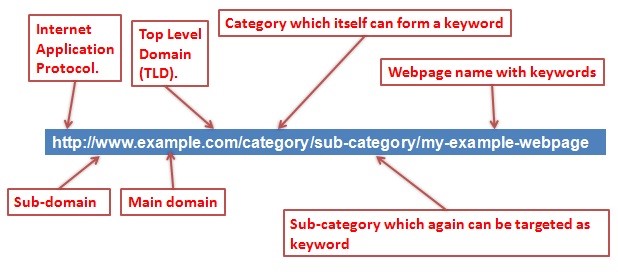 Source: KVRWebTech
Your URLs don't need to look precisely like that. However, it's significant that all of your website's URLs follow a similar structure.
Additional Tips for Website Architecture
Here are top three tips to assist you with planning a structure for your website that works:
1. Iterate and repeat
Website architecture is an iterative process. When you have a design for your structure, test that intuition with your users through site testing instruments. Incorporate your analytical findings into the next version of your structure and test it once more.
Implement this testing approach in your arrangement from the earliest starting point and it will end up being a significant piece of your procedure. Remember that it only takes a user 0.05 seconds to create an impression of your website. Hitting the nail on the head sooner will save you time and energy, and result in a superior site for your users.
2. Do not do it alone
The advancement of a site's structure can be a time-consuming errand and it's one that is best done in a group.
In the event that you happen to be a UX team of one — or if your associates are basically excessively occupied with their tasks — you could ask someone else to get associated with the venture; for instance, a business analyst.
3. Be sure about what you want to achieve
Keep the plan, objectives, scope, and target audience of the site at the top of the priority list when building up the website structure. This will help keep your task on target and spare time over the long haul.
Conclusion
As you can see, one of the most important factors of a good website structure is how well the pages are interlinked. Others include design consistency, navigation, etc.
Getting all these points ticked will help you create an interesting and easy-to-use website and increase user engagement.
Stay tuned for more on this topic!