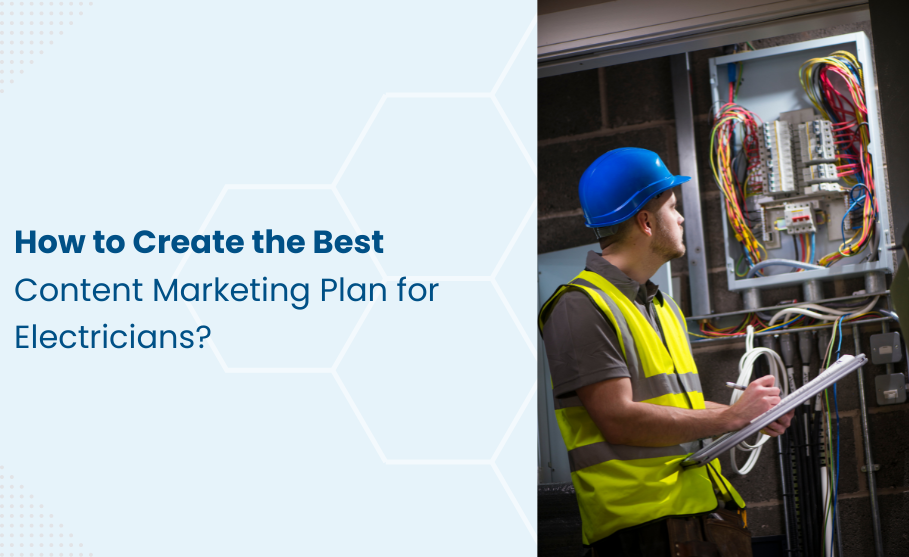 To run an electrical business successfully, skill and expertise are must-haves. But promoting your services online is no less important nowadays, as people mostly turn to the internet to search for a reliable electrician online.
You need to inform the audience about your services and make them believe that you're the most suitable choice. This is where content marketing can help, as 82% of customers form a positive opinion about a company after going through the content on its website and other online platforms.
But there's a lot to learn about content marketing plan for electricians, if you're really looking to make a mark in the field by virtue of your content. Stay with us till the end, and we'll take you through all that it takes to excel in electrician content marketing.
Let's get started!
Table of Content:
Why Do Electricians Need Content Marketing?
Studies have shown that 90% of businesses are already leveraging content to get the desired results of their marketing efforts. And since the majority of customers expect to receive useful service information from the business they're opting for, you'll have to be careful about the content you're posting.
Another point to keep in mind is that your competitors might have already put forth relevant social media posts or blog content. Thus, you'll need to frame a long-term strategy by leveraging standout content to build a good reputation for a business and enhance the desirability of your prospects.
Apart from attracting more leads, showcasing the value of an electrician company can also help cultivate the trust of your audience in the brand. You also get to build and nurture a productive relationship with prospects till they decide to go for your services. Producing quality content helps highlight your expertise and talent, and thereby helps prospects understand why you're hire-worthy.
And that's not all; efficient content marketing is important for your business owing to the following other reasons:
It's the center of your marketing strategy
Your digital marketing efforts essentially revolve around the content marketing strategies you adopt. All your PPC ads, social media updates, and email newsletters help drive prospective clients to your website.
But putting quality content into such marketing resources is essential to retain their attention. By publishing fresh content to the website regularly, you can ensure prospects continue to come back for more.
It helps stretch your marketing budget
When compared to traditional marketing techniques, content marketing plan for electricians is much more cost-effective and efficient. It costs nearly 62% less and gives rise to 3 times the leads generated by outbound marketing. This marketing strategy can take more time to implement, but it can equip you to create truly engaging content while you focus on running the business.
It improves search engine rankings
Popular search engines such as Google scan or crawl web content on a regular basis to provide your search engine ranks. A powerful strategy to market your content can drive qualified leads to the site and boost your SEO too. In the next few sections we'll offer you additional insights on how effective content marketing can facilitate lead generation for electricians.
What Are the Best Types of Content For Electricians?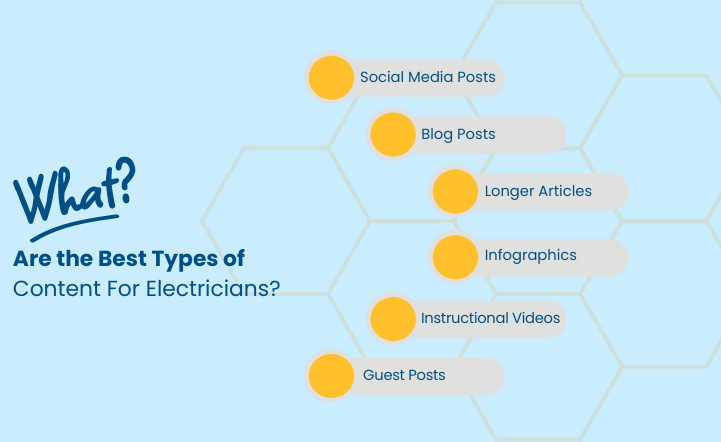 The content type you opt for ultimately determines the success of your marketing campaign. Do note that the most important factors that decide the effectiveness of content are its relevance, value, and interest to readers. Considering this, here are the types of content that should include in the content marketing plan for electricians:
Social Media Posts
If leveraged the right way, social media services can prove to be quite beneficial for any business. This is irrespective of whether you have a large or small number of followers. In the latter case, the content can spread faster through friends, since it might show up on their friends' social media feeds too.
Posts on social media are beneficial since you get to share videos, photos, links or other short content pieces that are likely to appeal to more people. You can even share links to your blog and accompany this with a photo that's compatible with the blog topic.
Blog Posts
Adding short-form blogs to your website will always hit the bull's eye when it comes to creating valuable content on electrical services regularly. You can use such blogs to share insightful information with users and can expand its reach to thousands via email newsletters and social media.
Blogs also help create a continuous stream of fresh content for the website of an electrical company, which Google considers to be a major ranking factor.
When it comes to selecting the right type of content for short-form blogs, you can add anything as long as that interests customers and keeps them informed about your services alongside. On a side note, it's best to schedule the blogs to ensure users know when they can get a new one and come back to the website on time.
Longer Articles
Informative articles aren't the same as blog posts- marketers usually don't schedule such content. They're also longer and more in-depth compared to the former.
A long-form article can prove to be useful in ranking an electrical business higher on Google. Moreover, it may target several significant keywords. When it comes to choosing the topics for such content, make sure to pick those that require detailed explanations.
For instance, the functioning of a water heater and other essentials of the appliance can be a good topic for an electrician business. Side by side, you'll need to ensure the topic is in line with the interests and preferences of your target audience.
Infographics
The fact that the human brain can process visual information faster has fueled a shift towards producing more of such content in every industry. Infographics are one such type that has gained prominence in the past few years.
Such form of content summarizes the essence of the information by packing the essentials in an engaging graphic. Thus, the task of informing and educating your target audience becomes simpler. Remember that the success of an infographic lies in the use of short texts and visuals so that complex concepts are made simple and easily understandable.
Instructional Videos
This content type is perfect for electricians as they mostly work hands-on. For instance, you can create a video tutorial on the fixture of a tube light or a brief demonstration of the installation of a room heater.
You'll naturally have to explain all the steps taking place and mention where you're cutting the process short to maintain a standard video length. In that case, you can easily upload the videos on the website. social media, and newsletters.
Guest Posts
Guest posts are written for a company's products or services on other websites. The aim of such posts is to attract traffic back to the company website. But to make each guest post effective enough for boosting web traffic, you'll need to make the content comprehensive, interesting, and data-driven at the same time.
This way, readers can get to learn new stuff about electrical services and the offerings of your business. Find the best guest blogging services in the country to propel business growth in a couple of months. So, what are you waiting for, create well-optimized guest posts today and improve your site rankings.
How Much Content Should Electricians Post regularly?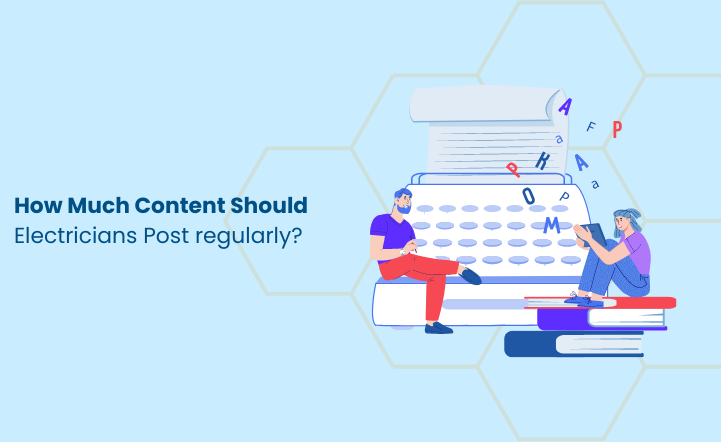 In following the right approach, content creation can provide a business with a continuous stream of quality leads. But the next big question is, how often should you post the content?
Even creating new content daily won't generate leads if it's of average quality. Engaging content is likely to appeal to your audience, gain new leads, and kickstart a relationship with a prospect. Once you get a grip on publishing quality content, you can consider the consistency aspect.
Most marketers are of the opinion that creating quality content requires investing significant time. However, managing all the work in addition to running the business can seem difficult at times. The following are a few tips to frame quality content consistently across all digital channels.
Adopt an Efficient Content Structure
For any business, the website forms the foundation of its digital presence, and using high-quality content can impress your prospects to facilitate faster conversion. While engaging content is very well the king with regard to gaining more traffic and leads, it's equally important to ensure that every content piece is organized.
Do note that prospects visit the website since they're searching for an answer to their query. That's why you'll need to ease the process of finding what they require. The content structure decides the success of a marketing campaign.
The information should be represented on the website clearly, so make sure to work on a couple of drafts before deciding on the website design. To ensure the desired user experience, you'll need to utilize the space on top of the page to showcase what's most important. Provide the answer to your viewer's questions directly or include links to the About Us, Services, and FAQ pages.
Maintain a Content Calendar
Creating content that users find to be relevant and engaging can be a challenge even if your business is backed by tech-savvy social media experts or writers. So, you'll need to outline an effective strategy using a content calendar.
Such resources can help coordinate the content creation process and divide the workload into manageable units. So, once a content calendar is in place, you can stop worrying about when to publish the next blog or what to write on. This means you get to focus on creating content to utilize your resources to the fullest.
You may keep a simple Excel spreadsheet as the calendar or make it more interactive for the convenience of your team as per your marketing needs. For those who're new to content calendars, there are multiple online tools to use that offer several template options.
A calendar should have a structure that's in line with the specific business needs of your company. But make sure it includes the following information:
The topic or theme
The channel for publishing the content
The content type (text, video, infographic)
The person behind publishing the content
The date and time for publishing new content
5 Most Effective Content Marketing Strategies for Electricians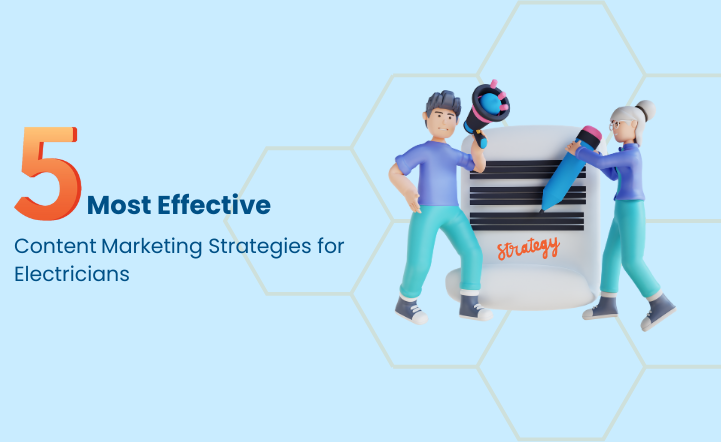 A study from think with google has shown that 71% of B2B researchers start their research journey on google with a general search. They search for customer reviews, testimonials, and educational materials to explore the options available to them.
The goal is to convert leads into customers, so the website should provide effective answers to the mostly-asked electrical questions. Make note of such questions and create well-optimized content that answers them precisely. This way you can maintain a consistent supply of content that appeals to prospective customers.
There are several other effective strategies you can apply to kickstart your electrical content marketing campaign:
Tailor your content as per the customers' needs
Every content piece on a website can assist in moving a prospect closer to the purchasing stage. And since you're communicating with the prospect at each stage of the marketing funnel, you'll require targeted content to encourage them to take the next step.
UK-based advisory and research company Forrester has revealed in its market research that an average consumer goes through 11.4 content pieces prior to making a final purchase.
Using a content marketing funnel, you'll be able to create relevant content pieces at each stage to drive prospects to take an actionable step.
While building an effective funnel for marketing electrician content, here's what you'll need to keep in mind:
At the start of the purchase journey, a prospect may not be aware of your business. You'll need to make them aware of your services and products to ensure prospects start understanding how you work. Any social media ad, infographic, paid search ad, or video content should be centered around common electrical issues your prospects face rather than the brand.
Following this, you'll have to work on consolidating the relationship by showcasing valuable content. Social media posts, email newsletters, and blog posts can help provide effective information and enhance the relevance of your business to prospective customers.
After you've engaged with prospects, your ultimate job will be to showcase the value of your business through engaging and believable content. Do note that even promotional content, client testimonials, and cross-selling and up-selling emails provide the push essential for leads to convert to customers.
Use Different Content Types
User engagement and website traffic are the cumulative results of putting forth the best types of content on the site and other channels. As such, it's crucial to identify the content types that are likely to fetch the maximum results for your business.
People can have different preferences with regard to content formats, which is why it's crucial to rotate different content to engage the target audience and expand your reach.
We've discussed the most popular forms of electrician content early on in our article. So, make sure you consider the prominence of each type for your business by examining data on the existing web traffic and audience engagement for your website.
Reutilize Evergreen Content (links) Throughout the Website
Check the content you have uploaded on your website to date- there's a part that doesn't come with a particular time or date attached to it. So, it will be equally useful for your marketing efforts throughout, even after the initial clicks earned just after publishing the content.
To reap the maximum benefits from evergreen content, you can like to previously-published content throughout the newer pieces. Evergreen content is no less than a life-saver for businesses that can't risk sacrificing content creation. You can create and publish it at any time, and you can always link back to such blogs in email newsletters and social media content. Start creating evergreen content to achieve long success.
When your schedule says it's time to publish the next content, create a couple of blogs to publish if the team needs to prioritize other tasks.
Identify Gaps in Your Content
The analysis of content gaps is a crucial part of any content marketing strategy for electricians. Such an analysis helps identify holes in the existing content, letting you create content to align with the stages in a consumer's purchase journey.
On examining the keywords of your competitors, you can discover opportunities to improve your content strategy considerably. Thus, competitor analysis is a truly effective way to find new blog post topics and themes and content on social media.
Make sure to combine this analysis with your judgement based on your evaluation of the existing content strategy. At times, a keyword which is helping a competitor rank high might not work equally well for your website. In case you're not sure about the keywords that are worth targeting, take into account the search intent and monthly search volume of popular keywords and decide accordingly.
Repurpose and Reuse Old Content
Even if you need to achieve definitive digital marketing goals within a limited time, you won't always have to create fresh content. Every electrical business will have effective content that hasn't been utilized till then. All you need to do is utilize the CRM system, old blog content, or customer surveys to expand your reach.
Do note that you can repurpose, reuse, or refresh old content across many channels. For instance, you can transform an old blog into a video or add a list of FAQs using customer surveys.
Thinking that would seem repetitive? Your customers would search for information across a range of platforms, so showcasing similar ideas in many formats would help you connect with new people.
Final Words
Once you adopt the above marketing tactics for electrical contractors, it won't be long before your business achieves its targeted level of sales and traffic. Maintaining the quality of content and being consistent in your marketing efforts are key factors in this regard. We offer quality content marketing services for years to clients from various industries. So, we're a name you can trust, get in touch with our trusted team today to learn more about our services and also know how we can tailor a content marketing plan for electricians to meet your specific needs.
But make sure you're combining content marketing plan for electricians with the right balance of other digital marketing strategies such as PPC and SEO. Only then can you achieve holistic growth for your business.
That's all for today. We'll be back soon with a new guide. Till then, take care!
Additional Resources: