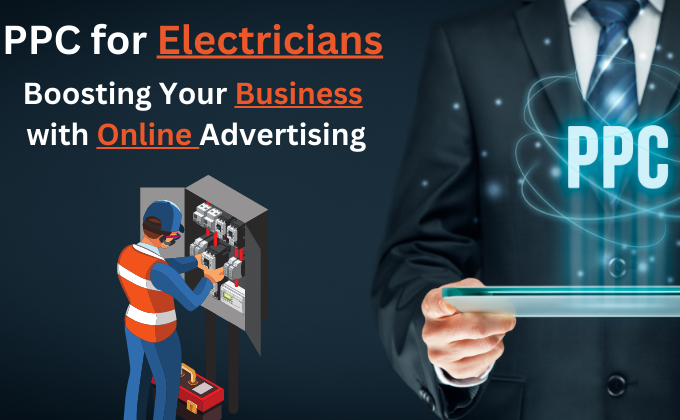 Why is PPC Advertising Important for Electricians?
As an electrician, being highly skilled at your job is definitely a strong point. But that isn't enough to make your business successful by today's standards.
Adopting the right digital marketing strategies from the start is key to ensuring your electrical service continues to grow and thrive.
Online advertising is an integral part of such a strategy, as it attracts the attention of potential clients and drives them to know more about your service. And pay-per-click or PPC advertising is an ideal solution in this regard as it helps promote any business using campaigns on renowned search engines and social networks.
PPC advertising can fetch you transaction-ready, qualified leads that can help the business grow at a faster rate and is a quite cost-effective alternative too.
A great benefit of this format is that you can use them to target a specific group based on their age, interests, demographics, location etc. For instance, Facebook is currently being used by more than 2.963 billion people worldwide, so it would be a big mistake to ignore such a large market segment for your business.
To learn more about this advertising format and apply it effectively for your electrician business, we'd recommend reading through our comprehensive guide. Let's first look at how PPC is different from search engine marketing, another popular digital marketing strategy.
PPC vs SEM for Electricians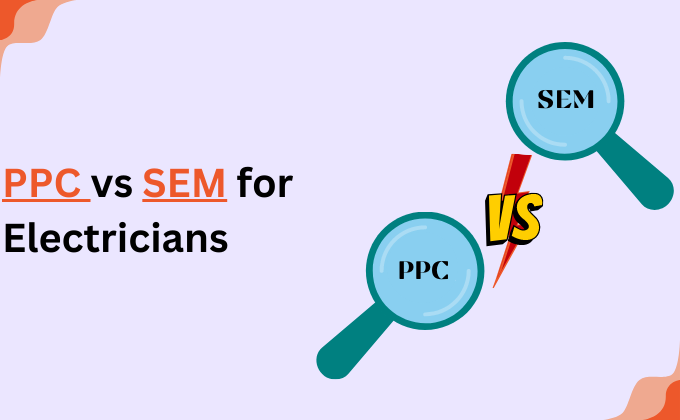 Electricians often end up being confused regarding the significance of the terms search engine marketing (SEM) and pay-per-click advertising (PPC). You can utilize both to create a conversion-worthy Google ads campaign, but they are entirely different from each other. Here are some points that can help you clearly distinguish between these two concepts:
Some digital marketers label search engine marketing as any activity performed to raise your SERP rankings. In other words, your SEO activities and the efforts to earn more reviews would be defined as SEM.
The advertisements showing up on any search result are also referred to as SEM sometimes. Note that these ads are the ones that come with the "sponsored" or "ad" labels in tiny print.
Such ads are targeted to show up when people enter any relevant keywords into the search bar. And if someone clicks on the ad, the business has to pay the host. The ads are always displayed at the top, which is why they are more likely to earn clicks than the ones ranking lower.
However, the purview of SEM actually extends beyond such advertisements. It's often used as a blanket term to describe the activities that help improve the ease of finding a specific website using a search engine.
PPC refers to all the other ads that require paying when people click on the ad. They can show up on any relevant blog, media site, and many more platforms. A major difference between such ads and SEM is that these include multiple types of content such as videos, audio, photos, and more.
PPC services such as AdWords assign a value to different search terms and phrases on the basis of their demand from advertisers.
How to Get Started with A PPC Campaign?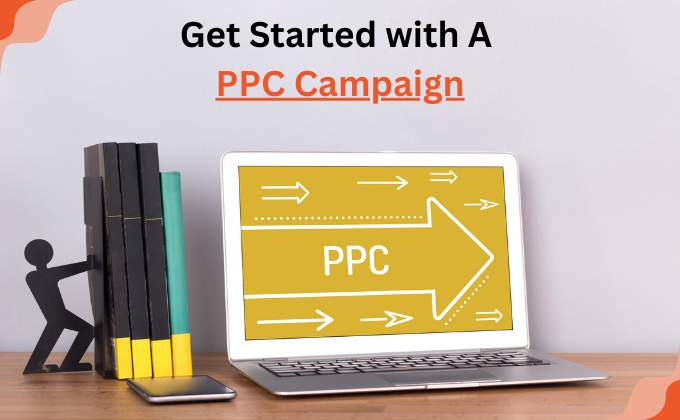 To design a PPC strategy that fetches qualified leads, you'll need to collaborate with PPC experts having valuable experience in the field. They'll begin by identifying your business goals and will formulate the strategies accordingly.
Following a preliminary discussion regarding the goals or results, here how your agency can design a PPC ad campaign for your business.
1. Study Your Competitors' PPC Campaigns
Observe the following aspects of a competitor's campaign to understand how to frame your PPC ads:
The most profitable keywords
The target demographics, behaviors, and locations.
The types of services you should promote
The web pages that you can put forth as landing pages.
2. Launch Your Campaign
Once you're able to answer the above questions, you can move on to launch the campaign. Take the help of professionals to create the ads, place proper bids, and upload them the right way.
Keep in mind that you are the owner of any new or existing account used to create an advertising account like Google ads. In some specialized cases, the electrician PPC agency that's assisting you maintains the ownership of the account. These details should be negotiated in the beginning to ensure there isn't any confusion later.
3. Track the Results of Your Electrician PPC Campaign
Once the ads are launched, your dedicated account manager for PPC campaigns will track the performance of these ads. You can use the data to change an existing ad copy or update the bids of your ads to achieve better results. Once your account manager prepares the monthly reports, you can monitor the results of the campaign and distribute them among your team as per the need.
A) Create the best landing pages
The landing page for a PPC ad is a page linked to the ad that serves as a platform for prospects to convert into clients.
Firstly, the landing page should have a clear call to action to make visitors understand how they can convert to customers. Note that the call to action may require a visitor to contact a business or to buy a product directly.
Plus, the message on your landing page should match your ad to ensure the ad meets their expectations. Avoid redirecting them to a different page or showing different content as that might make them feel that the ad is a lie.
B) A/B test your landing pages
To get the best results for your PPC campaign, it's essential to run an A/B test on your ads and landing pages. While it can be difficult to decide how long you should run an A/B test, you will want to give enough time for the test to collect quality information.
Remember that not testing your landing pages for long enough may result in your page not seeing enough visitors for a qualified analysis. If the landing page records tons of visitors, the A/B test won't take too long to get the results, but in case there aren't many visitors, the best decision would be to wait for one or two months.
You may also analyze the results for two different pages by comparing their conversion rates to understand which one of them performed better. Once you've identified the page that has recorded more conversions, try and tweak small details like CTAs, button placements, colors used etc.
C) A/b test ad copies / creatives
You can also test how two different ads in an ad group would perform. To that end, you can use responsive search ads which let you add multiple descriptions and headlines to one ad. Google can then test different combinations and favor the combination that performs the best.
Alternatively, you can have a selling point for the service or product, whether it's the quality, price, or any other aspect. Yet another effective A/B test for PPC ads is to run a test on several selling points to determine which ones yield the most conversions.
The Best Electrician PPC Strategies to Boost Leads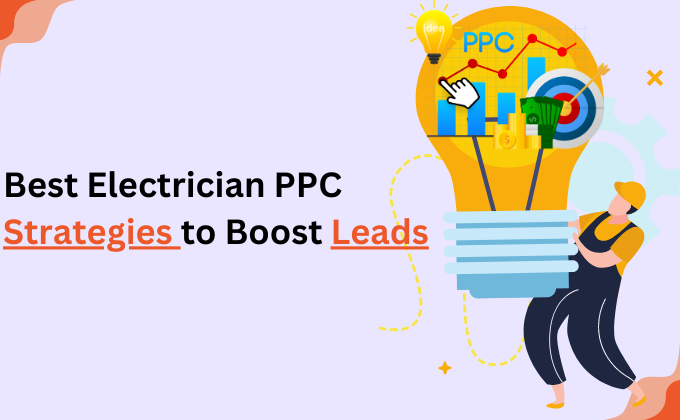 According to a survey conducted on marketers in the US, strategizing and planning were the greatest challenges that businesses faced with paid advertising. Allocating resources and time for PPC marketing were the next most crucial factors. Apart from this, optimizing targeted keywords and maintaining a top rank among other websites were also quite important.
Let's look at a logical explanation of how you can successfully generate leads for electrician services using PPC search ads. Starting with the basic steps like managing a budget and choosing proper keywords, you can move on to advanced concepts such as quality score and conversion tracking.
1. Leveraging the Right Keywords
Choosing the best keywords for your PPC campaigns will ensure your ad reaches people truly interested in your services. Ultimately, it results in higher click-through rates for your website and fetches more leads.
Selecting the correct keywords won't always be easy. You'll be able to identify effective keywords only after you understand the working mechanism of search engines and how people apply them in their search. You can use this knowledge to start identifying the keywords most likely to earn conversions.
Choosing proper keywords is key to the success of any PPC campaign, so make sure to keep the following tips in mind:
Analyze the nature and preferences of your audience to clearly understand how your services can help meet their needs. Once you become aware of whom you're targeting, you'll need to narrow down the options accordingly.
Next, you must decide the amount you're willing to spend on every click. It's best to opt for long-tail keywords in line with your search queries but not likely to be too much.
Highly specific keywords are likely to fetch maximum customers. Moreover, the more competitive a keyword is, the more costly will it be, and the faster will it affect your budget.
Also, you'll need to set a budget for the keywords you're planning to use. The budget has to be based on a number of factors including the keyword difficulty level and expected CTR. Do note that long-tail keywords come with a lower CPC and face less competition than the others. It's also essential to set an overall budget as that will help you make a proper estimate of your monthly spending capacity. However, this budget may change with the evolution of your PPC campaigns. That's because you might have to make periodic adjustments to add extra keywords or change any other aspect occasionally.
That's why you'll need to track the results and make changes accordingly. In case any keyword isn't performing up to the mark, it would be best to remove them from the campaign. For new keywords found to be generating sales and leads, you'll want to raise your budget to utilize the opportunity.
2. Define your target audience
The first step towards marketing a business is to identify the target audience based on the nature of your services and other needs and preferences. Begin by deciding whether you're targeting businesses, homeowners, or both through your business.
Once you've known your target market, you can start framing the PPC strategies accordingly to ensure your ads appeal to the audience. Some important aspects to consider are the keywords to target and the topics to base your ads on.
Choosing the right keywords helps you understand the search intent, which, in turn, can be used for audience research and identification. As for topic targeting, you can use this technique to drive product awareness- make the ads appear on apps, videos, or websites related to the topics you're focusing on.
3. Create ad groups
The PPC ads that you create are associated with an account, which can be accessed with a unique email id, billing information, and password. The structure of a PPC ad account is composed of the campaigns you create, keywords including the negative ones, an ad copy, and ad groups containing multiple ads with similar targets.
Thus, to set up a standard PPC ad that's conversion-worthy enough for your needs, you'll have to consider the number of campaigns needed to cover all associated keyword themes. This will naturally help create and organize ad groups effectively.
To ensure you're able to create the most effective ad groups, here's how you should proceed:
Cluster the desired keywords on the basis of themes. Do note that the clusters should be narrow to ensure they don't overlap in a targeted search.
As every group supports different types of ads, you can guide the ad group structure based on the ad copy applicable in every case.
However, if there's a vast range of keywords loaded in each group, you might want to create ad campaigns based on the brand, with a different group created for every model.
Often, a few keywords can together share search goals or command a lot of traffic. You'll then require multiple groups to include power keywords in different groups and keep the other terms within others.
4. Write compelling ad copy
The ad copy you use for your PPC campaigns decides your chances of generating site traffic or direct phone calls from the ads. Especially for an industry strewn with close competitors, it's more critical to develop a strategy for creating a truly effective ad copy.
While crafting an ad copy, make sure you're honest and transparent in your approach. The best aspects of your business should be enough to be sold to your customers.
Apart from that, you can keep in mind the following points while crafting a conversion-worthy ad copy:
Be specific but add adequate descriptions
Include the most relevant keywords
Keep the copy simple
Offer benefits, for instance, time-limited offers
Make the keywords a part of the URL displaying on the PPC ads
Apply phrases relating to the keywords
5. Use ad extensions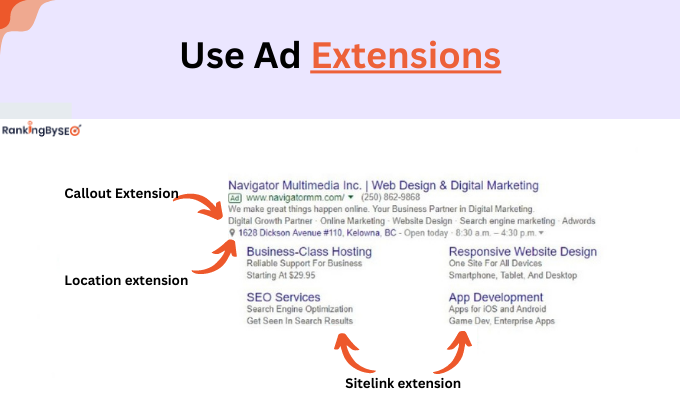 To make a mark with your PPC campaigns and earn one of the top three spots for your ads, you'll need to use ad extensions. These refer to extra information shown below an ad copy that allows you to earn more online ad space and boost ad rankings on the SERPs. With more ad space, potential customers can get a better idea of a business and entice potential customers to click on them.
The most commonly used ad extensions are:
Call extensions – Such extensions are great resources to use in case your business banks on phone calls for lead generation.
Sitelink extensions – These allow an advertiser to display a brief list of links to the internal web pages that customers might find useful.
Callout extensions – Callouts are an easy way to clearly and quickly show value in the ad while also earning more online space on SERPs. You can attach additional benefits or unique offers with your services to attract more leads.
Location extensions – A location extension lets you showcase the address of a business in the ad. To enable this feature, you can leverage your Google My Business by providing its link in the ad description.
Lead form extensions – These extensions can help users fill out forms directly by clicking on the ad.
Promotion extensions – It's perfect for displaying the current promotional offers on the search results, so you won't have to update the ad copy at the time of a sale.
Price extensions – A price extension is straightforward since it merely displays the cost of your services on the SERP. As such, users can make a buying decision easily with very few clicks.
App extensions – In case you've developed an application that you want to promote, these extensions work through Android as well as Apple phones so that users download the application directly from Google.
Image extensions – You can use image extensions to add rich visuals to a compelling text ad.
6. Use location targeting
Make sure you don't forget to add the location to the text in the PPC ads. Even if you adopt an excellent keyword and targeting strategy, not including the location may result in a competing ad earning more clicks than yours. You should also ensure the location is clear as that will provide more actionable results from searchers.
7. Use remarketing
Remarketing PPC ads is a great means of re-engaging potential customers interested in a product or company. It helps remind customers about a product, and entices them to follow up and make a purchase on their second visit to the website.
The remarketing process uses advanced digital analytics tools to target customers who added a product to the shopping cart but ultimately didn't complete the purchase. Now, remarketing might not fetch you the click-through-rates achieved with standard PPC campaigns, but it's a great way to reinforce the brand to potential customers who are willing to hire your services.
8. Utilize the Performance Max Campaigns Tool for Better Reach
Performance Max Campaigns by Google allows you to reach a majority of customers using multiple channels including Gmail, Maps, and YouTube. These are ideal for small businesses with limited resources and specific goals.
On a side note, these campaigns utilize machine learning and automation to appeal to the target audience. That's why they might not be suitable for all businesses. Devote some time to research these Google PPC campaigns, and you'll easily be able to understand whether the tool is in line with your requirements.
How To Track And Report Your PPC Ad Performance?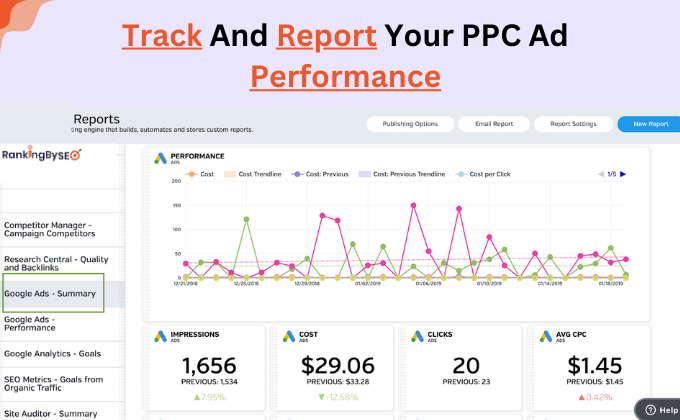 Tracking and reporting are indispensable aspects of executing a successful PPC campaign, as they help gather data to establish their claims. Once you start keeping track of metrics such as conversion rates, clicks, and regular spending, you can form a clear idea about the performance of your campaigns.
This will allow you to make changes to improve the ROI if you're unhappy with the results. Recent data revealed that 91% of businesses could easily track their PPC campaign performance, which means most average businesses will be able to do so.
Apart from tracking regular business performance metrics for PPC, you'll also need to measure the return on investment for an electrician PPC campaign. Such data can help you identify the ads that are giving rise to conversions.
When electricians are aware of the ads that are working and the ones that aren't, it can add to their savings and keep them focused on successful campaigns. Such data can also be applied to gauge the effectiveness of a range of keywords and ad copies you plan to use.
Another useful metric in this regard is the Quality Score, which Google uses to measure the relevance and quality of your landing pages and PPC ads. A high-quality score indicates that google counts your ad as useful and relevant to viewers, while a low score shows the ad isn't useful or relevant enough to them.
Do note that the search engine uses this metric to determine the cost per click (CPC) for PPC ads and the position of the electrician ads on search engine results pages (SERPs). Such a tracking system set up by an electrician lead generationcompany can also help you keep a watch on the new leads being generated by PPC campaignsfrom time to time.
Setting Up Conversion Tracking on Google Ads – Why Is It Important?
Tracking each of your conversions is important to identify ad groups, ads, and campaigns that are most efficient at driving customer activity. It can also help determine your ROI and decide how to allocate your ad spending.
Apply strategies for smart bidding such as targeting CPA and ROAS that can automatically optimize the campaign as per your business objectives. Understand how customers are interacting with your ads across devices. You can even view cross-browser, cross-device, and other data on conversions in the reporting column "All conversions".
Below is a simplified explanation of how the conversion tracking process works for any Google ad:
1. Define your conversion action:
Conversion actions are specific customer activities that hold immense value to any business. Conversion tracking can be used to track the following types of conversion actions:
Website actions: sign-ups, purchases, and other activities that customers carry out on their website.
Calls: Clicks on a phone number,
In-app actions and app installations
Local actions: Interactions specific to a store or physical location
Import: Activities that begin online but finish offline, such as when customers submit a contact for online and sign the contract later at your office.
2. Set up a conversion tracking tag:
Google Ads conversion tags help build reports to show what happens after customers click on your ads. Thus, you know whether customers purchased a product, signed up for the newsletter, or downloaded your app.
There are a few simple steps involved in creating a new conversion action, after which you can start tracking the conversion.
Step 1: Sign in to the Google Ads account you're using
Step 2: Click the tools icon on the upper right corner of the page, and navigate to "measurement", "conversions".
Step 3: In the conversion summary, you'll have to click on "new conversion action"
Step 4: Click on "Website", and then "Next"
Step 5: Enter the domain of the website and click on "scan" so that you can:
Detect whether the website has a google tag. In case it doesn't have one, you can set it up easily.
View a URL list that you can utilize to measure the activities of your customers.
3. Add the conversion tracking code to your website: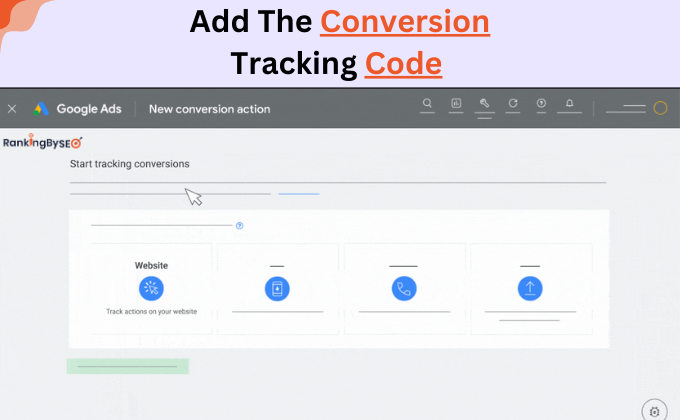 Next, you'll have to set up the tracking system for the conversions you've created. You can do this using either of the following methods:
A. Set up a conversion using a URL
1.In case you spot several suggested URLs, click Accept Suggestion to follow one of the URLs as a conversion.
2.You may also want to add your own URL. In that case, you'll have to click Add URL.
a. Following this, select the objective for conversion that's the best match with the URL you'd want to track.
b. You'll need to select the option that matches your URL perfectly.
i) URL is
ii) URL starts with
iii) URL consists of
c. Write the URL of the page on conversions on the website. For example, it can be a "Thank you" page post-purchase, or a click that you can use to subscribe to your service or newsletter.
d. Click add.
3. Click Settings in case you need to edit the settings for the URLs added.
a. After "action and goal optimization", you can select the conversion goal from the drop-down menu.
b. Click the options for Conversion action optimization to know whether it's a primary or secondary bidding optimization action.
c.Beside the tag "Conversion name", add a name for the action you'd want to track, for example "anniversary bouquet purchase" or "sign up for newsletter". This way, you'll be able to recognize the conversion action in the reports.
d. After "value", you can select the method for tracking each conversion.
i) Use the same value for every conversion. Enter the worth of each conversion to your business.
ii) While you're setting up a conversion action through codeless tracking, you can't set up value tracking. You can just add value reporting through different values for website conversion actions set up with event snippets.
iii) Don't apply a value for that conversion action.
e. From the "Count" field, select "how to account the observations". You can either go for every, which implies every conversion that adds value will be counted, or one, which takes into account only a single conversion per ad click.
f. Next, you'll have to choose the duration for which you'll track the conversions after a viewer interaction. Note that the window for shopping, display, and search campaigns can be 1 to 90 days.
g. Click engage-view-through conversion window to choose the duration for you'll track view-through conversion. There's a 1 to 30-day window for shopping, display, and search campaigns.
h. Select Attribution model. These models can provide you a better idea about the performance of your ads and can help optimize across a conversion journey.
i. Complete the process by clicking "Save and continue"
B. Set up Conversions Manually
In case you require tracking clicks on links or buttons or wish to customize an event tag using customer parameters such as transaction IDs and value tracking.
Start by navigating to the section "install and create manual conversions" and then click on "Create conversion".
For the field "Goal and action optimization", select the goal.
Same as step 3(b) and (c) described above.
Following this, you'll have to choose the action to track for "Goal". Note that a goal is a conversion you'll need to maximize by launching a campaign. These categories can be used to segment and organize campaign reports.
Against "value", select how you'll track each conversion value. You may apply a single value for every conversion, or attach different values. Choose the latter option if you're tracking the purchases of a product with different pricing. Later, while adding your tag for conversion tracking, you'll have to customize the tag for tracking values specific to transactions.
Don't apply a value for this conversion action.
Steps 7, 8, 9, 10, and 11 are the same as 3 (e), (f), (g), (h), and (i) described above.
4. Use Google Analytics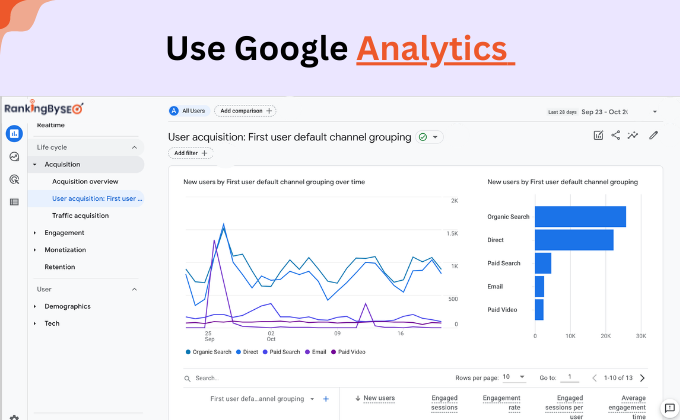 A) Set up a Google Analytics account
Marketers who don't have a Google Analytics account should set it up first. Here are the steps you'll need to follow:
Create a Google Account
Sign Up for Google Analytics through your Google account – Click on the "Set up for free" option clearly visible on the introductory page of Google Analytics. The setup instructions will then open up, so you'll have no problem with the set up.
You'll need to enter the account name. Do note that this will be your parent account where you can have multiple properties or websites.
On the next page, you can enter the property name which or, in other words, your website or business name. You can then select the currency and time zone and select click "Next" to complete the process.
Thereafter, Google will allow you to enter your business information including your size and category. You can even tell the search engine all that you plan on tracking or measuring. Google can then tailor the available data as per the needs of your business.
Once it's done, you'll simply need to comply with the service agreement terms. Tick the checkboxes and scroll down to select the "I Accept" option.
After you've accepted the terms, a dashboard will appear on the screen, where you'll have to set up a data stream to begin collecting the data. You can then click the "web" option to add your site to Google Analytics.
The next step will be to enter the URL of the website, a stream name, and finally select the option "Create Stream".
B) Add tracking code to your website:
At this stage, you'll see a stream ID and measurement ID for the property. A tracking code will also be displayed and you'll have to add that to the theme of your website.
Under the section "Tagging Instructions", select the tab named "Global Site Tag" and then copy the tracking code. Open a "New Google Sites" tab, and in the top right corner, click on Settings.
Navigate to the Analytics tab in the "Settings" window, and enter a valid Analytics Property ID. Note that the ID should be in the format "UA-XXXXXX-X", and can take at most a full day for the data to reflect on Analytics.
C) Set up conversion tracking:
To set up a conversion tracking system, you'll need to proceed as follows:
1. Click "settings", followed by "manage site"
2. Under the "Statistics" option, select Use Universal Analytics
3. Next, you'll need to enter a valid Analytics property ID under Analytics Web Property ID.
4. Finally, click Save to initiate the process of incorporating your site data into Google Analytics for efficient tracking.
It can at most 24 hours for the data to reflect on analytics.
D) Set up custom events:
Creating customer events in Google Analytics allows you to restructure existing events and trigger them on particular conditions. You can also narrow the scope of the event and then mark it as a conversion.
Here are steps to follow:
a) Click on Admin, under Google Analytics
b) Ensure you're using the correct property and analytics account.
c) Click on the Events button in the Property column
d) Select Create event, and then Create
e) Under the Customer event name field, enter an event name conforming to the rules in that regard.
f) Under "Matching conditions", you'll have to specify multiple conditions. Google Analytics will then copy an event that matches the specified conditions. For instance, in case you specify "event_name equals view_item", Analytics will copy the view_item to the new event.
g) Click on the Create button.
E) Use Third-Party PPC Tools
Apart from the PPC tools that Google offers, you get several high-quality tools from 3rd-party companies that help utilize electrician PPC services to the fullest.
Here's an interesting piece of data in this regard- almost one-third of today's businesses are yet to use external tools as part of their PPC marketing strategy. So, using such tools will help you stay ahead of your competitors.
Third-party PPC tools can be of several types depending on how they help manage PPC ads. While some allow you to host the ads, others provide key metrics and status updates on the campaigns to help improve the ad quality. Furthermore, there are tools for building a landing page, researching keywords, and optimizing ads on the whole for better performance.
FAQs
1. What are the best electrician keywords for PPC?
Nearly 1.5 million searches online have been conducted on electrician keywords. Do note that phrases such as "local electrician in [city name]" and "electrician near me" might be popular. However, you shouldn't skip keywords like "electrician to set up and install TV".
Niche keywords record high conversion rates, lower CPCs, and shorter sales cycles. Keyword targeting makes sure the electrical business shows up for relevant searches even when homeowners use phrases that have never been used before.
2. What are the common challenges faced with PPC marketing?
If you attempt to implement PPC marketing on your own, it can take time to find the most suitable strategies for your electrical business. There are five common challenges in advertising that any business might encounter once during its PPC journey. So, to ease the process for marketers new to PPC, we've explained these challenges in simple terms.
CTR is the ratio of users clicking on an ad to the number of times the ad is shown on any platform. It's a key metric for any advertising campaign and a low value of the CTR can be caused due to the following:
Lower share impressions- the ads aren't reaching enough audience.
Bland copy- a lower CTR with enough impression and relevant audience results from an uninspiring copy that fails to persuade viewers to click on the ad.
The audience is irrelevant- in case the impression shares aren't enough, a lower CTR is caused due to the ad reaching an irrelevant audience.
An inadequate bid, a low budget, or a lower rank of the ad are the three most common reasons for lower impressions. Revisit the ad rank and in case that isn't an issue, you'll have to adjust the budget and bids. If you make the keywords broader or increase the number of keywords, ad impressions are likely to get a boost as you can access different sets of audiences.
Low ad rank despite meeting all criteria
A lower rank can reduce the number of impressions and may cost you more than usual. In case you're encountering issues with the ad ranking even after implementing the best strategies, try reducing keywords in the group and improving the account structure. Indeed, including more keywords than necessary can sabotage the rankings of your ads by reducing their relevance.
In case you have lower conversion rate goals despite scoring enough impressions, it's mostly the landing page that's causing problems. It may be that the content doesn't include the mention of any compelling offer or doesn't provide enough relevant information.
Or else, users might have had a poor experience on the landing page and a mismatch with the content and ad copy on the page. Optimizing all these aspects can raise conversion rates considerably.
Competition for the brand keyword
Players new to PPC often target keywords akin to their brands used by nearby competitors, which can result in loss of leads and traffic. If there are just a few bids, businesses can boost the bids to capture more audience. Alternatively, they can approach Google and surpass the competition by using their trademark keyword.
3. Why should you hire RankingBySEO for your PPC marketing activities?
If you're looking to utilize paid ads to the fullest and drive maximum ROI and traffic, our packages for PPC growth are the best option to go for. You can find the best PPC packages at a wide range of prices including Microsoft Ads, Google Ads management, and many other ad networks to provide you with a competitive edge over contemporary businesses.
Some other significant offerings of our packages include
A team of dedicated PPC experts that know how to win bids at least expenditure.
Top-ranking ads in search results to promote instant growth of traffic
Centralized management of campaigns to enable data-driven advertising with multiple keywords.
We're a Google Ads Partner and hence collaborate with Google Support to promote smooth functioning of the campaigns.
An ads manager who can run your campaigns comprehensively.
4. How do I get a Google Guaranteed Badge on my ads?
A business can earn a Google badge and become a guaranteed electrician for additional credibility to a homeowner. After you sign up for Local Services Ads, you can apply for the guaranteed program, which will be followed by a check for your business license, customer reviews, and insurance. It will also comprise a background check of your employees, free of cost.
Final Words
PPC ads are not just cost-effective, but they can also boost the online credibility of an electrical business to a great extent. Once your potential customers see you investing in the business, they're likely to move ahead and contact you.
In case you need help creating an all-around sales or marketing campaign, it'll be best to place your trust in a digital marketing company to help your business draw quality traffic. Contact us today and we'll get the ball rolling for you.
Additional Resources: