Content is forever.
Yes, you read it right. The content you create and publish is searchable by Google for years unless you stop Google from crawling on your content.
That being said, your audience can stumble upon your content at any time – right after you publish it, one month later, or one year later.
My friend, content lives on even after it has lost relevance.
The best way to ensure your content's relevance is to keep on updating content from time to time.
However, doing so is not always feasible as you might be having tons of content to update.
There is another way to avoid your content becoming outdated without spending much of your time on updating it.
What is it?
Creating evergreen content!
In today's post, I'm going to discuss the types of content that last years and how to create them. Also, you can examine the examples of each type.
Without further ado, let's dive in:
1- Blog Posts & Website Content
Barring some websites, like news and product announcements, much of the websites can offer evergreen content.
How can you make sure that your website content is evergreen?
As a rule of thumb, you should create web copy around how your products or services are going to remove your target audience's pain points and how you are different than your competitors.
If your website copy explains the what, how, why questions of your audience, your content will be effective to generate leads for many months.
SAS, a leader in analytics software and solutions, has created awesome web copy.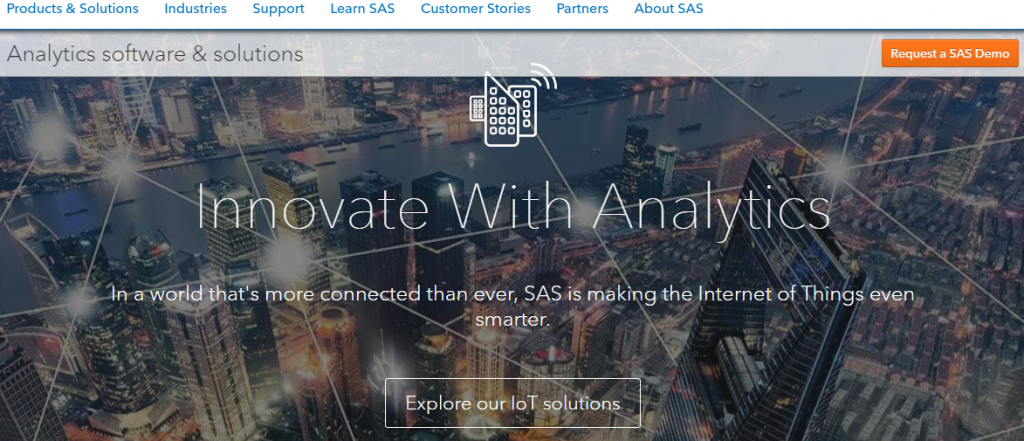 SAS has smarty organized copy on its website in a way that visitors can easily get answers to their common queries. Not only is the website copy persuasive, it is also evergreen.
Now, the next question?
How will you ensure that your blog posts are evergreen?
Here are some tips:
Avoid writing posts on the topics that bring the idea of time
Remove date from the URL of your blog posts
Write blog posts on the topics relevant to your buyer's journey
Don't writes blog posts based on news stories
Blog posts that educate your audience and help them make informed decisions are going to stay relevant for a considerable length of time.
At Ranking By SEO blog, we most often publish evergreen blog posts.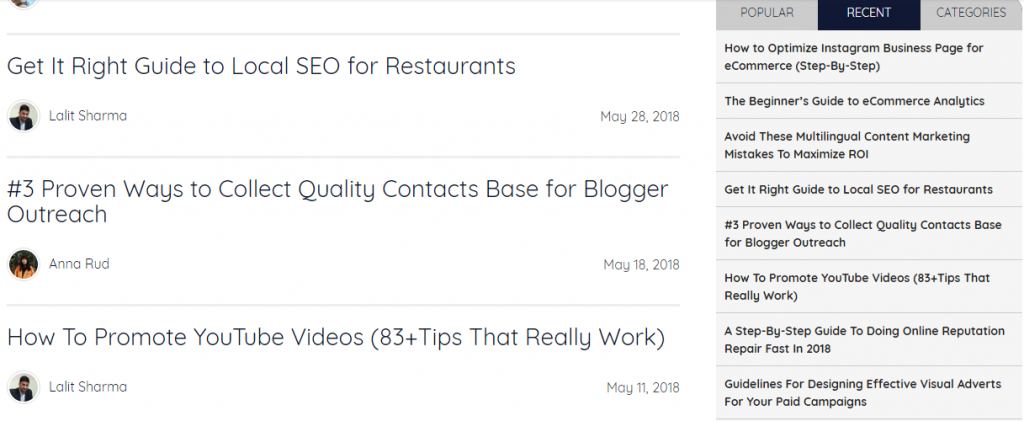 Start creating evergreen website copy and blog posts to achieve long success.
2- Reference For Tools
Creating a guide to useful tools that people use in your industry is a popular form of content that lasts years.
At Ranking By SEO blog, we created a post on useful on-page SEO tools for our audience.

Whenever we find a new, on-page SEO tool, we update our list, ensuring that our on-page SEO tool list remains fresh.
Here is another reference to an evergreen reference for tools for content marketers published on Convince & Convert.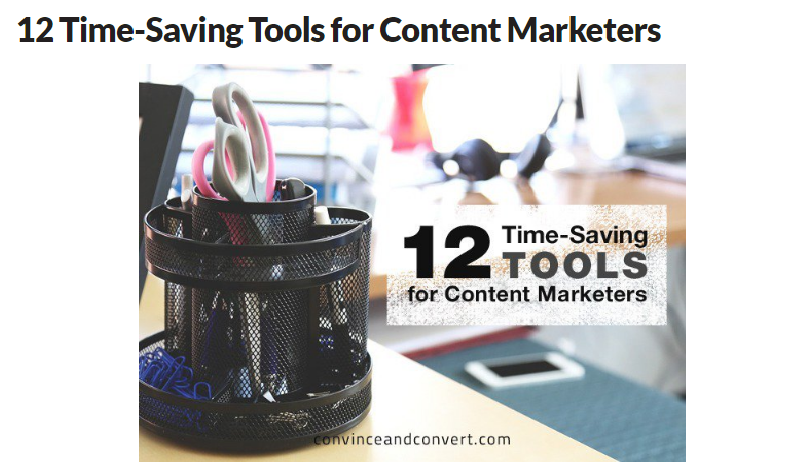 I'm a big fan of Brian Dean for he shares useful, practical tips on the various facets of SEO.
He has created an ultimate list of keyword research tools on Backlinko.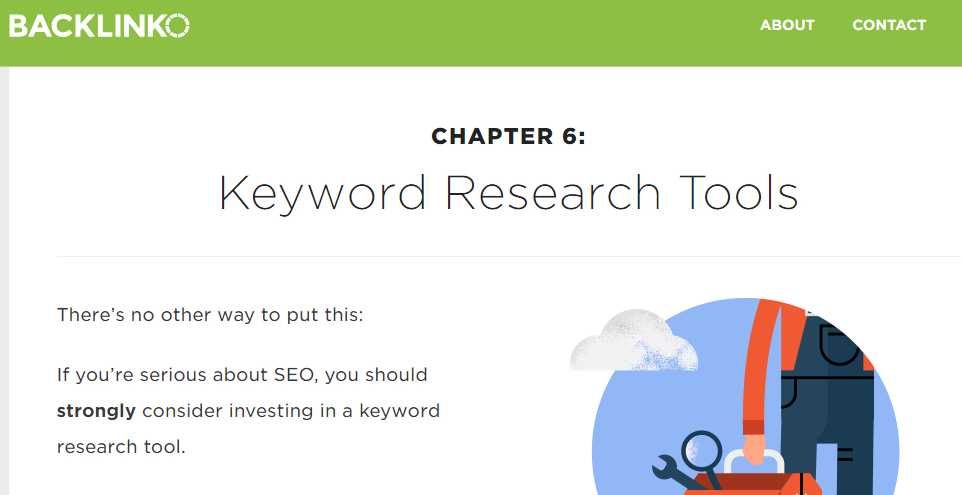 Don't you think his post will be relevant for years?
Yes, my friend, this post will be useful till the time we will be needing keyword research for SEO.
Here are some tips on creating a guide to essential tools in any industry:
Always include common tools that people often use in your industry
Take an independent approach when describing tools, or else people will find your list biased
Once you have made a list of tools, let the companies know about it. This will help with promotion
Keep on updating your list as you find new tools with the passage of time
Also, asking your audience what they want is a good way to prepare a useful list of tools that your audience would love.
3- Checklists
Checklists provide a significant value to readers because checklists offer a step-by-step process to do something.
And the best part is,
Creating checklists won't require much of your time and you can easily promote them.
On Ranking By SEO blog, we have created SEO Checklist for 2018.
The article discussed following things:

Don't you think this type of evergreen content will always be loved by people in the SEO industry if we keep updating it every year?
Without any doubt, it will be.
Here are the best practices to create an ultimate checklist for any industry:
Make sure that your checklist adds value to your audience
Always choose a hot topic to create a checklist
You can create a checklist based on your popular blog posts
Share your checklist on social media to amplify your reach
Checklists, as they offer step-by-step processes to do tasks, are a good example of evergreen content.
4- Case Studies
Conducting case studies requires lots of time and resources. That's why not all brands venture to create case studies.
Are case studies evergreen and popular?
They are!
Have a look at Brain Dean's famous Link Building case study.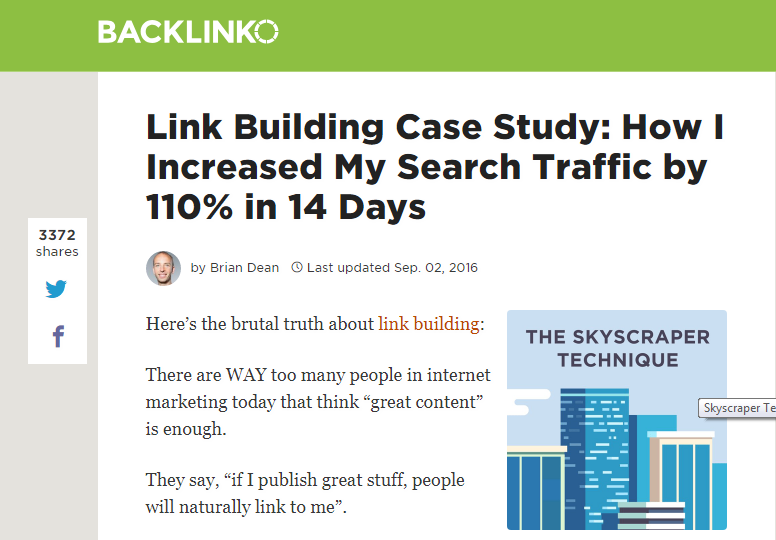 3372 shares and 678 comments as of now. The number is growing. Why?
Because it is evergreen content.
Good case studies can engage your readers for years.
Here are some best practices that you should follow to create evergreen content in the form of case studies:
Research about the style, type, and design of case studies your audience would love
Be realistic about the goals of your case study
Find a suitable angle and use data to support your statements
Let your clients tell their stories in your case studies
Case studies, if created strategically, will generate lots of leads for your business. Include this evergreen content in your content marketing strategy.
5- Q&A Interviews
Searching for evergreen content to engage with your audience for a longer period of time?
Create posts around Q&A interviews on timeless topics in your industry.
Here is Q&A with Joe Pulizzi, the Godfather of content marketing.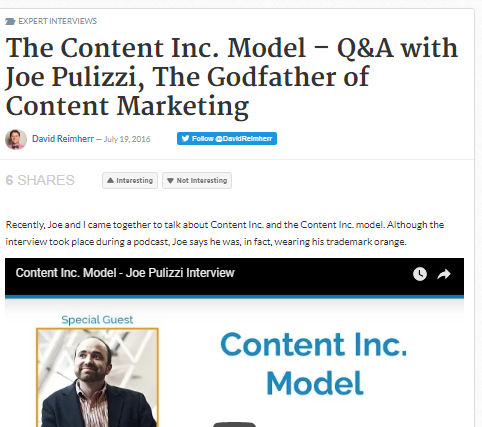 My friends, Q&A interviews are hugely popular if you happen to rope in a right expert for an interview and pick a timeless topic.
Following are points you should consider when you are planning to conduct a Q&A interview:
Choose a topic around the pain points of your target audience
Try to incorporate a respected expert in your industry for an interview
Try and include a video, subtitle, and transcript in your interviews to enhance user experience
Ask audience about what questions they want the expert to answer
Keep your questions focused
Once you have completed Q&A interview, promote it aggressively to maximize success.
6- How-to Guides
My friends, how-to-guides are a popular kind of evergreen content as they offer information in a step-by manner.
Just look at the post How to Write an Awesome Blog Post in 5 Steps written by Dan Shewan and published on WordStream.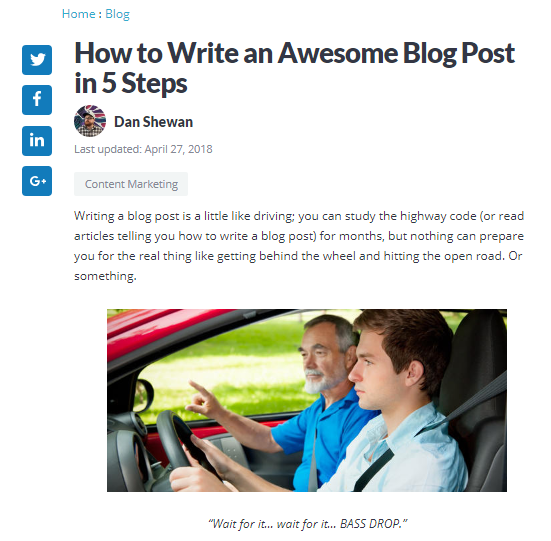 Written on a timeless topic, this evergreen content is going to be loved for years, not months.
Here is another example of an evergreen How-to guide that was published on Hootsuite.

This content piece of Hootsuite will be relevant for as long as Facebook is around.
How can you create how-to guides that will be relevant for years?
Follow these tips:
Pick a timeless topic (often something tricky, complex)
Explain step-by-step processes in simple words
Include images, screenshots, videos, graphs to explain the topic better
Never make your how-to guide salesy
Explain a topic thoroughly
Also, you should aggressively promote your how-guide to reach a wide audience. After all, there is no point in creating evergreen content if your audience doesn't see it.
7- Infographics
When you create a useful infographic, you create content for years.
Why do infographics qualify for the evergreen content category?
The answer is simple.
Infographics can explain complex processes in easier steps. You can also share data and statistics with your audience through infographics.
Robert Allen, the former editor of Smart Insights, has published an informative infographic on Smart Insights, explaining a brief history of content marketing.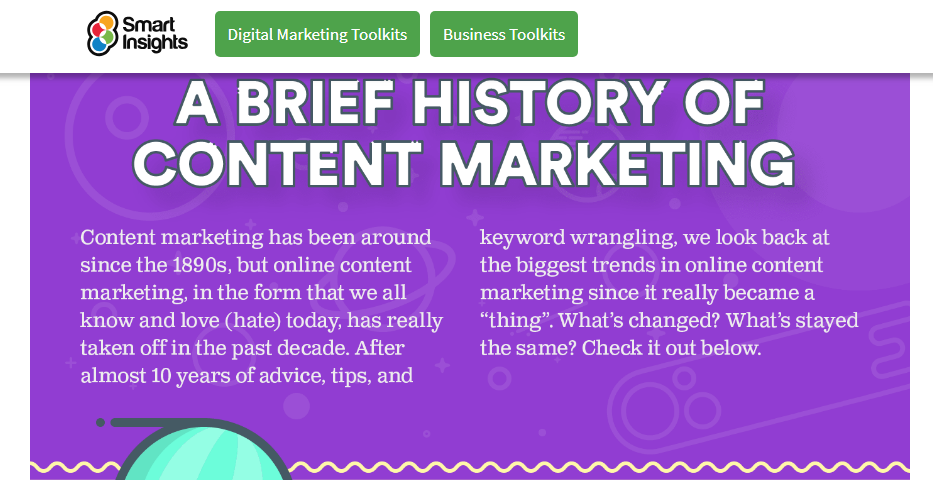 This useful infographic will be relevant for years to come.
Here is another example of evergreen content – an infographic published on Crazy Egg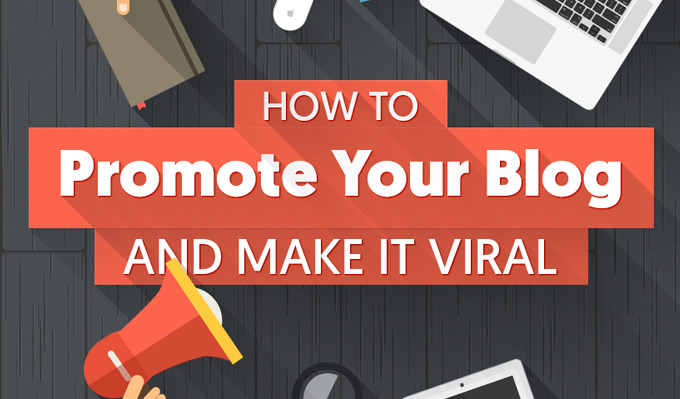 This infographic: How to Promote Your Blog and Make it Viral is a perfect example of evergreen content that will remain useful for years.
How will you create a kickass infographic?
Follow these best practices:
Keep your infographics simple, focused, and visually appealing
Never forget to have whitespace on your infographics
Use a killer headline and promote your infographics aggressively
Double check your facts and figures
Make it easy-to-view
A point should be noted that you should create infographics on timeless topics to add the evergreen factor to them.
Conclusion
Considering search engine's discoverability of your content, it is imperative that you should aim at executing evergreen content marketing strategy for the long-term success.
Creating long lasting content in the forms of blog posts & website content, references for essential tools used in your industry, checklists, case studies, Q&A interviews, how-to guides, and infographics is a good content marketing strategy to ensure lasting success.
What about you? Do you have any tip on creating evergreen content? Please leave it in the comment section. I'd love to know about it.
Additional Resources: