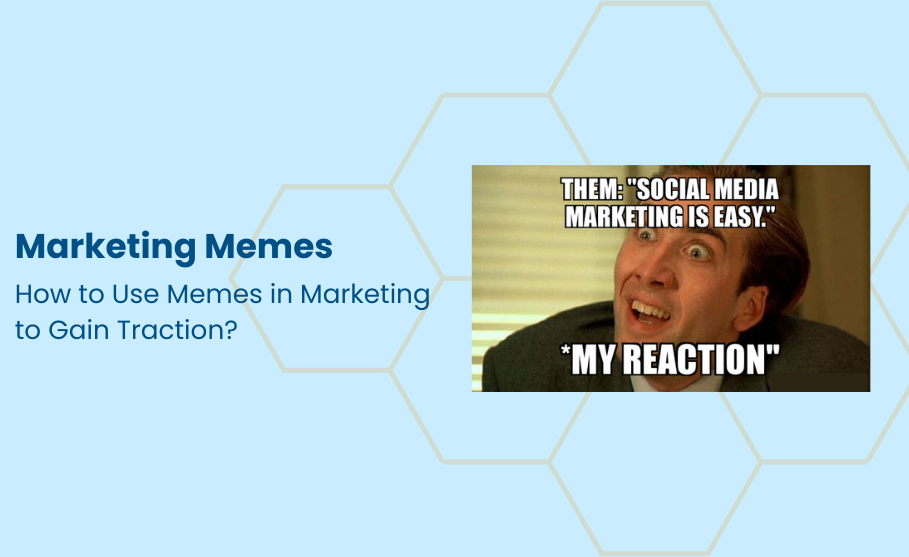 Doesn't a relatable meme on your social media newsfeed ignite a spark immediately? Then why not use this trick for marketing your brand to potential customers? Rest assured they'll love it too and would want to visit your site soon.
Memes are entertaining, funny, and easy to understand, which is why most marketers are exhaustively using meme marketing nowadays. You can sometimes provide useful information to your audience with the help of an interesting or funny message. In fact, a YPulse study revealed that around 75% of millennials share memes nowadays, with at least 38% following meme accounts on all social media platforms.
The findings of yet another study by the meme platform Memeois proved that memes could help brands increase their reach by 10 times accompanied by 60% organic engagement. Considering the immense potential of this genre of marketing, we've brought you this simplified guide on the right way to approach meme marketing. Go ahead and give it a read.
What Is Meme Marketing?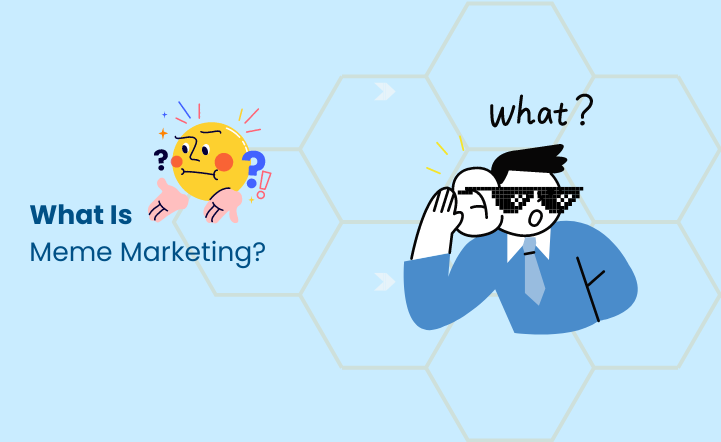 Meme marketing is a technique whereby brands leverage the power of funny, entertaining, and shareable to enhance their overall visibility. In simple words, meme marketing requires you to combine social media marketing and content marketing strategy to spread the word about your brand.
How Can Meme Benefit Your Business?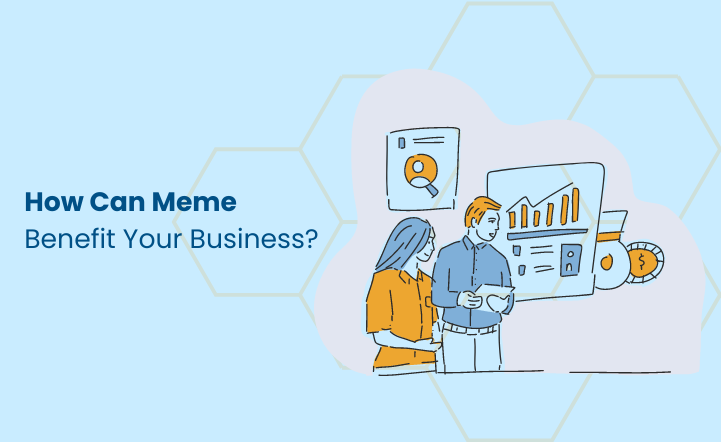 In a nutshell, here are the different ways in which meme marketing can help a brand expand its customer base and achieve impressive overall growth.
Unlike ads put up online, you don't need to pay for the engagement received for the memes in the form of comments and likes. Thus, it's a fully organic digital marketing strategy that also doesn't require you to chalk out a marketing budget.
Memes resonate with all, irrespective of their interest, demographics, or age. That's because they're captivating and funny enough to capture the attention of any viewer. Ultimately, memes act as a simple means of reaching a wider audience with minimal effort.
Considering the daily screen time for the average smartphone user nowadays, we might not remember everything seen on the phone. However, if something really catches the attention of a viewer, only then will they have the post in mind. The funny and entertaining nature of memes makes them more likely to appeal to any viewer.
Creating the funniest marketing memes is much easier compared to other content marketing pieces. You won't always need to build a meme from scratch- just modify an existing one and that won't take much time as well.
How to Create a Winning Meme Marketing Strategy?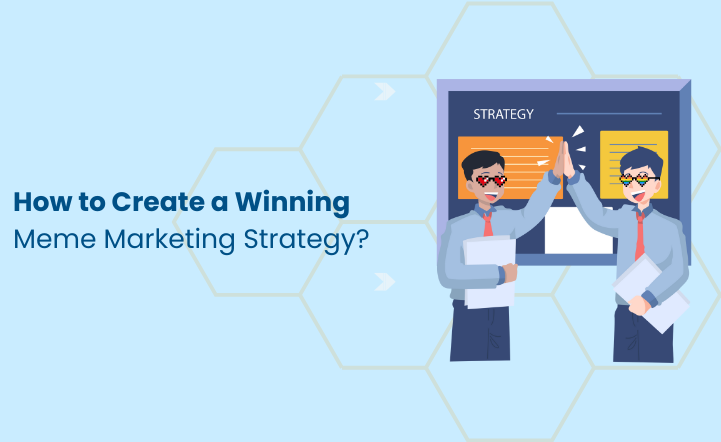 1- Be Creative And Thoughtful
Though meme marketing seems quite fun, designing the right meme isn't a cakewalk. You need to insert ironic and sarcastic texts to bring the true flavor of jokes based on digital marketing or the product or service you're selling. So, if you don't create memes with the right tone, they can backfire on you easily.
In fact, digital marketing memes may end up making your audience confused, and they might not understand the point you want to put forth. Hence, you'll need to do some careful research on the texts and images to use that will ultimately set the tone that resonates with the brand voice.
For instance, a meme based on millennials won't interest a corporate audience and your effort to engage them in your products/services will go in vain. That's why you'll need to create something that fits well with what corporate workers think about the issue you're focusing on.
Zomato and Netflix are among the most well-known brands in this regard, as they devise new ways of interacting with their audience consistently. Be it through internet lingo, meme marketing, or informal language used in social media posts, the brands have managed to retain the interest of their audience.
Ensure The Tone Matches Your Brand
It's important to use memes, but more crucial to choose select few memes that match the brand voice. Initially, maintaining consistency in brand engagement might be tough. Nevertheless, it's quite essential to ensure your brand image is maintained well.
High-quality memes are humorous and informative since they leverage social satire, criticism, or nostalgia. However, they might end up being harsh or obnoxious if they're used in the wrong way.
The best example is the use of fun elements in memes. While such a technique would go well with modern brands that project a playful image, it may not work for those that are still employing traditional tools and techniques in the production process.
Analyze Your Audience
If you search the existing market for the best marketing memes, you'll find samples that are aimed at engaging and attracting particular audience segments. Ascertaining the brand voice will help you decide the audience for your memes.
With efficient market analysis, segmentation, and research on the demands of consumers, you can find the correct set of meme templates for a particular demographic.
Leverage Contemporary Trends
When it comes to marketing with memes, especially on social media, timeliness is something you can't ignore at all. Keep track of the Facebook and Twitter trends to discover the most talked-about social media topics in your niche.
Once you create a meme on a popular trend with the right timing, it's likely to go viral on social media. For instance, the restaurant chain Denny's based in the USA often selects popular memes and incorporates its own flair into the same.
This is all it will take to create memes that can strike a chord with your audience. Just ensure you're not going overboard, no matter how much might be tempted to.
Plus, it's important to use memes sparingly as part of the marketing strategy. Otherwise, they might think that you're trying too hard to impress the audience.
A shining example of this technique is the "How it started. How it's going" trend that took over Twitter at the start of 2020. This meme aged pretty well contrary to many others that had a much shorter shelf life. Brands took part in this trend to share the story of how they started their journey.
The luxury brand Anima Iris which dealt in purses shared photos of its CEO in the early stages of the brand to its current position. Such a trend allowed the brand to build a strong connection with its audience and made users enquire about the brand in large numbers.
Showcase The Brand Voice
Memes showcase the belief of the brand in an indirect manner. As such, it's essential to adhere to the values your brand adopts. While most brands tend to borrow trending memes to promote better engagement, you should ensure the meme is authentic to the brand voice. That's why such memes should be chosen wisely.
Keep It Simple
Complicating a meme is the last thing you should do for digital marketing campaigns, as no one would find that appealing. After all, given the limited span of attention of the audience, they may not spend much time understanding a single post.
That's why your meme should be one that any potential customer can understand. Keep it simple while also including something appealing that captures the interest of your audience.
Make Use of Viral Trends
Reusing old memes that went viral is a good way to create personalized content with a touch of originality. After all, the market for memes is always strewn with trending memes from a number of sources.
Using such templates with intelligent modifications can help provide a competitive edge to your content strategy. Just make sure not to impose a meme that doesn't go well with the brand voice.
Add Originality To Popular Memes
Engaging your audience with funny memes can be fruitful in the long term, but keep in mind that they're aimed at marketing your product or service. This implies you'll have to enhance brand awareness as part of your digital marketing strategy.
Memes are shared on social media in large numbers, so you'll have to put in much effort to get noticed by your target audience. Rather than reposting popular memes, some brands need to instill creativity in their digital marketing strategy.
To that end, you'll have to understand the true implication of the meme and think of ways to align it with the products or brand. You can incorporate the design, mission, name, or merely a picture of your brand into a meme for branding campaigns on social media.
FAQs
Q1- Are Memes in advertising protected by Copyright?
Popular sites such as Tumblr, Reddit, and Imgur protect most of their memes using copyright laws. Moreover, the US law on exclusive rights places 4 criteria to ascertain whether the use of a particular meme is fair or not. It takes into account the character and purpose of use, the number of memes used, and the effect of the use upon its potential market. As for India, section 2(c) of the Copyrights Act, 1957 includes a part on "Artistic Works" that protect any newly created meme.
Q2. Why Are Advertising Memes Important?
Memes let you connect with your target audience deeply using a few words. Plus, they can spark a conversation about the brand. Since both these activities are integral parts of an advertising strategy, memes can work well to advertise for any brand effectively. Another significant aspect of memes is that they can add personality to the advertising efforts of a business through their relatable or funny scripts. That's not all; you can humanize the brand to connect on a personal level with its potential customers.
Q3. Are there any risks associated with using memes in marketing, and how can I avoid them?
There are few things you need to be careful about while using memes in marketing:
Memes can offend certain audience groups if you aren't careful of the words and tone you're using in the scrips.
Sometimes the memes used might have nothing relatable t the content used by the brand, which is detrimental to the brand image.
Using memes excessively can provide an effect reverse to what the brand is striving for. After all, too many of them can lend an unprofessional image and drive customers away from the brand.
Another disadvantage is that memes can be made by anyone. So, someone not representing the brand might make a meme that can ruin its reputation. And if that becomes viral, it might make the situation more difficult.
Conclusion
With meme marketing, you get to promote your business without exuding a salesy vibe. A relatable meme has the capacity to improve the engagement and visibility of a brand significantly.
Ensure you're on the lookout for the latest trends in the market and examine how your audience is responding to those. The subject and tone of your memes will depend on these factors. A great way to create effective memes is to use design tools to add a slogan, brand name, or customized text into a meme.
Additional Resources: