Looking to ramp up SEO efforts for your website but perplexed about which search engines to target? Or are you another internet user searching for the most relevant information on a specialized topic?
Either way, Google might've surely cropped up in your mind first. It's no secret that Google practically runs the online search world, but know there are more than 50 other search engines to explore.
Yes, you heard that right! A few of these search engines are prevalent in their own areas, but they often get lost in the tide due to Google's exemplary search engine monopoly. There are still others that aren't updated as per the latest browsing trends. As such, they may seem like antiquated relics left over from the introduction of the internet several moons ago.
To help you understand search engines better and pick the best of the lot, we've compiled this list of the top options (including Google) to watch out for in 2023. As a bonus, we've also included an introductory section on search engines to help you develop a clear idea about how they work. So, let's get started!
What Is A Search Engine?
In simple terms, a search engine is a script or program that an internet user utilizes to find relevant information on a keyword, question, or phrase. Every search engine has its own specialized technique of finding just what users are looking for.
How Do Search Engines Work?
For starters, search engines use automated software like bots, robots, or crawlers to scan websites for the requested information. Every search engine utilizes a complex mathematical formula of its own, popularly called an algorithm, to narrow down and display specific search results.
But how does the search engine algorithm go about this job? It simply scans significant ranking elements from the web pages like the page title, content, and keyword density to curate the best-fitting search results.
Notably, the browsing list of a search engine includes millions, and in some cases, billions of websites. The crawler used by a search engine visits every page, and then indexes it within its vast database. During this process, it records links in the page, checks the keyword density, and strips out stop words and other information on the page like media and images.
In the end, the search engine algorithm uses this information to quickly find the page that's relevant to the search query. The algorithm also ranks the page to suggest the position where it will show up in the SERPs.
Types Of Search Engines
Search engines are generally divided into the following categories based on their working mechanism and some significant characteristics.
1. Mainstream Search Engines
Options such as Google, Yahoo!, and Bing are available for free and apply slight variations of a particular strategy (that is, indexing, ranking, and crawling) to help you search the internet on the whole.
2. Vertical Search Engines
Specialized or vertical search is a means of narrowing the user's search to a single category, rather than the whole web. Some search engines that use this approach include:
Google Scholar, which helps find scholarly texts across different publications
The search bars on shopping sites such as Amazon and eBay
Social media apps and sites that are searchable, like Pinterest and Google
3. Private Search Engines
Search engines such as DuckDuckGo abstain from collecting user data such as browser fingerprints, location information, and IP addresses. As such, they help maintain user privacy throughout a browsing session and ensure users don't get targeted ads.
4. Computational Search Engines
Computational search engines are designed to return mathematical and statistical data on a subject in place of opinions, narrations, and explanations, as provided by the majority on the block. The best example in this regard is WolframAlpha.com, which finds a place among our list of the top 10 search engines.
5. Human Powered Directories
Also called an open directory system, this search engine relies on user-based activities for its listings. When site owners submit a brief description of their sites along with the category under which they are to be listed, the directory reviews and adds them to the suited category or rejects them for listing.
Here is the list of top 10 search engines in 2023


There's no denying that Google takes the trophy for the most easy-to-use and comprehensible search engine. Like David Letterman's My Next Guest, this search engine needs no introduction, having achieved an unparalleled market share of 92.47 percent. Needless to say, Google is the most-loved search engine in India as well.
So, what is it that makes Google outstanding? Let's tell you that the search engine has helped connect multiple communities around the world to date by supporting 133 different languages?It added 24 new languages to its translation service in May this year.
And it's no secret that Google performs billions of searches daily. To provide users with the most relevant search results as per their needs, it collects data on its user experience and uses that to improve its search algorithm.
Also, let's not forget the "I'm Feeling Lucky" feature, which directly takes users to the first search result for any search query.
Woah! No wonder it tops the list of the leading search engines of 2023. So, to drive traffic to your website, it's crucial to improve your Google rankings. How, though?
Here's a round-up of the most effective Google SEO Tips to rank your site higher on Google.
Curate SEO-friendly URLs
Internally link your content
Use headings, subheading in content
Write informative and comprehensible content
SEO-friendly meta descriptions and titles
Use Google Analytics to see progress
Create a mobile-friendly website

When Microsoft saw Google taking over, they came up with Bing as a strong response to Google Search. And in 2017, Bing achieved an impressive search market share of 33% in the US that translated to 5 billion searches.
As of today, it's second only to Google, with a US market share of 7.13% and worldwide share of 3.19%.
And here's the best part— Bing has constantly been incorporating several new features in an effort to improve the browsing experience further. Such features include keyword matching, Improved Ads Import functions, and requests for improvement reports.
So, while you may have optimized the website to comply with Google's algorithm, you shouldn't underestimate the relevance of Bing in the US market.
To maintain a high ranking on Bing, try using the following SEO tips:
Aim early indexing
Clean your sitemap
Build important and valuable backlinks
Look for relevant keywords
Add rich images
Emphasize on local SEO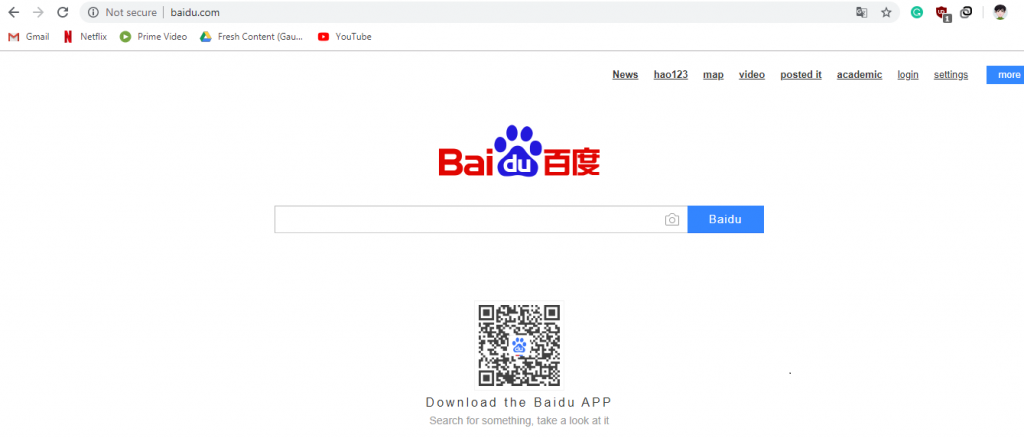 Next up on our list is Baidu, often nicknamed the "Chinese Google" due to its widespread popularity in China. This search engine has been around for more than two decades now and enjoys a commendable market share of 84.3%. So, if you're looking to gain leads from China, it's best to modify your SEO strategies to rank on Baidu.
Try using the search engine for sometime, and you would easily understand that its features and design elements are quite similar to Google. That's why optimizing the content in your website is more important if you want to rank high on Baidu.
Curate readable content.
Use Meta tags and keywords in the title.
Write a creative page title.
Make your website responsive to mobile phones.
Don't put pop-up or in-text ads.

Yandex, the leading search engine in Russia, is another significant name in the worldwide search market*. Specifically designed to suit the Russian audience, it accounted for more than 62 percent of the user visits in Russia this year and has a market share of 42.3%.
So, if you want to bring the majority of Russian searchers to your website, focus on optimizing your site as per the best SEO practices for Yandex.
Interestingly, this search engine stresses on regionality and local SEO more compared to Google, making it easier for local businesses to rank higher. The availability of a parallel search is another advantage, as it shows results from both the main web index and special information sources like blogs, images, news, etc.
Yandex SEO Tips
Learn Yandex indexing.
Create a website for added user-engagement.
Write comprehensible content.
Do not invest time in backlinking.

The primary appeal of DuckDuckGo lies in the search privacy it offers — it doesn't associate a search with the user's IP address. Thus, neither is any user data collected nor is any search history tracked. In a world where privacy on the internet is a major concern, this search engine is naturally a favorite of many users.
According to Statista, the market share of DuckDuckGo is 2.52% in the US and 0.63% worldwide.So, make sure you plan for ranking on DuckDuckGo as a part of your website's SEO strategy to gain leads.
The search engine emphasizes on showing the best outcomes rather than the most outcomes, obtaining such outcomes from more than 400 sources. Moreover, it demonstrates all users the same query results for a given term.
DuckDuckGO SEO Tips
Write user-specific content.
Earn links and look for high-quality link building opportunities.
Come up with a semantic search strategy.
Use localized search keywords.
Optimize for its exclusive instant answers.

This question-answer website focusing on e-business finds place on our list due to its unique ability to yield effective answers to any search query. A survey by SemRush found that Ask.com gets more than 8 million visitors from all devices every month.
Started as Ask Jeeves in 1996, it's technically a web crawler that used its own hunt calculation until 2010. However, it later realized that it couldn't rival huge Internet search engines like Google using such a strategy. Currently, Ask.com redistributes all its list items from an outside supplier. Some noteworthy features of Ask.com include its user-friendly design and an optional privacy tool called AskEraser.
Ask.com SEO Tips
Invest in link building
Focus on keywords in the content
Write high-quality content
Frame a semantic search strategy
Write content in the form of answers
Write FAQs

Here's another search engine that comes encrypted to keep the search and user information private. So, rest assured it won't follow your pursuits or utilize your personal information for promotion or different purposes.
Operated from France, Qwant is among the front-runners in the country and has a desktop search engine market share of 1.4%. It has a component like DuckDuckGo's !bangs meant for searching any other website and has named it as Qwick.
To the extent web search engines go, Qwant is very component rich. It has the normal web, news, picture, and video search. Qwant likewise has social, shopping, and music search. A feature that element called "Boards", which lets searchers save data that interests them.
Qwant SEO Tips
Write content that would appeal to users.
Curate catchy titles.
Look for relevant keywords, but don't focus too much on them.
Focus on link building.

Dogpile is a metasearch engine that obtains search outcomes from various web search tools before it shows you the data. After it retrieves the results, its efficient metasearch technology works by analyzing those results and removing duplicates to ensure the top search results are indeed the best ones.
It's also quite simple to use and offers a couple of search customizations on the off chance that you need them. Thanks to such user-friendly features, this search engine drew 62.6% traffic from desktop devices. But there's a catch about optimizing your site for Dogpile — you can't really work on SEO for this search engine as it combines results from other popular ones. So, what you can do is apply standard content optimizing strategies and just be careful not to keep any duplicate content.

The Lycos search engine was started in 1994 by the prestigious Carnegie Mellon University in Pennsylvania, USA. It has its own network of entertainment, email, social networking, and web hosting sites.
Some significant offerings of Lycos include fast searches, personalized results, and advanced search filters. So, users seeking more targeted results often opt for this search engine. A point worth noting is that Lycos is a fairly popular search engine in the USA, with 43.11% of its traffic originating there.
Lycos SEO Tips
Write quality content.
Write FAQs and answers.
Focus on keywords.
Invest in link building.

Designed for the United Kingdom audience, Mojeek is a crawler-based web searcher that provides results utilizing its own list of websites. The engine indexed a whopping 5 million website pages recently, adding to its ever growing repository of Q&A, interesting articles, and many other hidden gems.
For UK residents, Mojeek presents another effective alternative to Google as it provides new and different sources of information independent from the Big Tech bias. That's why Mojeek has helped users browse through a wider range of websites apart from those favoured by Google and a few other front-runners.
This search engine sports a clean interface with one search box, and separate tabs for web, images, and news. Moreover, it doesn't follow users around the web, nor utilizes data to show them targeted ads, which has contributed to making it popular across the USA and UK.
Bonus Search Engines
While the above 10 options are the best in our opinion, we feel two others have carved their own niche in the world of search engines. The top 10 search engines mentioned above are unique and one-of-a-kind. However, there is one that is always left behind and we would like to mention it individually here.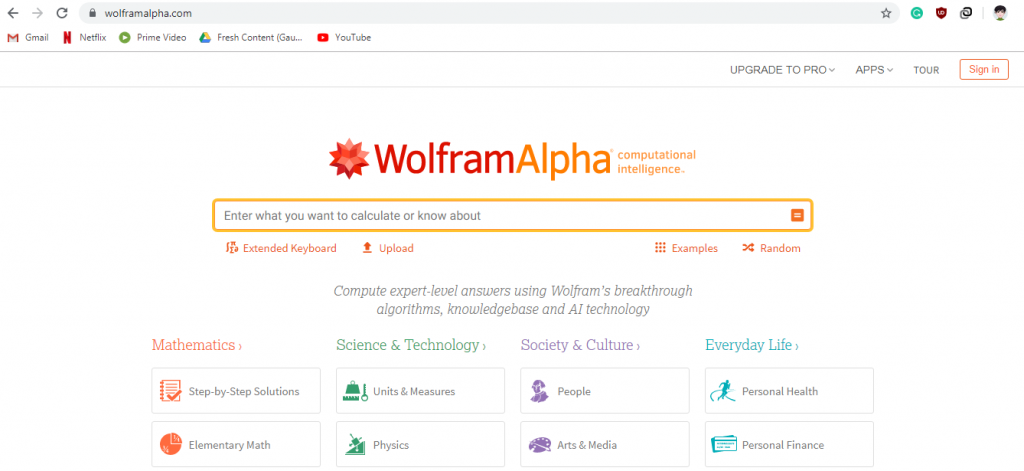 WolframAlpha uses externally sourced data to find informative answers to factual queries. This is mainly meant for researchers as it doesn't just list a number of documents to look for relevant data. Another point worth noting is that this search engine recorded an impressive 10.6 million user visits recently, which clearly shows its growing influence on the web*.
Given that this search engine is created using 15 million lines of code in Wolfram Language, WolframAlpha is trusted to show computational data, giving quite accurate results.
For example, you can compare the Alexa ranking of two websites and get all data on one page. Take a look at the images below, where we've compared ethanetechnologies.com with rankingbyseo.com.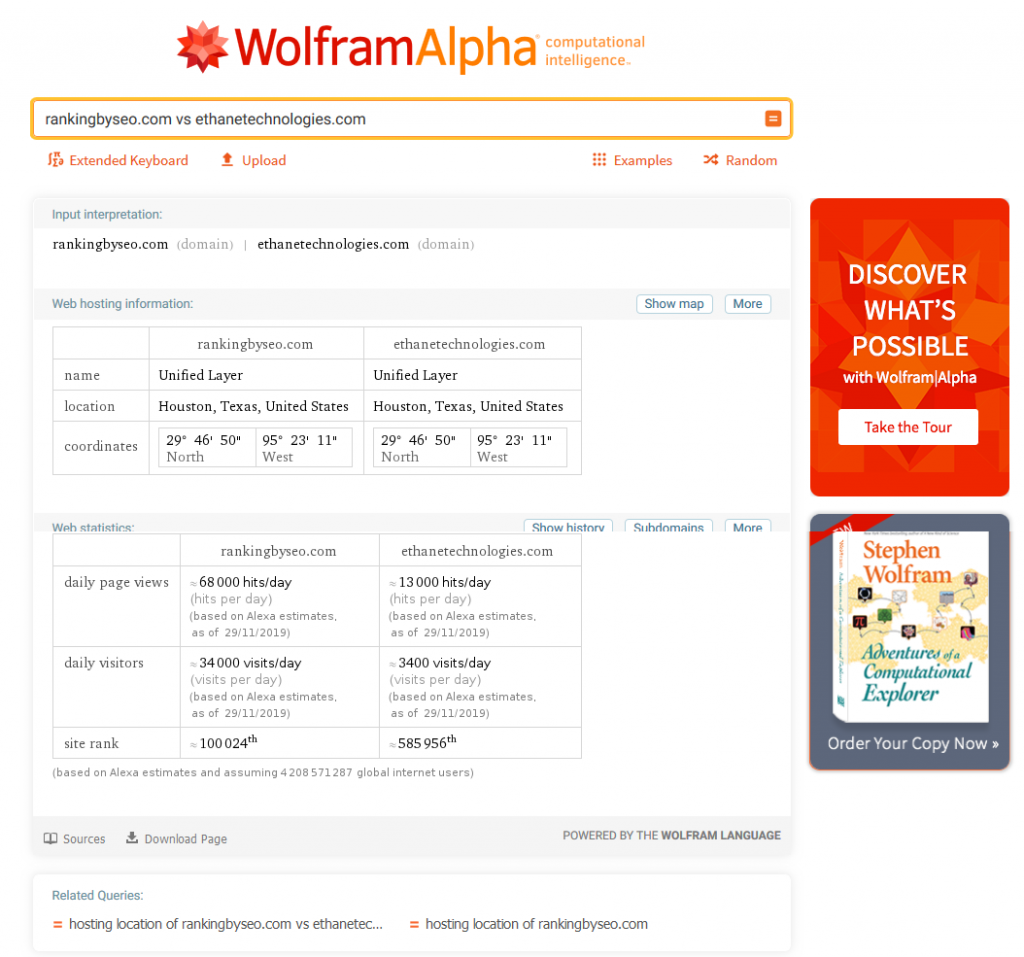 https://en.wikipedia.org/wiki/Wolfram_Language
WolframAlpha is the search engine for you if you want to expand your business to students engaged in research who might need your services. Since this educational internet search engine picks up content from research papers and factual websites, you really cannot do anything to optimize your content for WolframAlpha.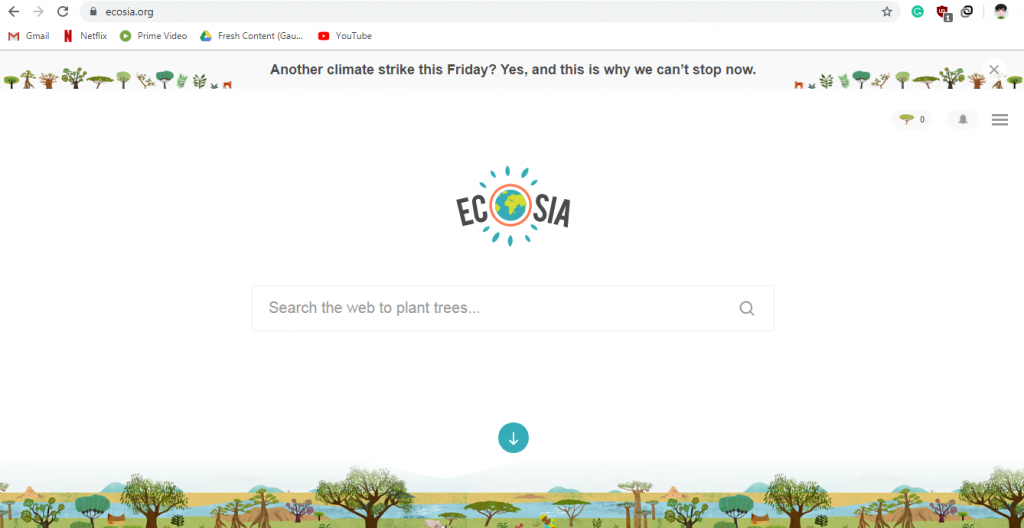 Better known as the "search engine that plants trees", Ecosia was launched in Berlin back in December 2009. It donates 80% of its profits to support tree-planting projects worldwide.
Side by side, the search engine is equally committed towards protecting the privacy of its users throughout. It keeps all searches encrypted and doesn't sell any data to third party companies. Notably, Ecosia has recorded 163.6 million user visits as per the findings of Similarweb.
While the search engine displays the results of Bing, it enhances them using its own algorithm. So, if you plan on winning the hearts of your eco-friendly potential target audience, you need your website listed on this incredible search engine.
Ecosia SEO Tips
Do not focus on the number of words in your content.
Optimize for specific terminology.
Surprisingly, Ecosia works on the old-school keyword stuffing technique.
Try and get higher domain authority.
Google vs Bing! (Or Both?)
If you're looking to expand your SEO efforts outside of Google, you need to compare the search engine with its closest competitor Bing in order to come up with the best SEO strategy.
Numerous individuals settle on Bing and Google and leave out the others. Google is the most utilized internet searcher on the planet today. In any case, Bing is likewise going up against Google in the search showcase; it covers a big portion of the search market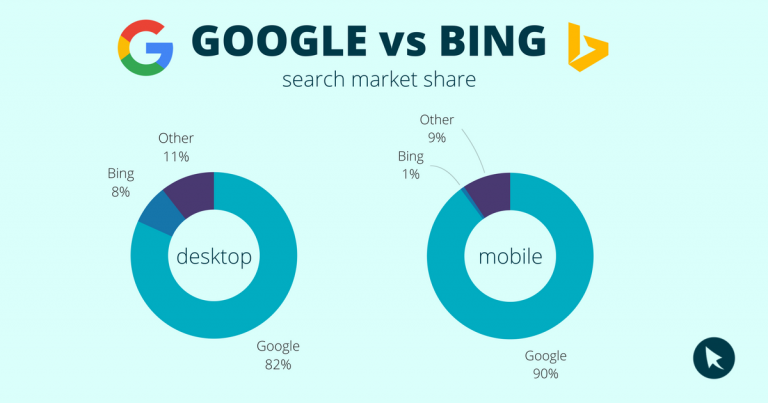 Source: visiture
Let's take a look at the similarities and differences between the two.
Differences between Bing vs Google
| | | |
| --- | --- | --- |
| | Bing | Google |
| Emphasis on Mobile Optimization | It does not consider mobile-responsiveness for ranking. | For Google, mobile responsiveness is the topmost priority for ranking. |
| Old vs Fresh Content | Bing prefers older content. | Google prefers fresh content. |
| Hidden Content | Bing does not differentiate between hidden and unhidden content. | Google devalues hidden content. |
| Keywords | Bing exactly matches the keyword. | Google focuses on the meaning of the keyword rather than its spelling. |
Similarities between Bing vs Google
Bing and Google

Backlinking

Both give value to high-quality backlinks.

Local Search

Both value local search efforts.

SEO Tools

Both offer individual search engine tools.
Other than these factors, it should also be important to note that Bing offers better video search than Google. It even provides better autocomplete suggestions than Google. Definitely, Google Image Search is much better than that of Bing. And if you're well-versed with image SEO factors, you will not have trouble ranking your website.
Another major element in Bing that's worth mentioning is Bing Rewards. By signing up for this cool service, you will get points for each search on Bing. These points can be redeemed on Amazon, Starbucks, Gamestop, or can be even donated to a charity. Also, in case you conduct a site-specific search, Bing will show you a Knowledge Graph, while Google won't. For a better understanding, take a look at the image below.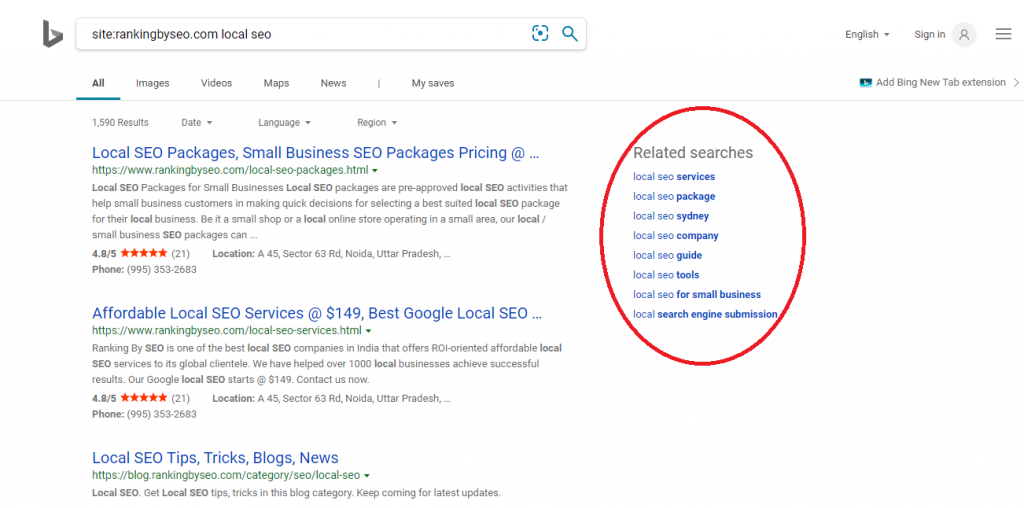 Site-specific search on Bing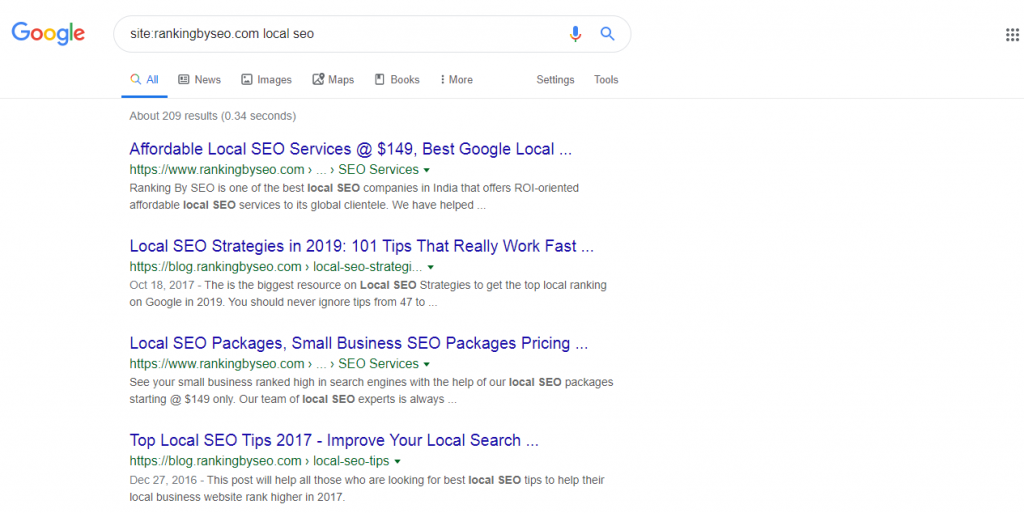 Site-specific search on Google
Do you see the difference?
Qwant vs DuckDuckGo: A Battle for Privacy
With about 95% of worldwide searches, Google is the undisputed champion in this regard. However, there has been a genuine consciousness of users about their information and the privacy of their data and the search engine lags behind many of its competitors in this regard.
New on-screen search engines like Qwant and DuckDuckGo are riding the wave, promising web search engine users a deferential of protection. The promises of both internet search engines are practically comparative: to protect the security of clients by not putting away any close to home data about them. However, their methodologies are quite different.
Qwant, so as to secure its users, doesn't introduce outsider cookies. The main cookies present are those of the search engine and are naturally erased after every session. DuckDuckGo additionally doesn't record user inquiries and blocks ad trackers.
On the other hand, DuckDuckGo makes it conceivable to save its design parameters in different manners. At first, utilizing a cookie produced by the search engine was saved on the browser. It also stores cookies in the cloud by protecting it with a secret password. In this situation, just the password is kept by the browser. This promise to the privacy of client data has enabled these new players to significantly impact how search engines work today.
FAQs
Q1. Is DuckDuckGo safer than Google?
Yes, DuckDuckGo offers a much safer browsing experience as it doesn't collect or track user data. That's why this search engine is a much better choice for users who value their privacy the most.
Q2. How can search engines be applied to reach customers?
Businesses can utilize search engines for advertising, staying updated on news, and remaining alert of the competition. To be precise, they can put forth image or text ads running alongside the search results, check social media mentions of their competitors, and go through search studies and surveys relating to the topic.
Q3. What do you need to avoid while developing an SEO strategy for your website?
The most common mistakes to avoid in SEO include:
1. Adding Irrelevant Meta Descriptions And Tags
Meta descriptions and title tags are, in effect, HTML code fragments that search engines consider while crawling through the website. They use these elements to lend information on the page content and can improve your ranking easily.
2. Improper Technical Optimization
If the search engine crawlers aren't indexing the content on your site properly, chances are that your website lacks proper technical optimization. The technical aspects that need proper optimization include the website speed, non-optimized visuals, site architecture (the hierarchy of your website pages), and omission of technical content.
3. Improper Keyword Usage
Website owners often fail to collect the key phrases that will help them earn a good rank on a search engine. Some common mistakes in keyword optimization include using irrelevant search terms, not tracking the trending terms, and utilizing keywords that are hard to rank in the search engine results. Conducting proper keyword research consistently is key to avoiding such mistakes in the long term.
Conclusion
That's that! The best search engines list of 2023 that you can use to benefit your business website or even use it as an end-user yourself. It's now time for you to decide the search engine that's best-suited to your needs and frame an SEO strategy accordingly.
Note that your decision should be based on the kind of search you're performing and where you want to promote your business. Choose the one that is most suited and let us know in the comments if we missed out on anything important.
Additional Resources: