This guide to image SEO in 2023 has everything you need to know about image optimization. Do you have any query or suggestion? Please leave it in the comment section.
Images are something that none can ignore. 32% of marketers consider visual images the most important type of content for their business.
And 51% of B2B marketers prioritize visual asset creation as an important part of their content marketing strategy. If you talk about B2C, 55% of marketers' top priority is to create visual content.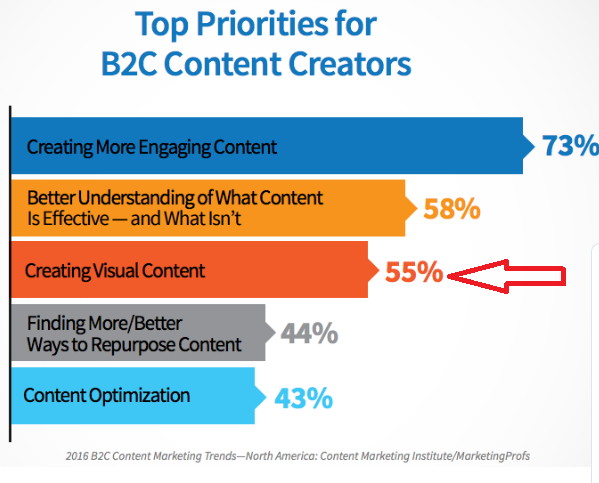 The point here is,
The world wide web is becoming increasing visual. And you cannot take a risk of not using images in your content.
However, merely using images in your content doesn't make the cut. You need to optimize them.
Without proper optimization, you will not be utilizing a good SEO asset.
Yes, my friend, Image SEO offers many advantages – more users will love your images, your images will load faster, your images can rank higher on traditional and image search.
Now the question is,
What Is Image SEO?
Visual search technology has improved a lot. Though search engine bots have become smarter, they still cannot read the content of any image. They rely on the text associated with the image to figure out what the image is about.
Image SEO is optimizing an image so that search engines can understand what the image is about. It includes but not limited to reducing image file size, proper naming of image, using intuitive ALT tag, and adding structured data to the image.
The ultimate aim of search optimization is to offer users a seamless experience. So, image optimization also includes improving user experience of your images.
Importance of Image Optimization in SEO
Beautiful, unique, high-quality images bring content to life. With the world-wide-web becoming increasing visual, the importance of image optimization in SEO is indispensable. If done properly, Image SEO will not only add to your website's SEO but also improve user experience.
Here are key reasons why Image SEO is important:
1- Improved Engagement
Optimizing images improve the visual of your content, which, in turn, increases engagement. According to a study, visuals are processed 60,000 times faster than text. And tweets with images are retweeted 150% more than that of tweets without images. What's more, Facebook posts with images attract 2.3X more engagement.
So optimize the images you use in your content to increase engagement. This will eventually help you generate more leads from your content.
2- Reduced Site Loading Time
If you don't optimize images, it will increase site loading time. As nobody likes slow sites, it will increase bounce rate and eventually have a bad impact on user experience. Google counts site speed as a ranking factor, so it will adversely affect the ranking of your webpage.
Image optimization is a must if you use image in your content.
3- Opportunity for Appearing in Image Searches
When you optimize images that you use in your content, it increases the chance of them appearing in image searches. The better ranking on image search means you will get more clicks.
Image SEO in 2023 (Best Practices)
When you are using images in your content, you need to make sure that images are findable and they don't slow down your website. Also, images should complement to the content of your web page. How can you ensure that?
Following are the eight image SEO best practices that you must follow in 2023.
1- Include Unique, High-Quality Images

You must have seen this image on many social media web pages.
Do you think this stock image will move the needle?
No, it will not. No matter how much you optimize this image, it will not be able to compete with an optimized original image.
Why? Because too many websites have the same image.
Stock images don't stand out, so they don't offer full, potential SEO benefit.
It is imperative that you should use unique, high-quality images in your content. The more unique images you use, the better experience you offer to users, and the better chance your images have to rank on image search.
Unique, high-quality images can be created by your in-house designer or shoot with a camera. If you don't have a designer on board, you can hire a freelance to create original images. Also, you can use screenshots if they add any value to the content. But you should refrain from using stock images.
You should not use images in your content for the sake of using them. Each and every image in your content should tell a story or complement the content.
Images create an emotional impact and leave a lasting impression. Original, high-quality images are not only helpful for image SEO but also good for brand recall.
2- Use Optimal Image Size
Images are often the main reason why a website is slow. So, you should use optimal image size without compromising on quality.
According to Search Engine Journal,
"The overall size of your image should not be much larger than you actually need it to be (i.e. the width of your web page or blog post)."
How can you reduce the image file size without compromising the quality of your images?
Well, there many free online tools. You just have to google it. But my favorite one is Adobe Photoshop's save for web functionality. It will optimize your images without affecting the quality.
In addition to going for optimal size of images, it is also important that you should use the right file formal. GPEG, GIF, and PNG are most commonly used file format used online.
Following is a brief description from Moz about types: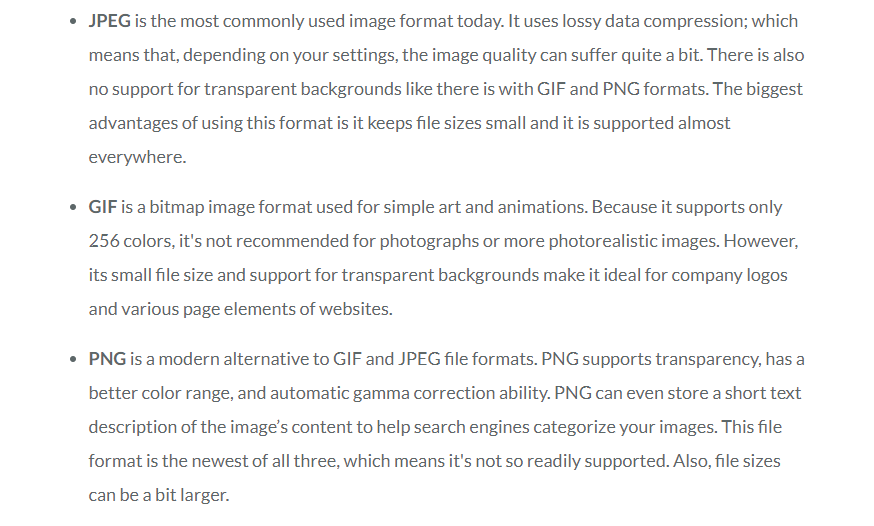 Remember, at the end, it is all about the file size, load time, and image quality. So, you need to ensure that your images don't lose pixels as you compress them.
Fore more details about image file optimization, you can read this detailed guide created by Google.
3- Strategically Name Images for SEO
Naming images for SEO is important and can improve ranking on image search as image names may give an indication to search crawlers about the content of the image.
Google itself said,
"The filename can give Google clues about the subject matter of the image. For example, my-new-black-kitten.jpg is better than IMG00023.JPG."
How should you name images for SEO?
Following are some best practices:
You should try to include the main keyword in your image
You should use simple language to name image for SEO
You should ensure that image name is short and accurate
You should name image in a way that can easily tell what the image is about
A thumb rule for naming images for SEO is,
Check your website analytics to find how users search for products or services on your website. Dig into what naming pattern they follow to search. Try to name images according to that pattern.
4- Make Image Captions Work
Users often see images first on a webpage. This makes image caption under the image a premium tool for communication.
According to Poynter research,
"Captions get 16 percent more readership than text."
That's why adding caption to an image is one of the best Image SEO practices.
Following is an image from The New York Times.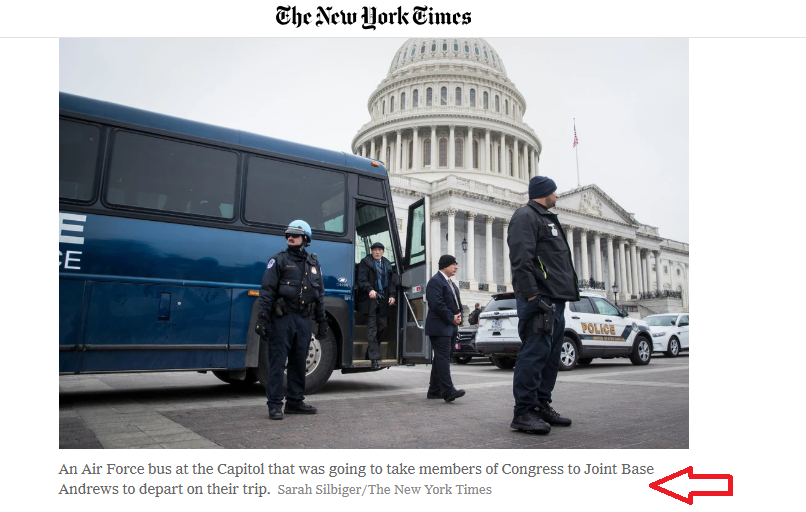 Look at its caption. It explains everything.
Wondering why captions are so important?
My friend, not all images can be understood right away. And captions not only help readers understand the images but also help search engines figure out the context of images. Captions help decipher the subject matter of images.
How can you write eye-catchy image captions that both users and search engines love?
Follow these tips:
Consider captions as headlines of your images
Make your captions descriptive, including key messages
Match the tone of captions with the moods of images
Always use present tense to write captions
Keep your captions short and simple
Always use credits and citations
You must know that some images can stand alone and don't require captions. So you should not force caption on every image you use in your content.
5- Follow Image ALT Text SEO Best Practices
ALT text (alternative text) is nothing but text that describes images. It is read by search crawlers when the pages is indexed.
Watch this Matt Cutts' video to know more about ALT text.
Why do you need to use ALT text?
Search engines and web browsers cannot read images, meaning they cannot tell the subject matter of an image. ALT text solves this problem and let search engines and web browsers interpret the image.
Also, ALT text is useful for users who are accessing web pages on screen readers that cannot process images.
"When choosing alt text, focus on creating useful, information-rich content that uses keywords appropriately and is in context of the content of the page. Avoid filling alt attributes with keywords (keyword stuffing) as it results in a negative user experience and may cause your site to be seen as spam," says Google.
How can you write optimized ALT Text?
Here are the best image ALT text SEO best practices that you should follow in 2023:
Make sure that ALT text should be able to describe your image specifically
Use a short ALT text as popular screen readers cut short ALT text
Try to use your main keyword in your ALT text
Don't include words like 'image of', 'picture of' in your ALT text
Never do keyword stuffing in your ALT text
Follow these pointers to write SEO optimized ALT text, which is also required under the American Disabilities Act for individuals who cannot view images.
6- Create Image Sitemap
To improve image SEO is 2023, you should create an image sitemap including all of your images and submit it to search engines. This will help Google and other search engines discover your images easily. With an image sitemap, search engines can also find those images that they may not find through crawling.
Now, you must be thinking that whether you should create a new sitemap for images or you should add image information to the existing XML sitemap. According to Google, both the methods are right.
If yours is a WordPress site, you can easily implement image sitemap through a plugin.
7- Add Structured Data to Images
If you add structured data to your images, search engines will display your images as rich snippets. Also, structured data helps your images get more rich listing on image search.
Here is Google's guideline on the topic,
"When specifying an image as a structured data property, make sure that the image actually belongs to the instance of that type. For example, if you define the image property of schema.org/NewsArticle.image, the marked-up image must directly belong to that news article."
Also, you need to make sure that all the image URLs are crawlable and indexable, or else they will not be displayed on search result page.
Here is Google's structured data guidelines for more details.
8- Add Open Graph and Twitter Card Tags
Social media plays an important role in making any content viral. It has been proven in many studies that content pieces with images get more shares than that of without images.
By Adding open graph (OG) and Twitter card tags, you make sure that images will appear whenever the content is shared on Facebook and Twitter.
For OG tag you need to add the following image tag to <head> section.
<meta property="og:image" content="http://example.com/link-to-image.jpg" />
For Twitter card, you need to add the following tag to Head section.
<meta name="twitter:card" content="summary"></meta>
If you have a website or blog that is using wordpress, use Yoast plugin, you can easily do it.
Adding these tags will help you stand out on crowded social media space.
Conclusion
Image SEO is huge. You cannot ignore it if you wanNo matter how much you optimize this imaget to have better search visibility.
If use unique, high-quality images of optimal size, strategically name images for SEO, create catchy caption, write proper ALT tags, add structured data to images, and create image Sitemap, there no reason why your image SEO wouldn't be better. Also, adding open graph and twitter card tags is helpful to improve online visibility of your images.
What about you? Do you want to share any tip for image SEO in 2023. Please leave it in the comment section. I'd love to know about it.