302 redirects are easier to implement than 301 redirects, though they're not used as often as the latter. Following are the situations where you can use a 301 redirect:
When you want to conduct an A/B test on your webpage for functionality and design recommendations.
When you want to gain client feedback on your webpage, without hurting your site's ranking.
When you want to update a webpage without causing inconvenience to your users.
When you're fixing a broken webpage and want to send users to another page during the construction phase.
When you need to carry out a temporary promotional campaign and redirect your visitors to a unique web page.
When you wish to redirect visitors to a different version of the site based on their preferred location or language.
Does a 302 hurt SEO? Yes! If not done correctly.
Refer to the infographic below to understand the correct usage of a 302 redirect and how search engines generally interpret the same.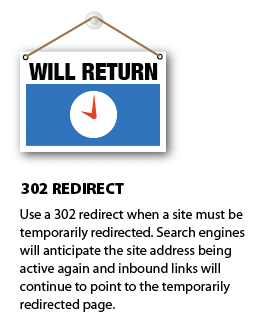 Source: Elliance
By now, you must've understood why 301 and 302 redirects are called permanent and temporary redirects respectively. Never should you ever use a 302 in place of a 301 redirect when you want to redirect users permanently.
What do the 301 and 302 Numbers Signify?
The numbers of 301 and 302 redirects allude to their HTTP status code.
Know that HTTP status codes in the official register are categorized into five classes, with the primary digit of every status code indicating its response class. For instance, if the code starts with the number three, it signifies that the code is a part of the redirecting class. Check out the top HTTP status codes below.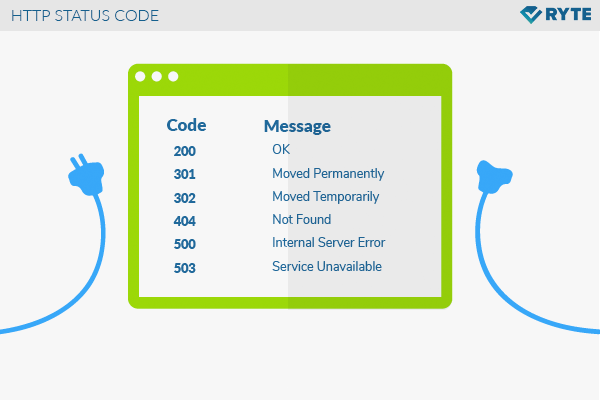 But why does 301 vs 302 status code matter? It gives you an idea of the "link juice" for your website.
This beguiling term alludes to search engine value that you have developed for a particular URL. Know that the value is passed to a web page by backlinks to strengthen its position on SERPs.
To help internet search engines realize that your website or the page has moved, you should appropriately divert them to the new page.
The "status" of your redirect is of utmost importance here, or else you will end up losing the "link juice" and need to start afresh. You might also end up competing against your old page simultaneously.
When your URL is appropriately redirected, your link juice and domain authority is intact as you move everything over to a new page. This essentially means your search engine rankings and link value are sustained.
A 302 divert doesn't pass the "juice", or bring your domain authority to a new webpage. It basically diverts the client to the new page for you so they don't come across a "404 not found" page, an error, or a broken link.
How Do 301 and 302 Redirects Impact Your SEO?
When there is a 301 redirect, the old page is removed from Google's index and almost all the link value is transferred to the new page.
However, it is important to note that Google takes some time to notice the change and so, you need to be patient and wait for the ranking and traffic to come back.
On the other hand, when a 302 redirect is used, Google keeps the original URL in its index and transfers a no link value to the new URL. This is because 302 is a temporary redirect. So, when you come back to your original URL, your ranking, traffic, domain authority, and the link juice will be retained. The image below clearly depicts the difference between 301 and 302 redirects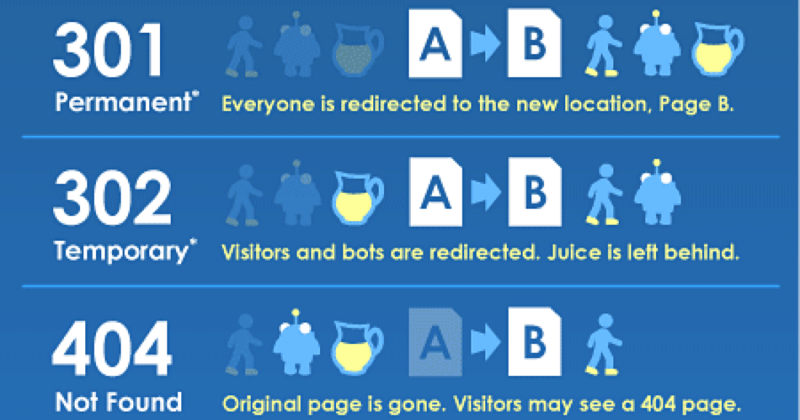 Source: The Build Media
People confuse between the two and end up losing all traffic upon putting up a 302 redirect when, in fact, a 301 should have been used. This is why you must know the difference between 301 and 302 redirects.
What If the Search Engine Confuses 301 And 302 Redirects?
In case there's a confusion on part of the search engine, it might not rank a website when needed or even cause an "aging delay".
Haven't heard of this term before?
Know that search engines can find it difficult to judge a new or changed website. So, they usually delay ranking the site on their search results for a certain duration till they're sure about its reliability. This built-in delay also serves to prevent a business from confusing consumers by changing their URLs too frequently.
On the flip side, it results in the website traffic taking a hit and might even cause the site to fall out of the search results altogether.
Here are some effective methods to handle an aging delay:
Have high-traffic websites link to your site
Buy and activate a website listing that ranks well already
Keep updating your site with SEO-heavy content or blogs
Start an advertising campaign on search engines to draw traffic
A Bit About 404 Error
While we're at 301 and 301 redirects, let's also touch upon about 404 as it impacts SEO. Do note that unlike a redirect, 404 is an error code which means "not found".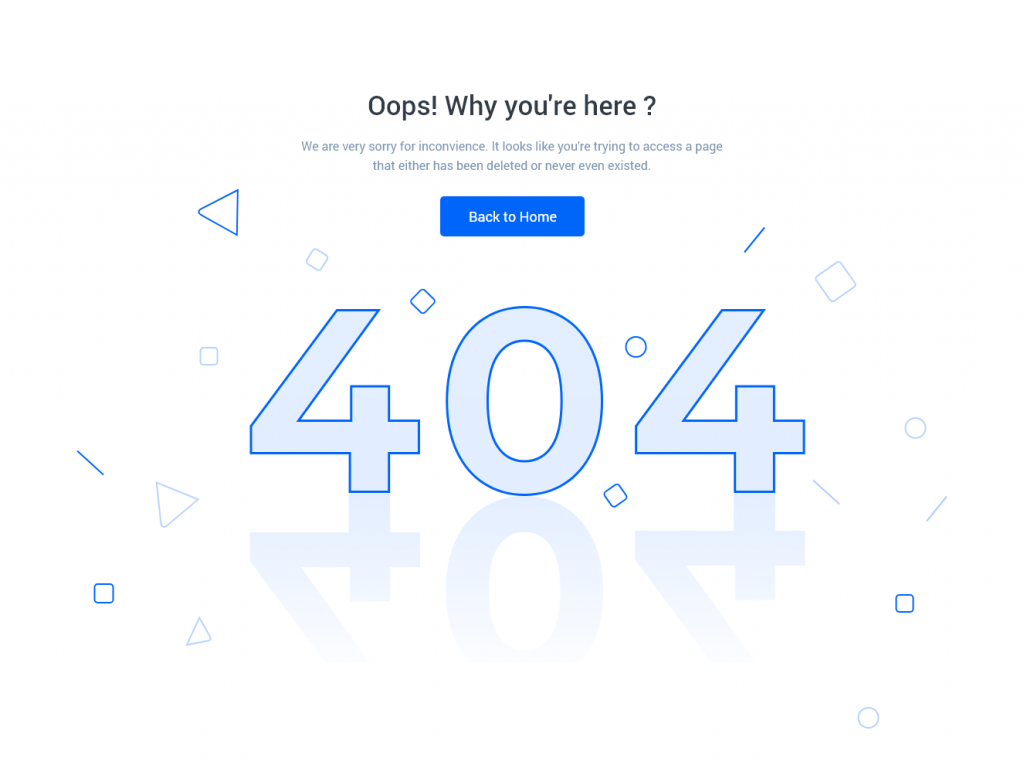 Source: Dribbble
This happens when a web page is deleted from its parent website and the server as well, but its backlinks are still available on the internet.
When someone clicks that link, they are presented to the 404 error page. This causes serious damage to your website's ranking and overall SEO performance. Making use of a temporary or permanent redirect can help you avoid a 404 error.
How Long Should a Redirect Last?
Let's say you now want to use a 301 redirect for permanent migration to a new URL. How long is permanent? Till when will you be maintaining the redirect?
According to Google's search advocate John Mueller,
"…when we look at 301 redirects and permanent site move situations, we do expect that 301 redirect to be there for the long run. So that could be something maybe a year, or ideally even longer than a year so that we can really be sure that everything that was pointing at the old URLs is pointing at the new URLs."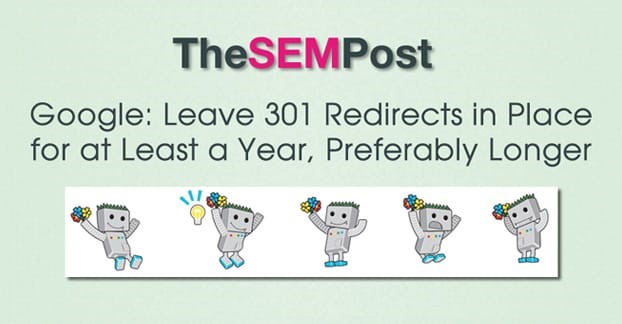 Source: SEOblog
For example, Moz is still keeping the domain name SEOMoz.com to keep the redirect on point. In case they stop maintaining the redirect and someone ends up buying the domain name, all SEOMoz links would be left broken and the control will automatically fall on to its new owner.
When you want to change a subdomain or sub-folder of a URL while keeping the primary domain name, it is regarded as a small redirect.
You can keep the redirect set up inconclusively without any issues. It doesn't put a strain on your server or spending plan as such. For bigger redirects, such as when you want an entirely new domain name, Google prescribes keeping the redirect set up for at least a year.
Following a year, start taking a gander at your server logs. In the event that individuals are still being redirected from the old URL to the new URL, try to understand where they are coming from. It may be old dynamic links, it may be clients with bookmarks, and it could be anything.
Make sense of what the source is and try to change the source to the precise URL before you evacuate and relinquish the redirect. In the event that you can keep the old domain name without strain on your spending limit, just to keep the redirect alive, don't hesitate to do as such.
301 vs 302 Redirect: Which Is Better?
Though these redirects are different, you can't label one as worse or better than the other.
Do note that the difference lies more from the search engine's perspective than that of internet users.
Most visitors won't spot the difference unless you use a notice that the website is using a new permanent or temporary URL. After all, the new URL will be cached by their browser using a 301 redirect.
As for search engines, they work with 302 redirects pretty quickly, though 301 redirects are handled relatively slower. So, if you use a 301 redirect erroneously and revert back to an old URL, the search engine can take months to recognize such changes.
Go for a redirect based on the objectives you've set for your website content. If you need to index a new URL, it will be best to utilize a 301 redirect. But if you have a switch-back on your mind, a 302 redirect will be an apt choice.
Final Thoughts
Now that you know how 301 and 302 redirects are different, it's time you start utilizing the one that's best for your purpose and objectives.
If you start with a 302 redirect for a temporary change and find later on that it's best to make it permanent, don't delay changing the redirect from a 301 to a 302. At last, screen your rankings to guarantee that Google can find your new pages and that you haven't made a mistake for which your website's SEO performance should pay the price. Cheers!