This long post will help you with creating an effective content distribution strategy in 2023.
As this is a mammoth post on content distribution strategy, I have added links to different sections to make it easier for you to navigate.
Before you dive into this information-packed post, let me make it clear that the tools mentioned in the post are selected on the basis of their merits. Ranking By SEO doesn't have any affiliation with them.
If you want any other useful tool to be added to the list, feel free to leave the suggestion in the comment.
Table of Contents
1- Preface
2- What Is a Content Distribution Strategy?
3- Content Distribution Channels
3.1- Owned Distribution Channels
3.2- Earned Distribution Channels
3.3- Paid Distribution Channels
4- Content Distribution Tools
4.1- Simple Reach
4.2- Outbrain
4.3- MailShake
4.4- WiseStamp
4.5- Click To Tweet
5- Conclusion
Preface
87,184,399 blog posts and 10,574,170 web pages are published each month on WordPress alone, let alone other content management systems.
This is lots of content. Isn't it?
Though Google has 2nd, 3rd, 4th,….pages, most visitors don't look beyond the top 10 search results. That being said, there is fierce competition for these top ten spots.
Not all content pieces you create are going to rank on the top. So, if you rely only on Google for getting traffic to your, it won't be a smart move.
To secure the maximum return on your content, you need to blast your content on various content distribution networks. How can you do it? How can you create a kickass content distribution strategy in 2023?
Well, this is what I'm going to discuss next. But before that, let's talk about the context first.
What Is a Content Distribution Strategy?
Content distribution strategy is nothing but a written document that includes a detailed plan for content distribution on various channels.
Do you need a written document?
The answer is Yes.
It has been observed and well-established that marketers with documented content marketing strategies are better at measuring the success of their content marketing efforts than those without documented strategies.
Stop creating and start (and finish) documenting your content marketing strategy. Then get back to creating goal-focused content, says Joe Pulizzi.
My friend, you need to document your content distribution strategy as well.
The next, I will explain what you should document in your content distribution strategy in 2023.
Without further ado, let's dive in:
Content Distribution Channels:
Many content marketers believe that you need to adopt 80-20 approach, meaning you need to spend 80% of your efforts on content creation and 20% of your energy should be invested on content promotion and content distribution. But I don't go with it.
What I reckon is you have to split your energy 50-50. This means 50% of your efforts should be targeted toward content creation and 50%, should be, on content promotion and content distribution.
Our friends at MANCEPPO has created the following graphics to explain different types of content distribution channels you have at your disposal.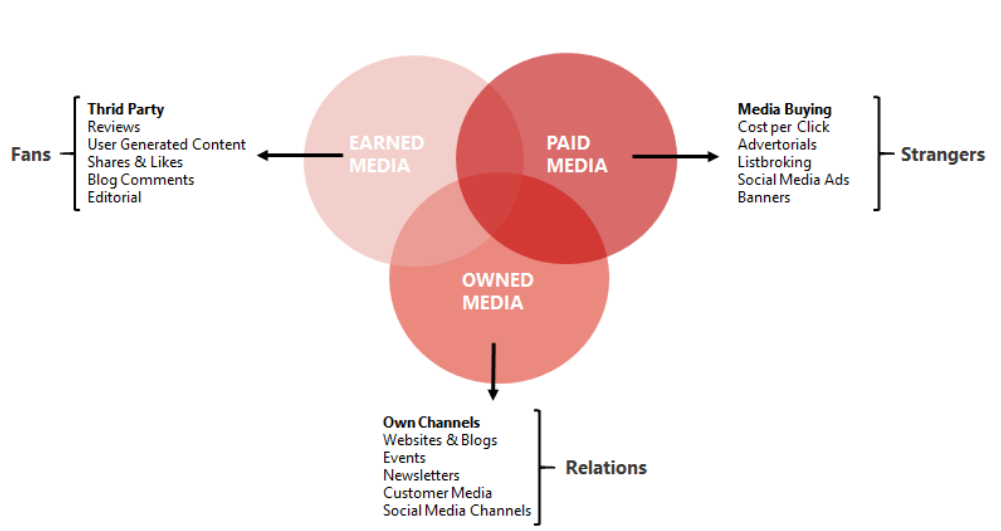 Let's discuss these channels one-by-one.
Owned Distribution Channels
Owned distribution channels are those channels that you control. Websites and blogs, events, webinars, newsletter, social media channels, etc. fall in this category. The goal of owned distribution channels is to build a long-term relationship with your prospects and customers.
What are the main benefits of having a strong presence owned distribution media?
I have listed here a few:
You have complete control as you own them
It is highly cost-effective to distribute content on owned media
You will always connect niche audience through owned media
Owned media has longevity
As every coin has two sides, you will face many challenges when you distribute content through owned media.
The biggest challenge is there is no guarantee of success unless you are a company like IBM or Google in spite of the fact that you will spend boatloads of time on scaling owned media. Also, an audience doesn't trust brand communication much.
If you are able to overcome these challenges, owned content distribution channels can ensure the success of your content distribution strategy in 2023.
Earned Distribution Channels
As the terms suggest, earned distribution channels are those that you earn over a period of time with your high-quality work. Here are a few examples of earned media:
Reviews
Comments
User-generated content
Shares and likes
Organic mentions
The biggest benefit of earned media is that people trust it. If anyone says something great about you on LinkedIn, it can go long way as people always trust the third party's opinion.
There is another advantage of earned media – it lives on.
It is my favorite content distribution media. However, earned media has pitfalls, too. And the biggest one is – you cannot control it. So, it can go negative as well.
Paid Distribution Channels
Want instant results? Paid distribution channels are the right option. As you have to shell out money to reach a wide audience, paid distribution media cannot be your main weapon for content distribution. Here are a few examples of paid media:
Paid social media ads
Paid search engine ads
Sponsored posts
Banner Ads
Building a brand is not easy in today's web world when organic reach is depleting. For new businesses, it can be really difficult to have a strong presence of earned media, paid distribution channels provide a quick boost.
Though earned media offers immediate results and you have a complete control over it, brands cannot rely on it even if they have an incessant supply of money to spend.
Reason?
Earned media has poor credibility. The audience doesn't trust paid ads.
MANCEPPO has also created a graph on reach and control of these content distribution media.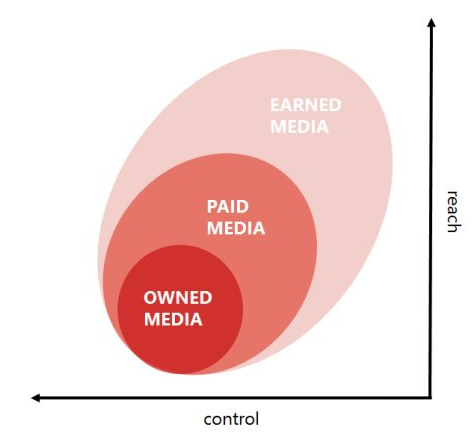 Now, you have understood the benefits and challenges of the three types of distribution media.
Here is a question!
How will you apportion your efforts on these distribution channels?
The answer is simple – you need to count your marketing dollar and audit the strength of your owned media and earned media. Only then, you can make an informed decision.
As I mentioned earlier that you need to document your content distribution strategy in 2023, write down your goals for each distribution channel.
Also, you should fix key performance indicators for each goal for each distribution channel.
This will help you measure the success of your content distribution strategy.
Though you can download content distribution plan template, I would recommend that you should create a template yourself.
Your business is different, so are your requirements. A stock template may not serve your purpose completely. However, there is no harm in taking ideas from stock templates as it can be a daunting task to create a content distribution strategy template from the scratch.
Here is a Template of channel plan cheat sheet created by the Content Marketing Institute.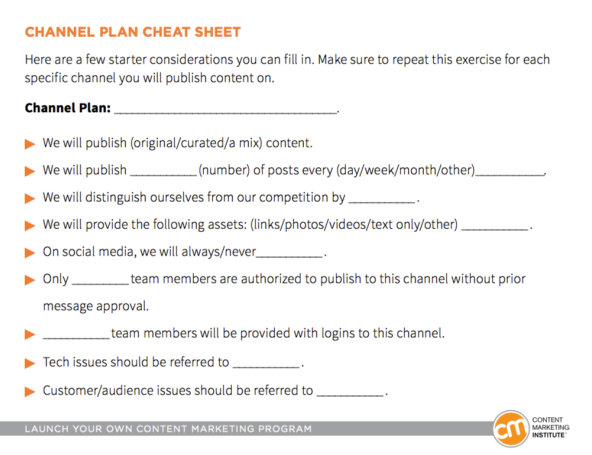 It is not necessary that you need to take the help of a designer to create an eyesome template. A simple Microsoft Excel file will do if it serves your purpose.
Content Distribution Tools
Be it an earn distribution channel or an owned distribution channel, you need to spend your valuable time and energy to blast your content on these distribution channels.
To make the task easier, you need to use content distribution tools.
Here are my favorite tools to distribute content:
Simple Reach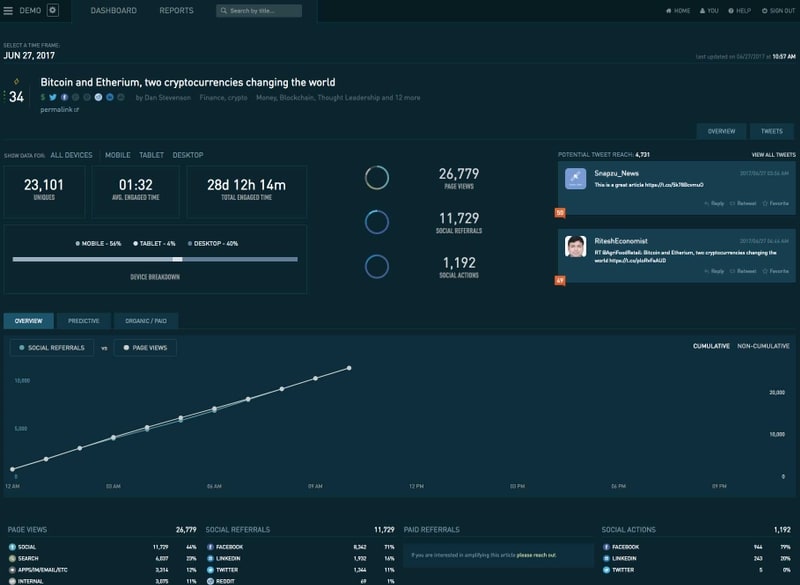 Simple Reach is an easy-to-use tool to know which content performs best and why. It has following useful features:
Unifying all content data and measuring the success of owned and brand content
Tracking downstream conversions
Benchmarking your branded content against your competitors
Helping you understand which content pieces are producing the best results
You can request the demo of Simple Reach here.
Outbrain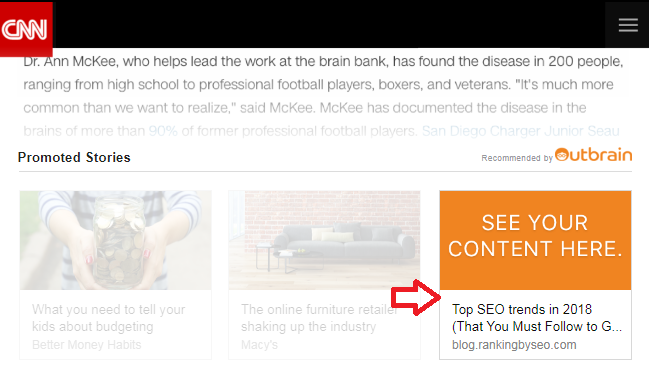 Outbrain promotes your content on the top sites.
Here are the top features of Outbrain:
Customized and flexible solutions
Native In-feed, Native In-article ad formats
Managed service
Outbrain is a good tool for content amplification.
MailShake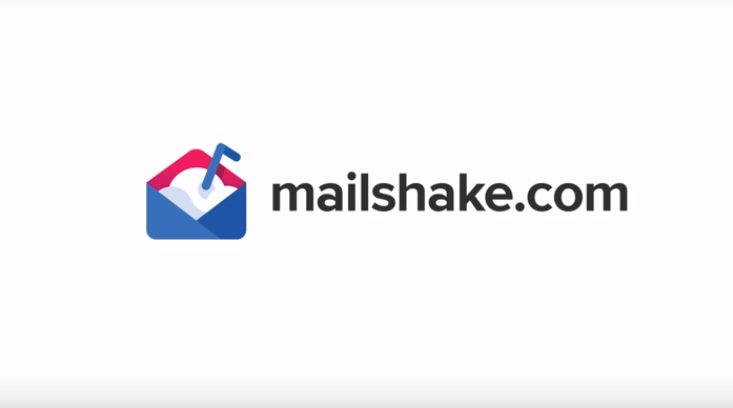 Needless to say, email outreach is still a powerful and cost-effective way to get your content in front of your target audience. But if you send email manually, it will eat a big portion of your time and energy. MailShake is a simple solution to promote your content.
MailShake comes with a template for content promotion. You can easily automate follow-ups and customize emails.
WiseStamp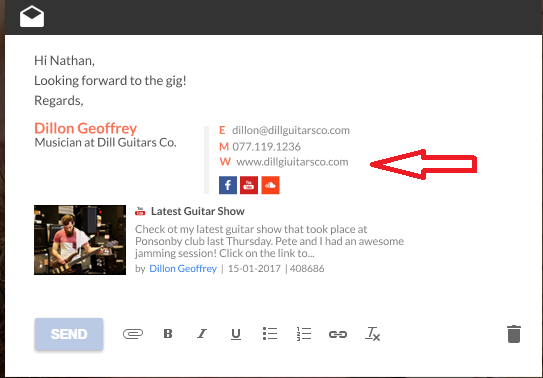 You and your employees must be sending lots of emails daily. With the help of WiseStamp, you can create a professional signature for email. You can use the links to your recent content in your emails.
Click To Tweet

This is my most favorite tool for content distribution. Why? It is free and it allows you to promote, share and track your content on Twitter. What's more, it is quite easy to install this plugin. Click To Tweet links are fully editable.
You can download Click To Tweet plugin here.
Conclusion:
Content distribution is a vital part of an effective content marketing strategy. After all, there is no point in creating useful content if it doesn't reach in front of your target audience.
You have three content distribution channels – owned distribution channels, paid distribution channels, and earned distribution channels. You need to apportion your efforts according to your current position on these distribution channels.
If you have strong owned channels and earned channels, then you may not need to burn a boatload of your money on paid channels.
What about you? Do you have any other content distribution tip in the mind? Please share it in the comment section. I would love to know about it.
Additional Resources: