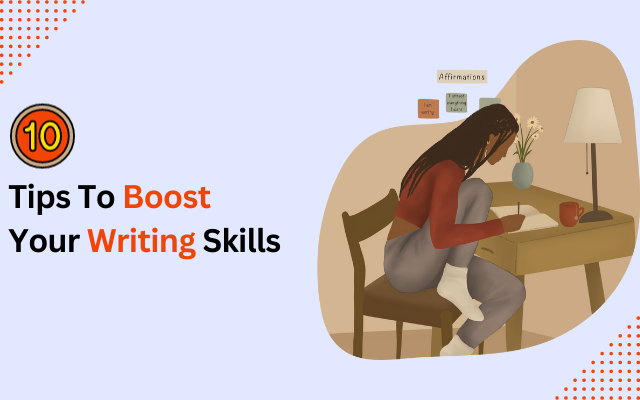 Whenever it's about writing a blog post or any other piece of content, every writer or marketer wants to be sure that their write-ups are to-the-point and flawless.
With content writing and marketing building up as one of the main marketing aptitudes on your resume, understanding how to hold a tight grip on 'writing' could truly profit your vocation.
Also, it would bring an undeniable advantage of expanding traffic to your organization's site.
Writing is often scary to many individuals, especially those who don't write professionally or consistently.
Fortunately, writing doesn't need to be anguishing, and nearly anyone can enhance their writing skills by following a few guidelines along with having an eagerness to learn.
Why do you need to brush up your skills as a writer?
Writing skills are a significant part of day-to-day communication. Great writing aptitudes permits you to bring forth your message to the audience with clarity.
Today, when anybody can be their own publisher, we see an ever-increasing number of instances of poor writing skills both on paper and on the web.
It doesn't matter whether you are an individual blogger or working for some brand. Having good writing skills matters everywhere.
Bonus Read- How To Beat Writer's Block In 10 Surprising Ways!
It is you being a writer who needs to realize the fact that writing is not just part of the business. It is something more than that.
Having exponential writing skills can make you stand out as a writer both personally and professionally.
However, having poor writing and composing skills can earn you negative responses from your readers and they might continue reading your content.
Thus, brushing your skills on a regular basis matters a lot.
In this article, I have discussed a few tips that will help you in getting encouraged to write a great piece of content.
Top 10 tips to improve your writing skills
Are you looking forward to honing your skills as a writer?
Here are 10 different ways you can begin improving your writing skills right away.
1. Fact-check and research
It doesn't matter what kind of topic you have chosen for a particular day. You may be writing fiction, nonfiction, technical or non-technical content.
Whatever you write, start with researching the facts and the current trends related to the subject.
The readers are always interested in knowing the current facts or recent updates.
Whether you are crafting an article for a newspaper or a website or any kind of blog post, you need to first educate yourself on the subject and then go double-checking all the quantitative and qualitative information over the internet.
This is the perfect way of fact-checking and researching, which can help you in writing a great piece of content.
2. Start with an outline
Never jump to writing the original piece of content initially.
Instead, start with an outline first.
An outline is just a skeleton of your original content. By forming an outline you are helping yourself in getting a rough gist of the subject.
Remember, outlines are your friend.
It is like a pre-planning of what you are going to write.
It doesn't need to be that complex. An easy-going framework with all the necessary headlines and sections updated is what an outline consists of.
This on the other way, helps you to finish your content faster without much pondering over the subject.
3. Get engaged
Whatever be the subject of your write-up, make sure that you are getting engaged with the readers.
Check out the top ways of making your content rank in a few simple ways.
Whenever you start writing, think from the perspective of a reader. How your content can benefit them or can your content solve the query of your reader?
Ask yourself these kinds of questions, and you will find out the way.
Also, get engaged with the subject. Be more conversational.
Talk about a real-life problem or a story or an issue that you have recently faced. Just remember not to get deviated from the topic.
Your goal here is to stay engaged with the subject till you wrap up.
4. Be flexible
Flexibility is a matter of concern in writing.
Often in the professional spaces, writers are being restricted with several guidelines.
I personally prefer that the writers should be given the flexibility and the comfort zone while they sit for jotting down their thoughts. Only then, they can come up with a great piece of content.
Issues like plagiarism check, or grammar check, tonal check, readability check, etc, can be done later. Keep an open-minded thought process while writing.
Question and analyze your assumptions until and unless you reach the initial goal.
Express yourself thoroughly.
Write in simple and easy language rather than using a complicated tone. Your final goal should be to make the readers understand your content.
5. Read more
For being a great writer, you also need to be a great reader.
Yes, it is crucial for any writer to cultivate the habit of reading books.
Read for educating or training, satisfying, and relaxing.
I would suggest reading a book just for recreational purposes. Whenever you are sitting idle, just grab any book; might be a novel or any magazine (whatever your bookshelf has).
Read at least 20- 30 minutes a day to refresh your mind from your everyday deadlines.
In any case, consider committing to occasional reading sessions to scientific or analytical reading.
You can highlight the specific viable words, expressions, sentences, and sections and consider why they stand out, and then, apply those methods to your own writing.
6. Brush up the basics (grammar and spelling)
Before you start with an incredible piece of content, you need to follow some basic rules and principles of writing.
For instance, grammar and sentence construction in any kind of writer matters a lot. You cannot afford to write grammatically incorrect sentences.
This will not only decrease your leadership but will also earn you a host of negative comments.
Here is a small guide on avoiding grammatical errors.
You wouldn't like it if your readers leave your blog post because of such petty issues, would you?
That is the reason why you need to brush up on your basics like grammar and spelling. These little errors if checked or double-checked, both by you and the editor or the proofreader, then nothing can stop your content to stand out in the crowd.
7. Refrain from copying
Writing a piece of amazingly unique content with proper grammar and spell-check is not just enough.
It is also very vital to understand that you cannot copy from other's content.
Plagiarized content can not only affect your blog's ranking in Google's SERP but can also land you in a legal soup.
Therefore, refrain from producing grammatically incorrect or plagiarized content.
Read this amazing article on avoiding the top blogging mistakes.
8. Prepare Drafts
Expect that your first draft will never be enough to satisfy you as a writer.
You may need to come up with a second draft or more subsequent drafts. Whether you are writing a book copy or a blog post, the initial write-up may not be the final one.
Although most of the writers manage to come up with an admirable piece of content on their very first try, in most of the cases the writers need to revise it.
Embrace this opportunity of redrafting your content, as it helps you in improving your baseline.
While you revise your first draft, you get a chance of editing, omitting, reorganizing, reshaping sentences and phrases, replacing bland sentences, changing vague descriptions, and so on.
In this way, you can come up with an authentic piece of content.
9. Get an editorial check
Permitting another person to read your work can be hit hard for certain writers, particularly when they're beginners.
However, it's pivotal that you grow great propensities from the start and figure out how to acknowledge useful analysis about your work
An editor can be quite ruthless and can point out various unseen grammatical or sentence construction errors.
Hiring an editor or going for any kind of editorial check, is highly important for any writer to rectify their flaws and come up with the final piece of content that is good for publishing.
10. Review it again
Soon after the editorial check, correct all the comments and suggestions provided by the editor or the proofreader.
Analyze the errors and try learning from your mistakes. Get to know where you are lagging behind.
It will be great if you can just jot down the errors so that you can be careful the next time you write a piece of content.
Once you are done with correcting the edits, review it again.
Study the entire content right from the beginning till the end and give it a final check, before it goes to the publisher.
Final words
The bitter fact is, no piece of write-up will actually be great. It may be superfluous content for you, it might not be for others.
So, try to make it as refined as possible, because it is ultimately you, who needs to decide when it's an ideal opportunity to publish it.
This is particularly significant in content marketing since you'll occasionally have the advantage of creating excruciatingly excellent blog entries, brimming with strong sentences, and reminiscent symbolism.
As you become more certain, the "composing" a part of the content will get simpler and quicker.
No matter, how long you have been in the writing domain, but I hope these tips will definitely work out for you.
If you can think of any other specific tips, do let me know in the comments section below.