The author's views are entirely his or her own and may not always reflect the views of Ranking By SEO.
Search rank continues to be one of the main traffic drivers to a website. And consequently, it has a direct impact on conversions as well.
However, securing a top rank in search results isn't an easy task. Especially given the fact that Google keeps updating its search algorithm so often.
Gone are the days when businesses only had to make sure that their website content was optimized for keywords.
There are so many different factors today that affect search rankings. A lot of it has to do with how relevant your content is with respect to search terms. And how engaging and interesting readers find it.
With the increasing popularity of influencers in marketing, many brands are also using them to improve SEO.
In this article, we'll take a look at four ways you can leverage influencer marketing to boost your search rankings.
1. Boost Your Rankings Using Quality Backlinks From Influencers
Moz conducts a survey every two years to find out the factors that affect search rankings of a website. In the most recent survey, they found that domain-level links or backlinks have the highest impact on rankings. This was followed by page-level links.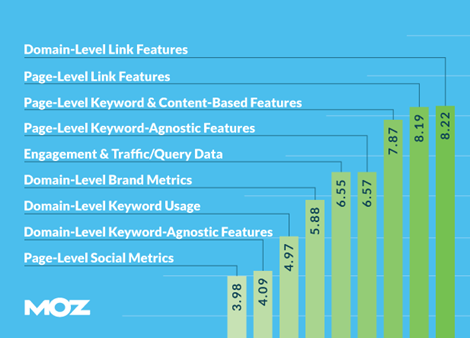 You simply can't deny the effect that backlinks and internal links have on search rankings.
The good news is that working with influencer bloggers can help you in acquiring both of these. And tools like Followerwonk and MozBar can help you find influential bloggers.
You can also use my guide on conducting influencer outreach if you need help connecting with influencers.
For example, beauty vlogger Jaclyn Hill has a section on her website where she links to brands she personally uses. Not only do these links help boost traffic to these brands' websites, but they also help with backlinks.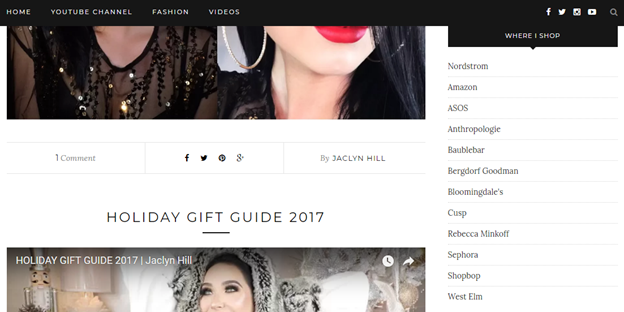 There are ways you can accomplish this as well. Let's take a closer look at each of them.
Product Reviews
If an influential blogger with a high domain authority publishes a product review mentioning your brand, it can boost your ranking. So work with relevant influencers, and have them review your products or services. When they publish a review on their blog and link back to your site, it can also increase traffic to your site.
For example, The Blonde Salad is a high-authority site owned by a popular influencer, Chiara Ferragni. So a product review of Herbivore Botanicals on The Blonde Salad blog can significantly boost the brand's traffic and rankings.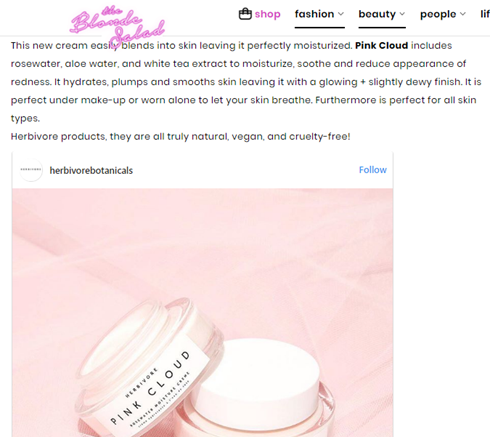 Social Sharing
Content sharing by influencers can also have a positive effect on your search rankings. According to the Moz survey, the number of tweeted links, Facebook shares, etc. impacts your search rankings. So you can ask your influencers to share your blog posts or social content on their social channels.
Because influencers have a highly engaged following, their followers too, are likely to share such content. The increasing popularity on social may trigger high authority bloggers or media publishers to pick your post/product and feature it. This can also help boost your ranking.
Guest Posts
You can also work out an arrangement with your influencers that allows you to submit guest posts to their websites. Since their domain authority is generally higher, you can earn quality backlinks to your site this way.
For example, Bryan Harris, the founder of VideoFruit, once guest blogged for a highly influential site, OkDork. After that post was published, he saw an incredible boost in his website traffic. In fact, his website traffic went up by 523%.
2. Work With the Right Influencers for Greater Engagement
According to the Moz survey, engagement on your content has a great impact on search rankings. The right influencers can work wonders for your engagement rates.
However, you need to really make sure that you're working with relevant influencers. Otherwise, your efforts are likely to be wasted.
So what do we mean by "the right influencers"?
Two things mainly. First, you must select an influencer whose niche matches your brand and industry. And secondly, make sure that they have a decent-sized following with high engagement rates.
By working with an influencer whose niche aligns with yours, you can be sure your message will reach your target audience. This is because the followers of such an influencer are likely to be interested in your products. They are following such an influencer because they have an interest in their niche. And they consider the influencer to be an expert in that field.
Naturally, if a relevant influencer were to recommend your product, their followers would be more willing to buy it.
Studies have found that 40% of consumers have made purchases based on tweets from influencers.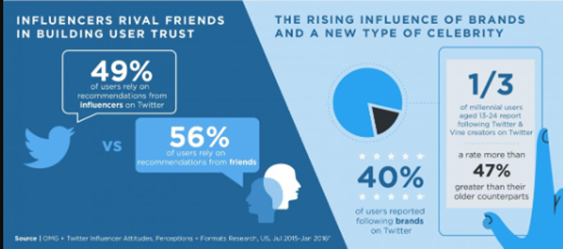 The other important factor you should ensure is that their followers are real. Only genuine followers, who are interested in an influencer's content will regularly engage with it. So check their engagement rates, as that will give you a clear indication.
There are a number of influencer marketing tools like Grin available in the market today. Most of them can help you find the right influencers using filters such as location, industry, reach, engagement, and influence.
If you're able to find relevant influencers to write guest posts on your blog, you can be sure of high engagement. Of course, you need to do your bit by promoting such content on your social channels. And you should also have your influencers promote them in theirs. Such engagement will definitely have a positive impact on your search ranking.
The image below shows some of the comments on a blog post on the Glossier website that features beauty influencer Yacine Diallo.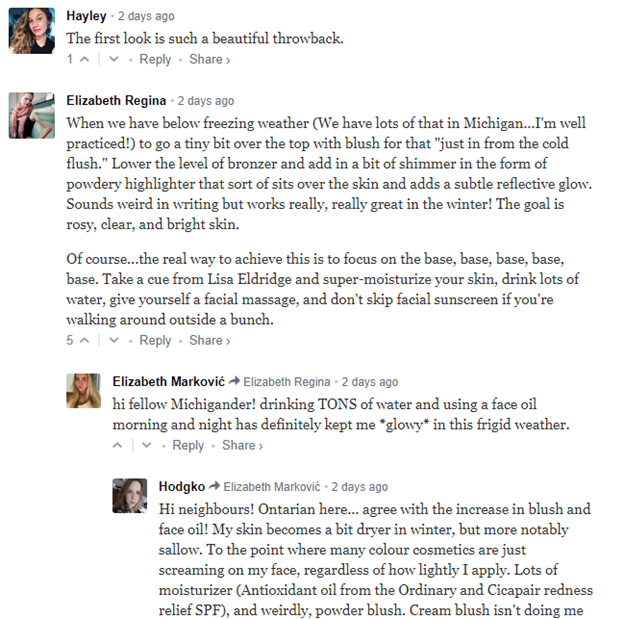 3. Boost Your Search Ranking With Quality Content From Influencers
Relevance and quality of content are very important parameters that affect Google's search rankings. You can see it even in the results from the Moz survey, which ranks quality and relevance at number three.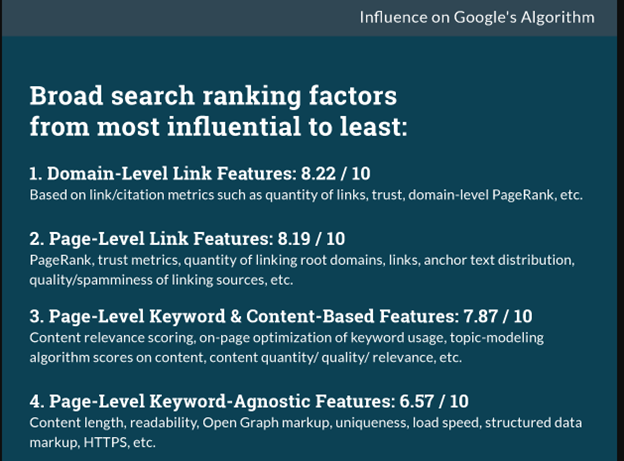 Search engines analyze the number of shares to evaluate the quality of content. Promotional content from brands is less likely to be shared by your audiences since they're essentially advertisements.
However, if an influencer creates content mentioning or recommending your brand, it has a greater likelihood of being shared.
In fact, good influencers steer clear of over promotion. Instead, they work on making their content authentic to encourage greater engagement.
So when you work with influencers and have them create quality content, you automatically aid your SEO.
Here's an example from Kimpton Hotels. On their blog, they are known to regularly publish articles featuring recommendations and city guides from chefs who are influencers.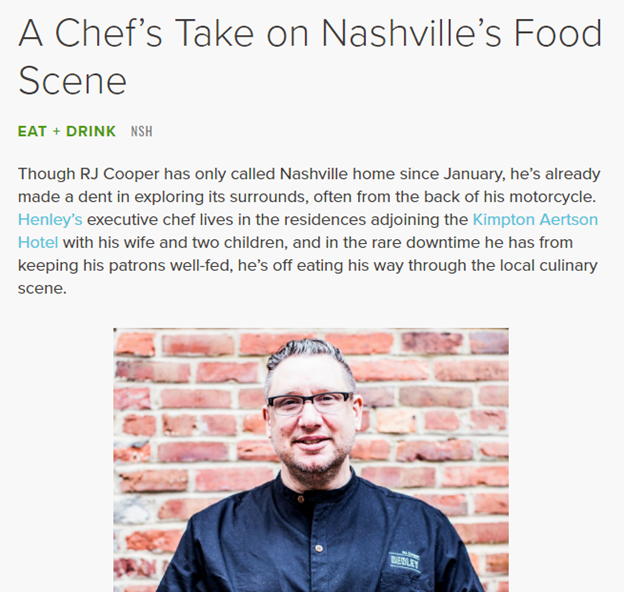 4. Increase Your Traffic Using Influencers
Sharing content on social media is a great way to increase engagement and improve off-page SEO.
If the content you share is credible, relevant, and informative, it will certainly get more social traction.
Influencers are probably the most effective at creating content that's engaging and credible.
And, as mentioned earlier, their followers are more inclined to share content posted by them.
Using such a strategy, you will not only have more social shares but also more website visitors.
This will help boost your search rankings and also increase the overall traffic to your website. And, as you probably already know, tweets now appear in Google search results too.
So if you work with influencers to help you with social shares, it can also help you get more traffic. Studies have shown that traffic has a direct impact on search rankings.
The Moz survey ranked traffic at number five, and social shares at number nine when it comes to their impact on search rankings.
Using special hashtags can help your brand gain additional social traction. Your influencers can even use these hashtags to encourage their followers to create a greater buzz.
For example, Daniel Wellington is known to work with influencers on Instagram and have them promote their watches. Most of these posts include a unique discount code that encourages more people to buy. And hence this helps drive more traffic to the brand's website.
Additionally, the influencers also encourage followers to share photos of their Daniel Wellington watches on Instagram. And ask them to share them using the hashtag #dwpickoftheday for a chance to be featured on the brand's Instagram page. Lucky winners can get a free watch too.
As you can imagine, the social shares combined with the increased traffic is great for the brand's SEO. As of today, there are more than 1.65 million posts on Instagram with the hashtag #dwpickoftheday.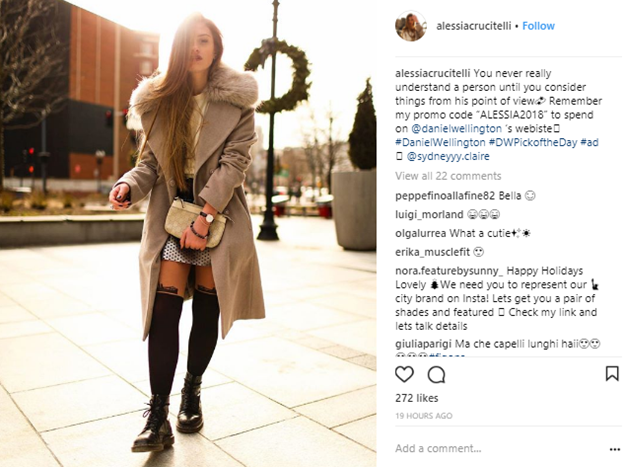 Final Thoughts
There are a few key points to be kept in mind when you're leveraging influencer marketing to improve your SEO. Make sure to include keyword recommendations in your briefs to influencers to maximize the success of an influencer marketing campaign. This will ensure that their content is optimized for relevant keywords to increase your chances of securing a better rank.
Also, make sure that they don't link to your website homepage only. Instead, you can focus on diversifying those links by including other assets under your brand's umbrella. You can also mutually benefit from recommending topics that align with your messaging.
Can you think of any other ways in which you can leverage influencer marketing to improve your SEO? Let us know in the comments below.