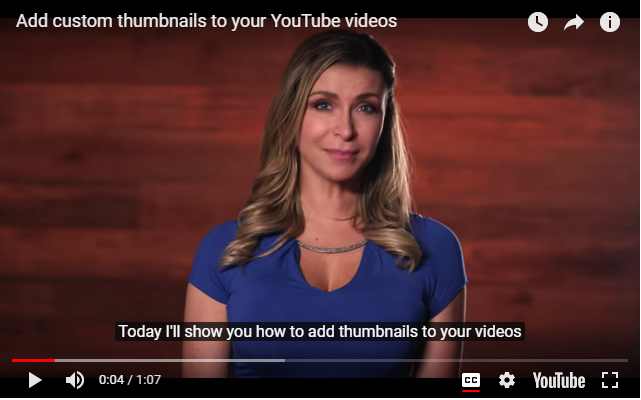 The increasing appetite for quality video content is more evident than ever before.
Thus, it isn't surprising that worldwide internet users stream more than 694 hours of video on YouTube every minute. No wonder your brand will get ideal exposure if you upload effective and engaging content to YouTube.
However, merely considering the usefulness of the content won't move the needle. Viewers should be tempted to watch the video so that you can leverage the power of this ever-popular video-sharing platform.
And with more than 500 hours of video uploaded to YouTube every minute, is it easy to grab the attention of viewers? The answer is a big resounding No.
You'll need to employ every tool and technique at your disposal to stand out from the crowd and lure viewers to click on your YouTube videos.
Video thumbnails, which provide viewers a quick snapshot of your videos while they're browsing YouTube, are vital for the success of your video content. So, you should take the thumbnail design lightly if you wish to make a mark.
In this article, I will tell you all about how to create irresistible YouTube video thumbnails for your YouTube videos. But before I get to the core, let me shed some light on the context.
Why YouTube Video Thumbnails Are Important
Titles and thumbnails are the first things viewers see when they are browsing videos on YouTube. Needless to say, thumbnails work as miniature marketing posters for your YouTube videos.
The more enticing the thumbnails of your YouTube videos are, the more viewers you're likely to get. And if the content is useful, your viewers will stay till the end. This will send YouTube a signal that videos deliver what they promise, and YouTube will improve the ranking of your videos. Needless to say, misleading titles and thumbnails will yield the opposite results.
The following basic rules for creating thumbnails can help you earn maximum views for your videos:
Excite the audience for your video
Use content that accurately portrays the topic
Use the white space to your advantage
Utilize quality templates for your thumbnails
Keep in mind that 90% of the best performing videos on YouTube use custom thumbnails. Thus, you should never forget to create enticing thumbnails for your YouTube videos to maximise the visual impact of your videos.
How to Create Irresistible YouTube Video Thumbnails
Here are five tips to help you create high-performing YouTube video thumbnails.
1- Consider Visually Compelling Imagery
It's no secret that viewers take a split second to make up their minds on whether they should watch a video or not. And thumbnails, being miniature-marketing posters of your videos, influence viewers to click on your YouTube videos.
So, to make the thumbnail interesting enough, you'll need to use an engaging image with a strong correlation to the video topic. This will also ensure the video title turns out advertiser-friendly.
Alongside, the image and other visual aspects should give the audience an opportunity to relate to your brand. That's why it's essential to think in-depth on the topic before developing a corresponding image for the thumbnail.
Google prescribes the following practices for creating custom YouTube video thumbnail:
The images must have a resolution of 1280×720 (with minimum width of 640 pixels
Upload images in formats such as .PNG, .JPG,.GIF, or .BMP
Ensure the size of the image is below 2MB
Keep 16:9 aspect ratio as it's mostly used in YouTube players and previews.
Apart from that, consider choosing the color and branding that will complement the white of YouTube's background. Make sure that your YouTube video thumbnails target any emotion (curiosity, happiness, anger, etc.) and try to have a close-up face to tease the mood of your YouTube video.
Also, I have observed that thumbnails that use text overlay are also popular on YouTube and get huge clicks.
2- Craft Catchy Titles
The title can make a huge difference in the viewership of a YouTube video. That's why it is imperative to craft catchy titles for your videos.
And how do you do that?
Here are a few simple tips:
Keep your video titles concise (not more than 60 characters)
Use the right keywords in the titles
Keep the most important information upfront
Ensure your titles are not sliced off in suggested videos, search results, and on mobiles
Add numbers to the titles when necessary
Try using emotive words as per the context
Never excessively use caps and symbols
One thing you must avoid when you're writing titles is creating clickbaity, sensational, and misleading content. That might turn away viewers and hurt your chances of getting recommended to new YouTube viewers. Moreover, they might look up the information if it seems too good to be true.
It's worth noting here that YouTube discourages posting clickbaity and sensational content anywhere in the videos. Create video titles appropriate for a wide audience in order, and it won't be long before you witness maximized your potential reach.
How to do it?
Make sure you always deliver what you promise, and don't insert symbols, words or graphics that can send your potential viewers away.
3. Use An Apt Font Style For Your YouTube Videos
After you've crafted the text, make sure to consider the font style— that's vital to ensure the audience recognizes your content and brand. You should also be consistent with the font style to sustain the interest of your audience.
When it comes to choosing a font style, we'd recommend using one that looks impressive yet unique. Bold styles are pretty good for title text.
4- Create Consistent YouTube Video Thumbnails
As I mentioned before, thumbnails work as miniature marketing posters for your YouTube videos.
Though every video should be unique in itself, the overall theme reflected from the thumbnails should be the same. Make sure they are consistent in terms of font style & size, layouts, color scheme, and other relevant visual aspects.
This would help viewers to identify your videos within a search easily, and that's very important for branding. If your old videos on YouTube have thumbnails that aren't compatible with your branding line, update those videos with refreshed thumbnails. Doing so will also help boost the viewership of older content.
In addition to being consistent, you should also make sure your YouTube video thumbnails stand out against others. Thoroughly research your competitors' thumbnails and create better thumbnails to outperform your competitors.
5- Optimize Thumbnails for Multiple Devices
63.1% mobile users accessed YouTube mobile app in July 2017, making it the most popular mobile music and video app in the USA. This means your videos are likely to get more views from mobile devices.
That being said, it's best to optimize YouTube thumbnails for multiple devices – PCs, laptops, smartphones, and other Internet-enabled devices. Research has revealed that 55 to 70% thumbnail impressions are received from small-screen devices.
The best way to optimize your YouTube video thumbnails is to test them before you upload them.
6- Track, Analyze, and Improve
The ideal YouTube video thumbnails and titles should meet the expectations of your viewers.
And it surely isn't easy to create such thumbnails at the first go, which is why you'll need to track, analyze, and improve them over time. The good news is that YouTube Analytics can help you know whether thumbnails and titles are in line with the preferences and expectations of viewers.
Here are the two ways to successfully analyze YouTube video thumbnails using YouTube Analytics:
The YouTube Audience retention report will give you an idea of the viewers who immediately leave your videos or watch your videos till the end. If viewers leave your videos quickly, it means title and thumbnails don't match the content of your videos
Check the Traffic Sources to find out the keywords viewers are using to search your videos. If your titles don't have important keywords, include them
Also, make the effort to check how your competitors are engaging with the audience. That way, you can know the clicks they're getting, and compare the titles, color scheme, and design to create the best possible thumbnails.
On a side note, keep tracking and analyzing your YouTube video thumbnails till you get the desired views for your videos.
Conclusion:
By now, you've surely understood that thumbnails can make or break your YouTube videos, just like a subject-line does for an email.
So, it's time you adopt the tips in this blog and craft scroll-stopping thumbnails to grow your YouTube presence. Just ensure they're easily relatable to your audience and avoid sensational stuff— it won't be long before you witness a substantial boost in business growth!
See you soon with another blog!
Additional Resources: