In this brief guide to YouTube SEO in 2023, I will provide you with an overview of everything related to YouTube SEO, including why you need it and ranking factors that affect it.
As this is a long post, I have included links to different sections for easy navigation.
Table of Contents
Preface:
It is often stated that YouTube is the world's second largest search engine.
In fact, YouTube has 2 billion logged-in monthly users, from 800 million users in 2012.
What does all that mean?
YouTube can be a huge traffic source for your business if you rank on the TOP when a prospect searches on YouTube for a keyword related to your business.
How can you dominate YouTube video search?
The answer is YouTube SEO.
Why You Need YouTube SEO in 2023?
According to a report published in Statista, As of January 2023, YouTube is the most popular mobile app in the US, with a 74% audience reach. Gmail, on the other hand, ranked second in usage reach with 61%. In addition, as of June 2022, more than 500 hours of video content were uploaded to YouTube every minute
These stats assert that there is a fierce competition on YouTube, and you need to stand out from the crowd if you truly want to leverage the power of this ever-popular video sharing platform.
Like Google SEO, YouTube SEO will help gain high ranking, above your competitors.
Here is a systematic YouTube SEO guide to outrank your competitors' videos on YouTube:
YouTube SEO in 2023: How to Find Video Keywords
Now, you must be thinking that why you need to look out for video keywords.
My friend, if you want your videos to be featured in Google search results as well, you need to search for video keywords.
If you google for a keyword 'how to play pokemon go', you will most probably get a YouTube video in Google's Featured Snippet.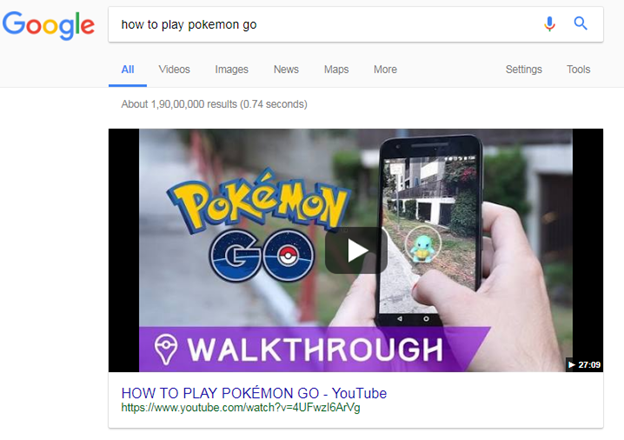 A YouTube video also features in Google search results if you search for 'wordpress tutorial'.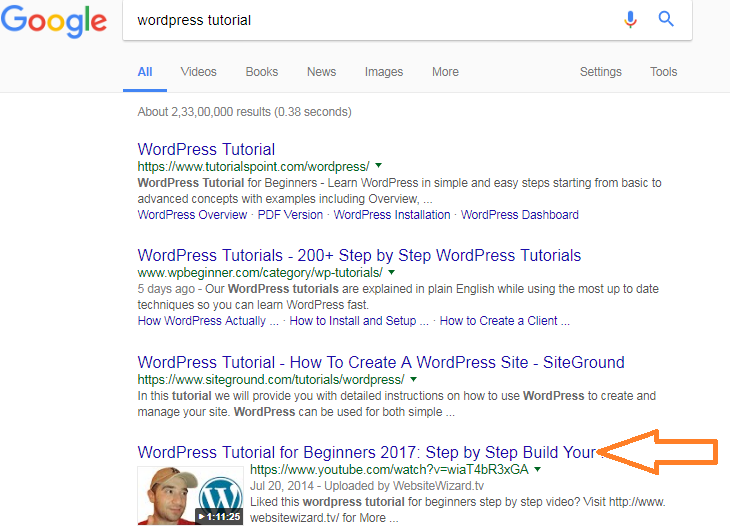 These keywords 'wordpress tutorial' and 'how to play pokemon go' are called video keywords.
Simply put, video keywords are keywords for those you have YouTube results on the first page of Google.
Usually, Google tends to show video search results for the following type of search queries:
• Tutorials
• How to keywords
• Detailed reviews
• Anything related to exercise
Why is it important to find videos keywords?
With the right video keyword, you can get lots of traffic to your YouTube videos directly from Google.
If you think finding video keywords is a difficult task, you are absolutely wrong.
In fact, the process is simple – What you have to do is to find out keywords in your niche that have at least 500 searches and Google shows video results for these keywords.
Suppose, you sell fishing rods and want to create a useful content around it.
Let us find out how much traffic this keyword has.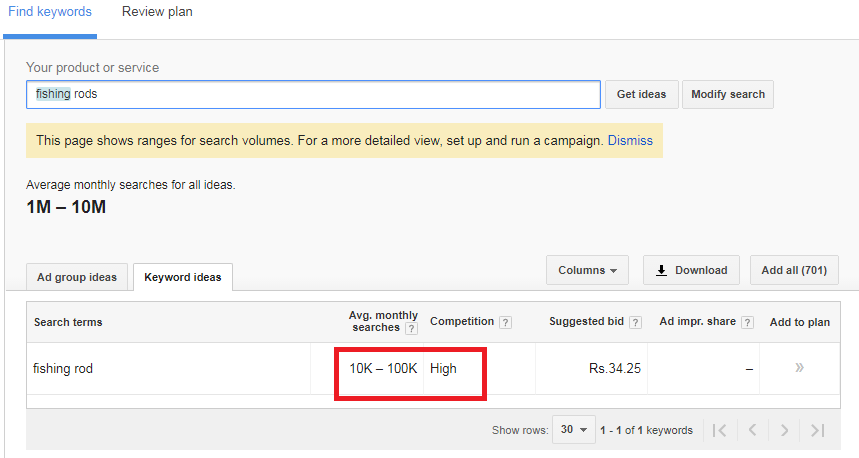 Fishing rod has 10k-100k average monthly searches. Now, let us see how this keyword can get YouTube videos in the search results.
Here is what I get when I searched for 'how to choose a fishing rod.'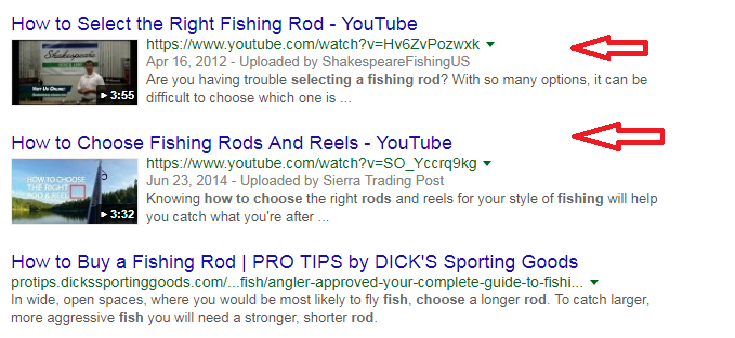 Two results are YouTube videos.This is how you can search for video keywords in your niche.
Next, I will discuss what affects the ranking of YouTube videos.
Optimize Videos: YouTube SEO Ranking Factors
Google has backlinks and other signals to assess the quality of a content piece. However, YouTube does not have many signals to evaluate the quality of video content.
The only way in which YouTube can assess the quality of its videos is how viewers interact with videos.
Here are a few factors that you must take into consideration if you want to dominate YouTube ranking:
1- Meta Data
It is important that you should optimize Meta data for your YouTube videos. Though YouTube ranking depends largely on engagement metrics, getting Meta data right complements it.
Here is how you can optimize Meta data of your YouTube videos:
Video File Name
After you complete the shooting of your video, you should include a keyword in the file name. Though it does not affect the ranking, there is no harm in doing so.

Video Title
You must include a keyword in the title of your video. Like web content,you should use a keyword in the beginning of your title.
Two out of the three top results on YouTube have the exact title as the search quarry.
h2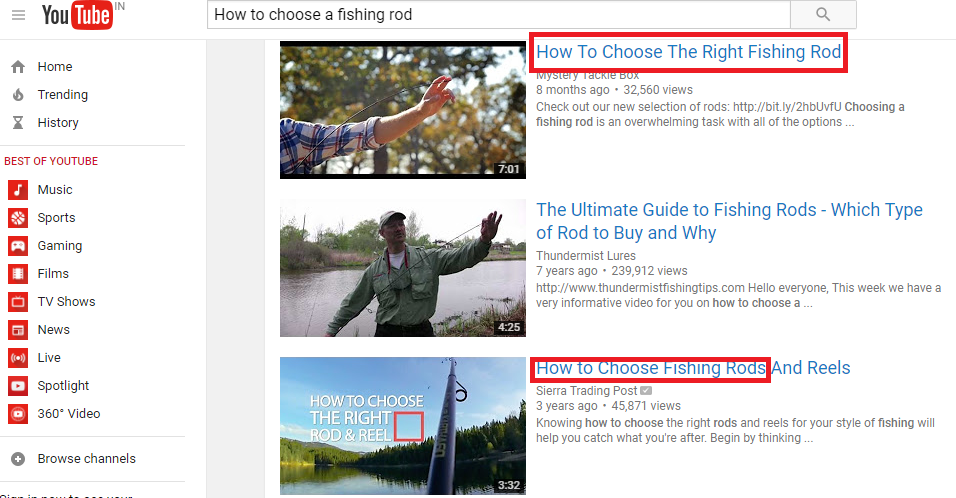 Description
Your video description is important. An optimized description of your YouTube video helps Google and YouTube rank your video higher. In addition, optimized description helps your video appear in the suggested videos.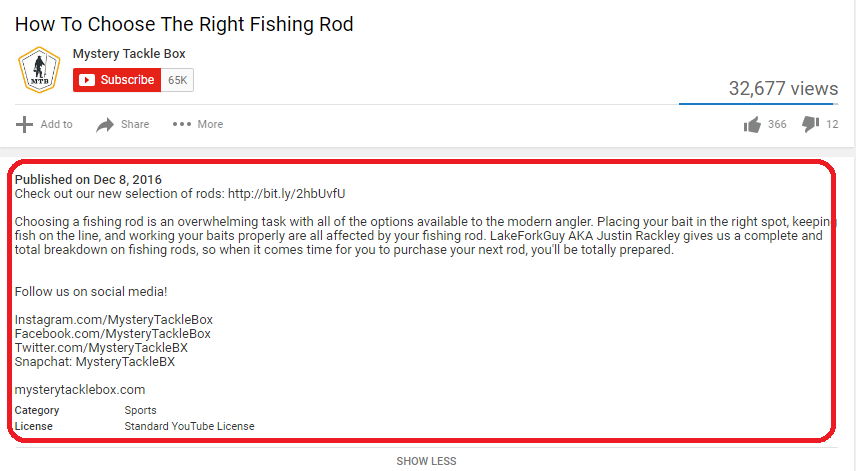 Here are a few tips on optimizing the description of your YouTube video:
• Include keyword in the beginning of your description
• Ensure keyword frequency around 1-2%
• Put the link of your website at the top to boost CTR
• Provide links to your social profiles and tell viewers what they will get after subscribing your channel
Follow these practices to get your Meta Data optimized for YouTube SEO in 2023.
2- Engagement Metrics
Engagement metrics play an important role in YouTube ranking.
Here are engagement pointers that you should work upon:
Views
Let us analyze the top five results for 'how to choose a fishing rod'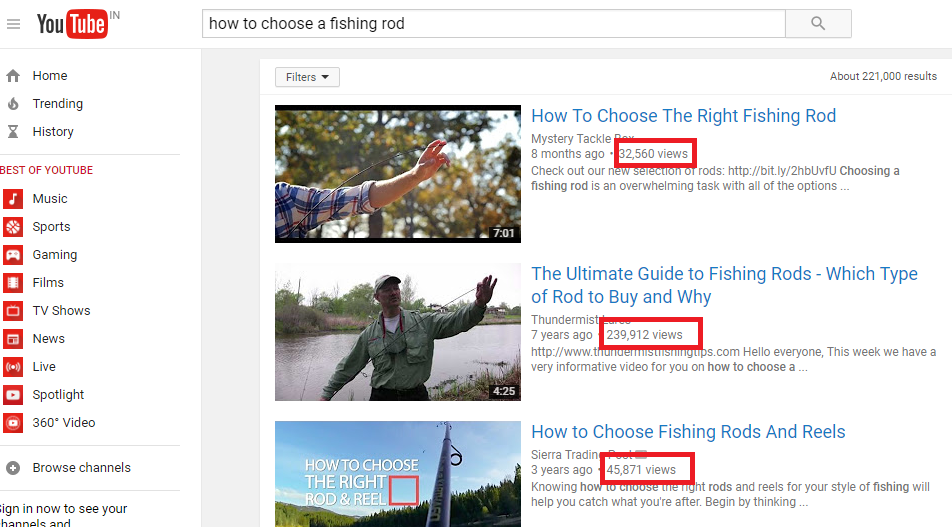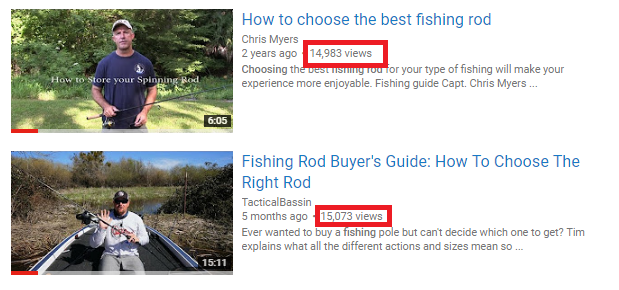 You can yourself find out that YouTube views matter in ranking.
How would you increase views of your YouTube video?
Following are a few proven ways to increasing views of YouTube videos:
• Embed your video in your blog posts
• Provide a link to your video in your email signature
• Mention your video on Quora and other Q&A sites
• Promote your Video on social media
It is advised that you should always try to gain organic views only.
Thumbs-up
I do not have to explain this as it is self-explanatory.
More thumbs-up mean you have created informative, engaging video and viewers liked it. This is what YouTube wants.
Let us analyze the thumps of the top three YouTube results for 'how to choose a fishing rod'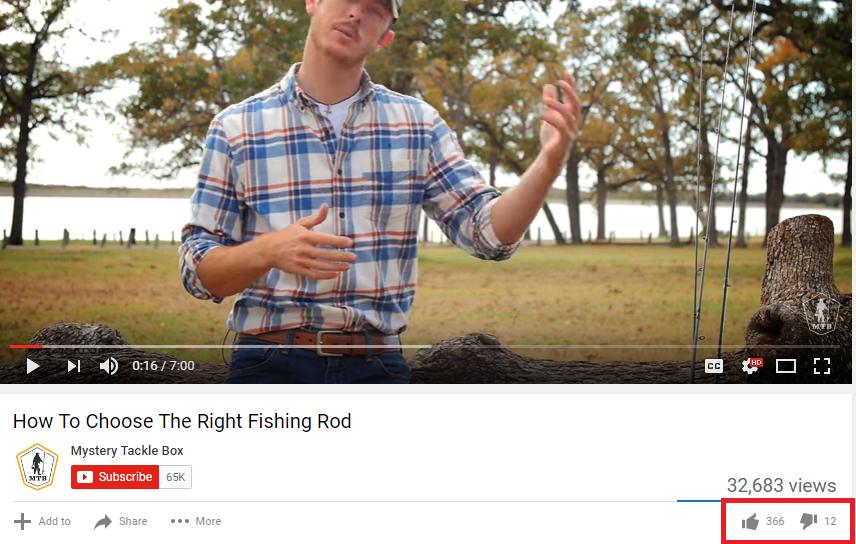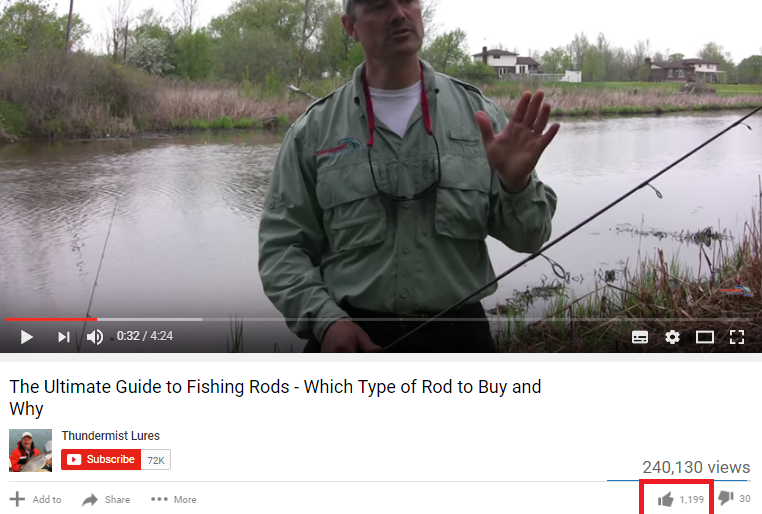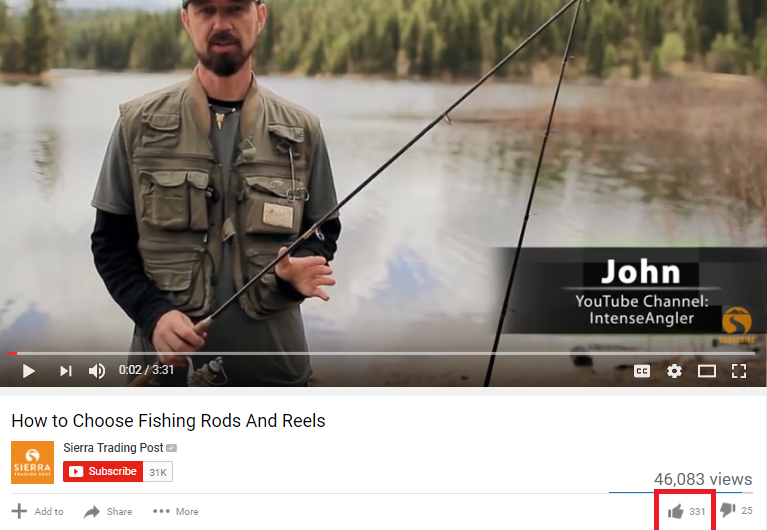 These top results have a good number of thumbs-up. You cannot do anything to get more thumbs-up, except making informative, engaging videos.
Also, you should try to increase views of your videos. The more views you get, the more it increases the chances to get thumbs-up.
Shares
Though we can debate on how social signals help a web page rank on Google, social media shares affect YouTube ranking. When somebody shares your video, it clearly means that person liked your video.

Bumper social media sharing can improve YouTube video ranking.
Here are a few tips on increasing social shares of your YouTube video:
• You should write a blog post around your video and tell your subscribers about it
• Post the link of your video on social media platforms
• Submit your video to stumble upon
You can also request your viewers to share the video at the end of the play.
Comments
Comments are a very strong ranking factor for YouTube SEO in 2023.
When people comment on your video, you should reply to them. This is the only way to boost engagement on your post.

Subscriber after watching
If somebody subscribes your video right after watching, it sends YouTube a signal that your video is of high-quality and serves the purpose. Even if people choose to watch it later, it is a strong signal for YouTube to consider the video of high-quality.

3- Subtitles and Closed Captions
According to a study, adding subtitles and closed captions increases video views significantly by 7.32%.
Advantage?
It will help in YouTube SEO as video views are a part of engagement metrics.
What's more, subtitles and closed captions enable deaf people to understand your video, meaning enhanced user experience. YouTube loves the content with the enhanced user experience. YouTube loves the content with the enhanced user experience. If you do not have a caption file, you can upload a transcript. YouTube will automatically synchronize it with the video. The process is quite easy. Though YouTube has a feature to provide caption automatically, you should avoid it as it is often riddled with mistakes.
4- Watch time
According to YouTube, "We've started adjusting the ranking of videos in YouTube search to reward engaging videos that keep viewers watching. The experimental results of this change have proven positive — less clicking, more watching. We expect the amount of time viewers spend watching videos from search and across the site to increase."
So, my friend, YouTube watch time is a ranking factor now. Do not get confused – YouTube watch time is not the length of a video.
What is watch time actually?
YouTube defines it as,
"The amount of time in aggregate that your viewers are watching your videos…"
Watch time has nothing to do with the length of a video.
How can you increase watch time?
There is no shortcut – you need to create videos that are engaging enough to hold the attention of your viewers. Also, offering liner-viewing experience and using annotations are a good way to increase watch time.
5- Video Quality
Does video quality matter?
The answer is YES.
Backlinko analyzed 1.3 million YouTube videos and found that HD videos appear significantly more often than SD videos on the first page.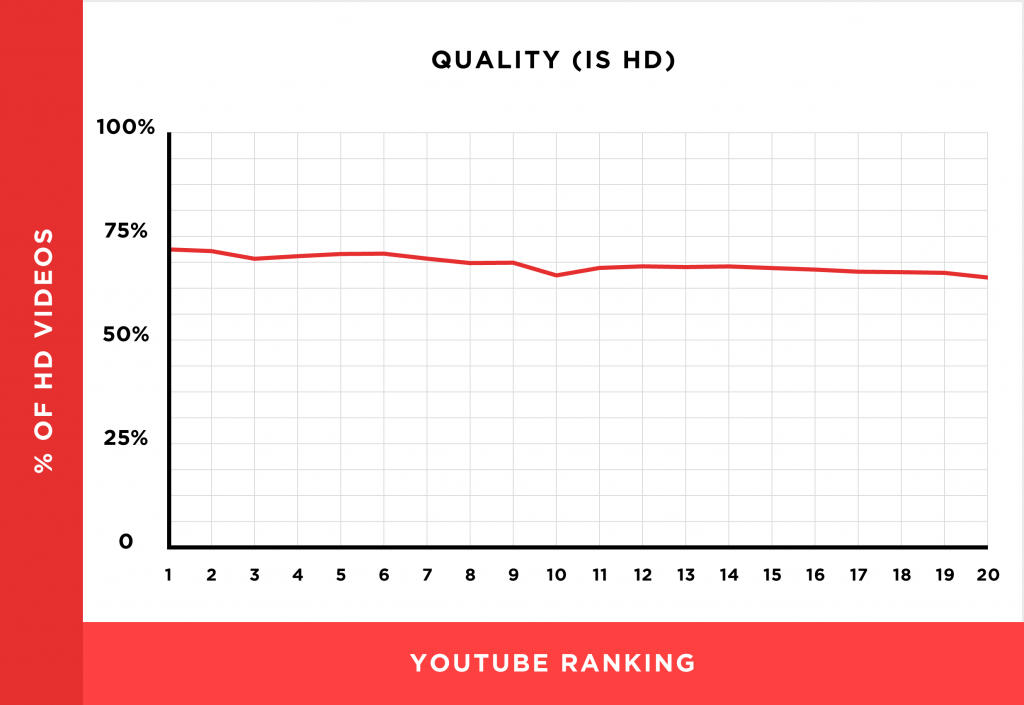 Image source: Backlinko
Henceforth, start creating HD videos for YouTube to get top ranking.
6- Video Thumbnails
Though video thumbnails do not play a direct role in YouTube SEO in 2023, using them improves ranking indirectly.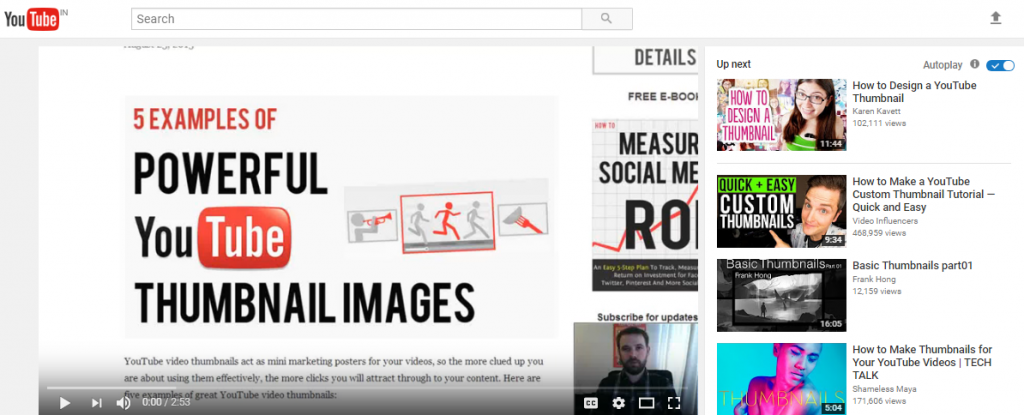 How?
Video thumbnails enable viewers to take a quick snapshot of your videos while they are browsing through YouTube results.
In other words, video thumbnails work as marketing posters for YouTube videos. By using eye-catchy video thumbnails, you boost the chances to get your videos clicked. This means engaging thumbnails increase the views of your videos, thereby improving the ranking of your YouTube videos.
Here are the top three tips on creating super engaging thumbnails for your YouTube videos:
• Never use default thumbnails provided by YouTube. Instead, create thumbnails that build anticipation
• Never forget to use an engaging title graphic in your thumbnails
• Create a thumbnail with a contextual background
7- Channel's Authority
I have analyzed thousands of YouTube channels and found that authority does not have any direct role in YouTube SEO in 2023. However, it indirectly plays a role in YouTube ranking.
How?
People consider videos from a popular, established channel to be engaging, they are more likely to watch videos from these channels until the end.
Putting it in other words, videos from reputed YouTube channel enjoy more views and watch time than a lesser-known channel. More views mean better ranking.
Try to build authority for your channel. This will give you dividends in long run.
Conclusion:
YouTube SEO in 2023 will be different from Google SEO. You need to focus more on engagement metrics if you want to have the top YouTube rank. Follow the best practices mentioned in this article. They will certainly help you get the top ranking.
Do you want to share any YouTube SEO tip today? Leave it in the comment section. I would love to know it.
Additional Resources: