Are you a photographer? If yes, I'm gonna make you an offer that you can't refuse. You will get something that can make a profound impact on your business.
What is it?
"Best SEO practices for your photography website to improve search visibility in 2019."
My friend, in today's article, I'm going to discuss 15+ best SEO practices for photographers.
After reading this article, you will know what you need to fix on the website of your photo studio to increase relevant traffic.
Without further ado, let's dive in:
SEO for Photographers: Practical Tips That Provide Fast Results
1- Title Tags
Title Tags are displayed on search engine ranking pages as clickable titles. They tell users and search engines what the web pages are about.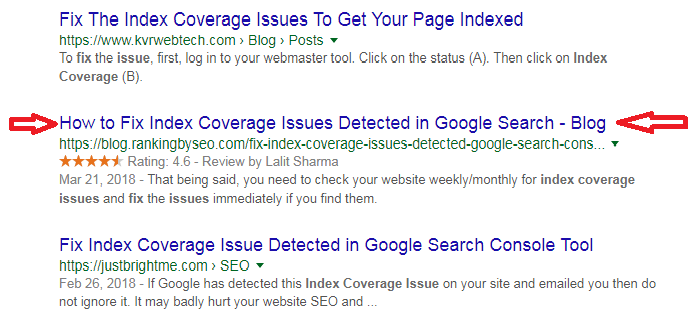 As title tags help search engines understand what a web page is about, you must optimize all the title tags of your photo studio website.
Here are some points to help you write good title tags:
Keep your title tags around 50-60 characters
Front load your title tags with main keywords
Write a unique title for each page
Write your title tags for humans
Title tags optimization is the first step in improving the search visibility of your photo studio website.
2- Meta Descriptions
Meta descriptions are brief snippets of your web pages. In around 155 characters, Meta descriptions summarize what visitors will find if they open those pages.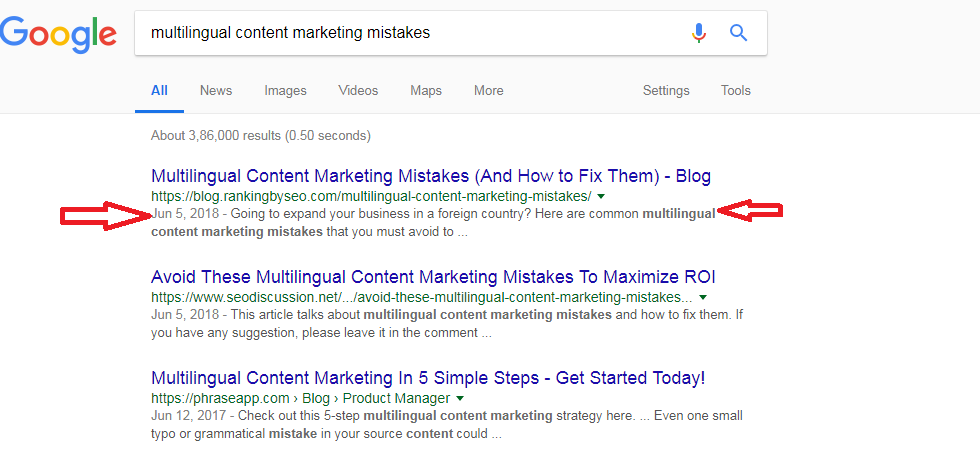 Follow these best practices to write click-worthy Meta descriptions for the web pages of your photography website:
Keep the length strictly limited to 155 characters
Include a call-to-action
Don't forget to include your focused keyword
Make your Meta description unique for each of your web pages
The best way to write meta descriptions for your photo studio website is to think less about SEO and more about click-throughs.
3- Content With Targeted Keywords
Google itself has said that content is an important ranking factor.

To improve the visibility of your photo studio website, you should optimize the content of your website.
SEO for photographers will not yield optimum results without unique, optimized content including important keywords.
4- Heading Tags And Keyword Phrases
Heading tags are used to create heading in your web content. They are h1, h2, h3 h4, h5, and h6.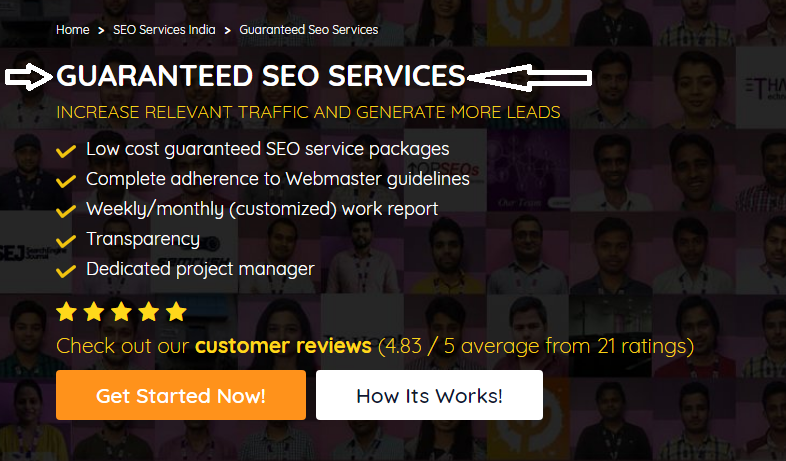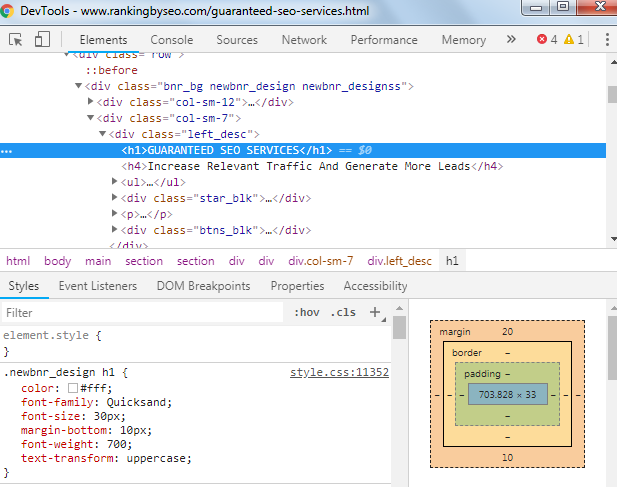 h1 is the most important heading tag, and it is usually used to create a title of web page content.
Now comes the question how will you plan heading tags in your content?
Ideally, you should use h1 tag as the title of your content, h2 tags for the subheadings of your content, h3 tags for the subheadings of h2, h4 for the subheadings of h3, h5 for the subheadings of h4, and h6 for the subheadings of h5.
Also, you should not forget to include focused keywords or key phrases in your headings.
5- Internal Page Linking
For powerful SEO for photographers in 2019, you need to make sure that your web pages are properly linked.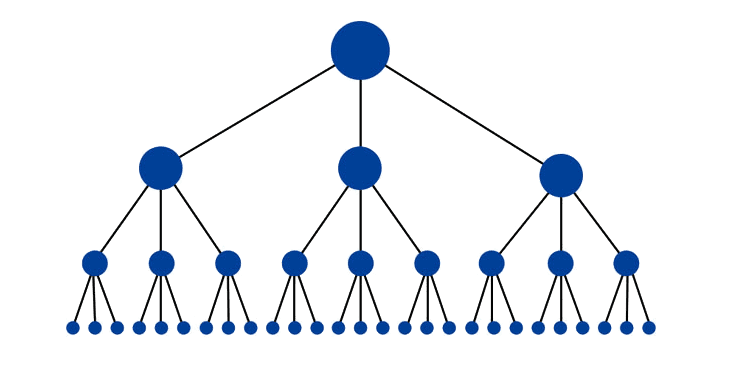 The thumb rule of interlinking is,
You should try to minimize the number of links between the homepage and any given page.
Moz has created a useful guide on Internal links. After reading this guide, I'm sure you will be able to get interlinking of your photo studio website right.
6- Image ALT Tags
According to Yoast,
The alt text describes what's on the image and the function of the image on the page.
As title tags tell search engines what web pages are about, alt tags inform search engines what images are about.
So you should never use images on your web pages without alt tags. Doing so can affect the SEO of your photography website.
7- Use Canonical Tags
You should use canonical tag if the same content appears on the different URLs of your photography website.
"A canonical tag (aka "rel canonical") is a way of telling search engines that a specific URL represents the master copy of a page. Using the canonical tag prevents problems caused by identical or "duplicate" content appearing on multiple URLs," explains Moz

As copied content affects SEO for photographers, use canonical tags to avoid it.
8- Check Indexing
Google says,
Google may temporarily or permanently remove sites from its index and search results if it believes it is obligated to do so by law, if the sites do not meet Google's quality guidelines, or for other reasons, such as if the sites detract from users' ability to locate relevant information.
So you should check indexing from time to time and fix index coverage issues if you find any.
9- Ensure Mobile Friendliness
Mobile friendliness is very important for SEO for photographers in 2019. Why?
Now, people are using more mobile phones than desktops to conduct online research. If your photo studio website is not optimized for mobile devices, you will lose a significant number of users.
I have written a detailed guide on Mobile SEO. It will certainly help.
10- Promote on Social Media
According to Statista,
In 2019, it is estimated that there will be around 2.77 billion social media users around the globe, up from 2.46 billion in 2017.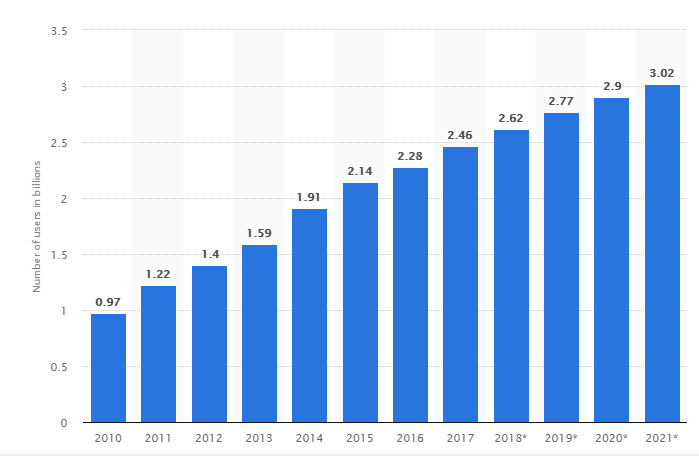 If you want to grow as a photographer, you cannot ignore social media. Aggressive social media marketing will not only build your reputation but also generate leads.
Therefore, photographers should make aggressive social media marketing plans.
Will it help with SEO? Yes, it will. The more relevant social media traffic will eventually improve your ranking.
11- Build Broken Links
Backlinks are trust votes. To improve the search visibility of your photo studio, you should not only try to build backlinks but also build broken links.
As rightly put by Joshua,
Broken link building is one of the most scalable link building tactics around.
Here is a complete guide to broken link building published on aherf.
12- Write Guest Posts
No matter what people say, guest posts still rock when it comes to building PR and creating authority.
Guest posts not only drive relevant traffic to your website but also help increase lead generation.
"I've tried many different inbound marketing strategies, but guest blogging has remained my most treasured tool," says Neil Patel.
However, not all guest posts bring the same glory. You will have to pick high-authority websites in the photography niche if you want to achieve lasting success.
Guest posts on high authority relevant websites are extremely good for SEO for photographers.
13- Get Interviewed
It is true that people want to hire experts. So you should try to build authority in the market if you want more people to know you.
And one way to do so is searching for opportunities to get interviewed. Approach bloggers and local journalists if they can take your interview. And once you are successful in securing an interview, you should promote it aggressively to amplify its reach.
Does it help with photographer SEO? Yes, it does. Google will definitely love you if people love you.
14- Optimize GMB Listing
Optimizing Google My Business (GMB) listing is a must for SEO for photographers.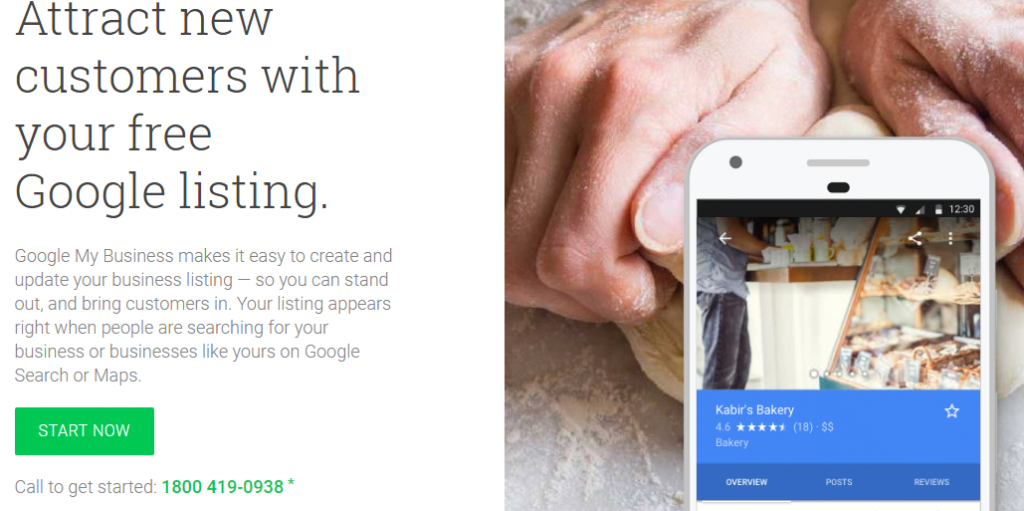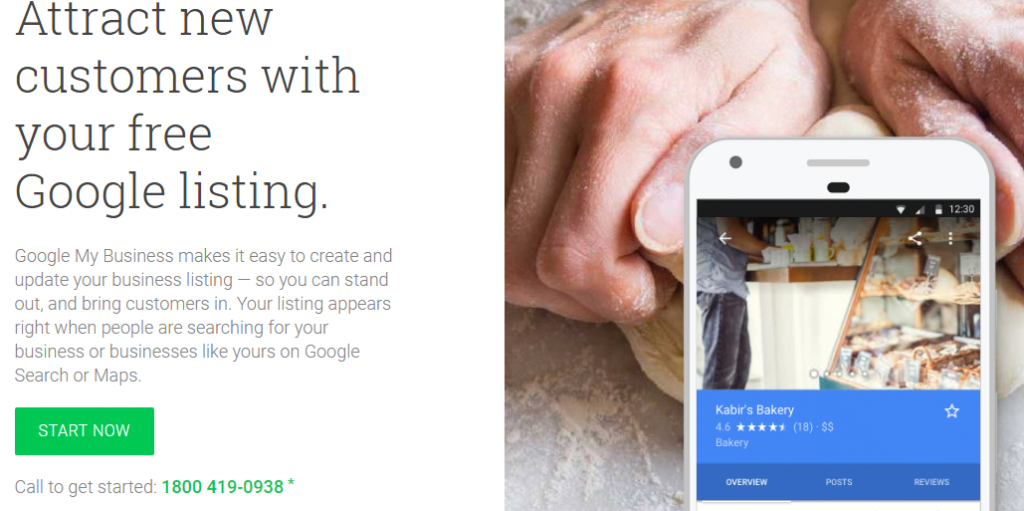 Now you must be thinking that why GMB is so important. My friend, your business will not appear on Google Search or Google Maps if you don't create Google My business listing.
Without optimizing Google My Business listing, you cannot make the cut for local ranking.
15- Build Citations
Local citations are the mentions of your name, address, phone number, and website (NAP+W) in local directories.
For local ranking, local citation (like backlinks) work as trust votes. The more citations your photo studio has, the better chance it will have to rank on the top.
Therefore, you should keep building local citations. Also, you should find broken citations and fix them. This will help you improve your local ranking.
16- Use Google Maps Marketing
Google Maps Marketing is a must to improve SEO for photographers.
You must have noticed that Google has started to show Google Maps results on the search engine ranking page (SERP). And these results are often shown right below the search box, meaning you will have better visibility if you feature on Google Maps.
Google Maps Marketing will help you rank high on Google Maps and generate more relevant clicks. This will eventually improve the ranking of your photo studio website.
So never ignore Google Maps Marketing if you want to improve the SEO of your website.
17- Create and Share Local Content
People often prefer to hire a local photographer. So it is important that you should increase your visibility for local content. And the best way to do it is to create and share local content.
If you embrace the local community beyond selling your photography packages, you will find many opportunities to create and share local content, such as covering local events, taking interview of local biggies, etc.
Creating and sharing local content not only boost your local online visibility but also help you build authority in the local market.
Conclusion
With so many photographers out there, it is never easy to stand out from the crowd if you don't follow the best search engine optimization strategies.
Follow the best SEO practices explained in this article to improve the search visibility of your photo studio.
What about you? Do you want to share any tip on SEO for photographers in 2019? Please leave it in the comment section. I would love to know about it.