Your website is a virtual handshake, so you always want to make a great first impression on your customers' minds.
After all, a weak, shaky, or indifferent impression never makes the cut in today's tough business world.
Content, being an integral part of your website, can make or break your first impression.
If you want your visitors to happily consume your content and make decisions based on what they have read, you will have to ensure kick-ass copy on your website.
However, it doesn't mean at all that you need to redo the entire copy of your website.
Most often, a few tweaking here and there can make a big difference in the conversion rate of your website.
Now, the real question comes,
How can you tweak the content of your website to improve the conversion rate?
Well, this is what I'm going to explain next.
In today's post, I'm going to discuss #12 proven copywriting tips to boost the conversion rate in 2018.
After reading this post, you will know which changes you should make in your website copy in order to convert more visitors into your customers.
1- Consider How Much Your Audience Knows
Have you ever thought that your visitors might know all the things already you have mentioned on your website? Or they find it difficult to understand your website copy because you made it too technical to comprehend.
These two scenarios are real.
If you want to turn your website into a lead generation machine, you must create content that maps to visitors of different awareness levels.
Eugene Schwartz explained different awareness levels in Breakthrough Advertising.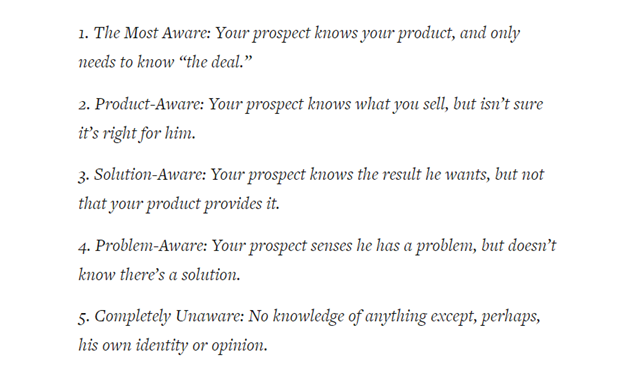 The copy of your website should meet the requirements of these, five types of awareness levels.
2- Craft Irresistible Headlines
According to Copyblogger,
On average, 8 out of 10 people will read headline copy, but only 2 out of 10 will read the rest.
Your headlines have the power to persuade your visitors to read the rest of your content.
The more irresistible your headlines are, the more chances are that visitors will consume your content.
Which types of headlines are magnetic headlines?
The answer is simple: Headlines that encourage visitors to read the first paragraph of your content.
Here are some ways that can help you craft powerful headlines:
Use specific number or data in your headlines
Make a powerful call for attention in your headlines
Create a sense of fear, power, or urgency in your headlines
Make your headlines simpler
Using headlines formulas will not only shine your headlines but also save you lots of time.
3- Create a Catchy Introduction
The introduction of your content decides whether visitors will read further or leave the page. Therefore, you should make sure that the copy of your website has engaging introductory sentences.
Here is what renowned Internet marketer, Neil Patel says about how to write a catchy introduction on HubSpot: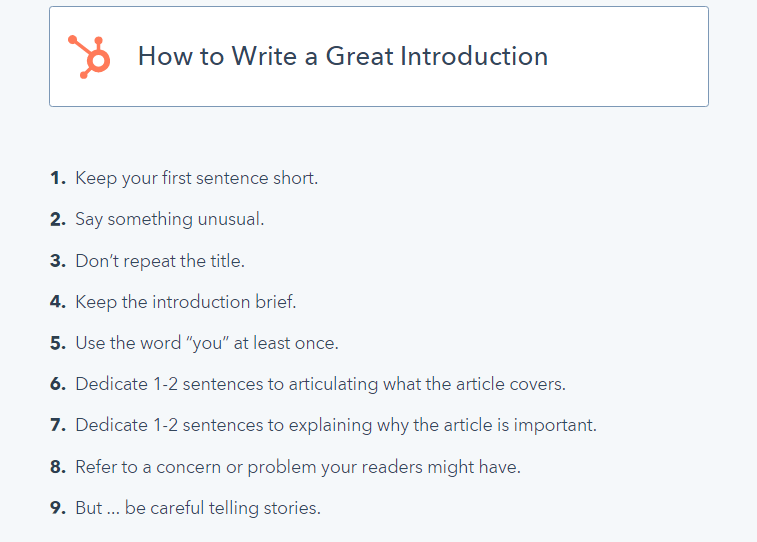 If magnetic headlines encourage visitors to read the first few sentences of your content, catchy introductions persuade visitors to read further.
4- Organize Your Content For Skimmers
Thanks to smartphones, humans now have shorter attention span than ill-focused goldfish (having an attention span of 9 seconds).
Implication?
Now, people often don't read web content between lines. Instead, they scan and skim through content. So it becomes imperative that you should organize your website copy for skimmers.
Here are some tips that can help:
Use short sentences and short paragraphs
Break long texts into subheading and pointers
Use large fonts
Always follow the 'F' pattern – organize important information in the beginning, middle and end.
This will ensure that scanners will get the gist of your content.
5- Write Persuasive Copy
Too boost the conversion of your website, you should make sure that you write persuasive copy.
I like Copyblogger 1-2-3-4 formula for persuasive copy.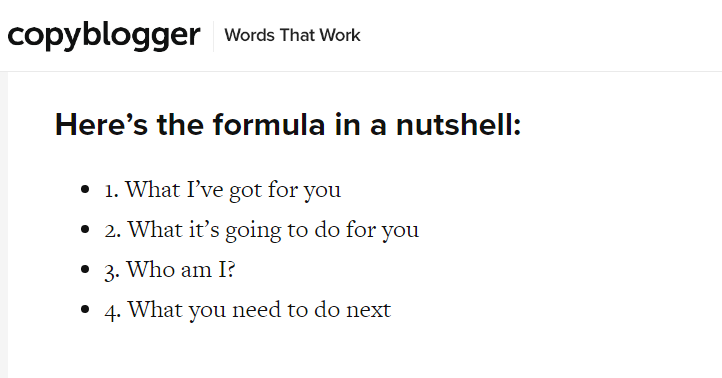 The first two points of this formula talk about problem and solution.
And there is no doubt that website copy based on problems and solutions performs well.
It is not like you should use this formula as it is. You can skip any point or add any point to it to make it better work for you.
6- Use Second Person Pronoun in Your Copy
The golden rule of copywriting is to write keeping your ideal customers in the mind.
Your website copy should target your ideal customer. And this you can do effectively by using lots of 'you' in your copy.
It has been observed that website copy written in the second person is more effective.
7- Depend on Verbs More Than Adjectives
As rightly said by George Lois,
When you think of a brand, you should immediately understand it from the advertising attitude, from the words and visuals.
Words create an identity. So, choose them wisely.
"Mediocre verbs and adjectives are non-committal, don't provide a clear picture of what you mean, and make your writing look and sound lackluster," says Julia McCoy.
Relying more on adjectives can make your writing dull while using strong verbs instead can make your writing powerful.
Replace all the 'very' in your website copy and find strong verbs to weed out adjectives.
For example:
Instead of saying 'She felt better', say it she recovered.
By removing adjectives and using strong verbs, you will make your writing more persuasive. This will increase the conversion rate.
8- Write in Active Voice
Everything will be done by us. (Or We will take care of everything)
This form should be filled by you to start the subscription. (Or you should fill this form to start the subscription)
You must have got the idea why most copywriters put a red flag on passive sentences.
Passive sentences make writing slow, dull, and often clunky. So you should always try to write in the active voice.
9- Use Conversational Tone
It is a simple truth – your visitors will not read your content further if they find it devoid of human touch and emotions.
We all crave for human touch, so conversational copy always wins when it comes to conversion. Why?
There is no rocket science. When we read conversational content, we feel connected. But the question is,
How can you write your website copy conversationally?
Follow these simple tips:
Don't write for mass – write for just one person using 'You'
Don't write to impress – write to solve problems
Add a caring personality to web copy
Shorten your sentences
Ask questions in your copy
Writing conversationally not only improves the conversion rate but also provides your website with a personality.
10- Highlight Benefits in Your Website Copy
No person buys features of any product. In fact, they buy the benefits of a product.
When you decide to buy a mobile phone having a long battery life, you are looking for something that doesn't run out of power soon.
In other words, you want to buy the advantage that a long mobile phone battery offers.
Most big brands understand this fact and turn features of their products into benefits.
Check the product listing of Kindle. Amazon has smartly converted features into benefits.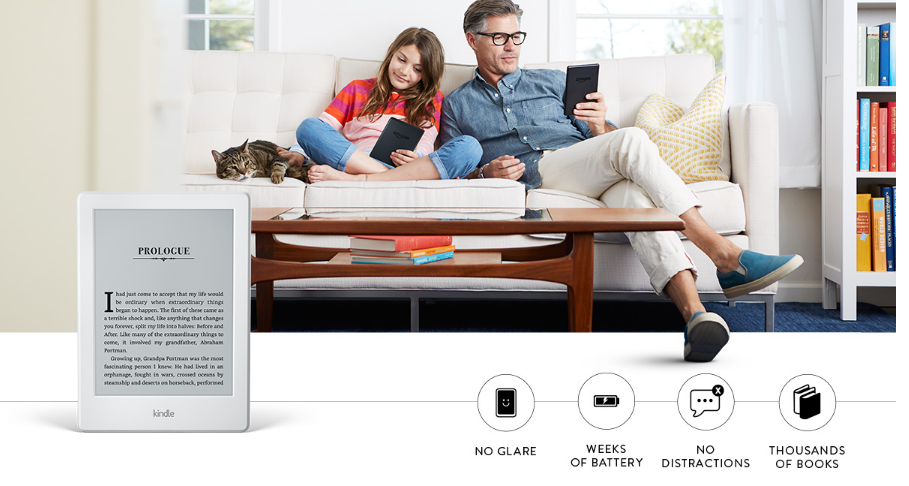 How can you convert the features of your products into benefits?
'So what approach' can you help you?
This perfume is made of natural essence only. (Feature)
So what?
It will not cause any reaction to your body. (Benefit)
So what?
You can wear it without any fear of allergy (Benefit)
Start following 'so what' approach to covert features into benefits.
11- Use Enticing CTAs
You have created a user-friendly website, and you have written kick-ass copy. But all will go in vain if you don't use enticing call to actions (CTAs).
"A flimsy CTA can compromise everything that you worked so hard to achieve with your marketing efforts," says Neil Patel in his article. 
If you use CTAs smartly in your website copy, this alone can improve your conversion.
Following are some tips that will help you create enticing CTAs:
Make appeals to your audience' need
Offer something that your audience can't refuse
Create easy-to-find CTAs
As long as you offer value through your CTAs, you will continue to get conversions.
12- Have Lots of White space
People often tend to leave web pages that are jam-packed with words. Therefore, you should ensure lots of whitespace on web pages. Doing so not only makes the content easy-to-scan but also make it visually appealing.
As people now use more mobile phones than desktops to access the web, lots of white space makes the content easy to read on mobile devices.
Conclusion
Your website can work as a lead generation engine if you make sure that your website has conversion-focused copy. However, it is not always easy to figure out what one needs to do to write copy that converts.
Follow these simple, proven copywriting tips to boost your conversion rate and grow your sales.
What about you? Do you want to add any copywriting tips to this list? Please leave it in the comment section. I'd love to know about it.