Google is continuously crawling, indexing and de-indexing web pages in order to provide people with relevant search results for their queries.
Google itself has said in its Search Console Help Forum,
"Google may temporarily or permanently remove sites from its index and search results if it believes it is obligated to do so by law, if the sites do not meet Google's quality guidelines, or for other reasons, such as if the sites detract from users' ability to locate relevant information."
That being said, you need to check your website weekly/monthly for index coverage issues and fix the issues immediately if you find them. Failing to do so may result in permanent de-indexing of web pages.
In today's article, I'm going to discuss index coverage issues detected in Google Search Console and how to fix them.
After reading this step-by-step, brief guide you can successfully fix index coverage issues, even if you are new to Google Search Console.
Index Coverage Report:
You need to open the index coverage report in your Google Search Console.
By clicking here, you can do it.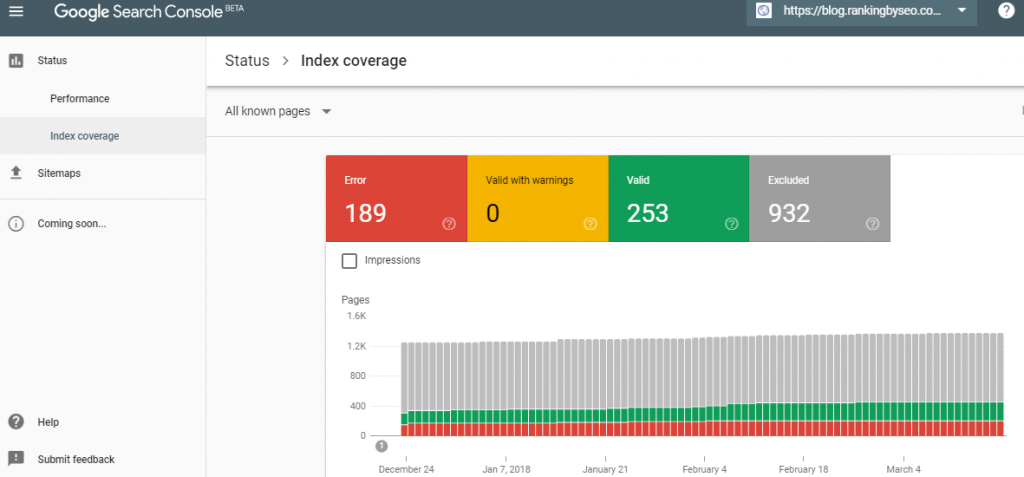 After opening index coverage report, the next step is to understand it.
How will you do that?
Here are the three things that you should look for:
A spike in indexing errors
 A drop in total index pages without corresponding errors
A significant number of your pages that are not indexed
Understanding Index Coverage Report
As you can see in the report, there are four sections – Error, Valid With Warnings, Valid, Excluded.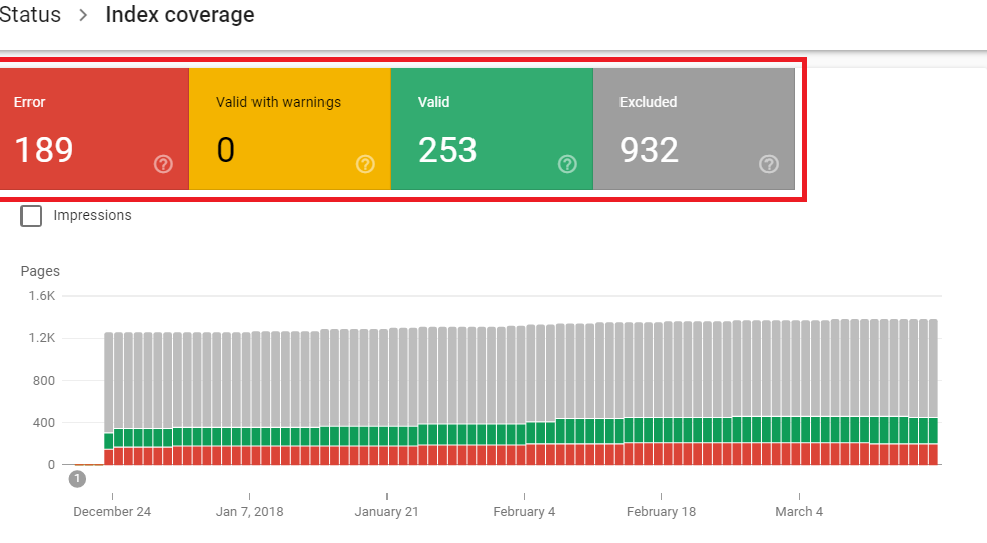 Let's talk about what these four sections represent.
1- Excluded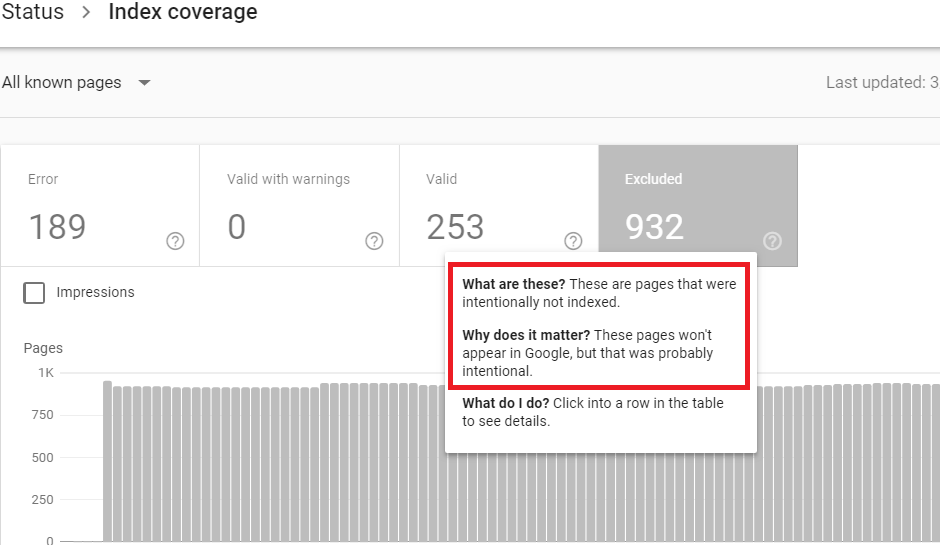 In the Excluded section, you will see non indexed pages that you cannot typically affect as Google thinks your intention was not to get those pages indexed.
Why does it happen?
In some cases, a few pages that are in an intermediate stage of indexing process are categorized in this section. But in most cases, those pages that you have deliberately excluded (for example by noindex directive) find ways to this section.
If you scroll down Index coverage report, you will find that Google also tells the reasons.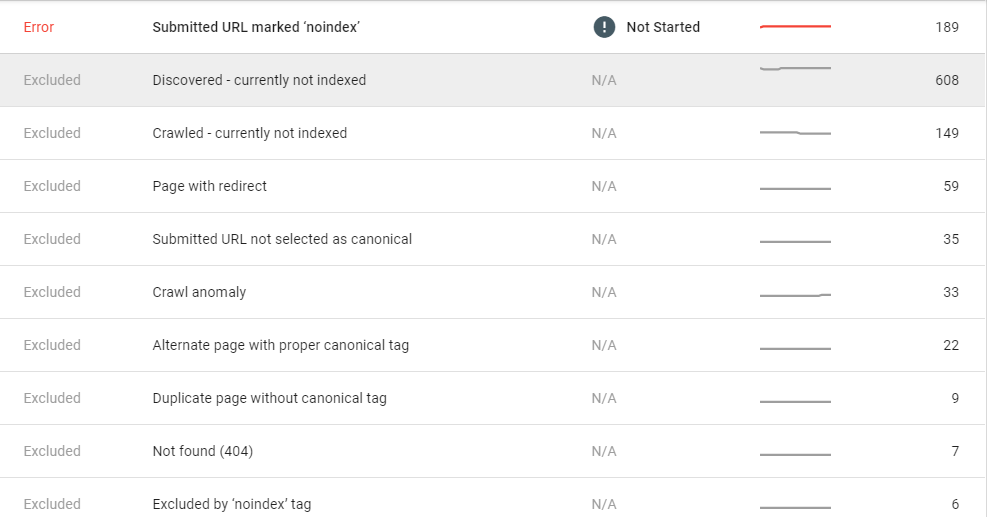 Here some common reasons why Google thinks you want these pages not to be indexed:
Blocked by noindex tag
If you want these pages to be indexed, just remove the noindex directive.
Blocked by page removal tools
Block By Robot.txt
Blocked due to unauthorized request (401)
If you want Google to index these pages, you should either allow Googlebot to access your page or remove authorization.
Crawl Anomaly
Run try fetching the page using Fetch as Google to find if it returns with any fetch issue.
Crawled – Currently Non Indexed
The pages may or may not be indexed in the future. You don't need to submit again.
Discovered – Currently Non Index
Alternate page with proper canonical tag
Duplicate page without canonical tag
Duplicate non-HTML page
Google chose different canonical than user
Not found (404):
Page removed because of a legal complaint
Page with redirect
Queued for crawling
Soft 404
Submitted URL dropped
Submitted URL not selected as canonical
2- Valid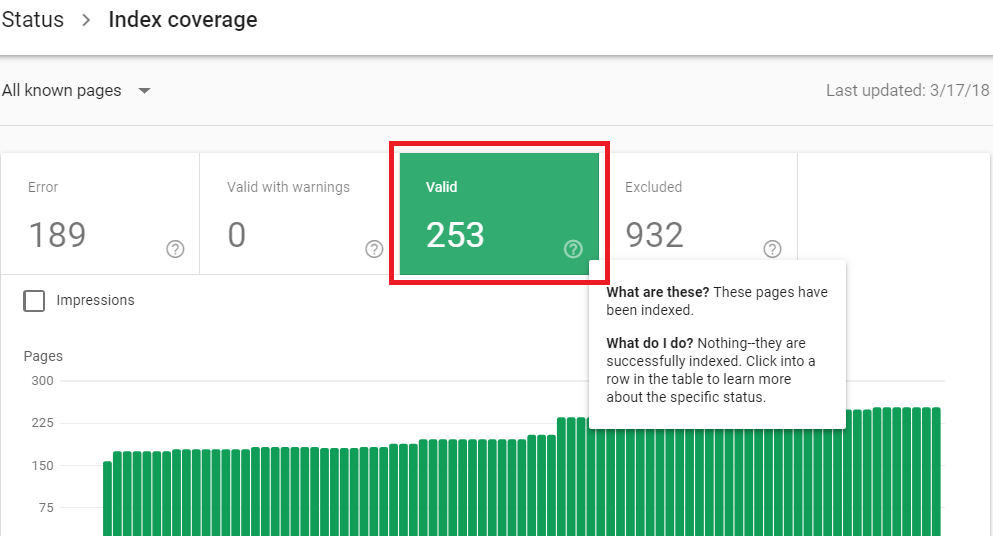 Pages those are categorized in the Valid Section are indexed ones. You will often see the following types of descriptions for indexed pages.

Submitted and indexed
These are the pages you submitted to Google for indexing and Google has honored your request.
Indexed, not submitted in sitemap
Google itself has discovered these URLs and indexed. Though these pages are indexed, Google recommends that you should submit all important URLs using a sitemap.
Indexed; consider marking as canonical
If you see the above description written, you should mark this URL as canonical as Google has found duplicate URLs of this URL.
3- Valid With Warnings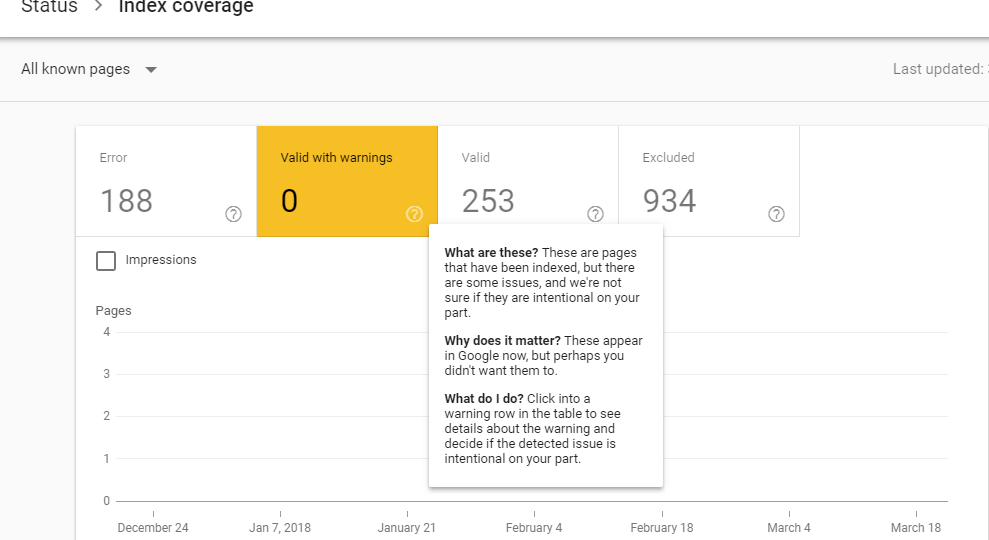 Pages with warning status need your immediate attention. Though these pages have been indexed, they have some issues and Google doesn't know whether these issues are intentional on your part.
You need to click on warning row to find out if these issues are intentional on your part.
Luckily, Ranking By SEO blog doesn't have any index page with a warning.
4- Error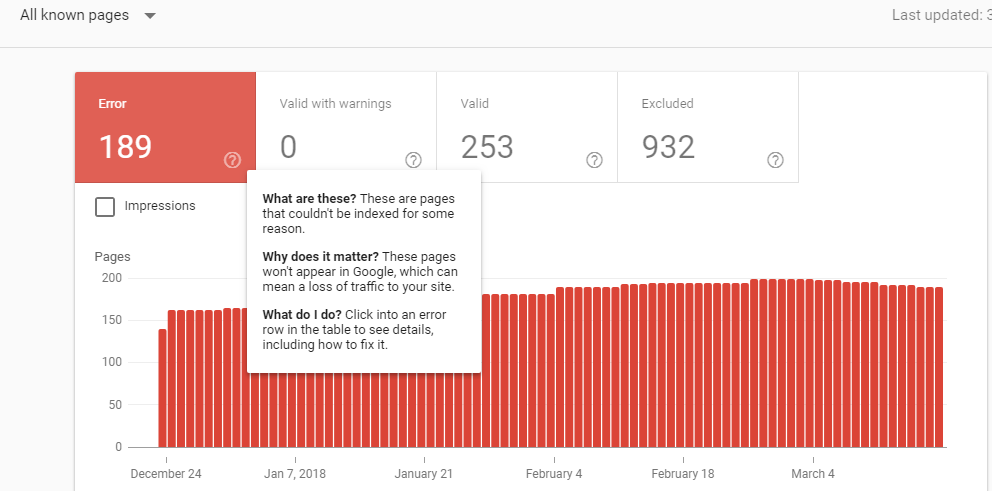 In this section, you will see the pages that are not indexed for some reasons. By clicking an error row, you will find all about the error and how to fix it.

If you click on Submitted URL marked 'noindex', you will see the following window.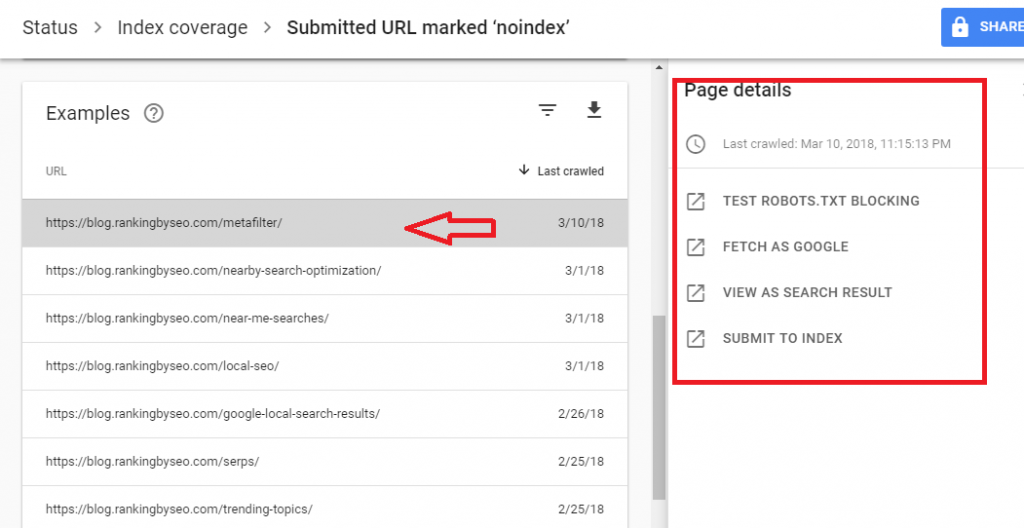 You will get the list of URLs with Page Details.
When I click on TEST Robots.TXT BLOCKING, I get the following result.

I have checked all the errors and found that I have blocked these URLs as they are category pages or tags on the blog.
It is advised that you should check all the error reason rows to find the cause.
Here are some common issues (that you will see in error rows) and their fixes:
Server error (5xx)
This error is caused by your server. Fix it, and your URL will be indexed.
Redirect error
According to Google, "It could be one of the following types: it was a redirect chain that was too long; it was a redirect loop; the redirect URL eventually exceeded the max URL length; there was a bad or empty URL in the redirect chain."
Address the redirection issue if you want this URL to be indexed by Google.
Submitted URL blocked by robots.txt
This happens when you submit an URL (that is blocked by robot.txt) to Google. To fix this issue, allow robot.txt.
Submitted URL marked 'noindex'
If you want to index pages with this error, you should remove noindex directive from the Meta tag or HTTP response.
Submitted URL seems to be a Soft 404
According to Google, "A soft 404 means that a URL on your site returns a page telling the user that the page does not exist and also a 200-level (success) code to the browser."
Submitted URL returns unauthorized request (401)
This happens when Google receives a non authorized response. To fix this issue, either you should allow Googlebot to access your pages or you should remove authorization requirements.
Submitted URL not found (404)
This occurs when you submit a non-existent URL to Google.
Submitted URL has crawl issue
You have submitted URL to Google but Google found a crawling error. Solution? Try debugging your page using Fetch as Google.
Most often, Google itself tells you what you should do to address the issues associated with pages that are not indexed and fall in the Error section.
What You Should Do After You Fix Issues
Once you have fixed all the instances of a specific issue on your website, you can request Google to validate your changes.
Google Search Console tracks the validation state of each instance of an issue as well as the state of an issue as a whole. If all the instances of an issue are fixed, the issue is marketed as fixed in the status table and dropped to the bottom of the table.
Conclusion:
What about you? Did you find index coverage issues in Google Search Console? How did you fix them? Do share your thought or query in the comment section I'd love to know about it.
Which topic do you want Ranking By SEO to cover in its future posts? Let us know.