I have seen people posting content and then never looking back at it.
But surely, that isn't the right practice!
As time goes by, the content may not stay equally relevant and useful to your readers. And the authenticity of the website may gradually fade. So, you'll need to return to your content regularly to ensure it's fresh, updated, and in line with the current market trends.
In fact, latest research studies have revealed that only 22% of businesses are satisfied with their conversion rates!
What's the reason behind such low rates?
Conversion tends to be low when businesses don't focus on understanding customer psychology, or simply what they want. And this, in turn, affects the relevance of website content.
Therefore, it is a good practice to run a regular content audit on your website to know which content is outdated, irrelevant.
A content audit is not an easy task. This step-by-step guide will help you conduct a content audit in 2023 quickly and easily
What Is Content Audit?
Simply put, content audit refers to the qualitative analysis of website content to determine the changes or improvements needed therein. Such an audit helps you analyze content performance at any given time and chalk out a future content development strategy.
In this guide, I'll be dealing with:
Reasons why a content audit is necessary
Tools that are required to conduct a content audit
Procedure to perform the audit.
Without wasting time, let us quickly jump on the first one:
Why Do You Need to Conduct a Content Audit in 2019?
A content audit basically seeks to find loopholes in your content deliverables. Once you're aware of the issues affecting your content, rectifying them becomes much easier.
With a thorough content audit, you can find out the following:
Which parts to improve?
What to remove?
What to merge?
What to optimize to improve your ranking?
Content with outdated statistics and information
Content with 404 errors or broken links
Additionally, a content audit helps you escape content related penalties.
So, a content audit in 2023 is something that you cannot afford to ignore!
In a nutshell,
"A content audit is a qualitative analysis that enhances the trustworthiness of a website by improving its content quality." Now, let's move on to the tools required to perform a content audit.
What Are the Tools You Should Use for a Content Audit in 2023?
Analyzing content manually on a spreadsheet or paper can be a cumbersome task.
To be honest, the first time when you perform a content audit, you might feel overwhelmed. But thankfully, the advent of latest technologies has brought to the fore many software and tools for content auditing. Needless to say, these tools can save you both time and money.
Let's look at the most popular content auditing tools you can utilize in 2023.
1. Screaming Frog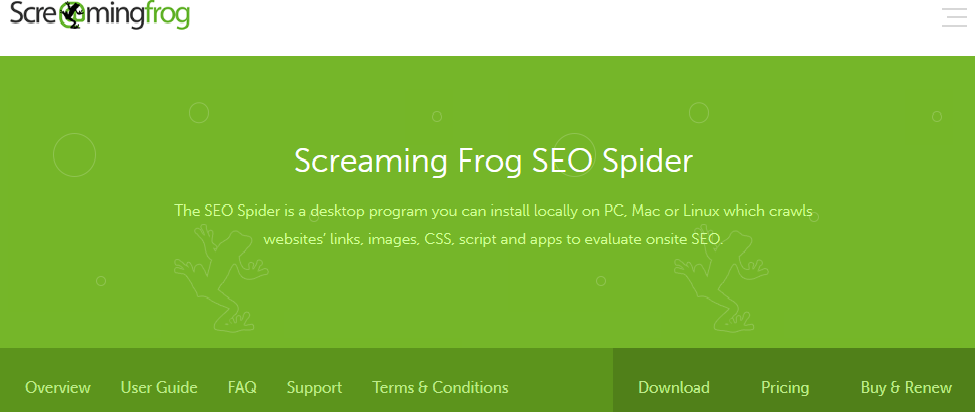 Flexibility and speed are the features to watch out for in the Screaming Frog SEO Spider tool.
This crawling tool lets you analyze website content instantaneously. In fact, it works more like a complete website auditing tool, providing detailed analysis of every content piece.
This tool lets you perform the following critical functions to improve website content:
Find out broken links
Analyze page titles and metadata
Discover duplicate content
Audit redirects
Generate XML sitemaps
Extract data with XPath
Integrate Google analytics
Review robots and directives
2. SEOPTIMER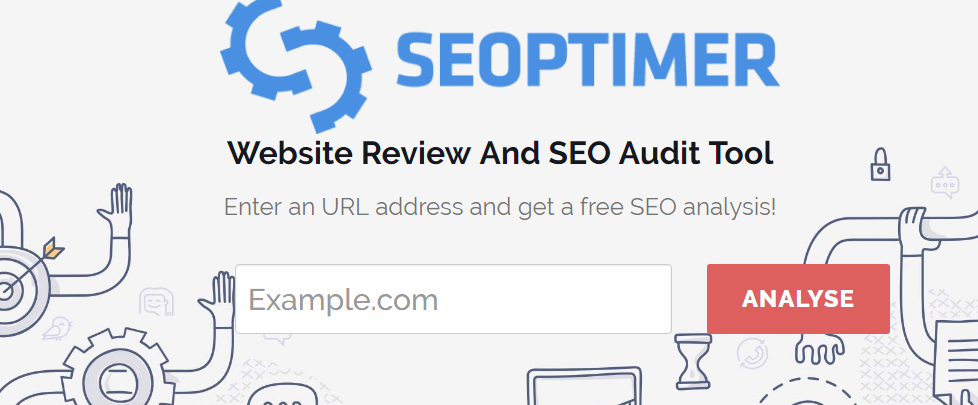 Many businesses also count on this free auditing tool that analyzes an entire website in detail, taking into account more than 100 key parameters.
You get a comprehensive report along with recommendations to improve the ranking, including instructions to enhance content quality. The tool even lets you save the report in PDF format for future reference. Apart from this, SEOPTIMER offers resources to check and compare competitor sites and customized PDF reports as per your business needs.
3. SE Ranking

SE Ranking website audit tool performs a comprehensive audit by taking into account over 70 key parameters and provides valuable website information like ranking report, competitor analysis, backlink monitoring, keyword suggestions and more.
The key takeaways from this tool include:
Website analysis report
Spotting key glitches
Actionable recommendations for improving website
Keyword position tracking
Competitor analysis
Backlink monitoring and analysis
4. Yoast SEO Plugin
For sites created using WordPress, this plugin will be of great help in enhancing search visibility. It comes with advanced features to optimize content, improve site structure, and fix technical issues such as redirects and URL formats.
The writing audit tool is the best part of this plugin— it allows you to optimize articles for the most relevant keywords while writing. Moreover, you can customize blog categories, media files, web pages, page headers and many more elements of the site.
These are some easy-to-use content audit tools that will save you tons of time. Do let us know if you've used other equally efficient tools.
The purpose is to meet the need without any hassle.
How to Do a Content Audit
Now, I'll offer you a brief overview of the content auditing process that's generally divided into four simple steps.
Step 1: Create a List of Content Inventory
The first step is to list all the content in a spreadsheet that's generally called content inventory. You can either make the list manually or use software/tools for the purpose.
Now, compiling a list of all the URLs' of a website and pasting them into a spreadsheet can seem tedious to most people.
That's why it's best to use tools like Screaming Frog or Sitemap Generator to create a content inventory list. If you have a small website, you can use Screaming Frog's free version that crawls up to 500 links. You will require the premium version if the website has many more pages.
Begin the process by downloading the software to your computer or laptop.
Once you open the software, it will look like:
Now, you'll have to enter the website URL for which you want to create a content inventory list and press the start button.
In the below image, I've demonstrated the process with our website rankingbyseo.com.

After you press the start button, the software will begin crawling URLs as shown in the image below: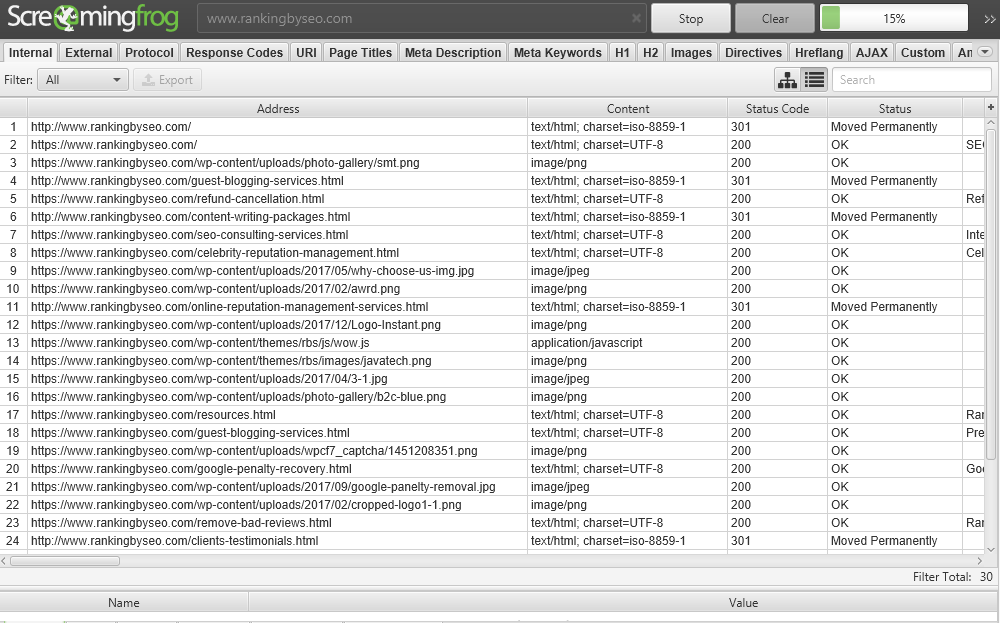 As I mentioned earlier, you'll have to use the free version if you have a small site with pages less than 500. Keep in mind that the software will stop crawling the links once it has reached the limit.
To have a clear idea, please see the image given below:

Once the crawler is done with the scanning, you have to set the filter to HTML and export the results.

If you find a few URLs missing, you can use another software like sitemap generator.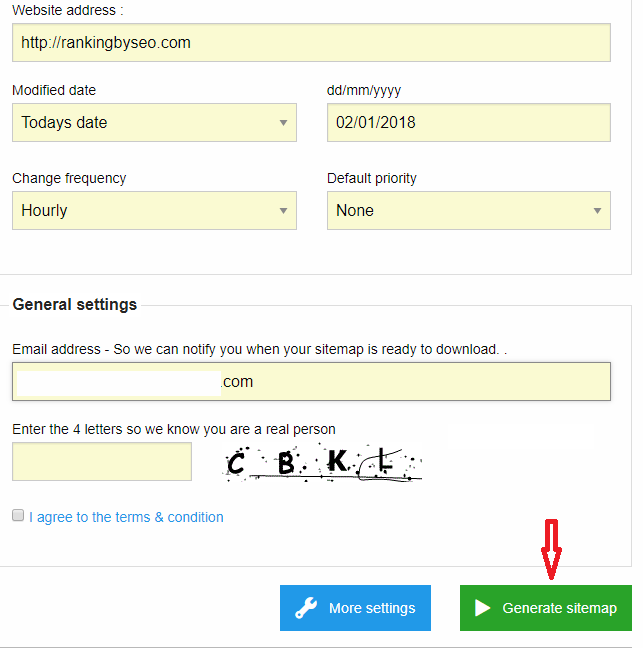 In case of such a software, you'll need to enter the website address and other details and click "Generate Sitemap." You can download the XML sitemap file in your computer and copy the results in a spreadsheet.
Moving on to Step 2.
Step 2: Categorize Content and Set Metrics
After you've gathered the data on the existing content, you'll need to see how it is performing. This will help identify the parts that need improvement or should be scrapped.
For this, you'll have to create metrics of 14 parameters, adding one column for each parameter in your spreadsheet:
Page title and its length – Ensure that the page title is unique and accurate but short and simple at the same time.
Page category – The categorization of web pages is a significant aspect of content quality.
Page description – You'll have to figure out whether the meta description accurately describes the written information or page content.
Keyword Ranking – It's important to examine the position of your web pages in the search results for specific search terms.
Search volume for major keywords – Analyzing the performance of major keywords is a must to ensure the website is updated as per latest browsing trend
Organic search traffic per month – Keeping a check on the inflow of web traffic is another significant part of content audit.
Bounce rate – Find out the number of visitors leaving the site every few seconds and those staying on.
Backlinks – The quality of backlinks redirecting traffic to your site is another vital aspect to consider.
Number of linking root domains – This refers to the number of unique domains that link to your page or domain. All the backlinks from a single domain are collectively called a linking root domain.
Average time on page of organic search traffic – Apart from the bounce rate, you'll need to keep track of the average on-page time for a proper idea of the all-round performance of your content.
URL rank – Record the position that the web page takes in the search results to date.
Social Shares – Monitor the performance of web content shared on social media
You might be wondering where you will get the value of these parameters from.
Not to worry! Use tools like Screaming Frog to know the title of the page, length of the title, Meta description, and page category.

Use any keyword research tool to find out keyword ranking, search volume for major keywords.
Use Google Analytics for your website to know parameters like traffic per month, organic search traffic per month, bounce rate and average time on page of organic search traffic.
Use link database tools like Ahrefs, Majestic to find out a number of backlinks, linking root domains and URL rank.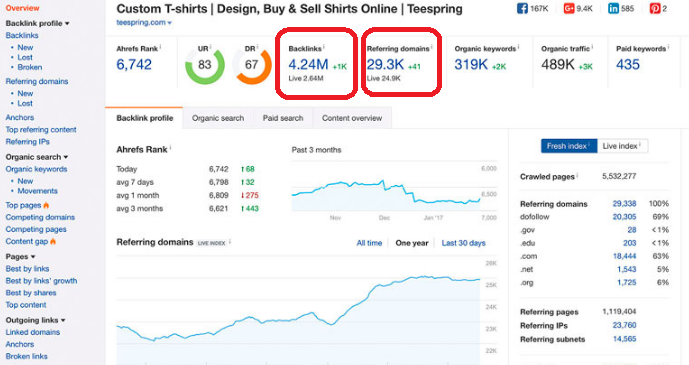 Use any social share count tool like SharesCount to get total social shares of your website.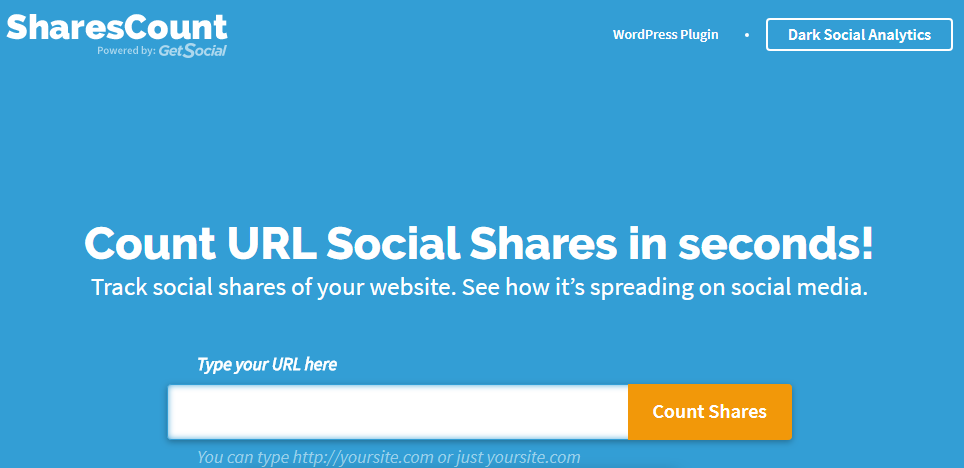 Now you have all the information related to the content metrics.
Using these tools can save your hours and can give you up-to-date values.
Step 3: Analyze Content and Find Gap
The third and most important step is to analyze the content and find a content gap.
But what exactly is a content gap?
Think of this gap as a difference between the content currently featured on your site and that which users are interested in.
To determine this, you'll have to create another spreadsheet. It will deal with various qualitative aspects of content analysis such as the nature and browsing habits of your target audience. Clearly identifying your target audience will help you understand the type of content they are interested in.
Use this information to find new topics and keywords and complete the spreadsheet with data like search volume of these keywords.
Ultimately, you'll have to compare the two spreadsheets discussed above to find the gaps in your content. Analyze the content topics you are missing. Identify the content pieces that are performing well and the ones that aren't.
The data obtained from the above steps will help you develop a clear idea of the content performance for your website. Accordingly, you'll be able to figure out your needs when it comes to content development. Do note that for some websites, 200 visitors per month is a good score, while for others, that's too less You can also analyze the search ranking and traffic your content is getting, as that will help you keep track of how it's performing.
Step 4: Create a Content Strategy to Fill the Gap
The fourth and final step involves filling the content gap that we just discussed. For this, you have to create a content strategy by doing a careful inspection of the content.
Start by adding a column "Action" in your spreadsheet. It will be better if you insert this column at the beginning of the sheet. Now you have to analyze each row carefully and mark a label in the action column.
The labels you can mark are – Leave, Improve, Merge, Create and Delete.
"Leave" means content is performing well; there are no changes required.
"Improve" means content is not performing well, you have to improve it.
"Create" means any new content piece that needs to be added.
"Merge" means merging overlapping or same content topics.
"Delete" means content that is not required anymore.
Next, add another column "Priority" on the sheet. I suggest adding the "Priority" column just next to the "Action" column.
You will assign each action a priority ranging from 1-10, mark 1 for highest priority and 10 for least priority (Don't assign priority to "Leave"). If a content piece requires urgent changes or improvement, it will get a high priority.

Finally, you have to sort all the actions based on their priorities and plan the content marketing activities accordingly.
FAQs
1. How long does a content audit take?
A content audit can take days, a couple of weeks, or months based on the website size and the resources available for the purpose. That said, content specialists consider six months to be enough to analyze content performance. You can easily find out the areas that need adjustment during this time span.
2. What is an SEO content audit?
An SEO audit involves assessing the existing content to devise ways to earn more and better quality web traffic to every page. This audit basically aims to identify the pages that need optimization and those that should be scrapped.
3. What is content pruning?
It's a process of content analysis focused on the part that's not performing well. Poor performance could mean the presence of low-conversion pages, those with duplicate or tin content, or posts that are no longer relevant.
4. Do you need both a content audit and content inventory for any website?
Yes, both these elements are essential to ensuring the website content is updated as per the latest browsing trends in your industry.
A content inventory helps you understand breadth and depth of the content. However, it doesn't clearly reflect content quality and the improvements needed therein. That's where a thorough audit can help. So, it's a must to complete both these procedures together rather than just one.
Make sure to start with the inventory and then move on to the audit. Knowing the details of every content piece listed in the inventory will help in better decision making in the course of content auditing.
Final Words
No website content is final — there will always be some updates required. That's why you'll need to carry out content audits on a regular basis.
These sessions will ensure your content stays fresh, catchy, and relevant. Plus, you'll know what has worked in the past and what to try in the future.
So, if you haven't carried out a content audit before, it's best not to delay any longer.  Soon, you'll see the difference in your website traffic and conversion rate. In case you have any queries about what I discussed, feel free to drop a comment below.
Additional Resources: