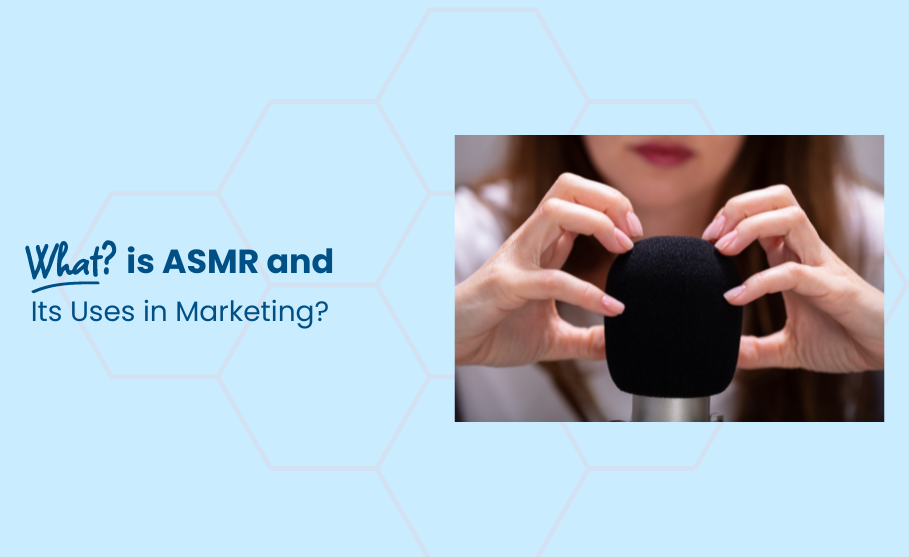 Heard from a fellow marketer about ASMR full form? Or did you find it on a list of the most-searched terms on YouTube?
Autonomous sensory meridian response is indeed one of the most trending topics in 2023, and is being leveraged by marketers worldwide to expand their reach on all digital platforms. Viewers are drawn to ASMR content as the sound or visuals included in it produce a soothing sensation that can rejuvenate or re-energize them instantly.
So, what are ASMR videos and how can you market your brand most effectively through ASMR marketing? We'll tell you all about it in this simplified guide.
Table of Content:
What Is The Meaning Of ASMR?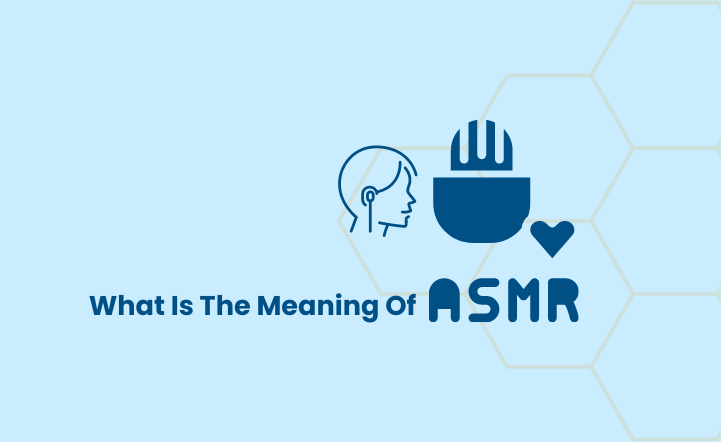 Full form of ASMR is Autonomous Sensory Meridian Response and the meaning of ASMR is given to a relaxing or tingling sensation felt due to an internal stimulus. This is initiated in the scalp and travels down through the neck and the spine to the limbs. Autonomous sensory meridian response (ASMR) is known to have beneficial effects on the human mind, which include relief from stress, increased efficiency, and a euphoric feeling.
Such a sensation can be created by the tapping of nails on a surface, the visuals of a dirty item being scrubbed, or a similar calming act. But we know you might still be wondering, how does ASMR apply to a field such as marketing? Move on to the next section, and you'll soon know the answer.
Decoding the ASMR Meaning
To understand ASMR (Autonomous sensory meridian response) marketing clearly, you'll need to delve deeper into knowing about the research conducted into the concept to date and its impact on the marketing field.
A. Why Is Studying ASMR Difficult?
Several benefits of ASMR marketing have been reported by people across the world, but many of them are yet to be proven clinically. Very few studies have been conducted to examine the physiological and neurological basis of this phenomenon.
Here's the reason why- certain practical challenges exist in the way, including the inability to yield ASMR waves under lab conditions. ASMR (Autonomous sensory meridian response) waves can be felt less intensely under lab conditions compared to our everyday lives. Apart from that, there are challenges such as identifying true responders to ASMR marketing and deploying those who haven't experienced ASMR before.
B. All That Has Been Found So Far
Human experiences are vast, but a finite amount of workforce and resources that can be spent on studying an Autonomous Sensory Meridian Response.
Moreover, experts in psychology opine that it's difficult to substantiate a viral phenomenon and explain the science behind it. Nevertheless, a study that took the help of Functional MRI (fMRI) revealed that people catching ASMR videos experienced increased activity in different regions of the brain. This was, in turn, associated with reward activation, self-relevant thoughts, somatosensory processing, and emotional arousal.
Why Is ASMR Important For Marketing?
When we think of marketing, what naturally pops up in our mind is promoting a product based on its features and price. But other than that, marketers can actually leverage a bodily response to appeal to potential consumers. Showcasing their products from a sensory angle can make consumers want to know more, be it a gadget, a food item or any other type of product.
A unique sensory experience created through digital technology can help spark new connections with a wider audience or deepen the existing ones. This process involves promoting a product in a pleasant and calming way, and if done correctly, consumers are likely to feel physically connected to the person or company.
And here's the best thing about ASMR content marketing, especially ASMR videos- they're quite easy to create and don't need much editing or equipment too.
Applying ASMR Triggers for Marketing
The first and foremost point to keep in mind is that every product won't be ideal as a subject for such type of content. This form of marketing will work for tangible products only.
For instance, you'll need to present the best features or benefits of a food or drink by creating a relaxing sound or pleasing visual associated with it. The fizzing of a drink or a crunchy bite can be used to highlight the enjoyable aspects of a product.
Similarly, the video by leading furniture brand IKEA showed a person making a bed in a dorm using IKEA bedsheets.
The emphasis was on the scratching, tapping, and scratching sounds to create an ASMR effect, and believe it or not, the video garnered more than 3.2 million views!
Another striking example is that of the British cosmetics brand Lush which got together with ASMR artist Taylor Darling to create a YouTube video that promoted their luxurious lavender-infused products.
This video gave viewers the experience of using the products in the form of soothing sounds like the whispering voice of the artist, the fizz of water, the tapping of nails etc. Notably, it fetched more than 1.7 million videos together with thousands of comments and likes.
But the obvious question that might come to your mind now is: do businesses follow a specific pattern while implementing ASMR video marketing? Indeed, ASMR video or audio clips should be used in some specific ways to achieve objectives such as high traffic inflow, a boost in lead generation, and increased revenue.
Proven Techniques for Boosting Your Marketing and Advertising Efforts
Collaborating with bloggers who aim to create native advertising, and placing your product on those vlogs using effective ASMR triggers
Placing ads on popular video channels created by ASMR enthusiasts.
Creating commercial ads filled with ASMR triggers
Including a human component in the content you're sharing, as that can trigger a feeling of security, slow movements, and security.
A Closer Look at How Brands Use ASMR for Video Marketing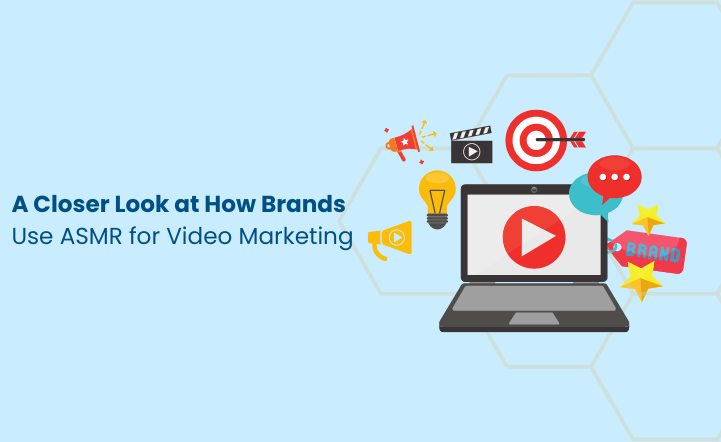 The fact that ASMR elicits a physical response has made it immensely popular among marketers. It provides the opportunity for your audience to think about the sensory aspect of a product rather than just considering its features. This way, they can experience the not-so-evident aspects of the product that otherwise go overlooked.
Using Autonomous sensory meridian response (ASMR) marketing for video marketing for your products/business can allow you to share the experience of using the product with your audience prior to any monetary exchange. Moreover, ASMR is becoming increasingly popular among millennials, with 50% of the interested people comprising 18 to 24-year-olds.
List of Companies Who Use ASMR Videos to Boost Brand Visibility
Here are some significant examples of how ASMR videos have been used by well-known companies across the world to improve their brand visibility:
A campaign for this organic beer featured in 2019 utilized the ASMR effect and was brought forth by actor Zoe Kravitz.
In the video, she stood surrounded by mountains and waterfalls and made various triggering sounds to positively influence the listeners.
Such sounds included whispers into a dual microphone, the popping off of a beer-bottle cap and tapping sounds on the bottle. The brand chose such a campaign as its goal was to attract an audience interested in nature, health, and general wellness.
Zippo embraced the well-recognized clicking sound made when its cigar lighters were opened and closed. This sound worked well in connecting with the audience and creating a sensory response. Plus, Zippo went on to partner with Buzzfeed to expand the reach of this ASMR video. The company also put forth a survey which revealed that 70% of people feel a positive vibe from familiar sounds like the Zippo click and two-thirds liked to fiddle with an object in their hands.
The restaurant chain showcased an hour-long video of meats being grilled, which was designed to create a calming effect through the sizzling sounds. Contemporary studies have shown that 79% of people in the US felt stressed at some point in their lives and sought relief from the same. This video tried to leverage the soothing effect to appeal to the brand's target audience.
Notably, it was aimed at promoting the chain's bigger bolder Grill Combos.
Roping In Influencers for ASMR Marketing
With the increasing popularity of ASMR videos across the digital space, creators on social networks are earning more and more followers and turning into celebrities on these platforms. Thus, you can incorporate ASMR marketing into any social media marketing campaign by connecting with ASMR influencers in your niche and collaborating with such people.
ASMR videos are mostly showcased by influencers nowadays. And each of them garners views in millions from both serious readers to those with longer engagement times. So, if you decide to collaborate with one such influencer, your marketing campaign is sure to bring in a better response than it generally does.
FAQs
Q1. How was the concept of ASMR introduced?
The first video of an intentional ASMR was uploaded in 2009 by the artist WhisperingLife ASMR. It comprised a black screen and a lo-fi, whispered sound recording of the artist discussing about creating a YouTube channel on whispering. And in 2010, a participant in an online forum Jennifer Allen proposed the name autonomous sensory meridian response.
Q2. Who is the most well-known ASMR artist?
The ASMR artist of Russian descent Maria Viktrovna has a YoutTube channel that's one of the most loved ASMR channels with more than 2.25 million subscribers. Also, she is regarded as the first create to upload an ASMR trigger consistently and structurally even prior to when ASMR gain popularity.
Q3. What are the health benefits of ASMR?
As per the reports obtained from a study, the breathing and heart rates of participants slowed upon listening to sounds created by ASMR. Many people have also reported that using ASMR videos helped reduce their anxiety and made them fall asleep quicker.
Q4. Is there any research that shows the effectiveness of ASMR marketing?
A study from 2021 showed that ASMR marketing content performed well in arousing the interest of viewers/listeners. As such, it affirmed that applying ASMR marketing could help in building user intent. Further, the results of an analysis of social networks showed that ASMRtists dealing in product reviews can facilitate more effective communication compared to how-to ASMRtists.
Q5. Can ASMR be used in any industry, or is it limited to certain types of products or services?
(Autonomous sensory meridian response) ASMR marketing can be utilized for not all but some specific industries. The products that these industries specialize in should produce a calming sensation in the mind or body that will appeal to the target audience. Listeners from across the globe have reported that ASMR helped cure sleeplessness and reduce stress. Thus, the phenomenon has been proven beneficial for reducing conditions such as depression, insomnia, and anxiety.
Final Words
That's it for today. Now, the onus is on you to utilize this trending technique in your marketing initiatives. We wish you all the best!
You won't need exceptional cinematography, special training, or impeccable color correction skills to make a conversion-worthy ASMR video. Just instill some creativity and combine your video editing and shooting skills, and your ASMR video will be ready for uploading on any digital channel. Remember that ASMR videos can be utilized by all brands selling tangible products.
Last but not the least, you should choose the social media channels wisely to ensure your videos earn the maximum possible likes and shares. This may ultimately translate into exceptional traffic inflow and lead generation rates.
Additional Resources: