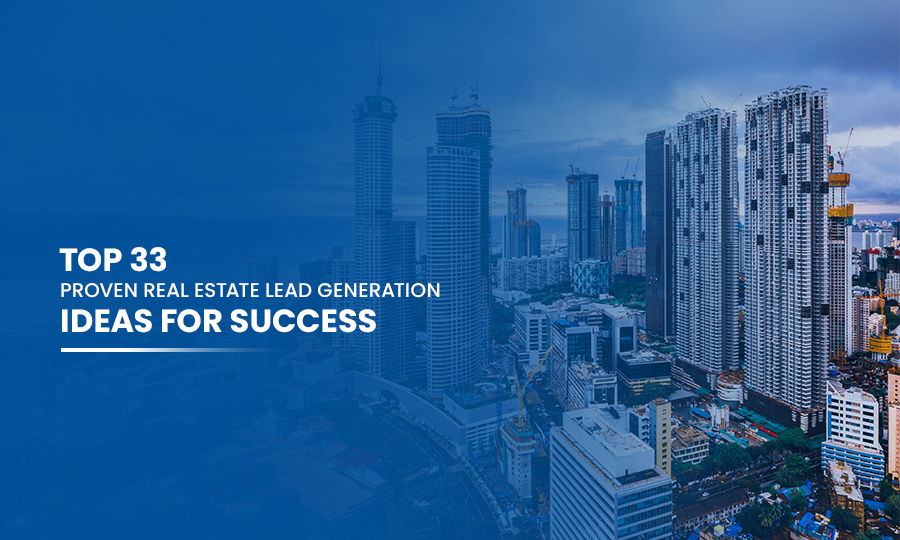 Real estate agents pocket a profit percentage of 5% to 6% of every deal they make. The percentage might seem small at first glance but think of it in real terms. With strategic lead generation for real estate, you can become a plutocrat in no time!
For instance, you crack a property deal in California for 2 million dollars. Now think, 6% of 2 million is a whopping 1,20,000 USD! And this figure is just for one deal.
Head spinning at the sheer thought of being a millionaire through real estate lead generation?
Not so easy. We aren't disheartening you. But let's walk you through a few real estate statistics to give you an accurate picture of the landed property market.
According to the research, there are around 1.56 million realtors in the United States from 2009 to 2021, while 3 million people hold active real estate licenses, according to NAR.
Hence, you need to be outstanding at your job to get there. To help you to maintain a steady stream of leads, we have come up with the 33 best lead generation strategies and techniques.
What is Lead generation for Realtors?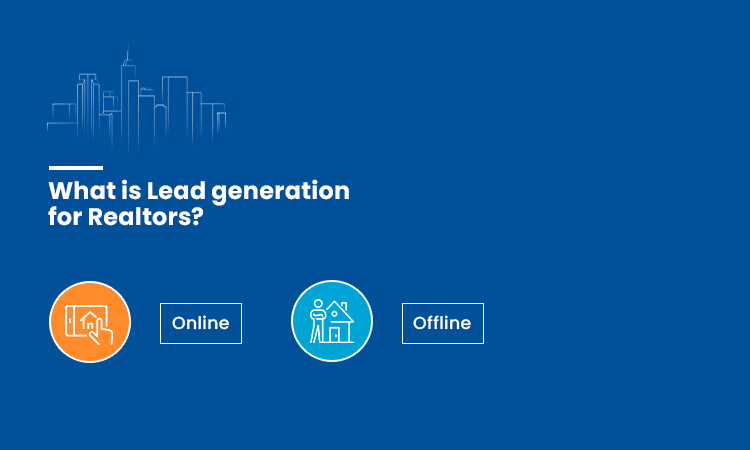 Lead generation for realtors is a comprehensive set of activities that give rise to potential buyers.
Lead gen tactics include searching for clients with differing levels of interest in purchasing property for different purposes. We can broadly classify leads into qualified or unqualified leads.
It is easier to convert the first type. With the second type, you need to put in a tad more effort to seal the deal.
To generate realtor leads, you can adopt both online and offline methods.
The best offline ways for real estate lead generation are through referral methods among friends & community members and traditional modes of advertisements.
Online activities that generate real estate leads include setting up a realtor website, optimizing SEO, setting up lead magnets, creating niche-specific content, engaging in social media advertisements, etc.
Types of Real Estate Leads: Realtors, Pay Heed to These Prospects!
Now that we know the basics of real estate lead generation let's take a look at the types of leads you can capture in the realtor market.
Referrals Lead: You have to do a worthy job in your field to get your friends, family, or former clients to refer your service. To get referral leads, you can also use online referral networks like ZillowFlex and Opcity. This organic type of lead is generally qualified, and you should put your best foot forward to check off your listing.
PPC Leads: This type of realtor leads come as a result of aggressive paid advertisements on Google, Bing, Facebook, Instagram, YouTube, etc. Real estate lead generation companies charge for this type of service. PPC leads have a good chance of conversion if you offer them what they want.
Natural: Natural leads are potential buyers who contact you online/offline as a direct result of your marketing efforts. Natural leads for real estate are the most in number. If we rely on real estate statistics, expect only a slim section of them to pass through the sales funnel.
Portal Leads: The lead generation process through portals like Zillow, Social media platforms, etc, can be fruitful. Many of the leads them come out of sheer curiosity for a property listing. You might have to offer a few discounts and deals to get a few of them through the funnel. Ensure that your CRM system is working while dealing with portal leads.
Top 33 Lead Generation Ideas for Real Estate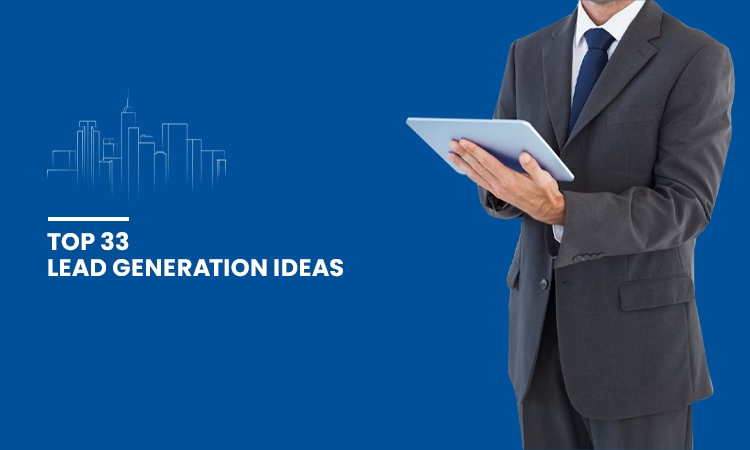 If you are searching for the best lead generation techniques and strategies for realtors, we have best tips for you to generate quality leads. Take a look:
1. Build User Friendly Website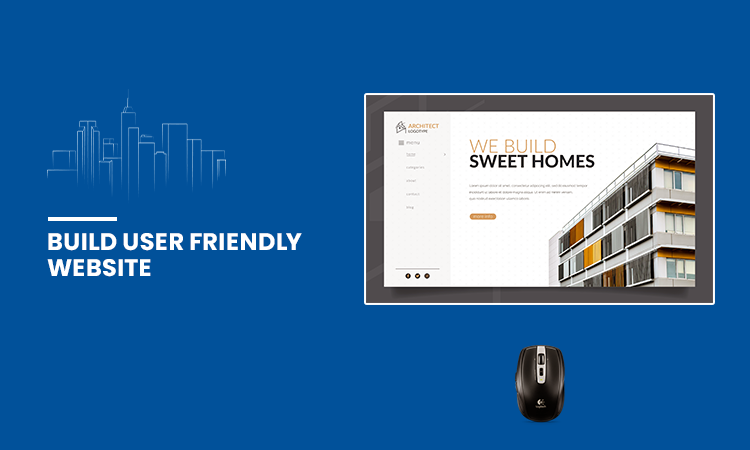 Creating a professional and user-friendly website to showcase listings and capture leads is crucial for any business. Start by selecting a platform like WordPress, Wix, or Squarespace that offers intuitive website-building tools.
Customize your website with visually appealing templates. Incorporate your brand colors and fonts for better personalization. Implement contact forms on each property page for collecting essential information such as name, email, and phone number.
Integrate these forms with a CRM tool for efficient lead management. You must optimize your website for search engines through keyword research, Meta tags, and mobile responsiveness. Integrate UI and UX optimization into your website to see better results.
2. Optimize Real Estate Lead Generation SEO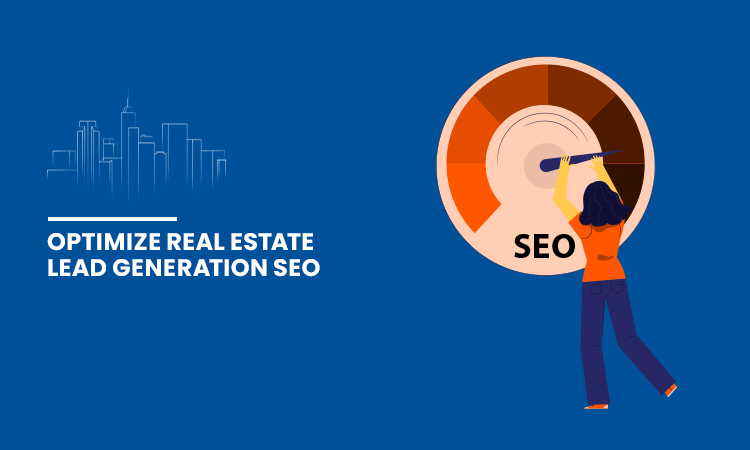 Optimizing your website for search engines (SEO) is vital to increase organic traffic and generate more leads is a must for generating real estate leads. Conduct thorough SEO keyword research without making any mistake to identify relevant terms.
You can use premium tools like SEMrush and Ahrefs to find out keywords that are relevant to your industry. Ensure that you integrate these phrases seamlessly into the content for maximum SERP traction.
If you think that this task is taking too much of your time, you can hire real estate real generators for keyword research. Incorporate these keywords strategically into your website's content for better traction on the SERPs.
The SEO factors you need to optimize are:
Keyword infusion
Website speed
Informative content
Backlink profile
URL structure
XML site map
Meta tags
Alt tags
On optimizing these SEO factors, you will see better traction on the search result page, which in turn will generate more leads for your realtor business.
3. Niche-Specific Content Rules the Roost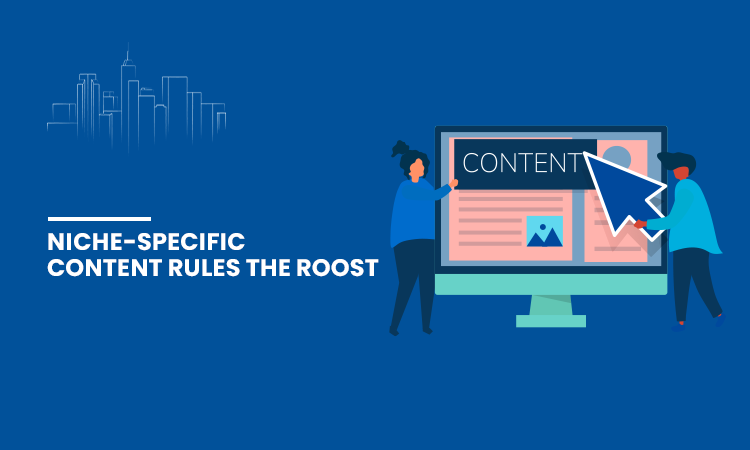 Creating valuable content, such as blog posts and guides, on your real estate enlisting site is a powerful way to attract quality leads.
Content marketing services for realtors involves identifying relevant topics that align with your target audience's interests. Consider addressing common questions, providing insights on market trends, or offering practical tips for buying or selling properties.
Integrate an array of words to close deals through lead conversion by addressing the pain points of the visitors.
Landing pages are important. Ensure that all the landing pages are well-written according to the service your realtor company is providing. The main page of the website should be perfect to a tee.
Incorporate visual elements like images, infographics, or videos to enhance engagement. Creating valuable content generates online leads in an organic way.
4. The ToFu, MoFu, BoFu Way for Ultimate Lead Generation & Conversion
It is not sufficient to generate leads for real estate; you need to approach the sales leads in a certain way to encourage conversion. This is where ToFu, MoFu, and BoFu come in!
ToFu: Top-of-funnel leads are the highest in volume. At this stage, focus on bringing the leads closer to conversion. Offer relevant information to the leads instead of pressuring them. Address any question or inquiry they might have through eBooks, white papers, and blogs.
MoFu: With middle-of-funnel leads, you position yourself as the best real estate agent in the state. Offer them targeted offers through content. Offer them comparison charts and possibly sing a hymn praising yourself ;-)!
BoFu: When you successfully get a seller lead to the bottom-of-funnel, you are a few inches away from selling a property. This is where you tap into your best mode and offer the buyer special discounts and walkthroughs.
5. Positive Client Feedback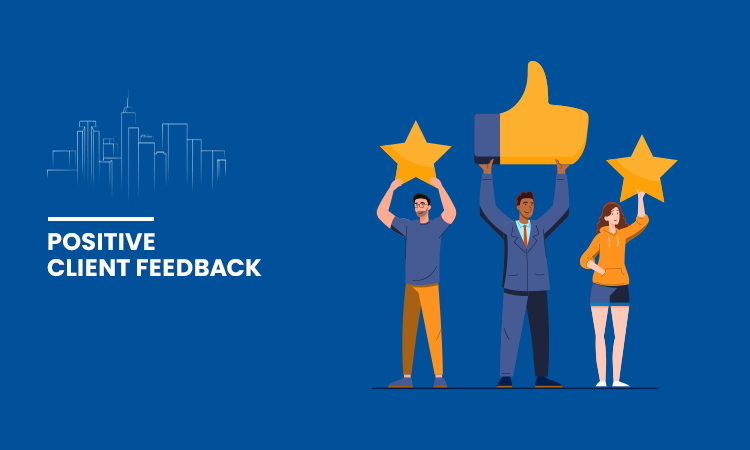 This industry is customer-centric. Client feedback and testimonials from your past clients can generate new leads. Customer suggestions and feedback are vital for your business as it is an evident proof of your track record that is being corroborated by people who have already availed of your services.
However, the rule of any business is, nothing happens on its own. Hence, you will have to make some efforts to get positive customer feedback through online forms, email forms, and social media feedback.
You can share these testimonials on social media platforms, on your website, and in other places. Sharing positive client feedback is an effective way for lead generation for real estate.
6. Use Real Estate Lead Generating Tools
Lead management tools are ruling the digital landscape so much so that these have become indispensable.
You can make use of the following 3 best lead generation system tools to take your business several notches higher.
Infusionsoft: This is a lead gen tool, especially for small businesses. It is easy to use, has an automation feature, and offers personal coaching services to realtors. However, there's little scope for personalization, and A/B testing is unavailable with this software.
Marketo: You can integrate email marketing into your strategy with this software that offers automation and is one of the best lead management tools. It offers lead nurturing and social media modules in its matrix.
Zurple: If you want to understand the behavior pattern of your target audience, Zurple is one of the best lead generating tools for you. This intelligent software tracks the behavior patterns of visitors and offers follow-up automation.
7. Leverage Social Media Platforms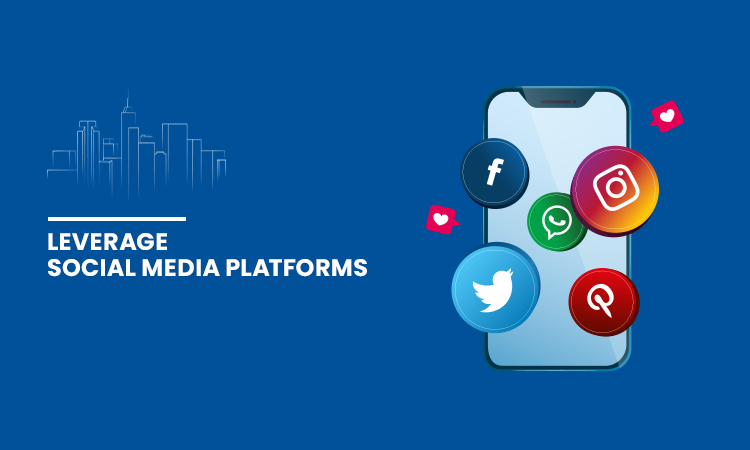 Social media services are invaluable for real estate lead generation. They provide a powerful channel to promote your listings and engage with potential clients.
As social media platforms are pretty easy to use, owners of properties can generate FSBO leads easily via these platforms. FSBO stands for 'for sale by owner. These exclusive leads are generated without the involvement of any real estate agent.
Start by optimizing your profiles on platforms like Facebook, Instagram, and LinkedIn. You should ensure that each of these pages should reflect your brand and include relevant contact information.
Share high-quality visuals and engaging content that highlight the key features of the property you are listing. You can as well use targeted advertising options to reach specific demographics and geographical areas.
One of the best ways to generate leads is to engage with your audience by promptly responding to comments, messages, and inquiries.
Participate in groups and communities to establish yourself as a knowledgeable expert and market leader. Collaborate with influencers or local businesses to expand your reach if necessary.
You can get qualified buyer leads, and seller leads from social media platforms if you can leverage their full potential.
8. Target Millennials and Gen Z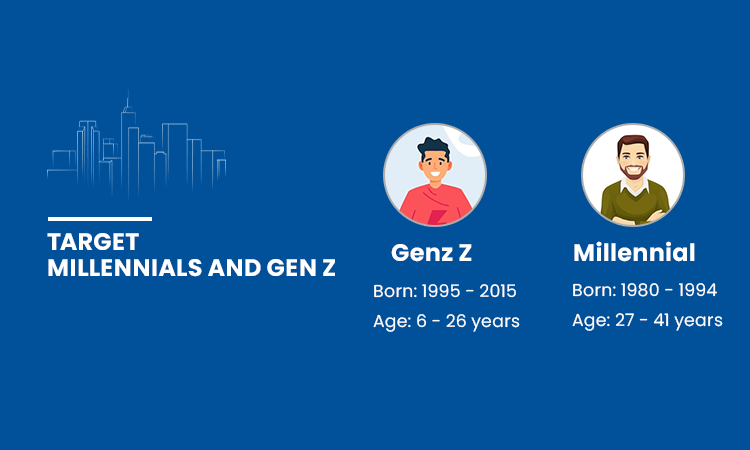 A survey says that over 70% of millennials prefer to buy property than rent it. Also, Gen Z is on the verge of making some serious decisions in their lives. Forbs survey suggests that 30% of Gen Z aged 25 years own their own home! This segment is booming with real estate lead generation prospects that you can convert easily.
To do this, ensure you have a pitch ready that will lure these two generations. Some of the ways to appeal to millennials and Gen Z is to use social media as your preferred channel for marketing.
Be transparent while dealing with them, and accountability is a must.
The attention span of millennials and the entire Gen Z is somewhat short. However, they respond well to visual content. We suggest you create short, visual content for your pitch for the maximum generation of leads.
9. Work as a Zillow Agent
The website Zillow is a comprehensive lead generation platform for realtors. Once you know how to work around it, you are golden!
In the USA, Zillow premier agents make more than other agents as they can generate high quality leads for real estate. It is the no. 1 visited realtor website in the USA.
To work as a successful Zillow agent, you need to do the following:
Optimize your Zillow profile
Get a team to work with you on Zillow
Keep your focus on researching high-value keywords
Add the property listings.
mention your area of service
Respond to leads promptly
Request for reviews
Upgrade to Zillow premier agent.
Update estimates, keeping the market pattern in mind
Switch to automation with Parserr to capture every single lead
10. Local SEO Can Amp up The Game
As a real estate agent, you have a service-based business. Hence, it is important for local people to discover you so that they can come and talk to you in person. This is why local SEO for real estate lead generation is important.
If you have technical knowledge of optimizing local SEO, you can save some money. However, we suggest you hire the services of any of the best lead generation companies so that you can focus on your core business.
Optimizing local SEO businesses is not a big deal. Start with an SEO audit. Ensure that the on-page, off-page, and technical points are okay.
Next, do geo-targeting, device optimization, and claim your GMB profile. You can also add your NAP in some local directories for easy local discoverability for lead generation for real estate.
11. Paid Ads Offer Immediate Results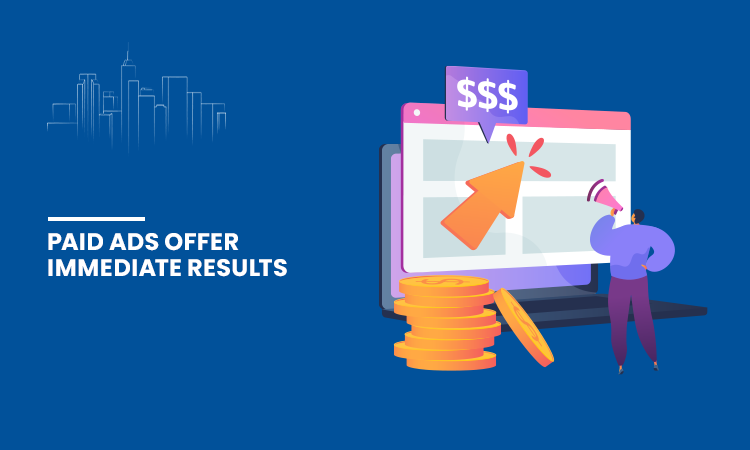 Utilizing PPC platforms like Google Ads and social media ads can expand your reach exponentially.
This type of paid lead generation for real estate offer target marketing which can allow you to reach potential buyers based on demographics or geographical locations.
However, PPC management services can only generate inorganic traffic. As the name suggests, you have to pay to the platform every time a visitor clicks on your advert.
As the turnaround time is very less for PPC ads, it can establish you as the market leader pretty quickly.
12. Traditional Ways of Advertisement Are Still Trending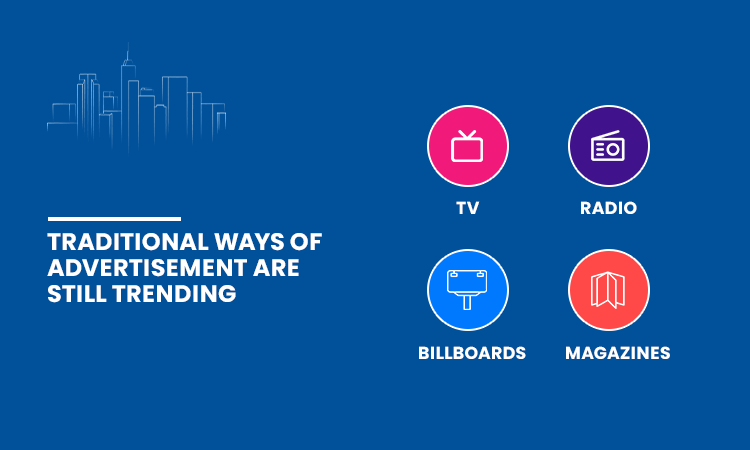 Lead gen processes through traditional ways of advertising are still promising. Instead of focusing completely on digital advertisements for real estate lead generation, consider traditional methods.
The demographic cohorts of Baby Boomers and generation x are still not digitally well advanced. They prefer the traditional ways of knowing things. On top of that, statistics suggest that these people are moneyed and often share interests in buying property (mainly residential ones).
Some viable traditional ways to advertise for realtors are:
TV
Radio
Billboards
magazines
Newspaper
Traditional advertisements have the potential not only to generate local leads but also buyers from other parts of the country in case they want to relocate. You just have to make sure of one thing, that the methods you choose have wide circulation.
13. Design Quality Landing Pages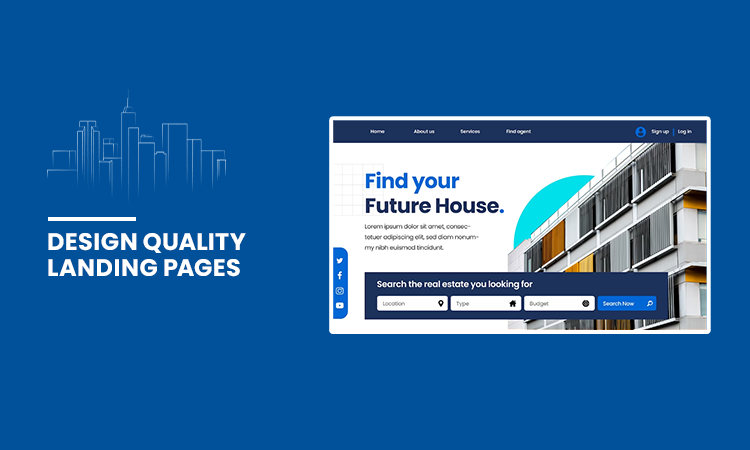 If you want to make your digital presence felt as a realtor, it is not enough to just create a website and stop at that.
To amp up the game, it is best to invest your time and effort in designing various landing pages for the specialized services you offer as a real estate company.
Ensure that the design of the landing pages looks professional and brings out your business' characteristics. Create separate tabs for related services. You can hire a good web designing company to do this job for you.
The motto here is to lower the bounce rate, engage users and generate real estate leads by offering users high-value content.
14. Keep in Touch with Real Estate Communities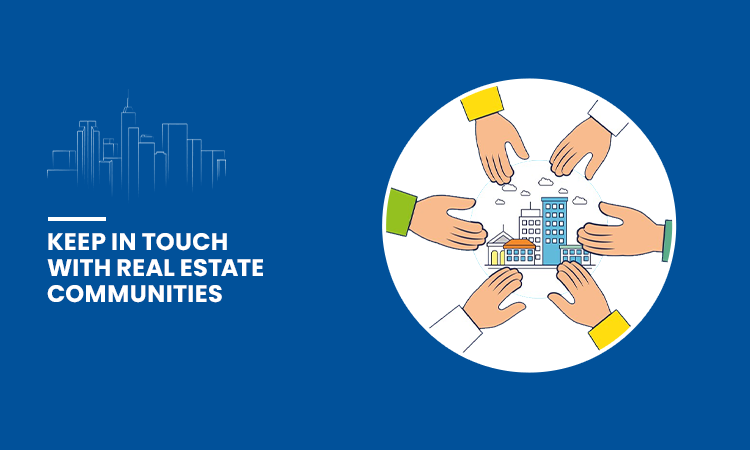 To generate leads, engaging actively in online forums, groups, and communities of realtors, agents, real, and potential customers is one of the best ways.
Participating in such platforms allows you to show your expertise as a realtor. These activities also build credibility, and gain visibility among potential buyers and sellers.
Try to actively contribute by providing helpful insights, answering questions, and offering valuable advice.
These steps not only establish you as a knowledgeable professional but also helps you to network and connect with individuals actively seeking real estate agent services.
15. A Little Incentive can close the Deal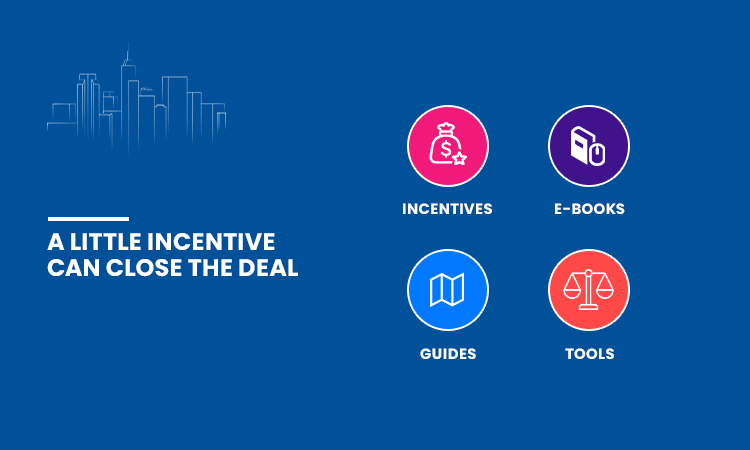 An effective strategy for real estate lead generation is to offer free resources or incentives to capture leads. You can try providing valuable content, such as e-books, guides, or property valuation tools, to attract a potential real estate buyer. 
You can also implement a lead magnet on your website that exchanges these resources for the buyer's contact information.
By offering incentives upfront, you establish trust and credibility with your audience. It makes them more likely to consider your services.
16. Implement Effective Email Marketing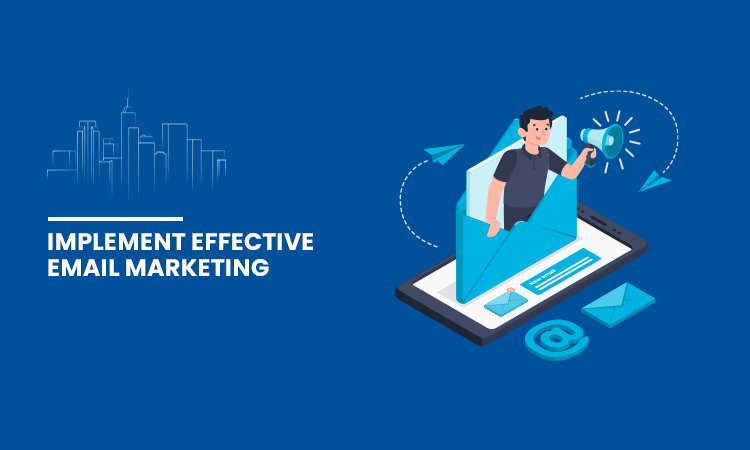 Email marketing is yet another effective way for lead generation for real estate. This strategy can be instrumental in nurturing leads and building strong relationships with potential clients.
By capturing leads' email addresses through website sign-ups or lead capture forms, you can deliver targeted content directly to their inbox. Utilize personalized and relevant emails to provide market updates, new listings and offer exclusive deals or promotions.
If you are a newbie as a real estate professional and think that this will be too much of a task for you, you can consider automating email sequences with email marketing. It maintains consistent communication and lead nurturing.
17. Create Engaging Video Marketing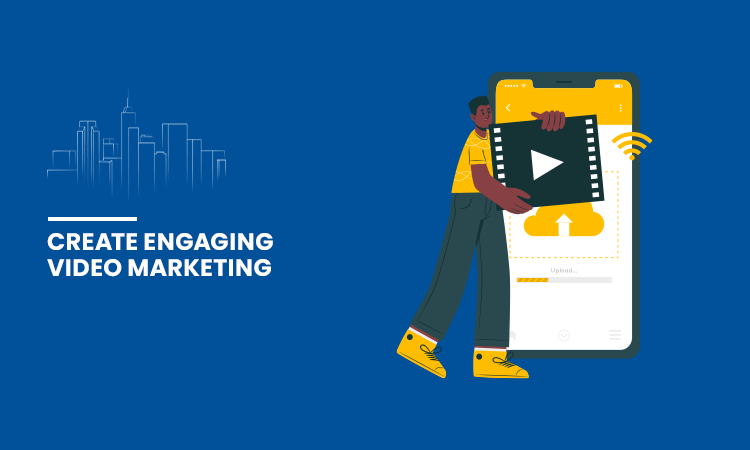 To enhance lead generation for real estate, leveraging the power of video marketing is crucial. Creating engaging property walkthroughs, neighborhood tours, and educational videos can captivate potential clients.
Showcasing properties with immersive and detailed walkthroughs, highlighting their unique features, will make your listing more appealing to potential buyers. Conduct virtual tours of desirable neighborhoods, emphasizing amenities and attractions.
You can share these videos on your website, social media platforms, and email campaigns to attract and engage your target audience. Get the latest video marketing statistics to reach a large and engaged audience.
18. Network with Local Businesses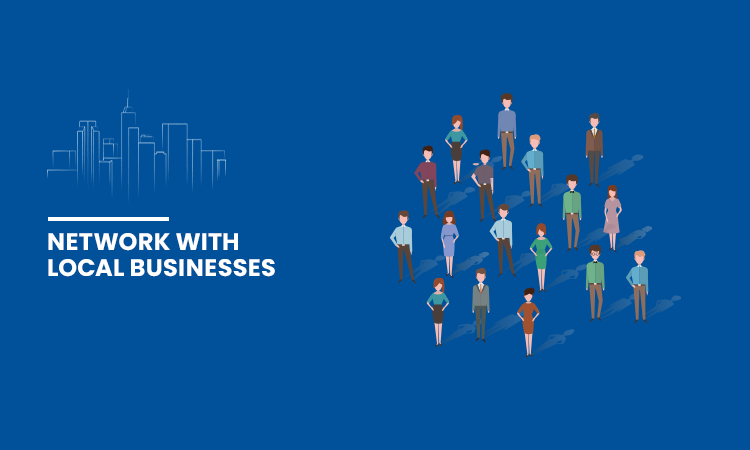 Network local businesses and professionals is a powerful strategy for lead generation for real estate.
By connecting with mortgage brokers, interior designers, contractors, and other industry experts, you can tap into their networks and receive valuable referrals.
Building relationships with these professionals allows for mutual support and collaboration, as they often encounter clients who are interested in buying or renting properties. You can as well attend local networking events to expand your reach.
19. Face-to-face Meeting to Build Connection
Attending conferences, seminars, and industry events is an effective strategy to generate leads that keeps your business running. It requires you to physically interact with people from your industry.
These events provide valuable opportunities to network, build relationships, and meet potential leads face-to-face. Attending seminars and conferences can establish rapport which can help you in the near or far future.
You can maximize your impact as a marketer by actively participating in these events, such as by speaking on a panel or hosting a workshop.
20. Partnership with Local Organizations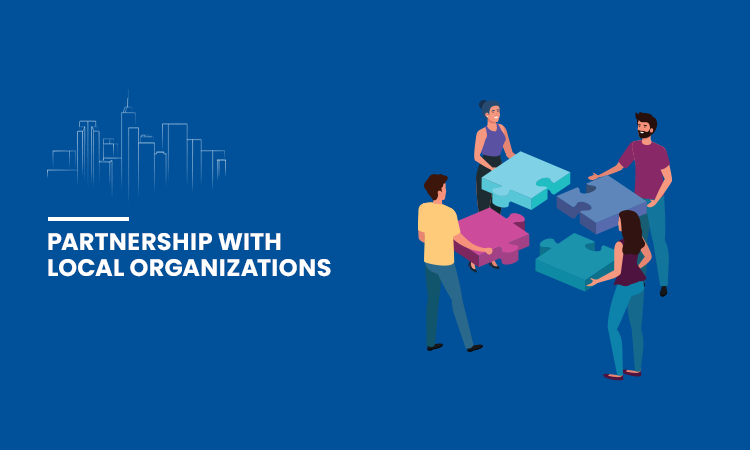 Establishing partnerships with local organizations, charities, or schools can be an effective approach to generate leads
You might think this lead generation strategy to be a farfetched cry. But every connection made in business is valuable. By sponsoring events, you can increase your visibility and establish a positive reputation within the community.
This involvement lets you connect with potential leads and demonstrate your commitment to the local community.
Your sponsorship can include branded materials, signage, and promotional opportunities that create awareness of your real estate services.
21. Host Webinars or Workshops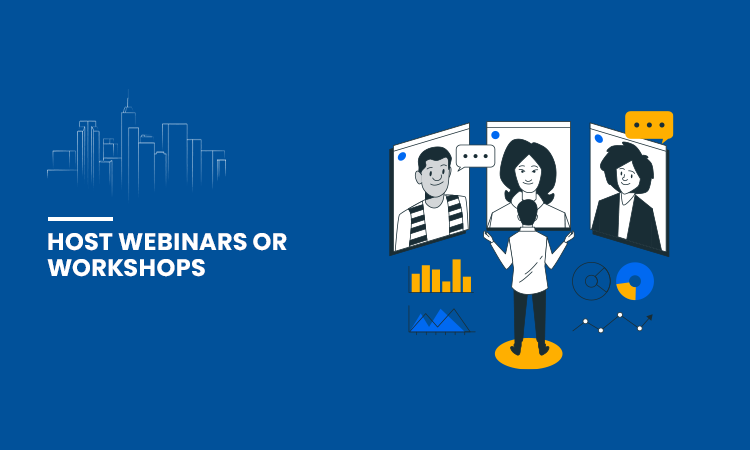 Hosting webinars or workshops on related topics is yet another exponentially potent strategy for lead generation for real estate.
By providing valuable and educational content at these real estate events, you establish credibility and attract potential buyers or sellers who are seeking information and guidance.
You can promote the webinars through social media platforms, email marketing, and your website to reach a wide audience. During the sessions, engage with participants by addressing questions and offering insights.
By showcasing your expertise and delivering value, you can build trust. You can establish yourself as a go-to resource and generate high-quality leads in the competitive market.
22. Use Lead Generation Directories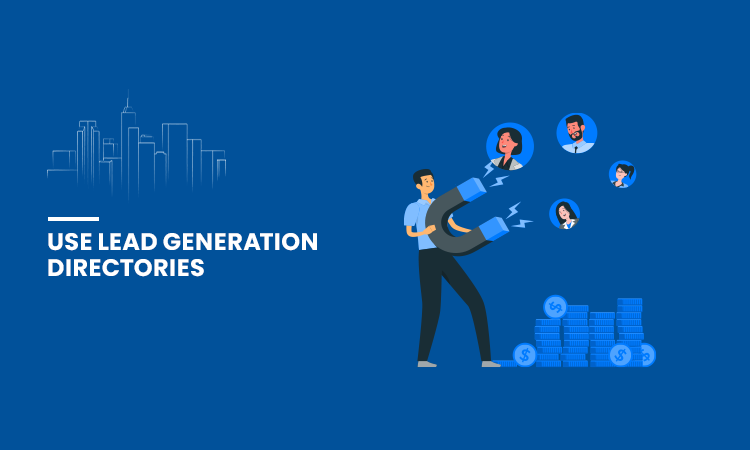 To generate leads for your businesses, leveraging online lead-generation directories can be highly beneficial.
These platforms provide a central hub where potential buyers and sellers actively search for realtors' NAPs.
This type of lead generation efforts often reach the target an audience actively seeking solutions. Optimize your listings by providing compelling descriptions, high-quality images, and accurate contact information.
There are some platforms that offer features that allow you to directly capture and manage leads within the platform. You can search for these types of directories for high-quality leads for real estate that you can manage by yourself. This type of Lead generation hacks and quick strategies help your business to boost your leads
23. Develop Referral Program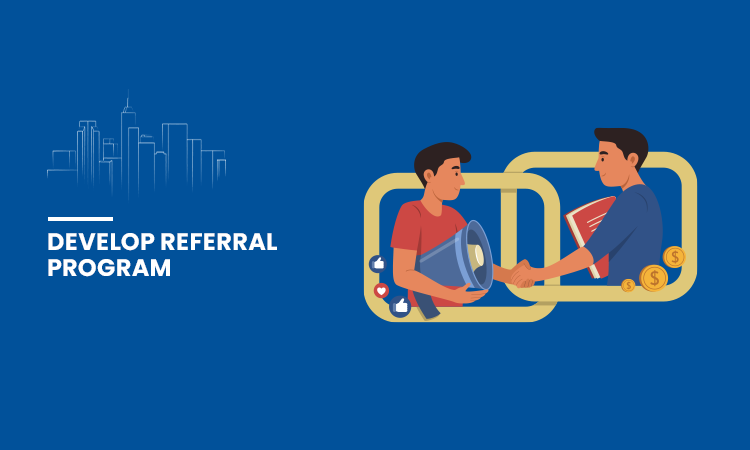 You can deploy this strategy by incentivizing individuals who refer potential clients to your services. You can tap into their networks and increase your reach. However, you have to be meticulous regarding this tip.
You can create a structured referral program that rewards individuals with incentives such as cash bonuses, gift cards, or discounts on future services. This type of marketing effort is best if you have a new business.
You can also engage in promoting your referral program through various channels, including social media, email marketing, and your website, to encourage participation.
Ensure that the program is easy to understand and provides clear instructions on lead acquisition. By offering rewards for successful referrals, you motivate satisfied clients to actively promote your services. Former clients' reviews can generate a consistent stream of high-quality leads and contribute to the growth of your business.
24. Implement CRM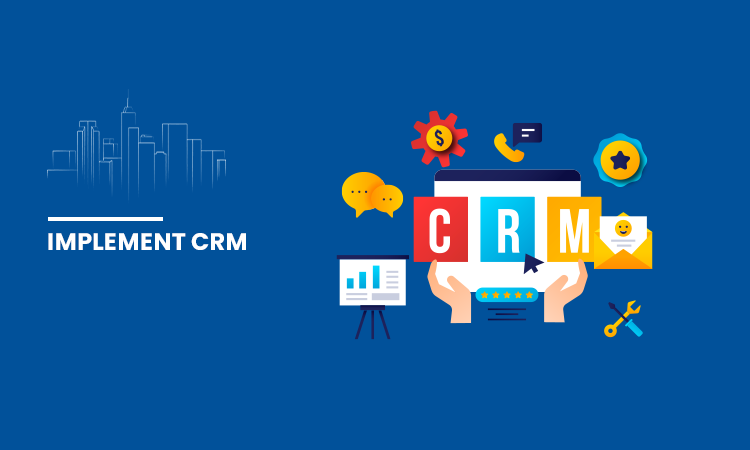 A CRM system helps you to maintain customer contact and update it from time to time. It also tracks every interaction any customer has with your business.
CRM helps you understand the preferences of your target, which can give precious insights into the process of real estate lead generation.
Implementing a customer relationship management (CRM) system can prove to be valuable for effective real estate. A CRM system allows you to track and manage your leads efficiently so that there are no opportunity cracks.
A CRM system provides automation capabilities, such as automated follow-up emails or reminders, to nurture leads and maintain consistent communication.
Utilizing a CRM system can streamline your lead management process, enhance productivity, and ultimately increase your chances to convert leads into loyal clients.
25. Free Home Valuation Service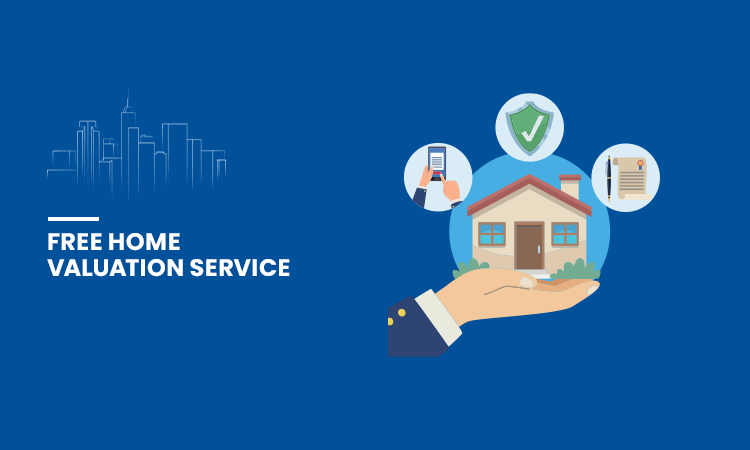 By providing homeowners with a complimentary assessment of their property's value, you offer them valuable insights and position yourself as a trusted resource. In this case, you will have to target leads wisely.
Once you have established the value of the property of your targeted customers, you go on to establish the advantages and value of the property you are trying to sell.
The key here is to maintain open communication and not come off as too pushy!
At this point, you can offer potential buyers discounts or other incentives to lure them to convert.
In case they aren't willing at that point, encourage them to give their contact number. Store the contact details and follow up at a later point regarding their stance on the matter.
26. Cold Calling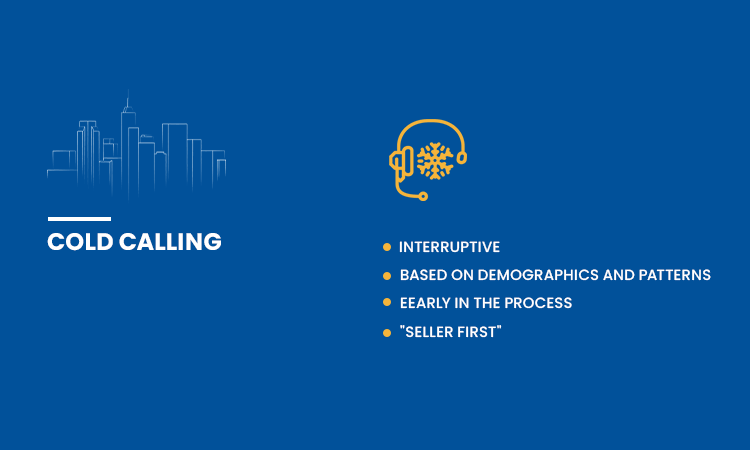 Cold calling is making unsolicited calls with the intention to convert leads. However, let us disillusion you first.
The success rate of the cold calling strategy is about 2% in the case of BtoC business, and the success rate is about 9.5% for BtoB.
So why do real estate lead companies still engage in cold-calling techniques for lead gen?
It is because you can accumulate valuable data from this lead gen strategy. You can understand their interests, preferences, and budget for investment in property. This data helps in retargeting campaigns and also understands the overall picture of your target audience.
27. Enhance Visual Appeal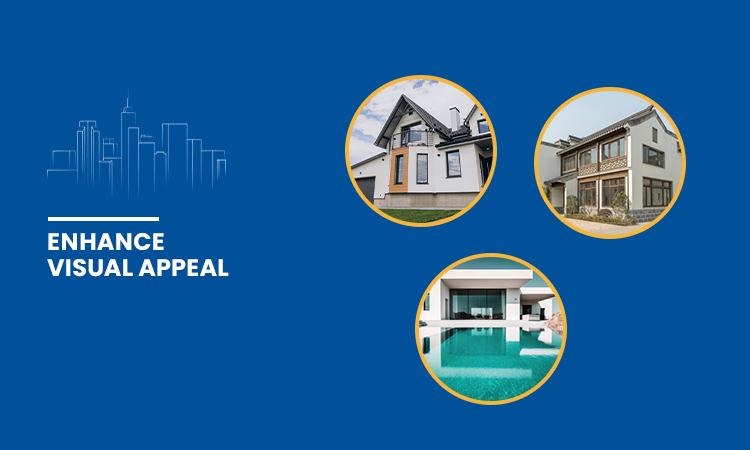 To enhance real estate leads, utilizing virtual staging or professional photography can significantly boost the visual appeal of your property listings. It is a trendy tool in respect of lead generation for real estate.
Virtual staging allows you to digitally furnish and decorate vacant spaces, providing potential buyers with a clear visualization of the property's potential. This technique helps capture attention and generate more interest in the listings.
You can hire professional photographers who know the right angles for clicks. Professional photography ensures high-quality visuals of the property you are trying to sell or give on rent.
The visual appeal of your listings plays a vital role in attracting leads and encouraging them to take the next step. With eye-catching and visually appealing images, you increase the likelihood of potential buyers reaching out and scheduling property viewings.
By investing in virtual staging and professional photography, you elevate the presentation of your listings and enhance your efforts to generate leads are a realtor.
28. Send Newsletters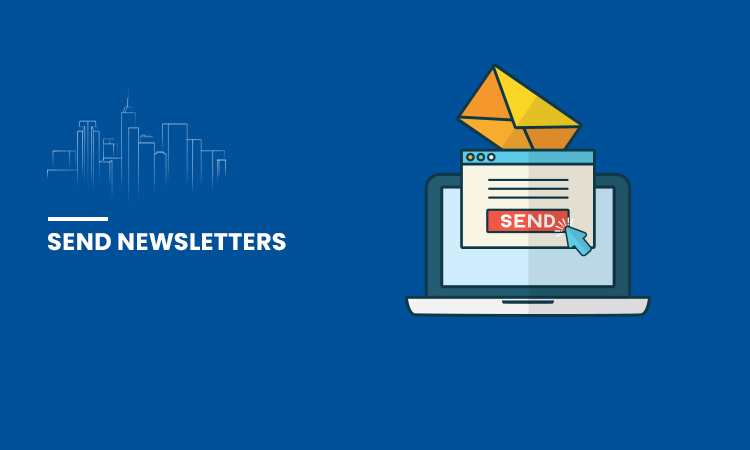 Creating and distributing regular newsletters is an effective strategy for real estate lead generation. By providing updates on the local property market, including market trends, insights, and statistics, you position yourself as a knowledgeable resource.
Through newsletters, you can feature your latest listings, in the newsletter keeps potential buyers informed about available properties. Include compelling photos of your listings and concise descriptions to capture attention and drive engagement.
Newsletters also allow you to maintain consistent communication with your audience, nurture leads, and stay top of mind.
By providing valuable information and showcasing your listings, you increase the chances of generating quality leads and attracting potential buyers or sellers.
29. Implement Live Chat Feature on Your Website
The live chat feature on your real website allows you to engage with potential leads in real time, answering their questions and providing immediate assistance.
The feature of live chat enables you to collect valuable lead data, such as name, contact details, and specific requirements. You can use live chat to schedule property viewings, provide property information, and offer personalized recommendations.
This real-time interaction feature enhances customer satisfaction and builds trust. By integrating live chat into your website, you create a seamless and convenient communication channel to generate leads for real estate and easily convert them.
30. Collaborate With Other Agents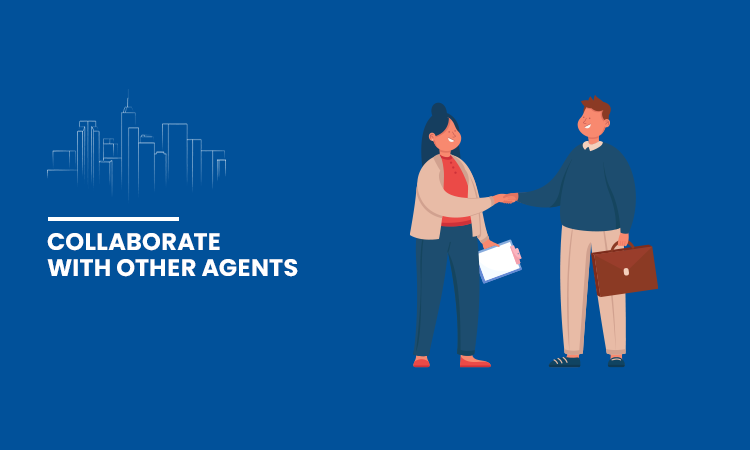 Collaborating with other agents or brokers is an effective strategy for real estate lead generation. By forming partnerships and cross-promoting listings, you can expand your reach and generate more leads collectively.
Agent-to-agent referrals in the real estate business involve sharing and promoting each other's listings to a wider audience.
You can form mutually beneficial partnerships with other real estate professionals to create a network or referral system where you refer potential clients to each other based on their specific needs and preferences.
You can organize joint open houses or virtual tours, allowing potential buyers to explore multiple listings in one event. By working together, you leverage each other's networks and resources, maximizing exposure and increasing the chances of finding the right buyer or seller.
This collaborative approach not only generates more leads but also demonstrates your dedication to providing comprehensive real estate solutions.
31. Retargeting Campaigns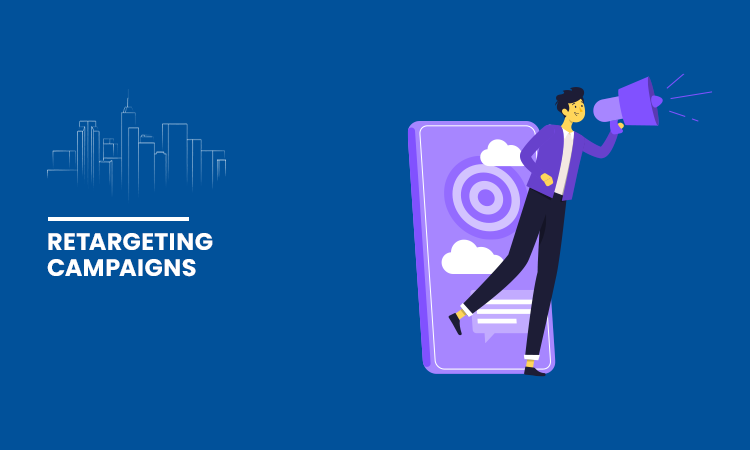 Retargeting campaigns have a higher success rate than many other types of real estate lead generation strategies. It retargets a potential buyer who already showed interest in your property.
By using retargeting cookies, you can track leads and display targeted ads to them as they browse other websites or social media platforms.
This can be a slightly complex process because of the technicalities involved. You can consider taking the help of lead generation services for this purpose.
These campaigns keep your brand top of mind and serve as a gentle reminder to potential leads about your services. Retargeting allows you to deliver personalized and relevant content, such as showcasing specific listings or offering exclusive promotions, to re-engage and re-capture their interest.
32. Contact Real Estate Lead Generation Company
If you think that capturing leads for real estate is not your strong suit all by yourself, you can research and contact one of the best digital marketing agencies. These companies have an extensive lead database. They are experts and have proven paths for generating real estate buyer and seller leads.
The budget should not be an issue, even for small real estate companies, as these companies charge quite affordable prices. It is perhaps the best way to generate leads.
The best real estate lead generation companies are adept at solving all the challenges. It will boost your SEO rankings, provide valuable blog content and suggest other online strategies.
33. Continuous Evaluation of the Campaign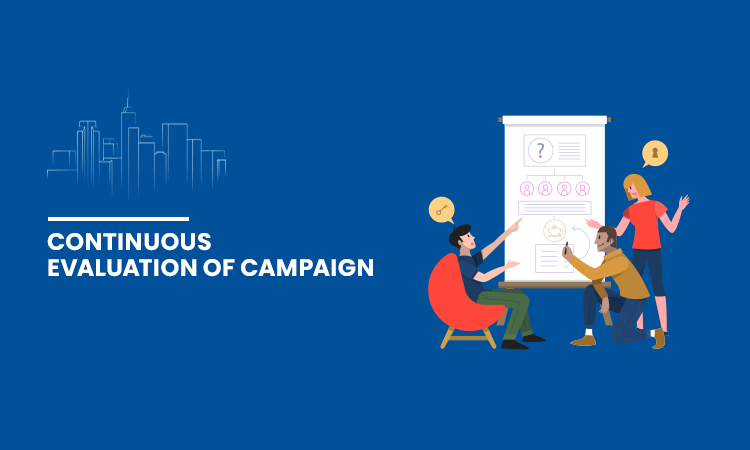 If you want to stay at the top of your game, you have to continuously monitor and evaluate your lead generation for real estate strategy. This is a strategy that ensures all other strategies work in favor of your business.
By keeping a constant tab on your campaign, you can get valuable insight into what's working for your business and what's not. You will be able to actively see the sources that are generating the maximum number of leads and the channels that need improvements.
Analyzing and monitoring the strategies you have adopted for generating property agent leads would help you to tweak the campaigns accordingly. Also, check that all your current listings are live. In case of expired listings, remove it from the concerned platform at the earliest.
Regularly testing and iterating your strategies based on feedback and analytics enables you to refine your approach, maximize ROI, and generate qualified leads.
How Many Types of Real Estates are there?
If you are reading this blog, it means 2 things. First, you know the basics about real estate; second, you want to know more about how to generate leads for real estate.
In the United States, over 86% of property dealings happen through real estate agents. As statistics are in your favor, getting a six-figure income through a qualified generation strategy of real estate leads should not be a problem.
As a real estate coach, we are here to hone your knowledge on the matter. First, let's have a look at what are the 5 types of real estate:
Residential property: This type of property means homes for living purposes. Residential properties include duplexes, townhouses, condos, apartments, and complexes.
Industrial Property: It means properties that are used for manufacturing, storing, or distributing goods.
Commercial Real estate: These are properties used for business purposes. Commercial properties include office buildings, parking spaces, business buildings, malls, theatres, etc.
Raw land: This means only the land that does not have any man-made structure on it. Examples include orchards, farms, etc.
Property for Special Purpose: In the real estate industry, this type of land is in demand owing to the growing infrastructure. It includes properties for parks, schools, hospitals, libraries, churches, etc.
Who Needs Real Estate Leads?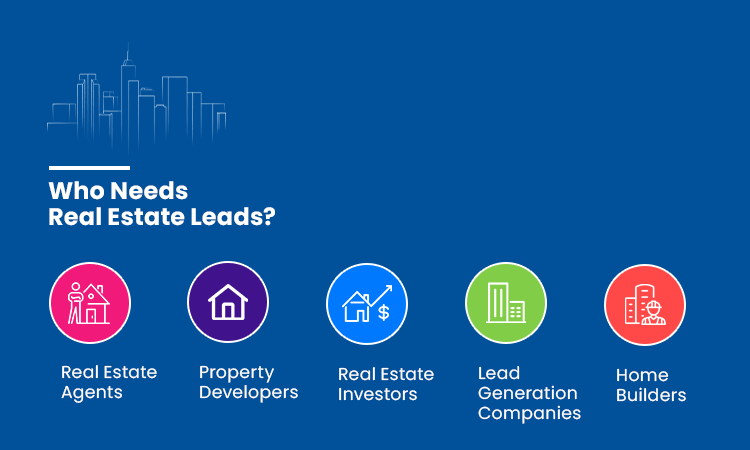 If you are a newbie in this business and are wondering who should be the ones searching for leads for closing property deals, let us give you a list.
Real Estate Agents: United States has the most number of agents globally, followed by China, Brazil, and the entire Europe! This is the obvious first answer. Agents actively seek to list and sell properties to get brokerage fees.
They actively seek out potential clients and use various marketing strategies to generate leads. Lead generation for property agents is one of the most sought services that Lead-gen companies have in 2023.
Property Developers: Property developers engage in lead generation to attract potential buyers for their new residential or commercial projects. They utilize marketing strategies to generate interest and create a pipeline of prospective clients.
Property Investors: Investors actively seek leads to identify profitable investment opportunities. They engage in lead generation to find motivated sellers, distressed properties, or attractive rental properties that fit their investment goals.
Lead Generation Companies: There are specialized companies that focus on generating leads for real estate professionals. These companies employ a range of strategies, including online advertising, SEO, content marketing, and lead capture forms to gather potential leads and pass them on to interested parties.
Home Builders: Home builders engage in lead generation to find potential buyers interested in newly constructed homes. They employ marketing tactics such as model home tours, online advertising, and partnerships with agents to generate leads.
Does Real Estate lead generation success Depend on Geographical Location?
Realtor business highly depends on geographical location. Florida has about 218,906 real estate agents, which is the highest in the country.
The number suggests that property business in this region of the USA is probably at its saturation point. If you are a realtor in this region, getting ample leads can be a tough call. Other states with the most number of agents are Idaho, Hawaii, and California.
The case with states like Alaska and Virgin Islands are quite the opposite. These states have the least number of agents as these states have little property construction happening there.
If you are from one of the least populous states like Wyoming, North Dakota, Delaware, or Alaska, you will likely get lesser leads. People don't construct much there. Many are relocating from these states to states like Texas, New York City, and California in search of better opportunities.
We can say that real estate lead generation success partly depends on your geographical location. However, a lesser population also means lower competition, which you can leverage.
However, the number is not everything. We need to accept certain business principles while deciding where to set foot. We opine that the states that are in their developmental phase are perhaps the best for property brokering business.
Keeping it in mind, we think that Vermont, Mississippi, Michigan, and Iowa are perhaps the best for real estate agents if they can successfully generate credible leads.
States with Highest & Lowest Real Estate Agents
We have undergone strenuous labor to get to you the 10 states that have the highest and the lowest number of agents.
10 States with the Highest Number of Real Estate Agents:
This list is important because if you are from any of these states, you must know that the competition is high. In some states, property businesses have reached saturation point. However, you can make a good income with excellent real estate lead generation.
Florida: 218,906
California: 202,970
Texas: 148,424
New York: 62,971
New Jersey: 61,129
Arizona: 54,427
North Carolina: 52,984
Illinois: 50,015
Georgia: 46,077
Pennsylvania: 38,460
10 States with the Lowest Number of Real Estate Agents:
The following states don't have too many agents, which gives you a better opportunity to set your grip. However, you need to pick a place with rising demand for property acquisition by the inhabitants. Obtaining qualified leads for these places can be fruitful. The states with the lowest number of property agents are:
Virgin Islands: 372
Guam: 593
Puerto Rico: 1,030
Vermont: 1,822
Alaska: 1,945
North Dakota: 2,088
South Dakota: 2,239
Wyoming: 2,553
Washington DC: 3,114
West Virginia: 3,269
Conclusion
These were our 33 best lead generation for real estate tips and strategies. We know that we have talked at length about various ways to generate leads for realtors. Our whole point was to make inclusive content that will be valuable to all aspiring persons who want to enter the business.
If you are new in this business, just keep the basics right. Emphasize creating a user-friendly website with specialized landing pages. Incorporate traditional marketing as a part of the lead generation strategy. Optimize the local SEO, leverage social media platforms, and enroll your NAP in real estate directories.
Frequently Asked Questions
1. What are the best real estate lead generation techniques?
Generating leads for real estate is not a very tough process. All you have to do is follow a few good strategies for it. The best lead-gen strategies for realtors are:
Optimizing real estate SEO on your website
Implementing CRM
Developing referral program
Sending newsletters, SMS, and cold calling
Retargeting Campaigns
Implementing Live Chat Features
Social media marketing for business
2. How to convert real estate leads into customers?
Once you have followed the best real estate lead generators as techniques, it's time for the real deal, i.e., customer conversion. Here are the steps of lead conversion:
Provide value
Offer them the best deals
Emphasize the USPs of the Deal
Use an incentive to close the sale
Follow up on the deal
Make the sale
3. How long do the best real estate lead generation companies take to give results?
The time for effective generation of leads for realtors depends on various factors. Contributing factors like the property you are trying to sell, its market value, your reputation as a realtor, and the incentives you are willing to offer to close the deals.
As a rule of thumb, real estate companies will take about a month to start generating qualified leads. However, if you have a superb reputation in the market, you can expect results in a week.
4. What percentage of real estate leads convert into customers?
About 4% to 6% of realtor leads convert into customers, and that's being generous. As people don't buy property every other year, the percentage of conversion is low. However, the commission you can make as an agent is pretty luring.
5. Does the Traditional Lead gen process for realtors still work?
The demographic cohorts of baby boomers and Gen X still prefer the old school ways. Hence, traditional mode of advertising your property listings work well with this section.
6. Which as the best stares for realtor business in the USA?
States like Mississippi, Vermont, Connecticut, and Alaska are the best for real estate business because of lesser market competition.
Additional Resources: