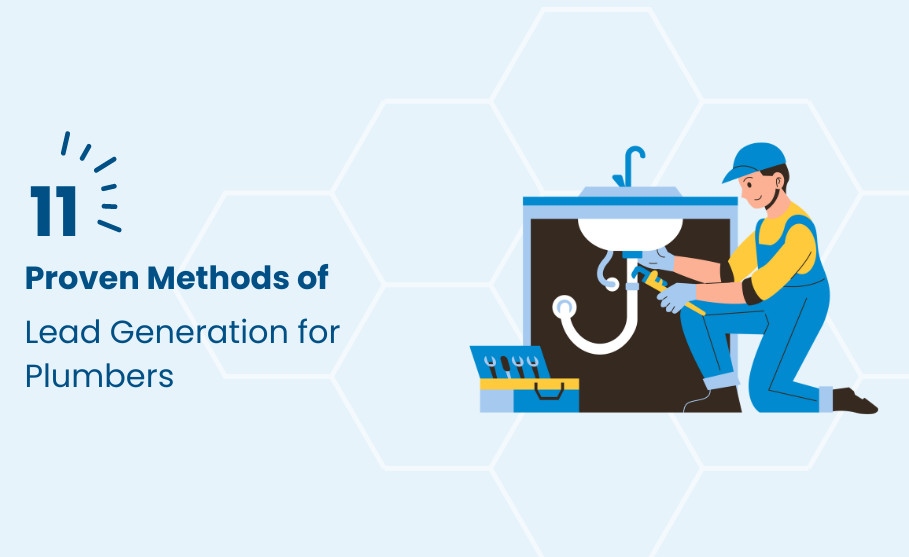 Introduction
Any business runs on leads, irrespective of the area of servicing. Lead generation for plumbers is the first step toward building a successful and profitable business. Have you ever been on the receiving end of a telemarketer calling in the middle of the day to ask if you are planning a trip to Fiji? It's never a pleasant experience. Thankfully, getting plumbing leads has come a long way from those irrelevant and intrusive cold calls.
Table Of Content:
Who is a Lead?
Basically, anyone who has shown the tiniest bit of interest in the service you provide. It is anyone who has interacted with you and has been made aware of your business, and is now within your sales funnel.
Lead generation for plumbers is a good way of building business without alienating customers. Let's face it, no one likes to receive random marketing calls. But if someone has already interacted with one of your marketing channels (social media, paid advertisements, and website) and left their contact information, you can contact them with more specific solutions to their problems. It would be of greater value to you to call someone who needs your services instead of someone who has no need for it at all.
Who Can Be a Lead for a Plumbing Business?
As a plumber, your leads are endless; it's practically anyone who spends a significant amount of time within a building. From homeowners to schools and corporate buildings, everyone requires the services of a plumber from time to time.
That being said, plumbers are not a scarce commodity anywhere in the world. The plumbing industry in the United States alone has a market size of $125bn and there are 127,435 plumbing businesses in the country, employing approximately 537,211 individuals as of 2023. This number is only expected to grow as demand for plumber's increases as residential and commercial real estate continues to expand to accommodate the booming population. The annualized market size growth of plumbers in the US between 2018 and 2023 experienced a decrease of 0.8%. By 2031, the job market of plumbers, pipefitters, and steamfitters is expected to grow another 2%.
Why is Lead Generation for Plumbers Necessary?
Needless to say, the scope is huge. But so is the competition. Let us take a look at the role the best plumbing leads have to play in the marketing strategy of a plumbing business.
Stranger → Visitors → Leads → Customers → Promoters
The stranger is the target of your marketing campaigns.
They turn into visitors when they click on your ads or discover your business through organic searches and pay a visit to your website.
This is your opportunity to turn them into leads. You can capture their data through well-placed advertisements, surveys, or a callback request. Once you've received their information, you will be able to contact them offering your services.
You can successfully turn the best plumbing leads into customers by addressing their specific problems.
A satisfied customer is not just a loyal customer, but also has the potential to become a promoter- someone who recommends your business to others.
How to Generate New Leads for Your Plumbing Business?
There are multiple ways to gain new leads for your plumbing business. In this article, we will discuss some tried and tested ways.
1. Targeted SEO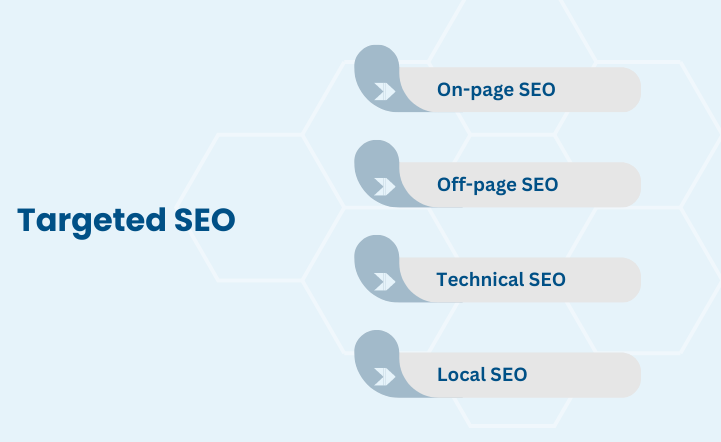 This is probably the most cost-effective and easiest way of lead generation for plumbers. Google processes over 40,000 searches every second on average, which gives you ample scope to target relevant keywords. But less than 0.63% of users actually clicked on page 2 in SERPs, and even there, the higher you rank, the better your chances of actually engaging with a potential customer. Let's use some statistics to back up our claim.
Globally, thousands of people search Google for local plumbers monthly.
Plumbers near me' is a high volume keyword, clocking around 700K searches every month.
Specialized services are also in significant demand; 'emergency plumber near me' is searched around 21K, '24 hour plumber near me' around 10K, and 'gas plumbers near me' sees around 4.1K searches.
Your business needs to show up in Google when people look for services you offer, else you miss out on new leads.
Before we do a deep dive into SEO, let's take a look at what an SERP looks like for a local plumbing search.
You will see the map results, also known as the Local 3-pack.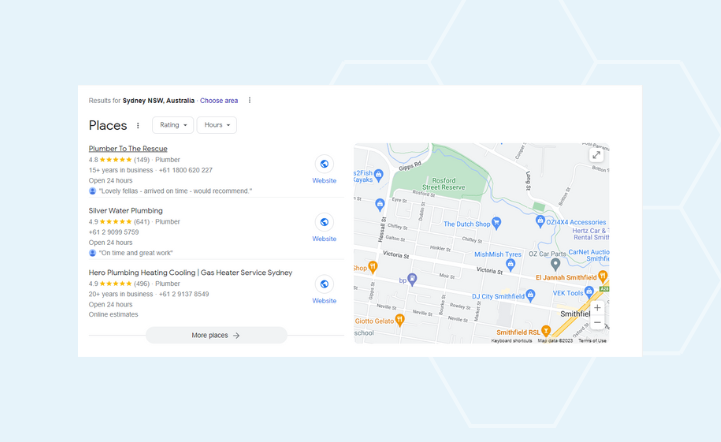 You will also see the paid advertisements being run by competitors in your area.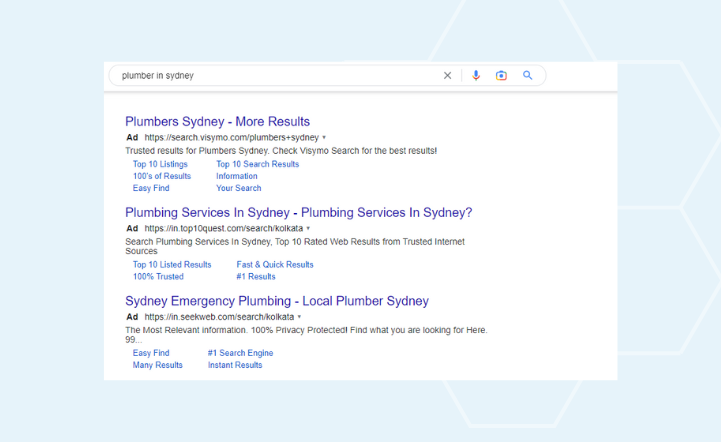 The remaining links- the blue links we are used to seeing- are the organic results.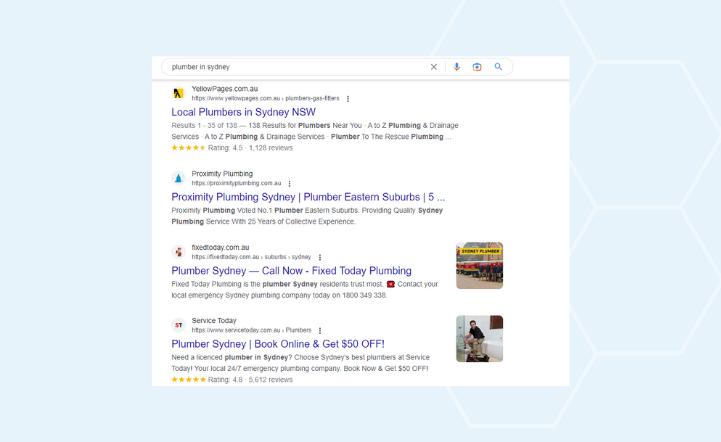 Your aim is to rank high in all 3 sections. A search engine ranks you according to your relevance, proximity, and quality. This is where targeted Search Engine Optimization comes in handy.
There are four kinds of SEO you can undertake to improve your ranking.
A. On-page SEO
Polish up the content on your website to include keywords that your potential leads search for. What are the trending plumbing searches in your area? How informative is your content? Is it original enough? Fix the titles, page URLs, and Meta descriptions in your website to include the trending search queries.
I. Optimize page titles and meta descriptions
The page title and Meta description is the snippet you see under a URL in the SERP.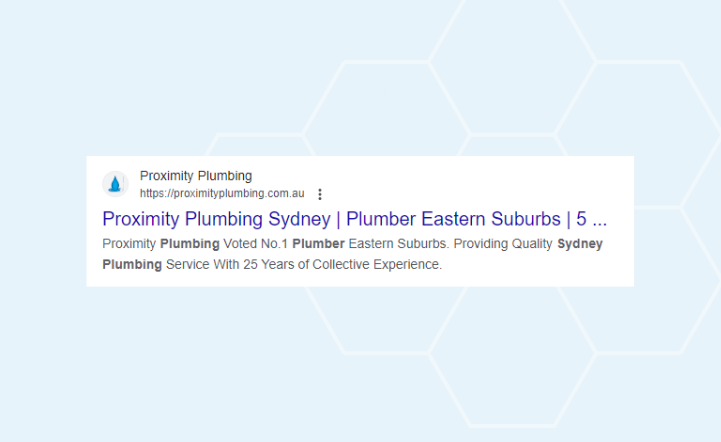 The key is to keep it simple. Stick to the business name, location, and service provided for the title, and a short but informative text about your business for the Meta description. Keep the title between 55-70 characters and Meta description under 160 characters to avoid showing up incomplete in search results.
II. Create descriptive URL slugs
URL slugs tell search engines what the webpage is all about. A short but descriptive URL slug is most useful. For instance, if a page in your website is dedicated to your gas plumbing services in New Jersey, add 'gas-plumbing-new-jersey' as the slug for the page. It's short, and tells the search engine and the user exactly what the webpage is all about.
III. Use active voice in Meta descriptions
When writing Meta descriptions, always use active voice. Speaking to the user directly doubles your chances of being noticed. You are providing your services to an individual, and you need to keep that in-person touch intact.
IV. Optimize images
Wherever you add images in your website, add descriptive file names. 'Image_1' does not tell the search engine anything about the image, and it cannot be filed correctly. "Small leak in gas pipe" gives a very clear idea about the contents of the image file. Similarly, add descriptive alt tags. These tags tell the search engines exactly what the image contains, and since they are converted to audio, the more accurate they are, the better.
B. Off-page SEO
This directs focus to your website via other platforms. Mentions on other influential websites establish your plumbing company as trustworthy, authoritative, and an expert, and this ranks you higher in SERPs. Off-page SEO consists of 3 key steps.
I. Link building
Backlinks from high-authority sites increase the value of your website. Backlinks refer to mentions in other websites that link to your business. This can be achieved via guest posting, collaborations, and organic mentions. The more high-value the back linking websites are, the higher your business ranks in Google.
II. Content Marketing
There's quite nothing like great content to get your name out there. The more information you provide, the more authority you build for your plumbing service. Make use of guest posts, your own blog, and informative social media content to market quality content.
III. Guest Posting
Guest posting introduces your content in front of an untapped audience. Guest blogging services can help increase traffic to your own website or blog as you can include a link back to your site in the author bio or within the content itself. Choose blogs and websites with high authority- those that have built a reputation, preferably within your own industry. These backlinks from reputed websites will build your authority in search engines.
C. Technical SEO
It's not just about content. There are ample tweaks you can make to your website as well to improve your rankings in SERPs.
I. Increase page load speed
Check the page load speed of your website. No one wants to spend time on a website waiting for it to load. The faster your pages load, the more likely visitors are to stay and browse.
II. Make an attractive website
A sleek, modern website is a pleasure to browse. An outdated website design is reflective of an outdated business. Keep it simple, easy to navigate, and add pages that are specific to your services. A single click to take the viewer where they are supposed to go. Display your contact information prominently, and add a contact form visitors to leave a comment. And definitely make the website responsive; more and more users are shifting to mobile devices to search for businesses.
2. Local SEO
Local SEO services can help you tap into the local consumer market. Google shows users relevant nearby businesses with or without the 'near me' search by collecting device information and IP addresses. Here's how you can optimize your plumbing business website for local SEO.
A. Claim your Online Business Profile
It's simple: a Google My Business listing puts you on the map, literally. Without a business listed with Google, you will not show up in any searches because you will not be in the directory. A GMB listing allows you to categorize and optimize your business category so that you show up in relevant searches.
Along with Google, add a Bing Places for Business as well. It works in the same way as a Google Business Profile.
B. Create local listings
Online directories like Yelp and Angie's List come up on top of local searches for services. Add your business to those listings too.
C. Update NAPs
Name, Address, and Phone numbers (NAP) are salient features of a business listing. You need to ensure that you are on top of all edits that happen in these areas. If you change your contact information, update them across all listings- online and local directories. Incorrect information takes potential plumbing leads on a run around, and you will promptly lose them.
D. Get Reviewed
Customers like to network. Ask your customers to leave positive reviews of your business. Users looking for plumbing services will come across good reviews and be encouraged to contact you for their business. Interact with all reviews: leave a thank you to positive reviews and respond well to criticism. Be prompt in answering queries, this shows engagement and promises quick turnaround times.
3. Invest in Advertisements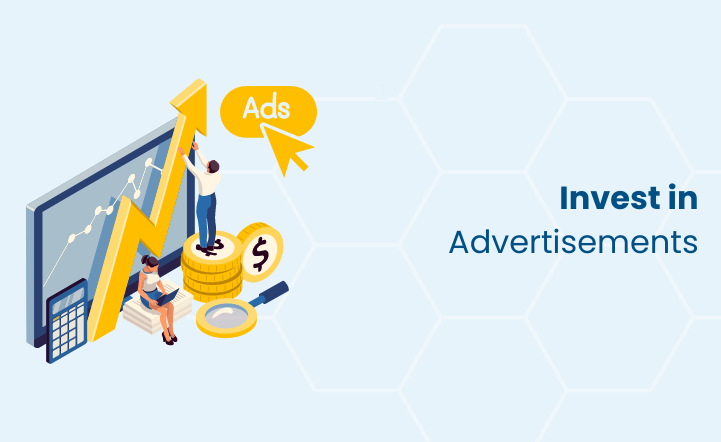 Apart from organic targeting, you can also generate leads for your plumbing services company by running paid ads. Running Paid Ads to get more leads is a marketing strategy that involves creating and placing targeted ads on various platforms, such as Google, Facebook, or LinkedIn, to attract potential customers and generate more leads for your business.
By targeting specific demographics, interests, or search queries, paid ads can help businesses reach their ideal audience and increase the chances of converting them into customers. This approach can be particularly effective for your plumber business that are looking to boost their online presence quickly and compete with other companies in their industry.
However, it is crucial to have a well-planned and well-executed advertising campaign, and to choose the best PPC management services in India from a reputable and well-known agency.
There are many platforms and many formats of paid ads to choose from depending on your audience, goal, and budget.
A. Pay-Per-Click Advertisements
Pay-Per-Click Advertisements are a great way to generate new leads for your plumbing business. Put simply, these are the results that show up at the top and the right of your search results page.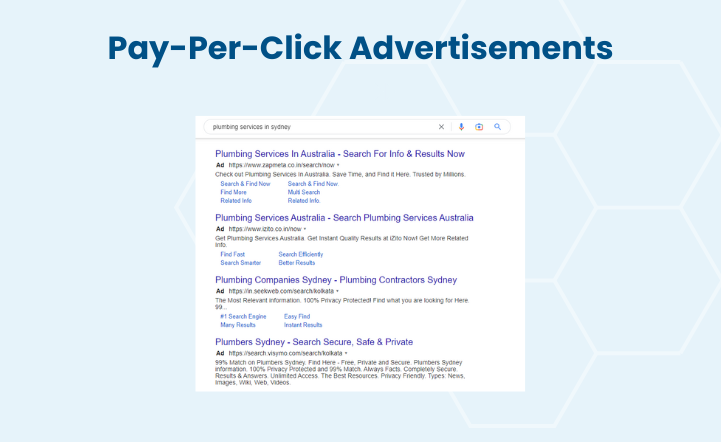 You can run PPC advertisements mainly on two search platforms: Google and Bing. Apart from those, you also have social media and retargeting platforms.
Does this work, you ask?
The short answer is, yes, it does.
PPC leads to twice the number of visitors than regular SEO. This is a quick way of generating leads as compared to SEO, which is more of a long-term strategy.
There is also a lot of scope for PPC advertisements; Google processes over 90,000 search queries every second, which gives you a lot of scope to run ads with targeted keywords.
To dive deeper, the success of a PPC ad depends on multiple factors. Listed below are a few cornerstones of a successful PPC campaign.
I. Determine the message
This is of prime importance in lead generation for plumbers. PPC ads are very targeted, and you are paying out of pocket to run them. To make the most of your ads, tell exactly what you are offering. What is your area of expertise? Do you offer any specialised services? The ads must cover it all.
II. Determine the cost
A PPC ad requires you to pay a certain amount every time someone clicks on your advertisement. You can set the maximum limit on this charge based on how much you are willing to pay, or let the search engine decide based on the quality of your ad and your website's current ranking.
III. Decide on the platform
There are multiple platforms where you can run PPC advertisements. The most popular ones are usually more expensive since they are highly trafficked and yield maximum results. Other platforms are also available that cost less, and while the traffic is lower, they are not a bad place to begin. Some platforms where you can run PPC ads are: Google, Bing, Facebook, Instagram, AdRoll, and RevContent.
a) Google Ads
Google Ads should, of course, be your top platform of choice. Google by far receives the most traffic of all search engines, hogging 84.69% of the market share. In comparison, Bing claims 8.85% of the market share, and Yahoo's market share was 2.59%.
63% of users click on a Google Ad. This leads to some sort of a conversion, be it in the form of signing up for your newsletter with their email or contacting you for your services. Either way, your chances of snagging a potential paying customer is higher with a Google Ad.
But perhaps the number that is the most tempting is Google's own estimate of an average ROI of a Google Ad at 8:1. That means that for every $1 spent on a Google Ad, you can expect a return of $8.
Google offers a variety of formats for its ads, and you can take your pick from videos, images, carousels, and a combination of any of the formats.
b) Microsoft Ads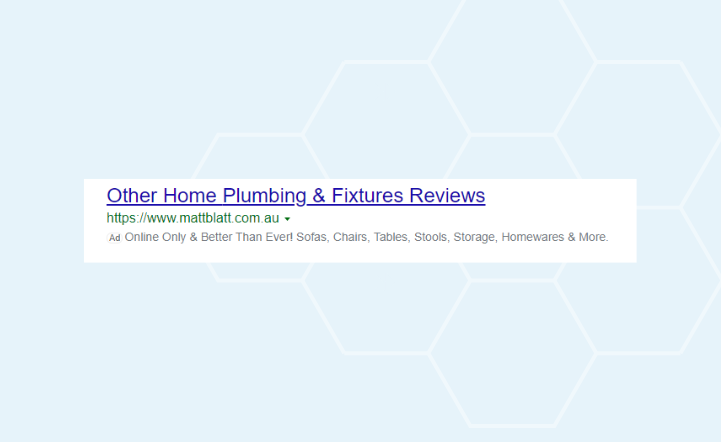 You might know them as Bing Ads, and they work pretty much the same way as Google Ads.
These appear at the top of Bing searches, above the organic results, and they generate revenue on a pay-per-click basis.
c) Facebook Ads
Facebook Ads are also run as PPC ads. They are a highly popular choice due to their specific targeting capacity, which allows you to define your target market down to the smallest details. Plus, Facebook allows native ads, which provides great scope for crafting your ad to blend it into the feed of the target audience.
d) AdRoll Ads
AdRoll is mainly used for retargeting. This means that the ads are shown to people who have already been to your website. This mainly serves the purpose of creating a recall among audiences, but can also potentially generate new leads.
e) RevContent Ads
RevContent promises highly engaged traffic. It displays your ad on external websites. You need to target the ad to your chosen keywords, and the ad will display beside those keywords on the website. Keyword targeting is highly specific on RevContent, and a clever keyword strategy will yield excellent leads.
B. Social Media Ads
Pay-per-Clicks are not the only advertising options for a plumbing company. You can invest in a number of other options, depending on the kind of reach you are aiming toward. Thanks to the widespread reach of social media, most SM platforms today offer ad posting services. Like Google ads, these are also targeted ads and show up to users who have shown interest in niches similar to yours. And the reach is unbelievable; out of the top 3 most visited websites in the world, two are social media sites: Facebook and YouTube.
a) Facebook Ads
With 2.96 billion users across the globe, Facebook is the most widely used social media platform across age groups. It is the plumber's tool of choice when it comes to social media marketing. Another great advantage of Facebook ads is that they come in different forms: you can create ads to post them on Facebook Marketplace, or you can boost your organic posts to reach more people. Plus, Facebook actually helps you reach a whole new demographic for new leads.
Let's take a look at the different kinds of Facebook ads you can employ to generate leads.
I. Image Format
This is the most basic format. You need to create an attractive image that represents the service you wish to promote. This is a great advantage of Facebook ads; they need to be aesthetically pleasing so as to seamlessly blend in with other posts on a user's feed. Users will notice it's an ad by the 'Sponsored' tag at the top of the ad.
Make sure the design is in line with Facebook's ad and community guidelines. Follow the ad specs and text-to-image ratios, and ensure nothing in the image violates Facebook's community guidelines.
II. Video Format
Facebook promotes video content a lot more than static images, and the same holds true for ads as well. Video ads are great if you wish to showcase multiple services at one go. Pus, video ads can effectively employ humor to engage the audience.
III. Carousel Ads
Facebook's carousel ads are also a great way of showcasing multiple plumbing services. If your budget doesn't have room for separate ads for all your services, use the carousel; you can add up to 10 images, videos, or a mix of both at one go. Each slide in the carousel will have its own caption, so you can craft each image/video as a different ad.
IV. Stories
Facebook stories have great reach, and they are a great platform for running an ad for your plumbing business. They are shown in full-screen format, creating greater visibility.
V. Boosted Posts
You have the option to boost your posts through this feature. Boosted Posts are pushed to a wider audience and are shown more on the feeds of your follower base. These will not be marked as ads, per se, but will definitely create brand recall through increased visibility.
b) Instagram Ads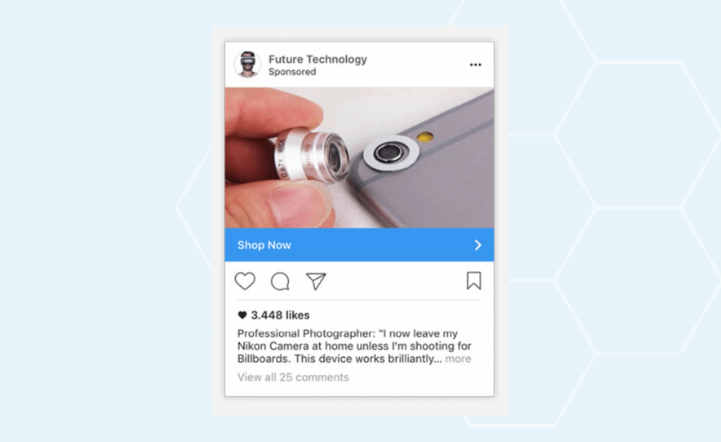 Instagram boasts a huge follower base at approximately one billion active users a month, and hence is an excellent platform for promoting your plumbing services. These ads appear throughout the platform in the Newsfeed, Explore page, Stories, Shops, and Reels feed.
Here are the different kinds of Instagram ads you can use. Facebook owns Instagram, hence it's no surprise that many of the features are the same across these two platforms.
I. Boosted posts
Similar to Facebook, boosted Instagram posts will reach a wider audience. They will appear more on feeds and in Explore pages without specifically targeting those areas.
II. Carousel
This feature is exactly like its Facebook counterpart. You can create an ad with up to 10 images or videos, and promote a separate service with each.
III. Stories
Instagram stories have great reach and more engagement than regular posts. With a full-screen format, these promise greater visibility and creative flexibility. You can create Instagram stories using images, videos, or a combination of both. The CTA is not intrusive either, so an attractive story keeps the audience engaged.
IV. Reels
Instagram reels are short, catchy videos. These boast the maximum engagement and reach out of all Instagram's ad formats. The trick is to create a very interesting video that will capture the audience's attention immediately, as you have only a few seconds to do so. Keep in mind, Instagram refreshes the reels feed automatically, so the reel needs to be catchy enough for the user to scroll back and tap on the CTA.
Since Instagram is mainly an image-sharing platform, your best chance at engagement is to make the ads as visually appealing as possible so they can blend in with a user's feed. Ads on Instagram come with the option of adding a CTA button (more on CTAs later), and these distinguish them from regular posts.
c) Twitter Ads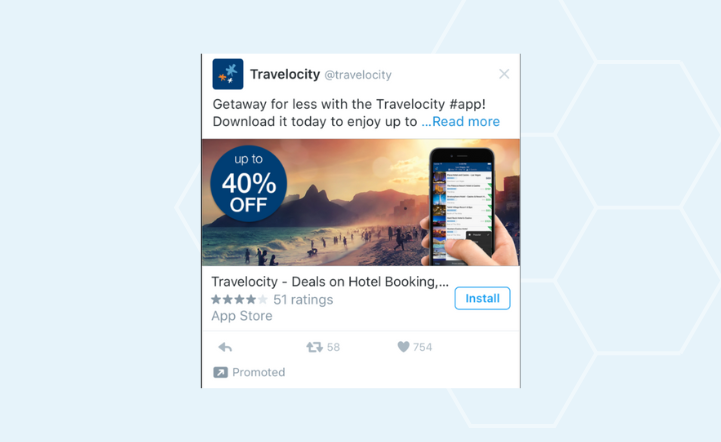 Twitter might not be the first platform you think of while planning your social media marketing strategy. But that would be a shame, because Twitter's ad formats are wide and varied, and have the potential to reach about 556.0 million users.
Twitter ads appear as the boosted posts that are designed to reach more followers and gain new ones. Twitter also offers the option to promote an account, which allows brands to shop up in more feeds in the 'Whom to Follow' recommendations. You can also take advantage of the Promoted Trends feature; you will get a custom hashtag which will reach more feeds in the Twitterverse.
Twitter ads are of the following types:
I. Promoted ads
These are just regular tweets that you are paying Twitter to promote. Users can interact with them the same as regular posts, but their reach will be far greater. These are differentiated from your regular posts by a Promoter's tag at the bottom.
II. Follower ads
These aim to promote the account instead of a single post. By employing this feature, your account will be pushed on the 'Whom to Follow' sections. This is a great way of gaining new followers that can become potential leads to chase.
III. Twitter Takeover
This can be of two types: Trend Takeover and Timeline Takeover.
Trend Takeover allows you to place an ad at the top of the 'What's Happening' section. In the Twitter verse, this section receives huge engagement, so there's a good chance of being noticed with an ad here.
Timeline Takeover is similar to trend takeover. It allows you to post an ad at the top of your targeted user's timeline. Each user will get to see the post only the first time they open Twitter for the day, so you need to make a truly compelling ad.
C. Banner Ads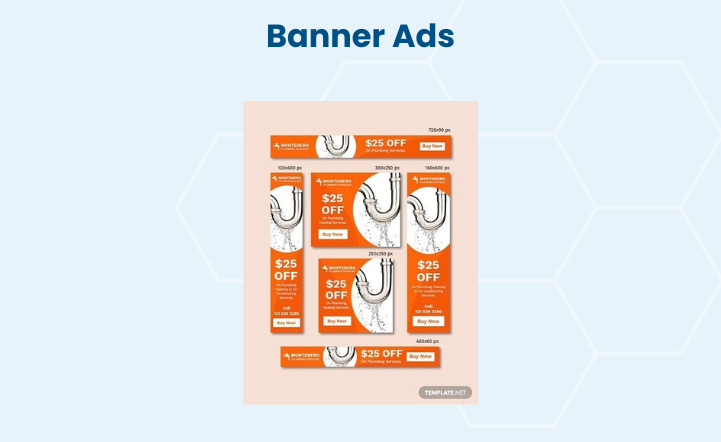 Banner Ads are one of the most widely-used digital ad options. These are the ads that appear on the top, middle, and sides of webpages.
You can rent an ad space from a website with good reach, preferably in the plumbing or home improvement niche, and post your services there.
D. Google Display Network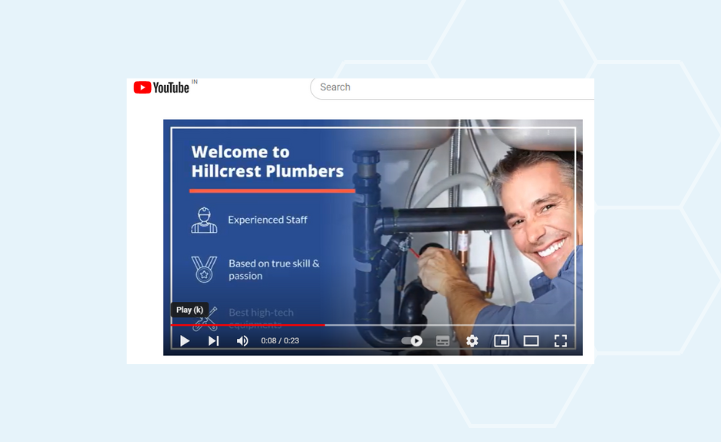 The Google Display Network utilizes ad spaces across the various Google platforms such as YouTube, Gmail, Blogger, Google apps, and Google partner sites.
These are the ads you see when you play a YouTube video, or the ads that pop up in the promotions folder in your Gmail. You will also see those ads when you open any Google app on your mobile device.
4. Write Killer Ads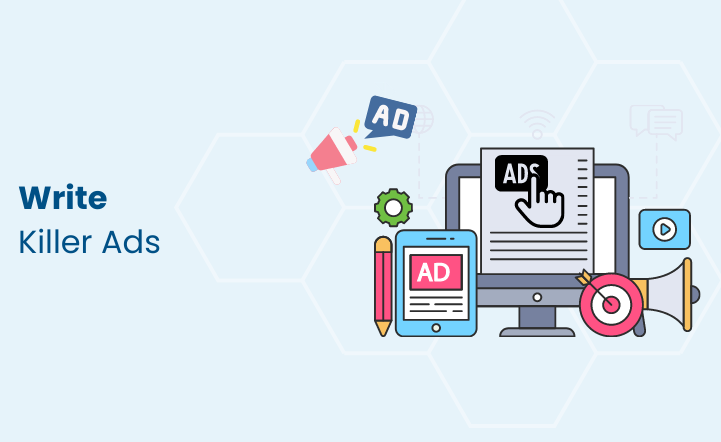 There is more to a successful ad campaign than just identifying the target market. A well-crafted ad is a magnet for your target market, while a poor ad creates a negative impression from the get-go. So what separates a good ad from a mediocre one? Let's take a look.
I. Optimize for digital
Since you will place your ad on a digital platform, keep it short and interesting. The digital attention span is very, very short, so ensure your ad is visually appealing and provides information in bite-sized pieces.
II. Connect with the audience
Who is your audience? Are they homeowners or owners of a commercial space? Each target group has their own emotional triggers, and you need to address that. Create separate ads for each target group focusing on different problem areas. Everything from design to copy will target these specifics.
III. Identify the problems
Why does your target market need your services? Sure, everyone needs plumbing assistance, but what are the actual issues? Identify the focus areas and tell how you can help. Tap into the emotional real estate; it's not just material benefits they will receive by availing your services, they will also get peace of mind.
IV. Optimize keywords
Optimize your ads to target specific keywords searched by your focus audience. Your ads need to come up at the top of their searches, and targeted keywords will help search engines locate your ads and show them to the relevant audience.
5. Create a Great Landing Page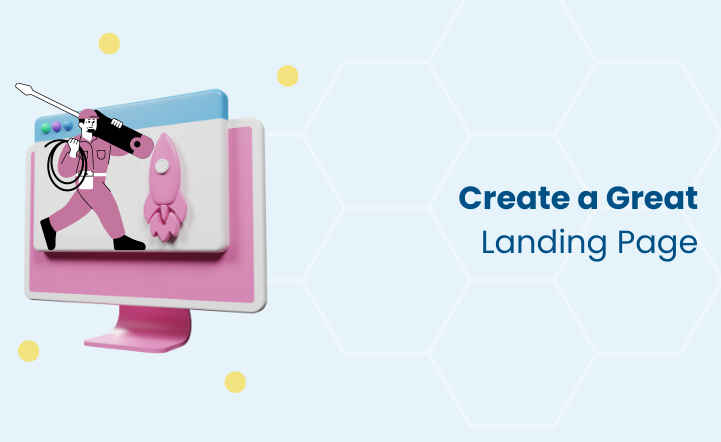 A landing page is where the visitor is directed to from the advertisements, and this is also where you are most likely to lose potential leads. Out of every 10 visitors, 7 will bounce. In fact, it is the least liked among all signup forms.
I. Focus on the benefits
The visitor must be able to see their benefits within the first couple of seconds into your landing page. Keep the text simple and engaging. In fact, work the benefit into your headline itself for maximum retention.
II. Make it relevant
If you are targeting homeowners, make sure the copy and the images (yes, images are essential) are relatable for the target audience. If you are targeting homeowners, the landing page should focus on the emotions they will feel after availing your services.
III. Provide an offer
Why is the visitor on your page? They need something useful in exchange for their contact information, and that should be the star of your landing page. Display the offer prominently and make it easy to access.
IV. Keep it short and simple
The landing page has a single goal: converting your visitors to leads. Keep the contact form short; collect only the data that you absolutely need. A name and an email or phone number are all you need to create an entry point. Make the page as distraction-free as possible. Avoid blinking texts and images, and do not create links that lead to anywhere else, even to your own website or social media handles.
6. Give Better Offers
Undertake extensive competitor research to see what they are offering. Tailor your services to stand out from the crowd. Check to see which areas of customer requirements are going unmet, and tap into that opportunity. Here are some lucrative offers you can provide:
I. Referral program
If a customer brings in another one, they get a significant discount the next time your service is required.
II. Free audit
Offer a free of cost assessment of a potential customer's plumbing. Target older buildings; they are likely in need for repairs.
III. Offer free advice
Engage in your local community's events. Set up a table to offer free advice to members of the community.
IV. Provide discounts
Offer your services at discounted rates- and if possible- free of cost- to disadvantaged members of the community. This builds goodwill; everyone wants to support a business that gives back.
7. Create Great Content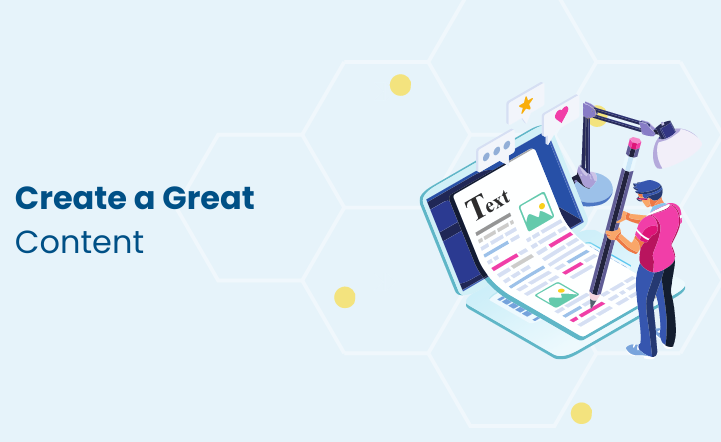 Turn your website into a treasure trove of useful information. You do not need to give away the tricks of the trade, but make sure visitors can get something to their use every time they visit. Create blog posts with tips to keep the indoor plumbing healthy in all kinds of weather, provide easy-to-follow guides to do basic maintenance and so on. Also, Plumbing Marketing guide provides valuable insights and practical strategies for plumbing businesses looking to expand their customer base and increase revenue through effective marketing techniques. From creating a strong content and optimizing local search results to leveraging social media and email marketing, plumbing guide covers a range of topics to help plumbing professionals promote their services and attract new clients. Make the posts engaging. Remember that you are not just limited to the written word; you can also give out information via interesting graphics and short videos.
Here are some points to keep in mind while chalking out your content marketing plan.
I. Appeal to emotions
If you want to really connect with the audience, discuss things that speak to them. Appeal to the audience's emotions; show how regular maintenance of the home's plumbing system leads to peace of mind. Drainage leaks lead to huge water wastage, and it can be avoided by a short call from the plumber. Show how your service has bigger ramifications that extend beyond the home.
II. Provide information
Information is currency in the digital space. The more accurate and detailed information you provide, the greater your authority as an expert in your domain. Don't just provide services, help your audience become self-sufficient. Even though it is not possible for your audience to undertake every maintenance by themselves, provide information about the same. Let the audience be aware that you know what you're doing; this begets trust and builds credibility.
III. Stay relevant
Always stay on topic. Plumbing requirements can differ based on the climate zone. Tailor your content in accordance to the requirements of the region you cater to. Provide minute details with respect to the requirements of your audience. Do you cater in a zone where temperatures drop below freezing level? Provide information on how the plumbing can be protected against such conditions.
IV. Get social
There's quite nothing like social media to reach a wide audience base. From YouTube to Twitter, there's a bunch of social media websites to join, all of which are a great way of reaching out to your audience. More on this will be discussed later in this article.
V. Pick up a camera
Video content provides an engaging way of gaining attention and authority in the digital space. With videos, you can actively engage with the audience by speaking to them directly and demonstrating actual footage of your work, which in turn makes it easier for users to follow instructions. And you have a great platform for promoting your videos: YouTube. After Google, YouTube is the heaviest hitter on the internet with 246 million YouTube viewers in US. Create tutorials and DIY videos to share on your YouTube channel. Of course, video content can be posted on your other social media handles as well.
VI. Use different modes
Content marketing can take up many forms. You don't have to stay limited to posts and videos. With a little bit of practice, and maybe some external help, you can post content in the form of images and infographics. As long as the content is concise and informative, you will be able to engage your audience.
8. Get People to Sign Up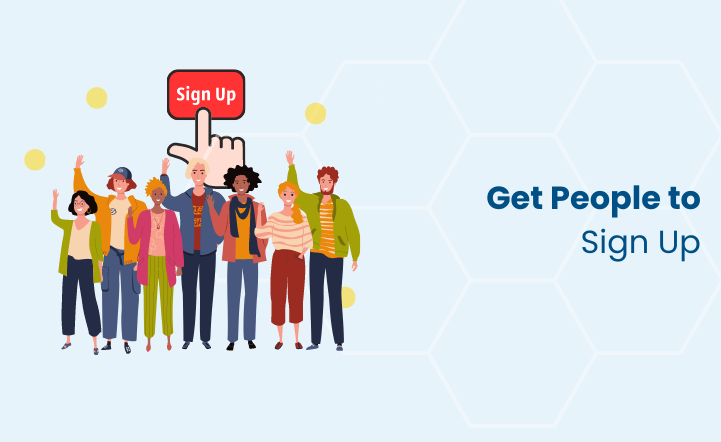 You can also get leads for your plumbing business by getting people to sign up with your business. You can achieve this by offering something for free on your website or in the landing page of your ad. This can be a pdf guide to DIY plumbing solutions, an opportunity to gain early access to exciting discounts or offers, or a plain callback request for potential clients. When people leave their contact information with your business, you know for sure they are in some way interested to know more. These are the most successful leads you can pursue.
The easiest way to get email addresses is to create a sign-up form. Now, statistically, nobody likes to share their contact information over the internet. But they might be willing to do so if there's a lucrative incentive, like an informative pdf or gated content in a website. Even then, a complicated signup form will turn visitors away. Here are some points to remember when creating these entry points.
I. Keep it short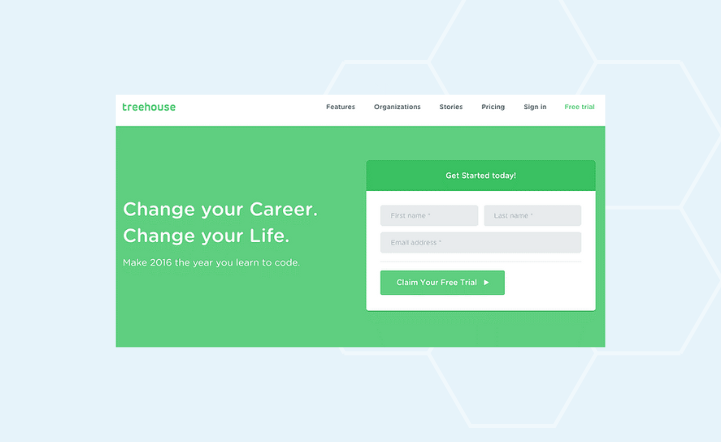 Nothing discourages visitors more than a long form with loads to fill out. You need very little to establish contact; location, name, and email address is good enough. At the most, request for the phone number.
II. Make it responsive
A huge chunk of your visitors will be on their mobile device. Make the form responsive to all devices so the user can fill it in without having to scroll, zoom, or pinch.
III. Provide your contact
Giving away personal data over the internet is daunting, and it is best to prove you are trustworthy by giving your visitor an option to contact you as well. Add your business email and social media handles to the form.
9. Clear Call to Actions
Call to Actions are the buttons that you add to your content. You've come across the 'Learn More', 'Download Now', and 'Contact Us' buttons at the end of ads and blogs. These prompt viewers to take a step toward your goal. A clear call to action is invaluable as this is the final step toward generating a new lead for your plumbing business.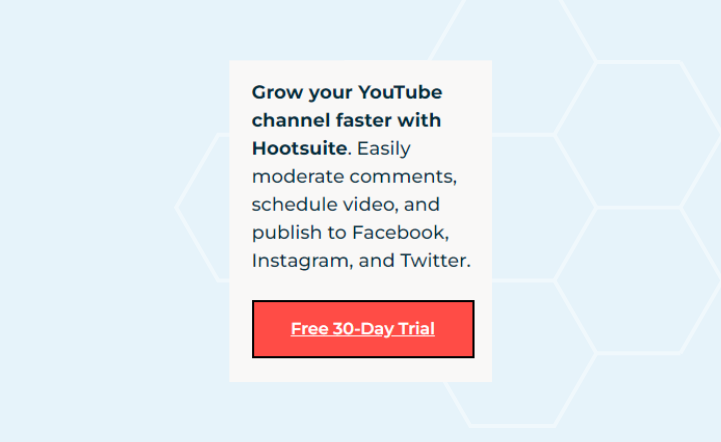 Look at the example given above. It clearly states what the visitor will get by clicking on the CTA. It's short, it's concise, and it gets the job done.
10. Make Use of Social Media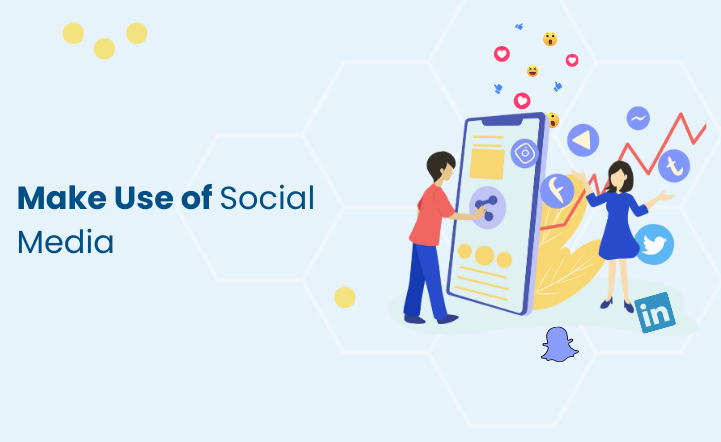 Social media is a great platform to connect with your target audience. Social media allows you to connect with your audience on a personal level. Post your services along with engaging content. Interact with your audience and respond to comments and queries as fast as possible. You will be hard put to come across someone who does not have a profile on any one of the social media platforms, and that opens up a whole world of opportunity for lead generation for your plumbing business.
If you do not have a social media handle, get on the bandwagon fast, because you have competition.
Facebook is the most popular, obviously, used by 97% social media users in the plumbing sector. There is significant overlap between Facebook and Instagram users.
LinkedIn is the next most used at 59% engagement among plumbers.
It's closely followed by Twitter at 33%.
Other social media handles like TikTok, SnapChat, and Pinterest are few and far between, although Instagram is rising in popularity.
77% of users purchase products and services from businesses they follow on social media. Studies show that the greater the followers interact with the business, the more likely are their chances to become paying customers.
Here are the different ways in which you can effectively use social media to generate leads:
A. Posts
Regular posts are a great way of engaging with the audience. Post relevant gifs, images, memes, and informative graphics. Avoid too much text. Short, informative content is the best way of engaging with your audience.
B. Ads
Social media platforms also offer the option of running ads to bring more business your way. Whether you are starting off your plumbing business or planning to expand, peppering your account with a few strategically created ads will go a long way.
C. Live
Facebook, Instagram, TikTok, and Twitter all come with the Live feature. It is as simple as it sounds. You can go unfiltered with the camera rolling, and the footage is uploaded to the platform as is. This allows you to interact with the audience in real time and really connect with them. Of course, since you are live, bloopers will also be uploaded in real time, so orchestrate everything as far as possible.
D. AMAs
Ask Me Anythings are a useful way of connecting with the audience. As the name suggests, you give free rein to your audience to ask you anything on the topic you choose. You get to really flex your knowledge in these sessions, provide actual tips to specific queries, and build your authority as an expert in your domain.
E. Engage and Respond
It's not just about what you post. Social media is all about community outreach and engagement, and you need to actually read and respond to comments. Be kind, and try to actually solve issues. If a customer is disgruntled, be prompt in your professional assessment and handling of the situation.
To start you off, here are some topic ideas for your social media content plan:
Tutorials and DIY videos: People love to get hands-on with their home repairs and renovations, and you can help them do so with expert advice.
Humour sells: Tickle the audience's funny bone with some plumbing-related humour. It can be a funny gif you've made or come across, or an incident at your job that made you laugh. Of course, remember that almost every age group is on social media, so keep it clean.
Contests: People love a little competition, especially if it comes with a reward. Run a social media contest; ask your followers to correctly identify a piece of plumbing equipment. Make it a lucky draw, and the winner gets a free assessment from you.
Fact posts: Post little nuggets of plumbing related facts and information. You can make it into a series and make similar posts one day every week.
Crossposts: You can also crosspost informative articles and videos you've posted elsewhere. Just make a small graphic or a snippet, and add the link to the content.
11. Get Personal
Recent trends show that customers are not just looking for a job well done. They want to know what sets you apart from the other businesses offering the same services, and research shows that a personalized service is the answer. The customer is king, and the customer knows that.
In fact, advertising a personalized service can improve your chances of generating leads for your plumbing business by 8%.
66% of customers look for and endorse plumbing businesses that do not offer cookie-cutter solutions. Each building is different, and they expect services to be tailored to their requirements.
A whopping 89% of your first time customers are more likely to become loyal customers if they receive a great service the first time. This means customized solutions, prompt servicing, and quality work.
To Wrap It Up…
There are many ways of lead generation for plumbers. Not all will work for your business model, your target audience, or your area of expertise. In fact, it is not advisable that you follow all of them. Craft out a good lead generation strategy to gather a potential base. From there, nurture relationships with the best plumbing leads to build a loyal customer base.
Additional Resources: