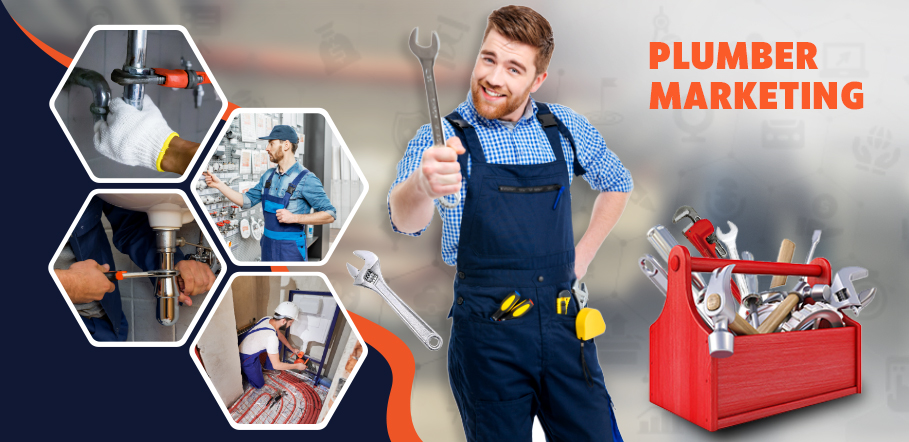 In the last five years, the plumber industry market size in the U.S. has grown 1.0% per year on average between 2018 and 2023. On a global scale, the plumbing fixtures market value is expected to grow to over 126.5bn U.S. dollars in 2023.
This isn't a secret that plumbing services are high in demand, as validated by the stats above. As a plumber, you are experts in installing a toilet, fixing a pipe, and all that comes with the job, but do you know how to advertise your business?
To keep your business running and revenue coming, you need regular customers. And that can be achieved when you put effort into creative, comprehensive, and effective plumbing marketing.
Table of Content
What is Plumbing Marketing?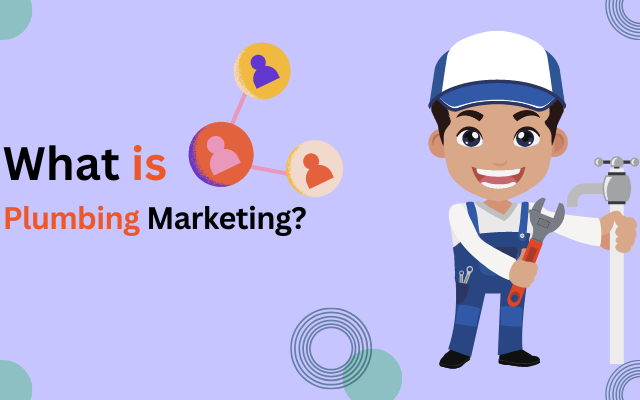 To become a recognized name amongst your target customers, you need to reach out to them. Plumbing marketing means employing multiple methods, online as well as offline, to advertise your brand in front of customers.
It is the process to tell them who you are, what you can do for them, and why they should contact you when they are in need of installing a new piping system, repairing leaks, cleaning drainage, replacing their faucet, or other plumbing works.
Plumbing marketing is about creating brand awareness, surpassing your competitors in brand outreach, and bringing in more customers and revenue, using multiple approaches and campaigns.
What Plumbing Marketing Methods Should You Adopt?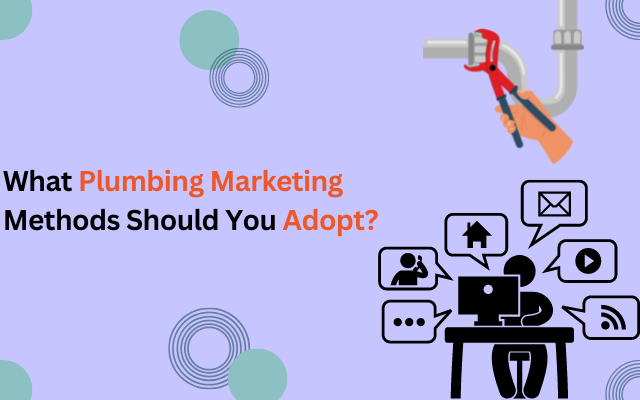 When people need a new sink installation or want to fix drainage, the most convenient and fast way they adopt is to search online for plumbers near them.
21% of people search for local business on a daily basis in the U.S. alone, while 35% search multiple times per week. And note that only about 1% of consumers don't search for a local business online.
In today's digital landscape, when everything is searched for online, including home services, you have to adapt your plumbing marketing methods by keeping the tech-savvy customers in mind.
However, it doesn't mean you leave out offline or traditional marketing methods. For a plumber whose potential customers are local, the ideal way is to combine a well-prepared plumbing marketing approach for the digital medium with traditional marketing methods to attain the best results.
Why Should You Consider Plumbing Marketing?
"We are experts in our field with a team of skilled professionals for any plumbing work but still aren't getting a lot of job calls and bookings".
Sounds like you?
Not considering marketing your business means no one will know about you, let alone contact you for their plumbing service requirements. Plumbing marketing will help you:
Tell effectively about your brand and service that makes it easily recognizable.
Build the brand's credibility, authenticity, and voice.
Gain a high search result ranking for online queries, attract more traffic and improve service bookings.
Develop an engaging relationship with your present and potential customers.
Retain your existing customers while also building a new customer base.
Gain a prominent brand presence in your industry and amongst your target customers locally.
Plumbing Marketing Strategies and Tips in Detail
Understand Customer Journey
There is no set pattern from which they gather information. And there is no single medium or channel they will come to you from. For plumbing marketing, understand the customer life cycle and what medium they are more likely to interact with your brand.
Understand their intent and base your plumber marketing efforts on providing them with value.
Use social media actively to engage with them.
Leverage methods and sources that influence customers' buying decisions, like reviews and ratings.
Develop Your Brand Voice
Having a brand identity that resonates with what you do and who you are is important. And it doesn't mean that you have to sound too serious at all times. It is about how you distinguish yourself and create your value proposition that will pave the path for successful implementation of plumbing services marketing.
Your brand voice can be fun or snarky or straightforward. Write down what personality you and your team as a whole carry. When you find your brand voice, ensure consistency across all channels and your plumber marketing campaigns.
Create an Influential Website
Your entire strategy to advertise the plumbing business effectively revolves around your digital presence's impact.
Your website is the address where users will come and interact, find what you are offering them, and book the job.
You aren't the only one in the business, and you aren't the only one having a website. Having a quality, high-value-proposition website design is the first step towards building that much-needed trust with your prospective customers.
Develop a Responsive Website
Over half of the online searches take place on mobile phones. Therefore, it becomes important that your website is responsive, with mobile-friendly display support for different devices and screens.
Follow Brand Consistency
Your design perspective should follow logo consistency, brand color consistency, and a website design layout through all pages that is reflective of your brand.
It Should Load Fast
More than 70% of consumers think twice about dealing with a business site if it loads slow. If your site loads in 1 second as compared to a competitor whose site loads in 5 seconds, you stand to gain three times higher conversion rate.
Create Compelling Website Content with Essential Information
Most visiting your website are there to look for plumber services, whether it is to seek some information or to book a job. Turn them from visitors into customers by highlighting your unique features:
Point out all the benefits of your service, areas you cover, and the USPs that make you better than others.
Give ease of navigation and quick information. Put out the contact form and contact details on the top, along with your business hours, and services.
Give a clear message to them on all the pages about why they should hire you. Place quick, easy-to-access call-to-action buttons.
Use lead capture forms that conveniently allow you to gather important data for follow-up and also enable them to ask you questions.
Create Service Location Landing Pages
A dedicated page for each service area ensures that you are providing information specific to that region. It also helps to gain a higher search result ranking for those particular areas.
For a search query "plumbing New Jersey," the result showed: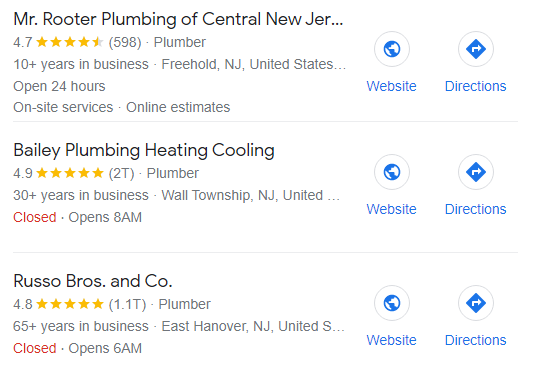 All these three results have a dedicated service location page.
Create Testimonial Page
Reviews on Google and other review sites are helpful. How about giving that social proof to your customers right when they visit your site?
Ensure your happy customers become the word-of-mouth for your plumbing marketing ideas and advertisement by adding testimonials. You can have a separate page and a section at the bottom half on different pages. This will make visitors feel more confident in your brand.
A bad website is a sure breaker for your business potential. So, be in the know-how of what to do and what not.
Master Organic Search Optimization (SEO)
53% of online share of traffic comes from organic search results. People tend to believe in organic results more than paid and other ones.
Also,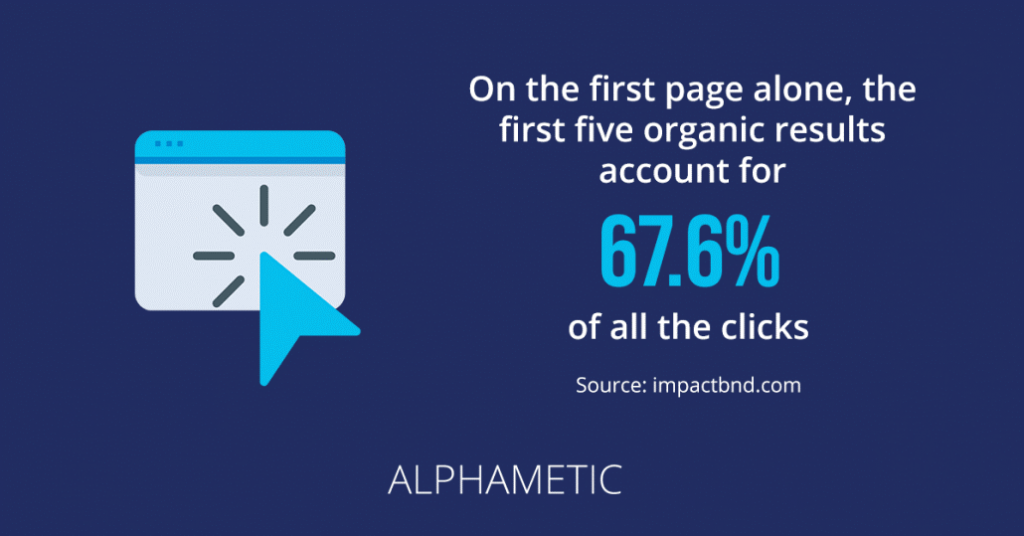 That underlines how important organic search result rank optimization is for your plumbing marketing approach. Plumbing SEO is a core part of your plumbing digital marketing approach.
SEO should be one of your most important plumbing marketing strategies, especially local SEO.
So, how can you reach the top of the SERPs, increase visibility and get more and more leads and customers? With proper plumbing SEO services strategy.
Keyword Research
You must develop a digital marketing strategy for your plumbing business, starting with knowing what keywords, phrases, and queries your prospective customers are searching for in your area.
There are several keyword research tools to do that. However, don't limit that to these tools only. There are other ways to adopt as well: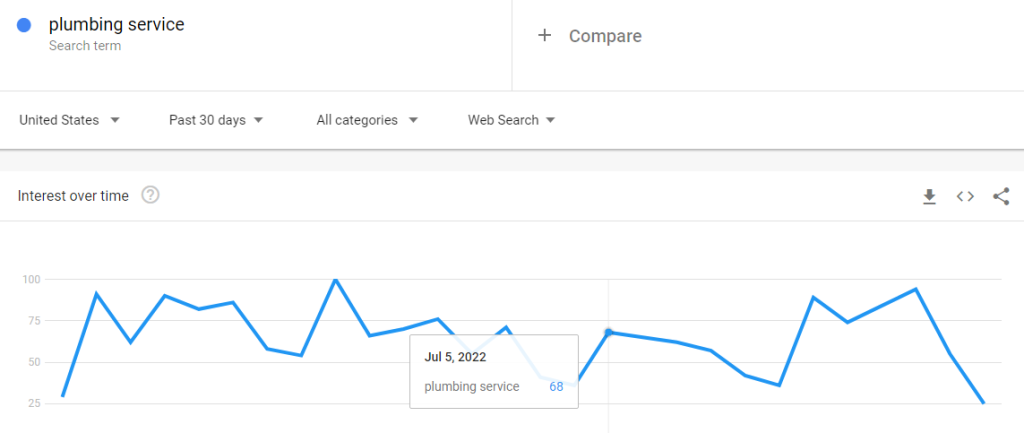 A simple query for 'plumbing service' shows the search interest of this keyword throughout the USA in the past month.
Not just that, you can also check the interest for such query by sub-region:

That is not all; you can gain insight into related search query suggestions as well:

Similarly, you can look for the recent search trends for any particular keyword specific to your service, the area you cover, and the industry to include in your internet plumbing marketing strategy.
Twitter Advanced Search
Twitter advanced search also allows you to look for tweets related to your keywords like 'plumbing,' 'pipe fixing,' 'faucet repair,' 'drainage service,' and as such. You won't just have an idea of what people in your area are searching for, but you can also get a chance to approach them directly.
Your plumber marketing agency will help you with proper keyword research with their advanced and effective strategy.
Optimize for Right Keywords
Optimize the site for the correct and targeted keywords. That includes the site content and also meta tags, page titles, alt text, and other aspects of your site. As you serve a defined area, you should also optimize for local keywords, for example '24-hour plumbing service in New Jersey'. Make sure to use various specific local keywords in your plumbing marketing ideas.
Implement a Strong On-Page Optimization
How optimized your site's on-page elements are? It is important to consider all the site elements, including page titles, headings, meta descriptions, URL structure, site XML, and more.
Power Up Your Brand Authority with Off-Page Optimization
The material you are writing and promoting outside of your site is an important aspect of online plumbing advertisement and helps to develop brand authority. These content verticals should include blogging, guest posting, PR, and more to gain backlinks and popularity in the domain.
Become Locally Recognized and Accessible
You can't attain local search ranking until and unless you work for that. That is where local SEO becomes your much-needed forte in local plumbing marketing efforts:
Claim Your Google My Business Profile
The first and foremost thing to do is create your Google My Business (GMB) profile.
Your target customers are within a defined area, and when they search for you, you would want to appear higher-ranked in the search results. That is where GMB becomes much more critical.

A search for 'Plumbers New Jersey' shows some results on the map, with brief info about them on the left, called the SEO local Google 3 pack. To appear here, you must first claim your listing, filling out the form completely.
Name, Address & Phone Number (NAP) Everywhere
Wherever your business is listed online, including the GMB page, your site, local directories, local citations, social media channels, and more, ensure that your NAP info is accurate, detailed, and correct.
Build Local Citations – Get Listed in Local Directories
The better you build local citations from authority sources, the more your chances of appearing on top in local search results. Submit your business listings with up-to-date and complete information on local directories, including Google, Yelp, Angie's Lists, Bing, Thumbtack, Porch, and more.
Garner Reviews on Local Networks
72% of people are more likely to trust a local business if it has positive customer reviews. They don't just look for businesses on local citation and such sites but also leave reviews and ratings to help others out. So, when your business listing on Yelp, Google, and other sites is filled with positive responses, it will develop brand credibility and trust.
Local Advertising
To make your presence felt local, advertising platforms like Nextdoor could provide your business with a big boost. Getting started on this network which is a part of the Facebook Audience Network (FAN), is simple and easy.
Earn Social Proof with Google Guarantee Badge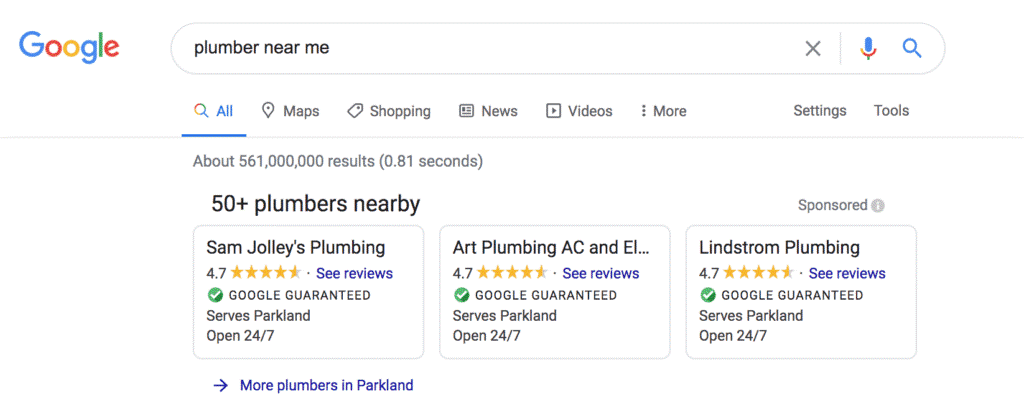 Do you see the 'Google Guarantee' badge under the rating stars in the above ads? Google has specific local service ad criteria that you can leverage for your plumber marketing campaign. When you pass Google's local services screening and qualification, you become eligible to earn the related badge. This can serve as the social proof that could be a big boost in your plumbing marketing plan and to develop brand credibility.
Even when you are not part of the Google local service ads, you can get the badge by paying a monthly fee.
Paid and Social Channels for Plumber Marketing Strategies
Pay-Per-Click (PPC) Advertising
Want instant results in SERPs? Then there's Pay-per-click (PPC) for you. While organic (SEO) is a process that takes time, PPC is an effective paid plumbing advertising idea that helps to get found on the first page of Google search results immediately.
However, please don't assume that it happens quickly and easily. You have to have a clear strategy for keyword research, and based on analytics, performance metrics, and competitor analysis, ensure to proceed with your bidding meticulously. With us as your proactive plumbing advertising agency, you can rest assured that we will take care of that.
For a search query 'plumber in Boston', the search result will show PPC ads like: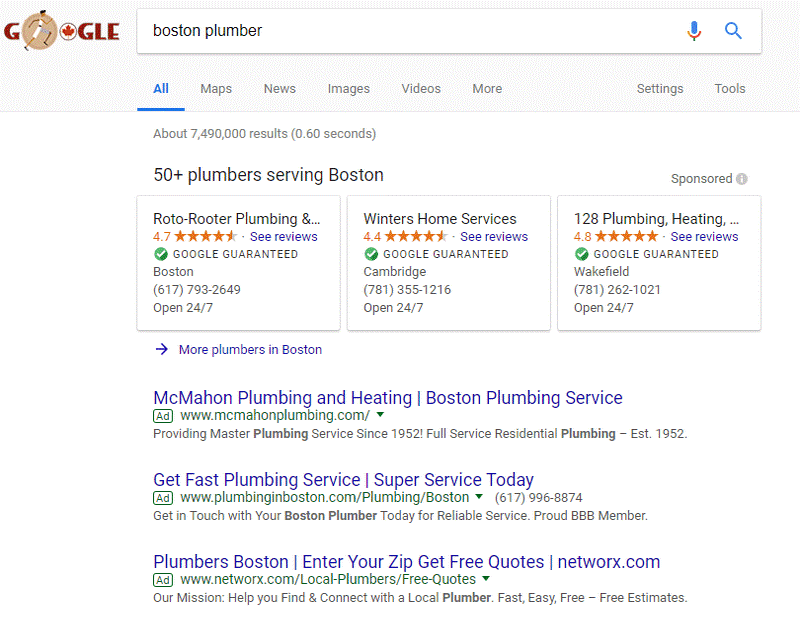 Facebook Advertising
With over 2.96 billion monthly active users, Facebook is the world's most widely used social media network platform. There is no doubt that a large chunk of your potential customers is on Facebook.
While you can always have a free presence on this platform, targeted Facebook advertising for plumbing ads can provide you with deep penetration. This can be validated by the fact that Facebook ads reach over 63% of all Americans who are over 13 in age.
There is no doubt that with such staggering stats, and also the fact that the average Facebook ads cost-per-click was $0.5 in September 2021, you cannot ignore the potential plumber ads can bring for you.
Although you may find it costly, when you work through a strategic plumbing advertising process, you will gain an excellent conversion rate.
People Love Videos
Who says video marketing is for media houses and the entertainment industry only? On the contrary, in the home service business, videos can be the differentiating factor in your plumbing advertising campaign.
More than half of the consumers want to see more videos from brands and businesses.
91% of businesses use video content as a proactive digital marketing tool in 2023.
For plumbing video marketing, follow the below tips:
Ensure that your website contains at least one video, which could be:
Your office tour
An educational video
A team activity
A training video
An industry insight video
Videos related to your service
And more
Landing page videos, blog posts with videos, and other video campaigns potentially increase your conversion rate. Ensure to keep these under 2 minutes.
Plumbing Social Media Marketing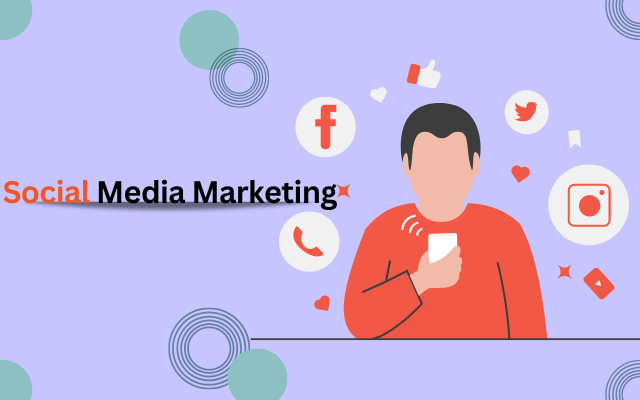 There is no doubt that social media use is on the rise. And it isn't only about catching up with your friends. It's also where people catch up with what's happening around them. Social media marketing has been well leveraged by brands for years and is one plumbing marketing strategy that you cannot afford to miss out on.
Strategy to adopt for your digital plumber marketing campaign on social media:
Setup your profile across different platforms, including YouTube, Facebook, LinkedIn, Twitter, Instagram, Pinterest, and more. Not one two, but all must be leveraged for maximum gain.
Be consistent in what brand voice you create there and what personality you reflect there.
Be consistent in creating and posting content there. You shouldn't just be present there, but you need to interact with the community.
Not just your target customers, but also connect and engage with industry names on social channels.
Always be quick, polite, and thorough in responding to comments, grievances, and other communications on social media.
Incorporate social channel icons into your website at the footer, in plumbing marketing materials, email signatures, business cards, brochures, and more, to give people quick access to connect with you.
Make use of different content forms including blogs, photos, videos, or more. You can not only share it on one platform but can cross-post it on Instagram, Twitter, and more.
Email Marketing
Email marketing is one of the oldest forms of marketing to reach out to potential customers. It also needs to be at the core of your digital plumbing marketing efforts.
By 2025, the number of email users will grow to a whopping 4.6 billion.
You can expect a £42 for every pound spent on email marketing.
Emails with personalized subject lines have a 50% higher open rate probability.
But as almost all marketers resort to email, you need to stand out from them by:
Create interactive emails by including elements like video.
Keep the subject catchy and the whole communication concise and personalized.
Focus on what customers want most, including suggestions, articles, Q&As, sales and discount promotion, addressal of plumbing worries, reminders of maintenance and service, and as such.
Create customer referral programs that will make them feel privileged.
Spread Your Word Out with Content Marketing
90% of consumers expect brands to provide them with content. And that should be meaningful and valuable, so they can know about the brand and business and develop trust.
Without a clear path for comprehensive content marketing, no online plumbing marketing implementation can be complete.
Cover Up Different Content Verticals
As shown in the image above, you should leverage different media formats, including blogs, articles, social posts, shares, and images, along with PRs, e-books, infographics, and more.
Create a Variety of Content to Establish Your Expertise
Around 77% of online visitors read blogs. Blogging is the most common and effective way to spread your word out and reach a broader base. Well, it doesn't undermine what other forms can do, but blogging is the most preferred method for marketers.
Your plumbing marketing content approach should include different themes, including how-to's, tips and tricks for plumbing maintenance, educating them on plumbing, industry news, insights, updates on industry and business, and routine surveys, contests, and as such that hook your prospective customers. Ensure to follow a set and regular posting schedule.
Focus on Long-Form Content
Content with over 2000-word length is the most appeared in Google search results.
You should focus on creating long-form content, considering topics that you can expand on, not just for your plumbing website but for your entire plumber advertising campaign.
Not all posts have to be lengthy, but once per week could boost your plumbing advertising effectively. Focus on creating in-depth long guides that serve as advice for people like when they are undergoing renovations, or become their go-to problem solver, or provide a rich dashboard of knowledge.
Work on Your Online Reputation with Profound Plumbing Marketing
Suppose a customer searches for services related to what you provide. While your website is ranking on the first page for that query result, they come across a negative review about your brand.
Even though you are ranking high, it's highly possible that the negative result will sway them away.
That is the power of online reputation. It can make or break your plumbing brand credibility.
Online Reviews
If no one is writing positive reviews about your plumbing company, and even if you aren't getting any reviews, your brand isn't reflecting any good reputation.
77% of people regularly read online reviews when looking for a local business.
Online reputation is all about what people think about you and your brand. And believe me, this has to be good for your brand to shine. Positive reviews have the same effect as a personal recommendation and form a critical approach for a plumber marketing agency.
Reviews Build Brand Credibility – The more positive reviews your brand earns, the more trust people have in your brand.
You can deduce from the above image that a high review rating or score greatly influences a buyer's decision.
Reviews Encourage Communication – When people leave good (or even bad) reviews on your site, you have a chance to connect with them. It shows you care for them, appreciate the good ones, and are ready to address the negative ones immediately.
Reviews Push SEO – It is obvious that Google factors brand trust when ranking a business. And more positive reviews mean people are more likely to click on your site link in results, thus establishing trust in front of Google.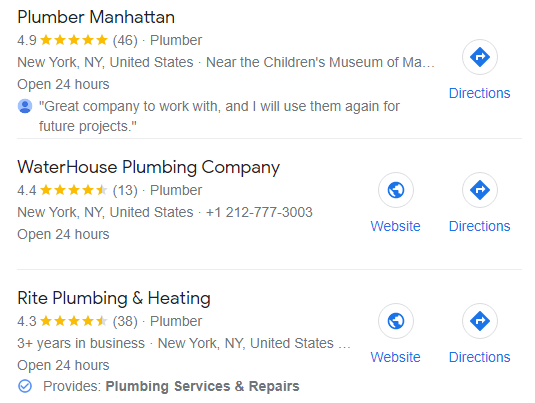 In the above example, plumbers having a high rate of positive reviews gain a better ranking in Google Local 3-Pack results.
To get more positive reviews:
Reach out to your customers and request them to leave feedback. Ensure to respond with a thank you for each positive review.
Connect immediately with customers posting negative reviews, understand the issue, and address that proactively to turn those into positive reviews.
Connect with your customers on social media and engage with them. It helps them to know you and your brand and develop a relationship that encourages them to spread the positive word about you.
Show off positive reviews on your website that acts as social proof, building your overall reputation.
Managing reviews is something you might not be able to do on your own entirely. Your plumbing marketing company can effectively do that for you.
Focus on Customer Service
Are you replying to each one of the queries you receive, and how fast?
Do you follow up on how your past customers' plumbing system is working?
Do you keep track of your customer's plumbing maintenance and service routine and notify them?
Do you provide referral programs for your privileged customers?
Do you have a dedicated communication management process where you instantly reply to each phone call (job booking or query)?
Even one poor customer service could mean over 60% of your customers switching to another brand.
The better your customer service, the better is customer retention rate. How you communicate and serve your customers, past, present, and future, defines how effective your customer service is. For plumbers marketing, you cannot overlook this step.
Additional Plumbing Marketing Strategies
Automate Some Basic Tasks
Several repetitive tasks are just plain boring. Automating these tasks saves you enough time and can create a smooth and fast process without having to labor through it each time manually.
Use software that makes it easy to make and send quotes, schedule appointments, and invoices after job completion.
What does all this do for your marketing efforts?
Well, everyone wants accuracy and swiftness in essential processes. And what better way to leverage technology for that. Your customers, present and prospective, will love that.
Connect with Local Contractors
Are you friends with a construction contractor that can ask you to undertake the plumbing work on their next construction site project?
Such partnerships can be very fruitful for your work scope.
Some Offline Plumbing Advertising Ideas and Campaigns to Use
Fridge Magnets – Create and distribute fridge magnets containing your name, business logo, and contact details. Such magnets could be the first thing homeowners refer to when looking for a service.
Van Billboards – Also termed as van wraps, such plumbing company marketing methods can help your brand take a mobile route to establish recognition.
Stickers – After installing plumbing equipment, place your brand stickers on that which could make people call you first when they need maintenance or service.
Flyers – A good plumber marketing strategy for new businesses is distributing flyers and postcards in their neighborhood.
Final Words
What is the best way to advertise a plumbing business among all mentioned in this article? What approach do you want your plumber marketing company to adopt?
SEO approach will take some time to show results. So, be patient.
Customers today want value. Your plumbing services advertising should be about giving real service value to the customers.
Hire a quality plumber marketing agency that knows how to get your business on the top and make your brand a known entity in your locality.
Plumbing advertising ideas involve a continuous and dynamic process. Keep up with the trend, and adopt a multiple-channel approach.
Test, Monitor, Reassess, Repeat!
Tests and benchmarks are necessary to evaluate how the plumbing marketing is working out for you.
Use tools like Google Analytics to get a fair and clear idea of how your weeks and months of efforts in digital marketing is panning out.