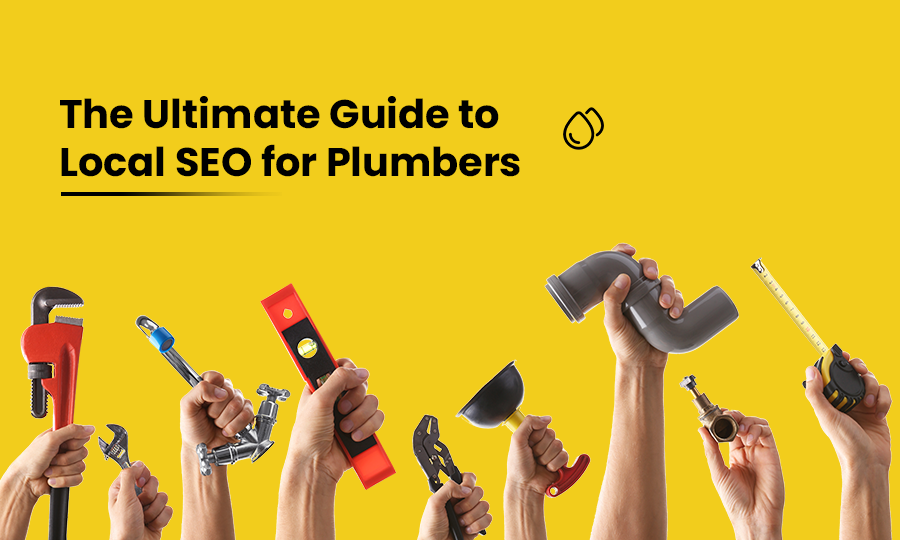 There are about 126,929 plumbing businesses in the United States. While states like California and Texas have the most number of companies, Delaware and Wyoming have the least. Thousands of people send queries regarding local plumbers' services. The crux is the plumbing industry is booming, and if you want to reap profit from it, you should certainly hire a company that offers local SEO for plumbers' services.
Why do you need Plumber SEO?
Because you aren't as famous as Mario or Luigi from the Mushroom World! Also, because it isn't the1900s and traditional marketing has taken a backseat.
And even if you were as famous as Mario and Luigi, you would have still needed to optimize your website with plumbing SEO in 2023 because of the sheer competition!
While the plumbing industry remains highly competitive, it is projected to experience substantial growth from 2023 to 2027, becoming a $40.97 billion dollar industry. You can dip your feet in the profit pool too, if you are successful in offering your services to prospective customers at the right time through the help of local SEO for plumbers.
The number of plumbing businesses saw a rise of 0.6% from 2018 to 2023. It is expected that this number will go up as the years pass by.
In this ultimate guide on local SEO for plumbers, we will elaborate extensively on why local plumbing SEO is important, what factors Google considers while ranking local pages, and related topics.
Read on to learn more about these;
What is Local SEO for Plumbers & How is it Different from regular Plumbing SEO?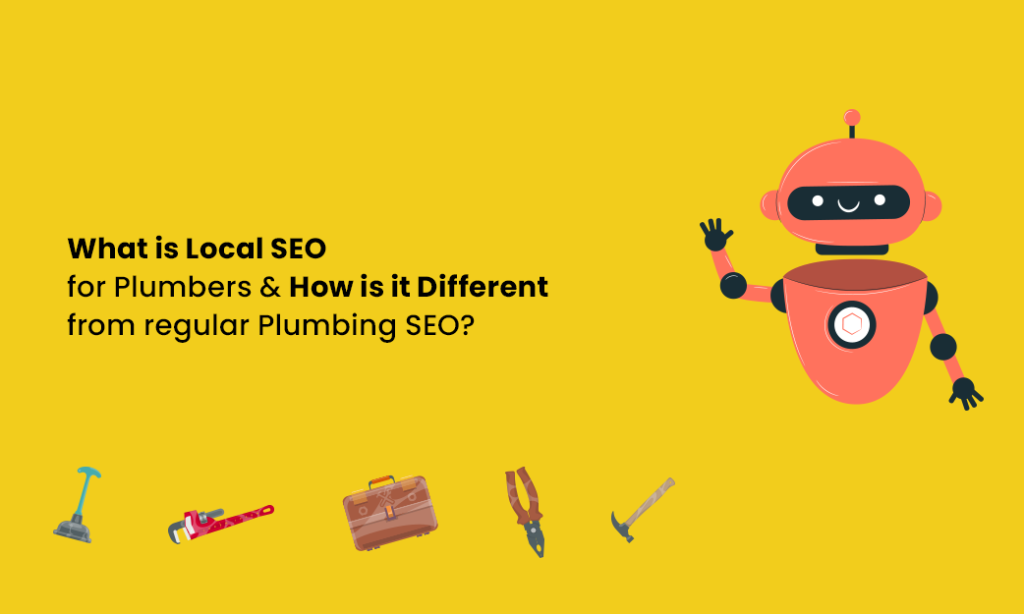 First, let us get into what SEO is in brief, and then we shall delve into what local SEO is for plumbers.
SEO is search engine optimization. It is a term used for cumulative practices by website owners or Local SEO Strategies for Plumbers to help rank a website higher on search engines like Yahoo, Bing, or Google.
It involves practices like creating relevant texts with high readability scores, using images or infographics, Meta tags, relevant keywords, and heading tags. Basically, it is everything that helps GoogleBot or other web crawlers to read through the text with ease. Once a crawler enters a webpage, it determines the relevancy, readability, and usefulness of a page. The crawler also analyzes the authority of the domain before ranking content.
For instance, if you own a plumbing business, doing SEO best practices for plumbers is a good way to increase organic traffic. You should also invest in buying a domain with authority instead of going with a new one. It helps in quicker ranking on the search result pages.
How is Local SEO for Plumbers different?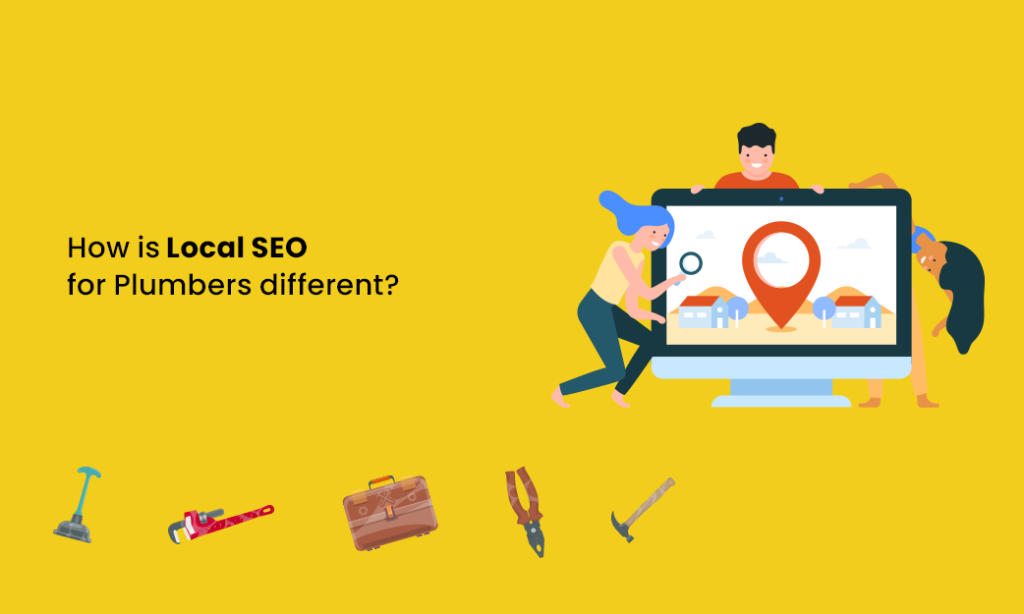 It took Google only a short time to understand that while searching, especially for services, people want to see results that they can access or approach physically. Hence, the whole concept of local SEO came into existence.
Optimizing local SEO for plumbing services puts factors like enlisting in local plumber's directories, NAP SEO optimization, and geo-targeting at the center. In the case of regular SEO, these factors are important, but not absolutely vital.
A majority of people in the United States search for services online. With a location detector, google can read your location and can show you results according to proximity and relevance.
Want to test Google's local SEO ranking system? Try doing the following;
Type "best plumber SEO services" in the search engine and search while you are in the office. You will see a set of results. Now try searching with the same keyword but from your home. You will see different results (this will work only if your office and home are in different localities).
Previously users had to search with keywords like "top 5 plumbing services near me". Now search engines have become advanced enough to show you results even if you type the keyword without the "' near me" suffix.
8 Must-Know Factors for SEO Success for Local Plumber Business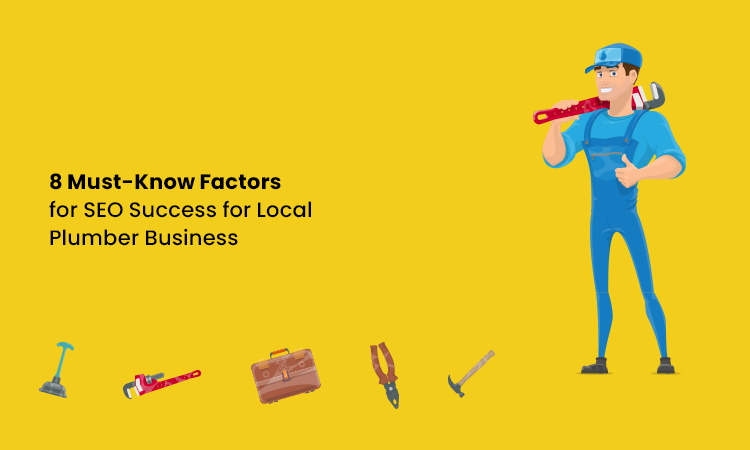 Local rankings have become a crucial factor in the cases of the service industry. Doing a successful local campaign can completely revolutionize your plumbing business in terms of brand reach and sales.
Now that we have given you a gist about Local SEO, let's have a look at the most crucial factors that come into play for local SEO for plumbers. We are listing 7 most crucial ones here;
1. Optimizing Google Business Profile Can Make a World of Difference
Setting up a GBP profile is arguably the single most vital local SEO ranking factor. If you are unaware of Google Local marketing, you can go through this guide on Google Maps marketing to help yourself take the first step.
While optimizing GBP, you need to focus on 3 distinct elements. They are;
Domain Authority: The authority of a domain affects the general and local ranking of a website. If you want to optimize the local SEO for plumber businesses, you need to get a high-authority domain. For a plumbing business, purchase an old domain with quality backlinks from the same niche.
Business Title: The title of a business can affect its local rankings to a great extent. Although geotargeting helps boost local ranks in the SERPs, the name of your business holds primary importance. For example, someone searches for 'Top Plumbing Services in Santa Monica,' and you market your business as 'Plumbers Hub in Santa Monica.' Google is likely to pull out your name to the top for that person.
Chosen Categories: While setting up Google Business Profile, it lets you choose 1 primary category and up to 9 additional categories. It's important to follow Google's guidelines for representing your business. For example, if someone in Salem searches with the phrase ' emergency gas plumber near me,' and you have a plumbing company in Salem with 'gas plumbing' as one of the additional categories in your Google Business Profile, the search engine will make your name pop up on the user's screen.
2. Online Reviews from Customers Builds Trust
Reviews are user experiences in written form. Reviews are a mirror image of the quality of your services. Google gives importance to online reviews for ranking plumbing websites. Third-party reviews, first-party reviews, and Google reviews are the three types of reviews that this search engine takes into consideration.
However, there are certain factors that search engines take into consideration for local plumbing businesses. They are;
Type of reviews: Search engines consider whether the reviews are text-based or textless such as stars or emoticons. Also, it takes into consideration whether the reviews are from your previous customers.
Recency: Whether the reviews are new or old. Google gives more importance to recent client/user reviews than outdated ones.
Diversity: Search engines take into consideration the number of platforms the reviews are coming from. It is always better to have reviews from multiple sources for a boost in ranking.
Frequency: Optimization of local SEO for plumbers also depends on the frequency of online reviews.
3. On-Page Optimization: It's All About User Experience
Local plumber SEO rankings work the same way as general SEO rankings. As we know Google and other search engines give prior importance to user experience. Hence, you need to ensure that your plumber's website offers value to the visitors.
We are listing down the points that you need to take care of to ramp up the plumber SEO strategy:
Content Optimization: The prime factor of on-page SEO is content optimization. For a plumbing website, add valuable content to your website. It helps new prospective clients understand that your crew consists of experts adept at handling their jobs. Having relevant content also helps with search engine optimization.
Keyword targeting: Targeting relevant search terms or keywords is the backbone for local business SEO rankings. It is best to target a combination of high-search volume, low-volume, and long-tail keywords for optimum results. For local SEO for plumbers service, keyword rankings on local search result pages can increase potential customers extensively.
Quality: Maintaining the quality of the published content is another factor for optimizing local SEO rankings for plumbers. Quality content helps google crawl easily on your website, which amps up rankings.
Meta Descriptions: It is like a pitch to potential clients. It briefly tells what a webpage is about to the internet user and the search engine. Google reads it and shows relevant websites when anyone searches for local services.
Heading Tags: These facilitate crawlers to read through any article for ranking purposes. Heading tags or H tags sectionalizes the content into various small segments instead of one chunk. It increases readability for users as well as search engines.
Title Tag: This is the H1 tag of the content or the text that appears on the search results. Keeping your title tag relevant and attractive is one of the primary things to get more customers to your business website.
URL Structure: Google lays down certain guidelines for URL structure. The rule of thumb is to keep it simple, use UTF-8 encoding, country-specific domain, and localized words in the URL. Try avoiding non-ASCII characters, underscores '_,' and long ID numbers.
Internal Linking: It connects content and gives search engines an idea of website structure. It improves rank on SERPs as it helps pass authority to other pages.
4. Make Yourself Known through Plumber Business Directories & Online Citations
Online citations work how the Yellow Pages used to work in the good old days. Online citations refer to listing your business NAP (name, address, and phone number) on several online platforms so that people can contact you.
Where can you list your plumbing business for local SEO optimization?
Search Engines: Search engines are the biggest players that aid in lead conversion. Hence having a listing in all major search engines like Google, Yahoo, and Bing is the first thing to do.
Data Aggregators: Enlisting your company's NAP with data aggregators is essential. These collect information from various sources and store them. Local business directories are often approached by companies and hubs when they require experts from a particular type of service industry. Search engines derive data from data aggregators sometimes. In the US, the four major players in data aggregation are Localeze, Infogroup, Factual, and Acxiom.
Unstructured Citations: This can happen on any platform that is not related to your specific industry type. For instance, citation in a news article, social media, etc.
5. Visitor Behavior Impacts Online Visibility
This factor sums up the behavior of the visitors on your webpage. These are behavioral signals of the visitors denoting how they interact with your website and business listings. Search engines give priority to websites and listings with high visitor interactions via actions like;
Click Through Rate: When your plumber business listing comes up in the SERPS, search engines like Google, Bing, and Yahoo observe how often internet users interact with it. This signals the interest and relevance levels of potential customers to search engines.
Clicks to Call: Plumbing businesses list their NAP with the big players of the SEO world. Clicks-to-call ratio can impact the local search results. Search engines take into consideration how many people make phone calls via the option.
Dwell Time: It denotes the amount of time people are spending on your plumbing website. The more time they spend, the better it is for search engine rankings. More dwell time means that visitors have found something important or relevant to suit their needs on the page.
Social Media Check-ins: Social media check-ins validate your geographical location. It tells Google maps about the accuracy and legitimacy of your location, which helps boost local SEO rankings.
Clicks for Directions: The number of people clicking on the directions button to reach your location can boost the local SEO for plumbers.
6. Inbound Links & Internal Links Boost Local Search Rankings
Two types of links influence the local SEO for plumbers— internal links and inbound links. The former type connects one page to another page of the same website. The latter type of links is featured in a third-party source that leads visitors to your page through referral traffic.
Let's have a look at what micro factors come into play in this segment;
Authority: Domain authority and page authority are factors in how likely a website/ webpage is likely to rank in the local listings or the search engine results. The number of quality backlinks boosts authority.
Relevance: This looks into the factor of whether or not there is a clear relevance between the sites sharing a link. Relevancy is yet another factor that shoots up local search engine results.
Anchor Text: It literally refers to the words the visitor clicks on to reach a webpage, i.e., the words which have been hyperlinked. Does it say 'Best Plumbing Tips for Beginners' or 'Click Here'? It is advisable to link a webpage to relevant text.
Diversity: It denotes the variety of sources the links are coming from. It is better to accumulate links from a number of sources than from just a single source.
Quantity: The number of links on a plumber's site can influence local SEO. With more quality backlinks, the authority of a service page increases, and so does the local SEO rankings.
7. Mobile Optimization Helps You Cater To the Masses
Over 90 percent of internet users access the net via mobile devices, and hence, mobile SEO for plumbers must be optimized doe that your business appears more on local searches.
The factors that affect the local SEO for Plumbers or any other service-related webpage are;
Text optimization: Text in this context is the content on the web pages of a site. As opposed to desktops or laptops, mobile screens are way smaller. Hence the paragraphs of content should be shorter for optimizing mobile SEO. Otherwise, users might need help to skim through the text, which leads to higher bounce rates and lower domain authority.
Space optimization: Leaving spaces between paras and lines helps your local SEO rankings. It makes content more readable, especially when a visitor operates his mobile.
Image optimization: Using mobile-friendly images is a prerequisite for good local SEO rankings. Resizing images, using Alt tags, image titles and captions, and optimizing image names are some of the things in this aspect.
8. Never Underestimate the Power of Social Media Marketing for Local Reach
Optimizing plumbing SEO for search engine ranking is the best possible way to attract more customers, you should never leave out social media marketing for better online visibility.
Let's have a look at the bases you must cover while building your social media presence:
Relevant Business page: Setting up your social media page is the first step. Ensure that it contains the name of your plumbing business, the address, and contact details.
Targeting Audience: Social media allows you the feature to target the audience of your locality. Ensure that you make full use of this feature to get more phone calls from potential customers. Enable your location so that google maps can guide the customers who want to reach out physically to you.
Local Link Acquisition: Social media platform is one of the best places to acquire natural local links that are generated as a result of content sharing across the local visitors of your page. However, do make sure that these links are no spammy in nature.
How to Increase Your Profit in the Plumbing Business?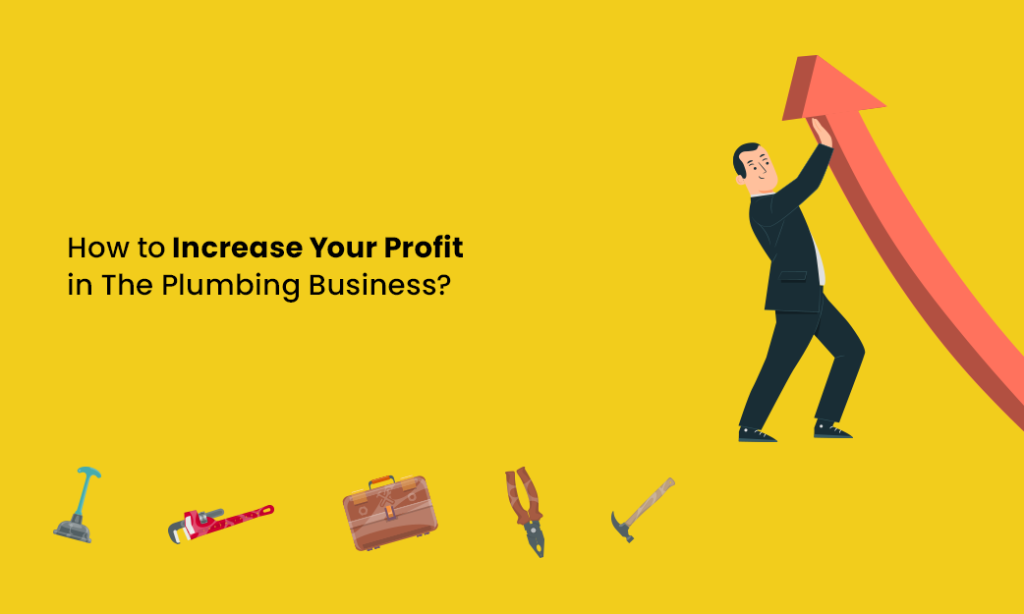 There are three factors that contribute to profit;
Impeccable services
Good Reputation
Extensive local reach for increased sales
The first factor depends entirely on you and your crew. You can contact a professional SEO company to optimize the second and third factors.
While choosing scrolling through a host of SEO companies to choose the best one, ensure that you know about the company's reputation. You must make sure that your SEO efforts consists of meticulous technical SEO, Off-page SEO apart from local plumber SEO optimization.
Let's Delve Deeper: Why Do You Need Local SEO for Plumbing Business?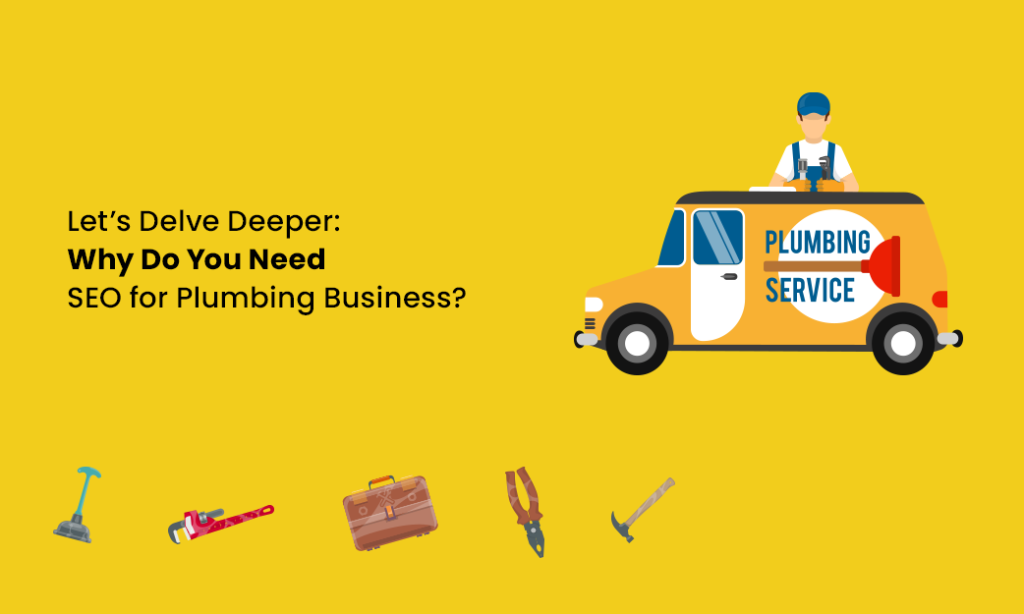 Every month there are about 3.2 million searches for ''plumbers near me'' in the United States. And this volume is contributed by the US homeowners section alone. There are 5 other categories as well. Let's have a look at the types of customers who search for local plumbing service.
The 6 Types of Customers;
Before we go further, let's first look into how many types of customers you will encounter;
The homeowners
Small Business Owners
Real Estate Agents
Property Managers
Contractors
Restaurant owners
If you want to bag good business deals, it is imperative to reach out to prospective customers with the help of Local SEO for plumbers.
If that want convincing enough, here are some more stats that will help make up your mind;
79% of homeowners prefer to look on the internet for plumbing searches.
90% of them call one of the top three results
Hundreds of thousands of people search for 'plumbers near me' and 'emergency plumbing services' or 'top plumbing services in my area' every single day. The number is exponentially higher on the weekends.
Local SEO for plumbers will help you reach out to more people in your locality. Optimizing local plumber SEO might give you an edge in the plumbing industry as far as your locality is concerned.
Benefits of Local SEO for Plumbers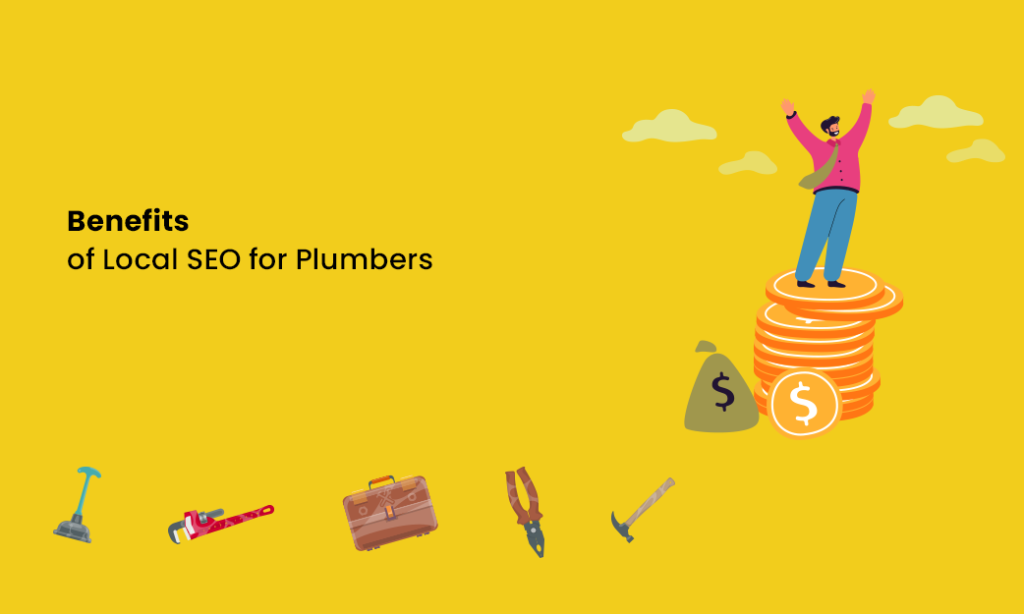 There are several benefits of optimizing local SEO for plumbing companies. Let's have a look at how local plumbers can be benefitted from adopting an SEO strategy.
1. Boosts Organic Traffic
Local SEO brings organic traffic to your plumbing webpage. It builds site authority. Whether you own a big plumbing company or are an individual tradesperson, local SEO makes your trade shine. It is the best way to let the ones in your locality/ area know about your services.
2. Increases Local Leads
No matter what kind of tradesperson you are, a mechanic, an electrician, or a plumber, Local SEO helps people discover your business. Combined with this, if you are a skilled person with good reviews on your website, it will make you the choicest plumber in your area through local plumbing lead generation.
3. Higher Conversion Rates
The leads that are generated through local SEO have higher conversion rates.
When people search with key phrases like 'emergency plumbing company near me', they are looking for services at that very instance. There is an immense probability that they will likely call the first contact details they find on the SERPs. If your services are displayed in Google map pack, you can get prospective buyers.
4. Constant Business Growth
Optimization of Local SEO for plumbers facilitates constant business growth by channelizing more traffic to your website. It leads to more popularity, lead generation, conversion, and sales, which translates to business growth. If you want to boost profits, spending resources on local SEO for plumbers is a vital success indicator.
5. Curtails Marketing Cost
Traditional ways of marketing, such as posters, billboards, pamphlets, and radio and local TV channel advertisements, cost a chunk of money. Optimizing your website with plumber local SEO services can curtail 75% of the total cost if you entrust it with local SEO strategies for plumbers with expertise in the field.
6. Gives you An Edge
58% of local businesses don't optimize their business with Local SEO. If your competition is still using the traditional methods of marketing, getting local SEO services for plumbers will give you an edge over him. It also helps with getting prospects from not only your immediate area but also from extended surroundings.
7. Enlisting in Google 3 Pack
Local SEO can be optimized in two ways. First, by ranking your plumbing website higher on the SERPs, and second by enlisting your business in the Google Local Pack. An effective plumber SEO strategy includes both. The local 3 pack shows Google's pick of local companies in a particular area. Google mainly uses proximity and relevance, among other factors, to rank businesses.
8. More Local Reviews
Positive reviews help build trust. It is a driving factor for lead conversion. As your business expands, you will have more reviews. Assuming that you will offer the best plumbing services to the customers, there will be an increase in positive reviews on your website, which in turn will get new clients.
6 Mistakes to Avoid While Optimizing Local SEO for Plumbers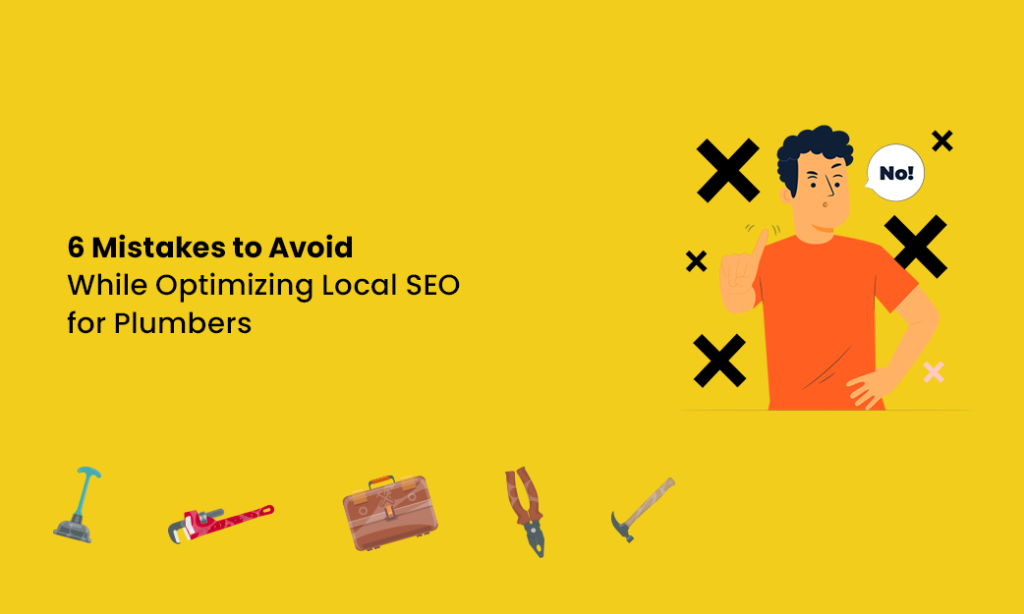 We have covered 6 factors so far that detail how you should conduct Local SEO for plumbers campaign. If you think that this job is a tad much for you, you can always seek the help of local SEO for Plumbing Companies.
In case you decide to take the matter into your own hands, read on to learn the things you should avoid while doing local SEO for plumbers. It is equally important to know what NOT to do, along with doing all the right things.
Here's a list;
1. Miscategorizing Google My Business Profile
Go through Google's guidelines for representing your business before you start your campaign for local SEO optimization. Avoid listing your business for ineligible locations, and never engage in unethical SEO practices. Restrain from placing your Google my Business profile in the wrong category. It might lead to a severe dip in your local rankings.
2. Incentivizing Business Reviews
Creating fake reviews or incentivizing reviews is one of the most common mistakes in service industry-related websites. Various worthy websites have fallen prey to this type of practice. Google values strict ethical practices in all areas. Also, refrain from posting third-party reviews, as Google can flag these.
3. Putting Forth Wrong Citations
If search engines or social media find out that there is any contradiction, conflict, misinformation, or duplicate information in your citation listings, the platform can take down your business page. Plumbing business owners should also strive to get ample citations on credible platforms to stay in business and maintain their online visibility.
4. Not Keeping a Check on the On-page Factors
Plumbing-related websites which contain malware or have been hacked might face troubles in the race for organic rankings. Unoptimized content can create the biggest hurdle in local rankings. Try publishing user-friendly content which is highly relevant, according to your niche, for validation.
5. Unethical Link Building Practices
Spammy link-building practices can lead to complications. Practices such as link buying can lead to the removal of your website from the SERPs. Avoid stuffing your website with low-quality links altogether.
6. Remote Location of Plumbing Business
Local SEO for plumbers majorly depends on the location of a business. In this case, your geographical location can affect the organic local rankings. For instance, if your business is located in a village in Nebraska, Google might not show your page at the top. Not because your website lacks anything but because search engines think that your listing will not be helpful to more people. In this case, search engines will instead rank a business that is located at the heart of a city over you, even if your competitor ranks low on other SEO factors.
Can I Do Local Plumbing SEO Myself?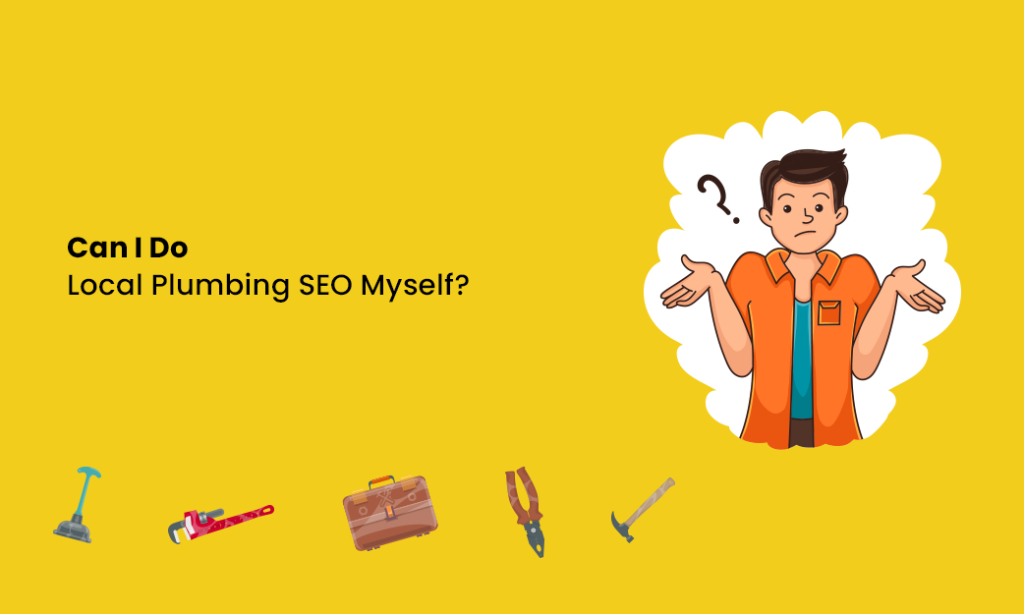 If you are a plumber yourself and wondering, can I do local SEO myself? You aren't alone. Many people think the same way to curtail costs. However, let us tell you that the price quotation of Local SEO from the best local SEO agency for plumbers isn't too high.
However, if you are lying very low on budget, doing local SEO is certainly possible all by yourself. You can do it to a certain extent all by yourself without having core technical knowledge. You can do on-page SEO, set up a Google business profile, buy a basic website, and use free SEO tools to optimize it.
We suggest you take the help of a Plumber SEO Company for things like advanced keyword research, building high-quality backlinks, getting quality citations, building website structure, etc.
Conclusion
To sum it up, search engines consider your on-page SEO, off-page SEO, Google business profile, citations, listings, location, mobile optimization, and domain authority, among hundred other factors before ranking your site on the top search results or giving you a place in the Google Local pack. If you want to boost up the local SEO for plumbers, take care of these important points while doing your local SEO.
In case you are making plumbing SEO efforts by yourself, add the Google search console to your website. It is a free tool that allows you to see Google Analytics. The console offers you insight into how your local SEO campaign is working. With the help of Google Analytics, you can see all the metrics and tweak your campaign accordingly.
Additional Resources: