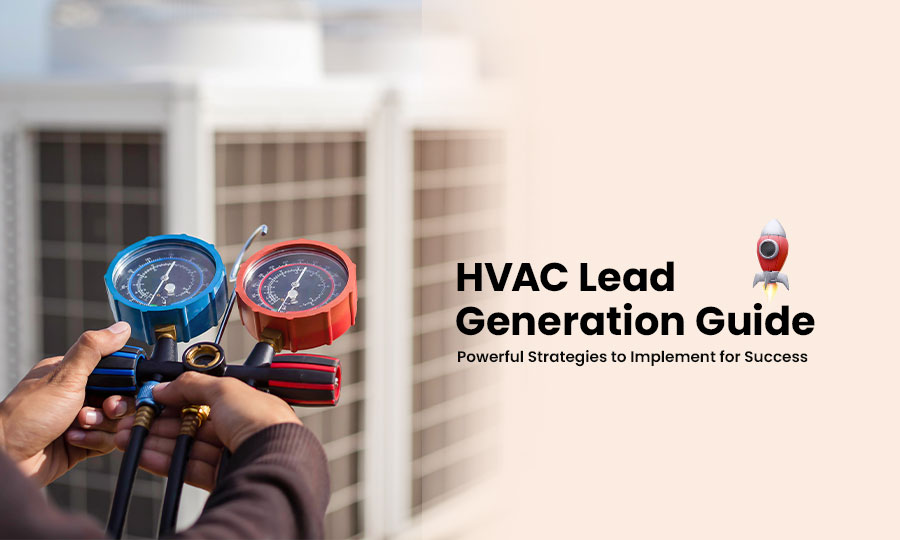 The Heating, Ventilation, and Air Conditioning (HVAC) industry is highly competitive. Whether you own an HVAC startup or you are an established brand, you need an aggressive lead generation strategy to stay ahead of the competition. But before, we get into the details of the matter, let's uncover what a lead is in the HVAC industry.
HVAC leads are your "ideal customers" with the highest potential to buy your products and services. These are prospects looking for HVAC system purchase, installation, or repair services for their commercial or residential properties.
As an HVAC business owner, you can streamline your growth by getting more customers and booking more appointments. But for that to happen, you will need to develop and execute effective lead generation strategies tailored to your HVAC business.
The primary goal of an HVAC lead generation strategy is to make your business appear at the top of search engines when customers look for HVAC services online.
In this article, we are going to walk you through the importance of lead generation for HVAC companies along with proven strategies that you can use to generate more leads and conversions.
Importance of Lead Generation for HVAC Companies
Around 67% of businesses consider the number of leads generated by content marketing to be the key metric to measure the success of their marketing campaigns. Without a lead generation strategy, your HVAC marketing efforts will not bring the kind of targeted results that you want.
Below is a list of reasons why HVAC lead generation is important:
Better Quality of HVAC Leads
HVAC Lead Generation strategies enable HVAC contractors to reach out to their target audience with the highest chances for conversion. Instead of targeting the entire demographic, using a focused approach ensures that you get visitors to your business that converts.
Grow Your HVAC Client-Base
The idea behind implementing a comprehensive HVAC lead generation framework is to help HVAC businesses get more clients so that they can get consistent sales for their products and services. As your HVAC company client base grows, it helps you set yourself up as an industry leader in your target market.
Build Brand Awareness
Startup HVAC companies that are in the initial stages of their growth can leverage lead generation strategies to make a name for themselves in the market. HVAC lead generation is a proactive approach, rather than a reactive one. It helps you get in front of your target audience through mainstream marketing channels which helps build brand awareness.
Boost Your Revenue
As the quality of leads improves, you start seeing more conversions which boosts your bottom line. In order to maximize the revenue through HVAC lead generation, you need to focus on addressing your target market's interests and pain points. HVAC lead generation helps you do that. These strategies offer you a cost-effective alternative for getting more clients as compared with traditional marketing methods.
Proven HVAC Lead Generation Strategies in 2023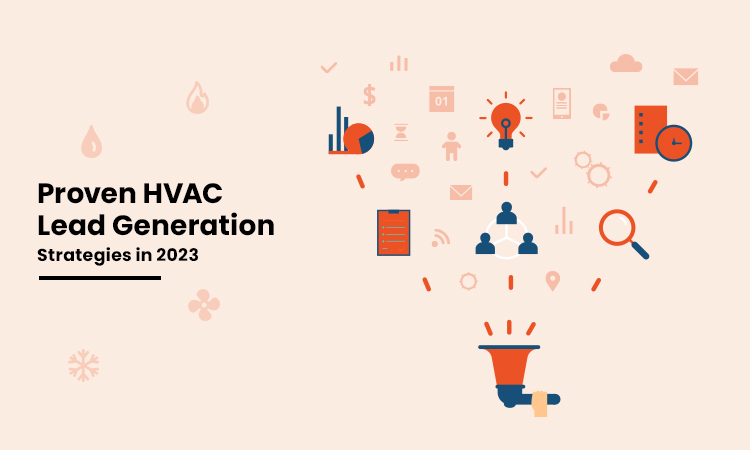 The HVAC lead generation landscape is always evolving. With new tools, technologies, and marketing channels being introduced every year, you need to come up with a plan of action that helps you drive results on a consistent basis.
Throughout the rest of this article, we are going to talk about a proven HVAC lead generation strategy that you can use to get more leads and conversions. Let's get straight to it:
1. Research Your Target HVAC Market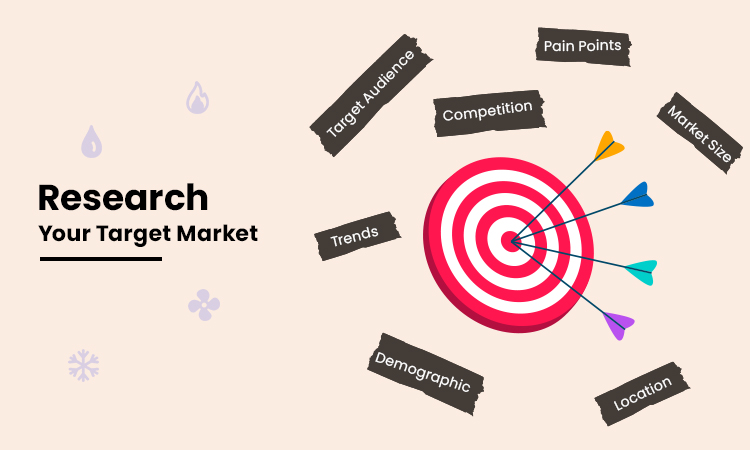 The global HVAC market is expected to be worth USD 280.1 billion by 2028, growing at 6.3% CAGR. Coming up with an effective HVAC lead generation strategy requires you to take a deep dive into the needs and preferences of your target market. You need to understand the struggles, pain points, interests, and buying behavior of your target audience.
As an HVAC business owner, your top priority should be to identify your target market in your local area. After that, once you have gathered the insights that you need to come up with an HVAC services lead generation strategy, you can start marketing your products and services in a way that speaks directly to the needs and preferences of your target customers.
Below are some of the things you need to consider when doing market research for HVAC lead generation:
Target audience
Pain points
Demographic
Location
Trends
Competition
Market size
2. Define Your Marketing Goals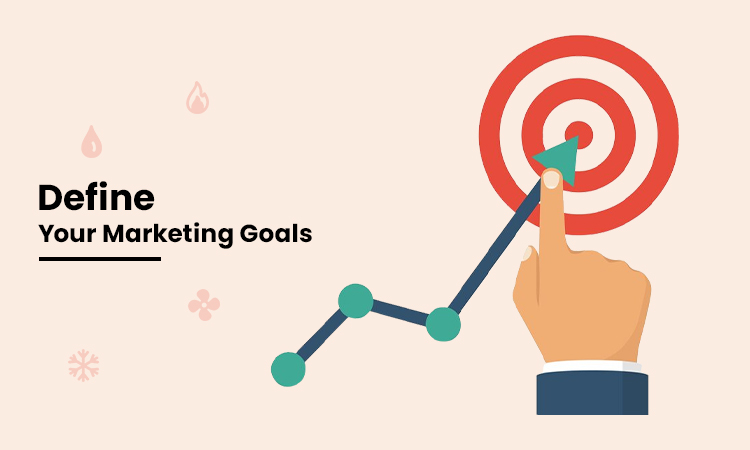 The best way to ensure that your HVAC lead generation strategy brings in great results is to establish measurable and scalable goals. You need to use quantifiable performance metrics to determine the success of your lead generation campaign.
When you set up a benchmark in place, it helps you stay focused on your goal. The most commonly used benchmarks for a lead generation campaign are the increase in traffic and potential leads on a month-over-month basis.
Implementing lead generation strategies through digital means gives you greater control over measuring the performance of the overall campaign. For example, tools such as Google Analytics help you keep track of your conversions and revenue. If you're interested to take your HVAC marketing efforts to the next level, dive deeper into the world of effective strategies, lead generation, and industry insights by exploring our comprehensive guide and expert's advice.
Using HVAC lead generation analysis tools gives you insights into the highs and lows of your current approach to lead generation. Based on these insights, you can optimize your approach to further enhance the number of leads and conversions for your HVAC business.
3. Optimize Your HVAC Website
You need to revamp and optimize your HVAC business website to get more leads. Make sure your website design is well-optimized, user-friendly, and offers easy navigation features to give the best impression to your potential customers. You can use the following website optimization strategies to enhance the impact of your HVAC lead generation campaign:
Optimize User Experience
Optimizing the user experience is about making your website easy to navigate for your target audience. You want an HVAC website design that is easy to use and helps your visitors find what they are looking for without any hassle.
Enhance Page Loading Speed
Website conversion rates go down by 4.42% with each second of load time. If your potential client has an HVAC emergency, they'll find it hard to show patience when looking for HVAC services online. And if your website doesn't load fast enough, you run the risk of missing out on potential conversions. So, make sure to optimize your website for speed for both desktop as well as mobile web browsers.
Make Your Website Mobile-Friendly
A mobile-friendly website that has quality content is sure to get you more leads. To make your website better make sure it has a clean, user-friendly design, well-placed CTAs, highlighted positive online reviews, and all your contact information written clearly.
Use Customer Reviews and Testimonials
If you have happy customers who are satisfied with the quality of your HVAC services, you can ask them to write a review that you can publish on your website. Client reviews and testimonials increase confidence in your products and make your potential clients trust your services.
Add an Engaging CTA
An engaging CTA can motivate your customers to take action that can lead them to hire your HVAC service. Make sure to place the CTA button on your site where it is easily visible. If the button is too far below or hidden among other options, your customers can miss it which will reduce your leads. Certain clusters experience a significant rise in CVR (Conversion Rate), with some even witnessing an increase of over 1,000%.
4. Implement SEO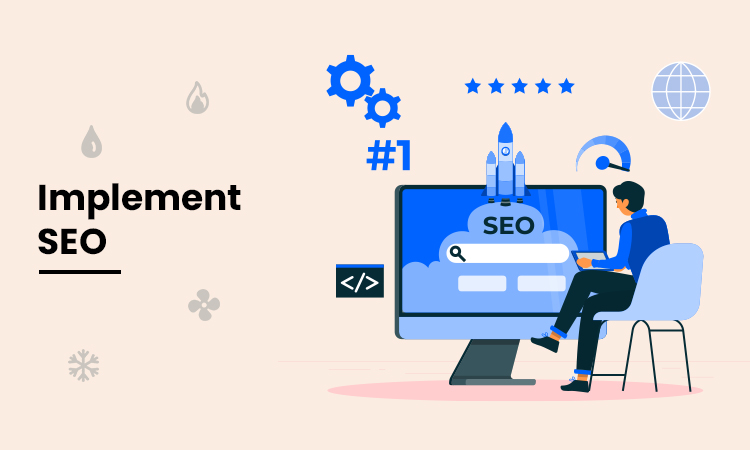 97% of customers learn about a local business by searching online, then using other channels. The most effective way to improve your HVAC lead generation is by appearing on search engine result pages. Search engine optimization (SEO) involves using top-ranked keywords related to HVAC in your website posts, business directories, newsletters, and social media posts.
When a user enters these keywords, Google displays their websites based on relevance, authority, location, and other SEO factors. Thus, by using SEO you can make your website more visible and stand out from the crowd.
Maximize your HVAC lead generation efforts with the expertise of a good HVAC SEO company. By utilizing professional HVAC SEO services, you can effectively optimize your website, improve search engine rankings, and drive more qualified leads to your business. Take advantage of the specialized knowledge and strategies offered by an HVAC SEO company to enhance your online presence and achieve significant results in lead generation for your HVAC business.
Here is how you can leverage SEO to increase your HVAC leads:
Keyword Research
You need to conduct thorough keyword research to find phrases related to the HVAC industry that you can target through your content. Once you have a list of keywords, you can use them in your content as well as the Meta tags of your website. This way, when your target audience searches for specific HVAC keywords, your business appears on the top of the SERPs.
On-Page Optimization
On-page optimization is about optimizing the on-page elements of your HVAC business website as per the search engine recommended guidelines. On-page SEO checklist for HVAC businesses includes optimizing headings, Meta tags, and images, as well as the website navigation experience.
Off-Page Optimization
Once you have optimized the on-page elements, you need to invest time and resources in marketing your website through off-page channels. You can do off-page SEO through link building, guest posting, social media marketing, PR, and using brand mentions to get HVAC leads.
Local SEO
If you want to boost the online visibility and ranking of your HVAC business, it's crucial to hire the best local SEO agency in India. With their expertise in local SEO strategies and knowledge of the Indian market, it can help you effectively optimize your website and target the right audience in your area. Through local search engine optimizations, HVAC businesses can drive organic search traffic that is specific to their area of service. Local SEO entails setting up Google Business Profile, getting online directory citations, publishing area-specific content, and targeting keywords based on the locality.
Optimize Your Google Business Profile
Every HVAC business must claim its Google Business Profile. Setting up this profile ensures that your customers can find your business on Google Maps when they are doing a Google search for HVAC products and services in your area. Add your physical business address and accurate contact details when setting up your Google Business profile.
Content creation
To make sure that your SEO strategy consistently drives leads, you need to keep coming up with useful and valuable content for your target audience. The content should be keyword-rich, addressing the most important and frequent issues of your target audience in the HVAC domain.
Create a News Letter
A newsletter allows HVAC business owners to share valuable information and resources with their leads to drive potential sales. Using a newsletter, you can build an email list of prospects who are interested in your products and services. After that, you can provide the list with helpful content to further build your trust in the target market.
5. Implement a PPC Ad Campaign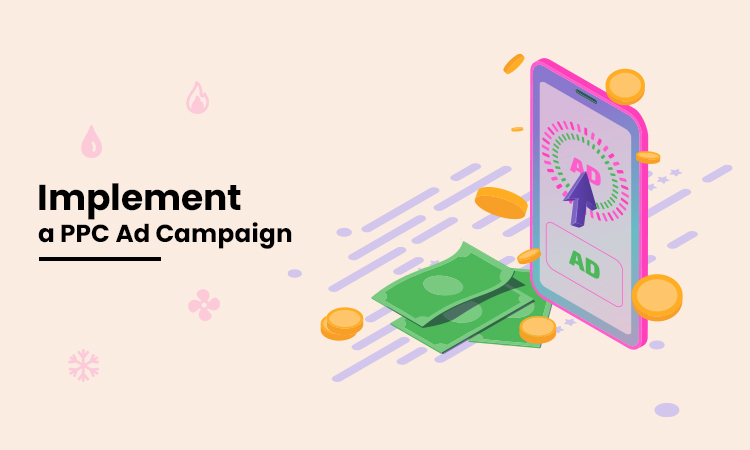 Companies all over the world are spending more than $164.6 billion U.S Dollars on search advertisements every year. Paid ads like Google local services ads or PPC ads have proved to be extremely effective for speeding up the HVAC lead generation process. Using paid advertisements, you can make your HVAC business appear in the top results of Google, allowing you to drive more leads in a faster way.
Paid advertisements are much more effective when combined with SEO. With paid ads like PPC you can reach out to more potential customers and the best part is you only have to pay the service for displaying your ad when someone clicks on it to reach your business. To execute PPC effectively, you need a reliable PPC management company that is an expert in this field and ensures your money is well spent.
Since ads drive your target audience to your website, the landing pages should be of high quality. These pages should load fast, and provide a solution to the problem that your target audience is facing at the moment.
And the best part is, Google tracks your performance metrics so that you can analyze what's working and what isn't with your PPC ad campaign. After that, you can make changes to your PPC formula by trying out different variations, till you get the results that you want.
6. Use Lead Magnets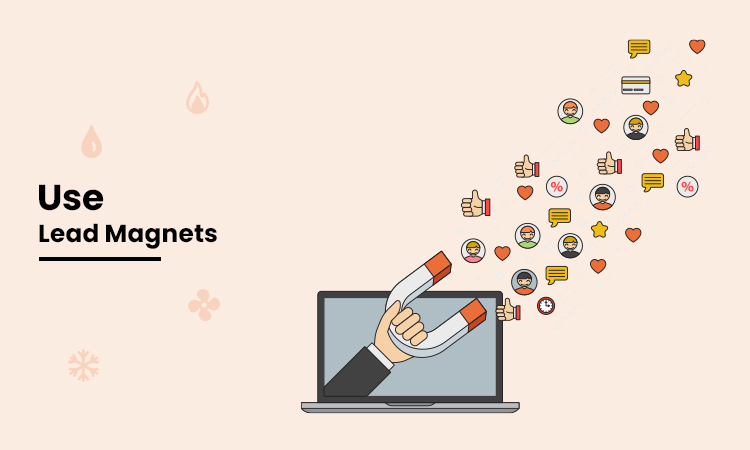 A lead magnet in digital marketing is a free asset or a special deal that is given to potential customers in exchange for their contact information. HVAC businesses can offer helpful eBooks, webinars, and guides to encourage them to provide you with their contact details.
Lead magnets help HVAC business owners build credibility and trust in their target market by offering value. Once the lead downloads a lead magnet, HVAC businesses can follow up with them through email. As your email list grows, you can start integrating the list into an email marketing campaign for your HVAC business.
7. Invest in Email Marketing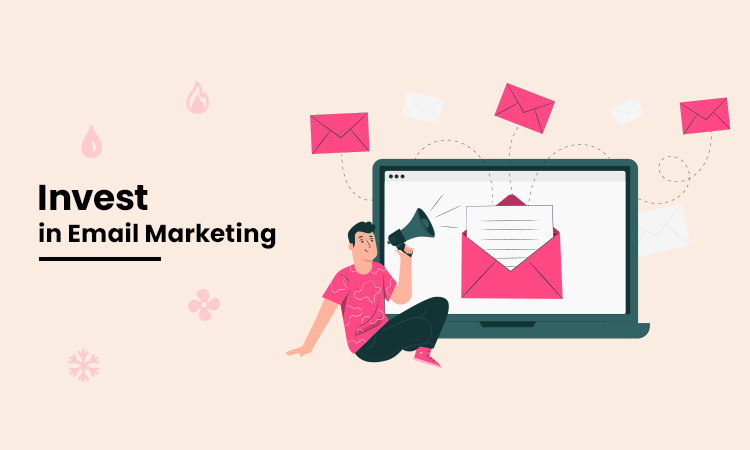 Once you have gathered enough contact details using a lead magnet, the next step is targeted email marketing.
Around 64.1% of small businesses are using email to reach their target customers. Sending emails to market your products and services allows you to connect with your customers in a more personal manner. You can send regular emails to inform your customers about new services and promotions.
Also, you can give them reminders about seasonal AC cleaning, furnace maintenance, etc. With email marketing, you can stay on top of the mind of your potential customers whenever they need HVAC services.
Email marketing is more targeted and it is designed specifically keeping in mind your business and customer base. This means the customers only get relevant information from your emails which shows you value their time.
Here are a few tips that you can use to ensure that your email marketing campaign delivers great results:
Send Targeted Emails
Instead of sending the same email to your entire list, send small batches of personalized emails to specific customer groups. For example, the email template for new leads should be different from the one that you use for your existing clients.
Provide Engaging and Valuable Content
Come up with engaging and valuable content in the HVAC domain that addresses the general concerns of your target audience. You can also update them about the latest HVAC technologies, tips, and trends that they should know.
Declutter Your List
The most important thing in email marketing is to keep your email list focused. Remove inactive contacts from the email and spend your time and resources on the leads that matter.
Avoid Spam Triggers
You should avoid the most common spam triggers such as the use of the word "free" or the "exclamation point" in your subject line. Also, we recommend using a trusted email marketing platform so that you can automate the entire process.
8. Leverage Social Media Marketing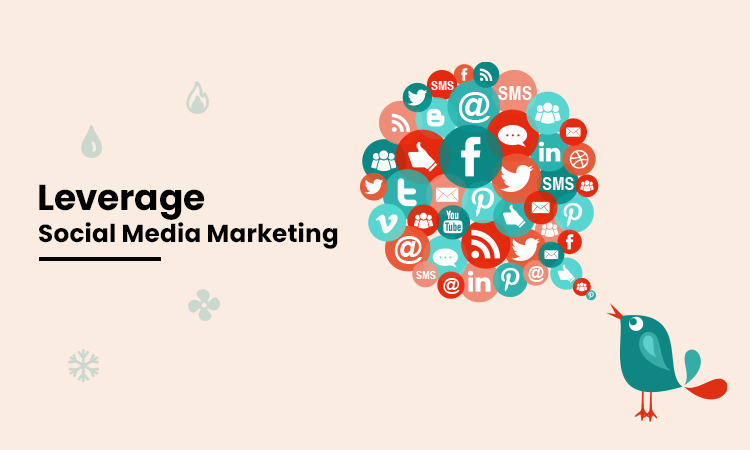 Social media marketing is a valuable HVAC lead generation tool that you can leverage to increase traffic for your business. Your goal should be to build a strong following on social media that you can use to drive more leads to your website.
You can share valuable written and visual content including images and videos on your social media channels to increase your presence. After that, you can run paid social media ads to drive traffic from social media channels to your website.
For example, you can start a targeted ads campaign on Facebook and Instagram to promote your HVAC services. Also, you can use Facebook Ad Analytics to further analyze and improve the performance of your ads campaign.
Also, to engage your target audience on a deeper level, you can host contests and giveaways to spark interest in your target audience. Remember to stay targeted in your approach if you want to drive quality leads from social media platforms. Consider partnering with a reputable social media marketing agency that specializes in targeting the right audience and maximizing your results. Their expertise and strategies can help you optimize your social media campaigns, engage with your target audience effectively, and generate valuable leads for your business.
9. Manage HVAC Customer Reviews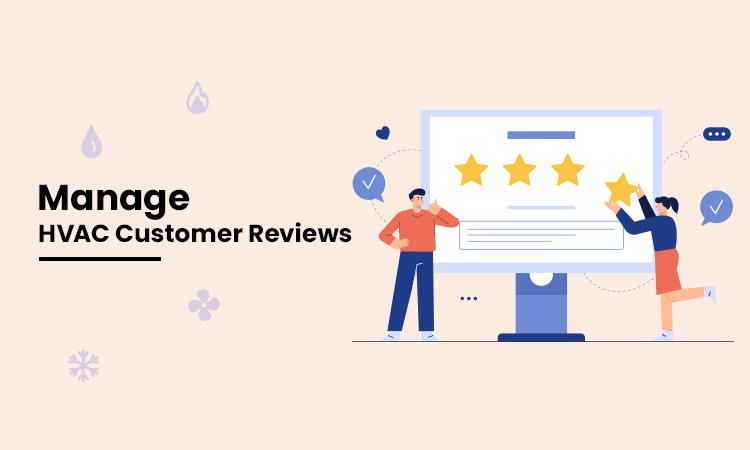 Whenever a customer decides to hire an HVAC service, their main priority is to go online and read what people have to say about that company. According to a consumer survey, about 94% of customers tend to hire a business if it has positive customer feedback on review platforms.
You can manage your online reviews by using systems that send automatic review requests to your previous customers and allow them to leave reviews easily.
Make sure to reply to all the reviews and show appreciation for past customers' feedback. This shows you value customer service and that can attract more leads to your business.
10. Create Valuable Resources and Guides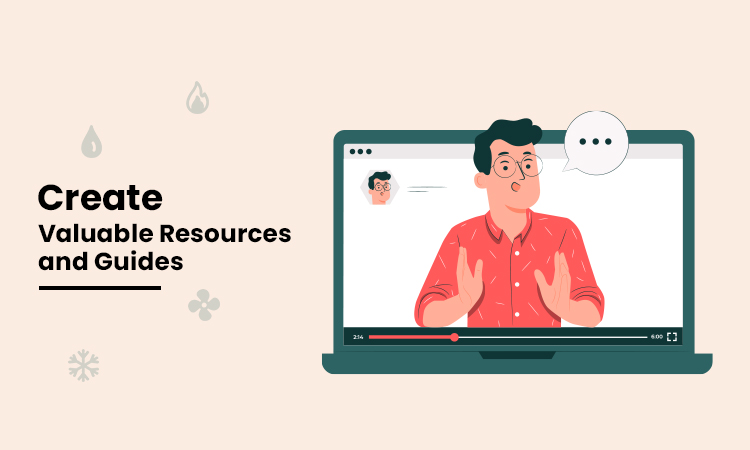 HVAC business owners should come up with valuable resources and guides to offer their target audience. The idea behind using these free resources is to help a business establish its authority in the target market.
For example, HVAC businesses can come up with how-to guides, video tutorials, and practical resources in the heating, ventilation, and air conditioning domain to show their level of experience and expertise in the HVAC industry. This approach complements your overall HVAC lead generation and online marketing efforts.
When you keep sharing valuable resources on a consistent basis, it helps you generate commercial HVAC leads for your business. This approach also reflects your commitment to providing your clients with an unparalleled quality of services.
11. Offer Free Consultations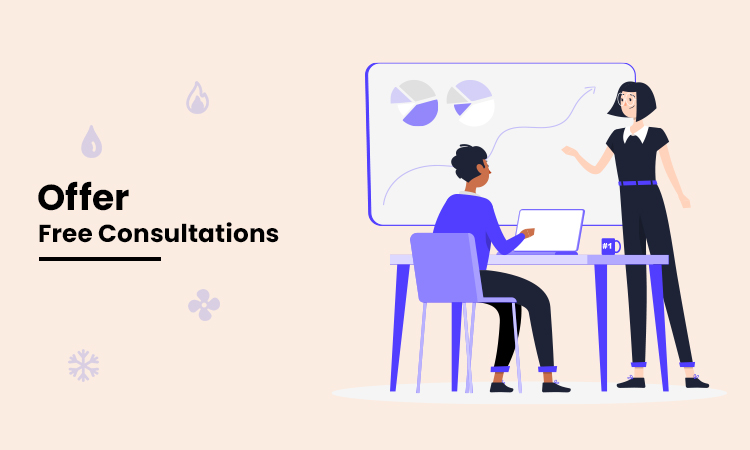 As an HVAC contractor, offering free consultations to potential customers struggling to tackle their HVAC-related issues can go a long way for your business in terms of building rapport. This shows your willingness to help your target audience through their problems, with no strings attached.
When you offer assistance to your customers without asking for anything in return, it makes your customers feel valued and appreciated. And as a result of that, they feel confident in buying HVAC products and services from you.
12. Host Events and Webinars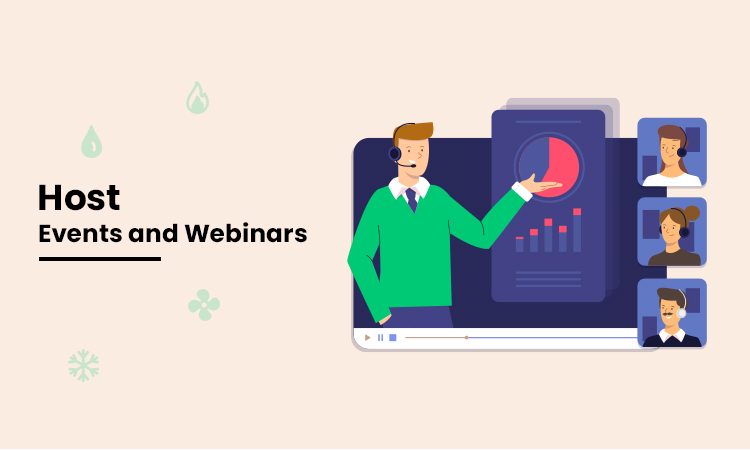 Hosting events and webinars to showcase your expertise in the HVAC domain is a great way of enhancing your brand awareness. Although it may be hard for startups to invest in such an endeavor.
But if you have financial resources to spend on hosting HVAC-related events and webinars, then you should take advantage of the opportunity that these HVAC lead generation methods present.
You can also conduct seminars and workshops where you provide value to your target customers through practical guides and resources. You can use these communication channels to explain your unique selling points and offer cutting-edge solutions that make you stand out from the crowd.
13. Guest Blogging for HVAC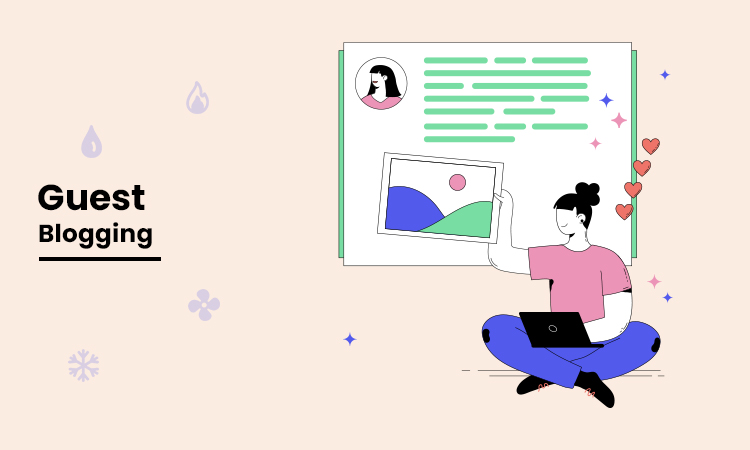 Guest blogging is one of the best strategies for gaining high-quality backlinks to establish your authority in the eyes of search engines. Through guest posting, you can boost the impact of your link building campaign, which in turn helps boost your website rankings in the long run.
Guest blogging is about publishing a piece of content on someone else's website that is relevant to your niche, but has a high authority and reputation. But you need to be careful when finding such websites because they should not be in direct competition with the products and services that you have to offer and the chances of getting your guest post accepted depend on several key factors. By following our guidelines, you can significantly increase your chances of having your guest post accepted and published.
Below are some of the most effective guest blogging strategies that you can use to take your link building success to the next level:
Establish your goals i.e., traffic, leads, link profile objectives
Find relevant websites where you can post valuable content
Get in touch with the website owner
Choose a trending topic and make your pitch
Write killer content
Add a link to your target page within the content
Promote your content on social media platforms
Conclusion
The above HVAC lead generation methods have proved to be very effective for heating and air conditioning businesses of all sizes. By using SEO and paid advertisements, you can make your business visible to more potential customers.
People trust a business more if it appears at the top of search engine results. Also, an engaging design for landing pages helps attract visitors as well. So, make sure to follow the HVAC lead generation strategies that we have talked about in this article to boost your ROI.
If you have any questions regarding HVAC lead generation, feel free to reach out to Ranking By SEO for professional assistance.
Frequently Asked Questions
1. What is an HVAC lead?
An HVAC lead is a prospect who is interested in heating, ventilation, and air conditioning services. The prospect could be looking to buy HVAC products and services online. You can use HVAC lead generation strategies to guide the prospect through their buying journey on your website.
2. How do I get more service calls for my HVAC business?
The best way to get more service calls for your HVAC business is through implementing a robust HVAC lead generation strategy. The strategy should contain a comprehensive blend of digital marketing and paid advertisement efforts that drive potential customers to your HVAC business website. You can get in touch with HVAC lead generation companies like Ranking By SEO for professional assistance.
3. How can I make my HVAC business grow faster?
You can grow your HVAC business faster by getting more leads. You can implement proven HVAC lead generation strategies mentioned in this guide to grow your leads, and conversions, and boost your revenue.
4. What is the target market for HVAC?
Homeowners and commercial building owners are the primary target market for HVAC services. Property management firms also require HVAC services to manage their commercial and residential facilities.
Additional Resources: