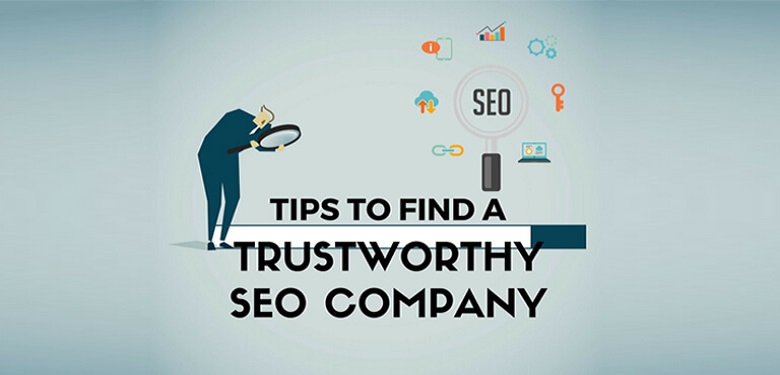 If your website isn't performing well in the Google rankings, you are definitely in trouble! When search engine ranking goes down, your business takes a direct hit and your sales suffer. However, with the help of a trustworthy SEO company, you can recover from the situation. But if you already do not have a list of capable SEO firms to turn to, you have the real problem right there.
Just zeroing down the problem zone to SEO is far from a solution. In order to resolve your persisting problem with the website ranking, you need to get in touch with the right SEO company that can show you the effective course of action. Don't get me wrong; it is very easy to find a good SEO firm that will promise you your dreams within a designated timeline. It is, however, difficult to find a service provider that actually delivers its promises.
A few questions you need to ask before etching things on stone
So, before you go around signing contracts and retainers with the top SEO companies that show up on your local business listings, we would suggest you to ask these questions that will help you tell a spammy SEO firm apart from a trustworthy one.
Do you have a complete list of your present and past clients?
Any reputable SEO company has a ready list of clients to show for their time in the industry. The names in that list are the litmus test of their professionalism and experience. While many SEO firms do not have a testimonial system on their websites, their clients can accurately summarize their experience of working with them.
Can you get me to #1 on Bing, Yahoo and Google within a month?
If they say, 'yes', run and never look back! SEO is a time-consuming process and it takes about a month for any reliable and good SEO firm to study the tendencies of a website's SEO. Making such false claims is both misleading and unethical. SEO is still a gamble, and no one can guarantee a #1 place on the search result list at all. It is ultimately the call of the search engine spiders to rank your website, and any SEO company can only do as much about it.
Will you be able to share all your activities for my website?
A good and trustworthy SEO team will never shy away from sharing its progress and modus operandi with your website maintenance team. There are millions of analytics tools that can directly show the progress of your website ranking and search engine optimization. So, sharing changes and progresses is no hassle at all. For example, if your consultant adds new header tags and HTML codes to the existing one, they should definitely share the changes and their results with you and your website development team.
How will we gauge the progress of our website SEO?
The success of any SEO campaign can be tracked by the change in traffic the website experiences after the campaign kicks into action. Most importantly, your SEO consultants should be well acquainted with SEO tools and analytics trackers that can convey the changes visually. Progress of SEO campaigns can be judged by the number of high quality backlinks, improvement in rankings, increased CTR and decreased bounce rates on your website. All of these factors can be represented graphically and shared with your company from time to time.
How often will we communicate?
Communication is the key to the success of any and every campaign. Similarly, a SEO campaign should be followed by frequent reports, calls and email documentations between you and your SEO consultant. A trustworthy SEO firm always prefers to have details in writing so as to never miss out on any changes or specific requests from you.
What are the payment terms?
The rates for the same SEO firm may vary from client to client based on the different kinds of requirements. Thus, the estimation of cost is not very easy or straightforward.
While the average lone wolf may charge you $15 per hour, a remote SEO consulting firm can charge you upwards of $50 per hour. This rate is actually quite justifiable. A SEO expert or a firm has to customize all its services for your individual requirements, considering that SEO requirements for no two company websites can be the same.
The easiest guide to a reasonable yet effective SEO budget solution is to remember that no small business should have a budget less than $250 per month or more than $2500 per month for its SEO campaign.
Is your SEO Company trying to save or sink your boat?
There are thousands of scammers all around the world who call themselves SEO experts with minimum knowledge of SERP, SRL and optimization of web pages. These are people who bring SEO a bad name. SEO may be still a gamble, but doing it right drastically increases the odds of landing a sweet spot on the Google SERPs.
Once you pay for it, you definitely own it
Real SEO has a high longevity, and this is one more reason you should not act very miserly while short-listing your prospective SEO services. A reputable and trustworthy SEO company actually relies on tactics that actually last. Search Engine Optimization is a long-term commitment and not as instantaneous as PPC or pay per click marketing.
Another major difference between the two is that PPC is a paid campaign, whereas SEO is essentially a "permanent" free setup for a website. It is a long-term fix that you can use to climb higher up on the search result list. So, once you pay for some SEO strategies and set-ups for your website, you essentially own it. You should have the right to claim the login details and full access to the tools, software and plug-ins any time you want.
Are they working for the competition as well?
Ethical SEO companies do not pit competitor sites against each other. It is extremely unethical for any SEO company to cater to the needs of competing businesses and websites as they have access to sensitive information from both the parties at the same time.
Also, when they take up the job from competing businesses, there is usually a split in the efforts and a lack of undivided dedication. So, if your SEO consultant is working with a similar company in your area, you may want to rethink your options right now.
Are they still following Black Hat SEO techniques?
Black Hat and White Hat SEO techniques are not new concepts. They have existed since the genesis of SEO, and they continue to define the divide between unscrupulous and trustworthy SEO services. Your target should be to end up with a company that has a penchant for White Hat SEO Techniques in spite of all the challenges they may face.
No company is going to answer "Yes" if you ask the question directly. But here are a few telltale signs that you might be in the wrong hands:
Your website gets manual penalties
These are the yellow cards of web marketing. Usually a manual penalty is issued when your SEO consultant is doing something "fishy". This is almost the worst thing that can happen to your website. You will usually receive a GWT notification or a direct email when a penalty is issued.
Your rankings drop
This is the worst thing that can actually happen when you are working with the wrong SEO Company. If your SEO consultants use unethical technique to bump up your website rankings, Google will soon find out and push your site ranking down. So, if your rankings drop 2-3 months after you sign a retainer with a SEO company, you have the full right to be suspicious.
Your website has dubious backlinks
You need to keep a close tab on your link profile. If that is messed up, your site is definitely in trouble. Backlinks are a great way of telling Google how to rank you. If you get a backlink from websites that are completely out of your domain, you need to start asking questions to your SEO consultants about their practices.
White hat SEO is when your company uses legitimate techniques to boost your website ranking on the SRLs. This is where you can refer to that client list of your service provider to judge whether their clients and services are/were trustworthy. Even a simple Google search should be able to guide you to a company with reputable services and clients.
Hacks to help you find "The One" SEO agency for your website
Now that you know what questions to ask the prospective, shortlisted candidates, you also need to know how to find them in the first place.
Word of mouth
Most small companies go by personal recommendations while choosing SEO consultants. And we think this is one of the safest ways to do so. With the personal recommendation, you also get a security of good performance that is difficult to find in companies that you have chanced upon through Google search results.
You can simply look up SEO firms on Google
If you do not have the good fortune of finding a SEO company through personal recommendations, Google search may just become your North Star for a while. Firms that know how to manage a website and SEO are your prime target. So, locating a decent one on Google won't be that tough.
Don't go by local business rankings on Google
If you simply choose a company because they rank #1 in the local business listings, you may land in trouble soup. A firm may show up on #1 because it is the oldest in the area, it listed first with the search engines and many similar factors that have nothing to do with SEO services at all. So, the #1 ranked firm may not have anything on the 500 others targeting the same keywords. Check their testimonials and client list closely to judge their performance.
Don't be too strict on location
Just because a SEO company is not in your geographical location it does not mean that you cannot work with them. If they are highly recommended by their previous clients and your personal contacts, you can definitely get it touch with them for remote SEO assistance. Most of the SEO work is carried out via phone calls, video chats and emails anyway. So, the physical and geographical location of a SEO firm should never be the limiting factor.
Try visiting a couple of reliable blogs
Rand Fishkin echoes our sentiments in this case. If you are not that strong on networking, simply read the popular and well-trusted SEO Blogs of our times. We recommend SEO.alltop.com, Moz.com/blog and the SEOmoz Q&A if you are a fresher looking for some direction. There have actually been hundreds of people and SMBs that have found their SEO consultants from the Q&A of Moz.
Conclusion
Finding the right SEO consulting firm and services is tougher than finding a soulmate!  The service provider needs to understand the pulse of your company, the specific needs of your web pages, and then design a strategy that best fits all your demands and budget at the same time. Research is the most important element in locating the right SEO firm. A little window shopping and price comparison is recommended before you go for the most favorable choice.
Before you set out on the arduous journey to find the right, trustworthy SEO team, you must know what exactly you are looking for. Jot down your own targets and goals before choosing an optimization partner who will help you achieve them. Once you know your company website goals, making the right choice won't seem as challenging. If you are still riddled with questions, we suggest you talk to a few highly-lauded SEO firms to help you make a decision.
If you have already landed this blog, why don't you give us a try since we are an awarded & trustworthy SEO company with our virtual presence in more than 25 countries across the world. We have been in the industry for over 8 years and catered SEO needs of almost every industry. Contact us today!