It is essential to have the best SEO tools readily available at your fingertips since this enables you to save time and keep track of your SEO activities. Moreover, this provides you with new ideas regarding how your SEO approach can be more result oriented. It does not matter what you are, whether an owner of an SME, digital marketing manager, Director of Search for a multi-national business, or even if you run your own blog, harnessing the insight available from tools is important for you and not only for SEO specialists. Obviously, you do not have that much time to try your hands on every tool and then decide which one can help you. With the vast array of tools out there, it is difficult to know which may be relevant. Therefore, if you are looking for a place where you can find the list of the best SEO tools to use in 2023, you will surely LOVE this blog.
Here is the list of those top 100 SEO tools to use in 2023:
1- Semrush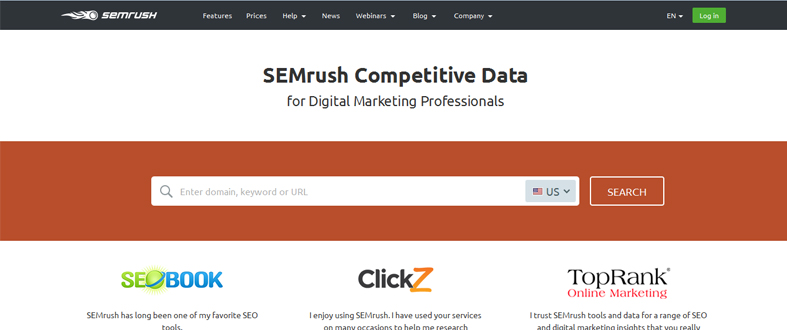 Semrush offers you a tool that enables you to check organic search, paid search, backlinks, and display advertising, organic keywords and organic paid. This also enables the user to check top organic keywords, organic position, distribution, main organic competitors, and competitive communication map. Available for both mobile and desktop, this tool allows you to do video advertising, display advertising, traffic analytics and PLA research. Under keyword analytics, this tool enables to perform phrase match, related keywords, ads history. Apart from this, Projects allow you to launch global campaigns for your site by using their tools that involve site audit, position tracking, SEO ideas, social media, brand monitoring, backlink audit, PPC keyword tool and organic traffic insights. You can also see an online demo.
2- Moz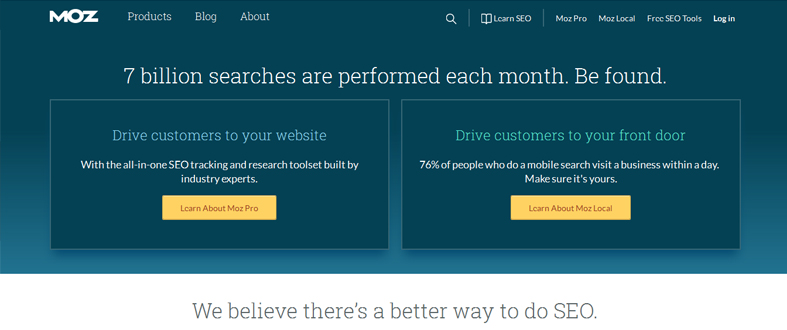 Be it Keyword Research, SEO Audit & Crawl, Backlink Research, Rank Tracking or SEO Toolbar, Moz tool guides all of these SEO tasks. Moz also offers it's Mozscape API which serves varied metrics like MozRank, MozTrust, Domain Authority, and Page Authority. All the tools offered from the Moz toolbox try to give the best results and reports for the task it is used. A lot of company uses Moz API to drive their results.
Many of its tools hit the charts due to their accuracy level and easy processing whereas some are not too much recognized. Moz tools give the insights of the task in its report which helps in modifying one's way of SEO working. As per professionals, the quality of the data is good and the reports offered are extensive in nature by separating every pros and con of the website.
3- Raven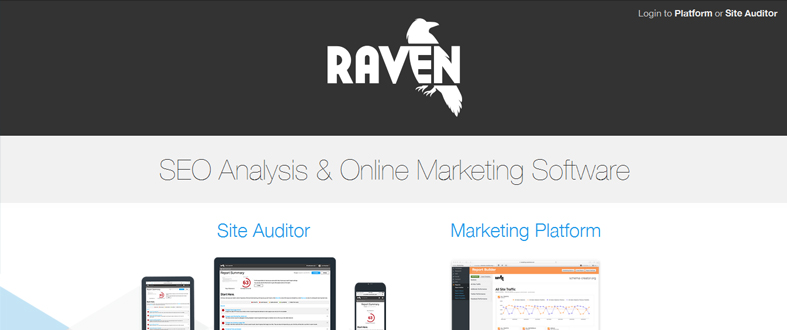 Raven Tools act as a site auditor a good tool if you can pay the fee. The free version is not appropriate and sometimes fails to audit or analyze the website of the seeker. The single tool offers loads of information such as track keywords, monitor back links, or compare the competition, of the website it has analyzed. Professionals call it a good site if you have to manage single or multiple sites.
The information shown in the report is pulled from varied sources instead of one which can lead to inaccuracy of the results. It is better to track result from one instead of jumping between different sources. Overall the tool helps in the review and track the complete site. It offers analyzed results on the basis of varied categories to provide a complete picture.
4- Majestic
Majestic has numerous tools to serve you, as backlink checker, URL submitter, site explorer, keyword checker, and link profile fight. These tools provide you comprehensive information about your website and the websites of your competitors using which you can give a new power to your SEO campaign. To use the tools of Majestic, you have to create an account on the site. Tools are paid and you can check their pricing on 'Plans & Pricing' option given on the right hand upside corner of the website.
5- Ahrefs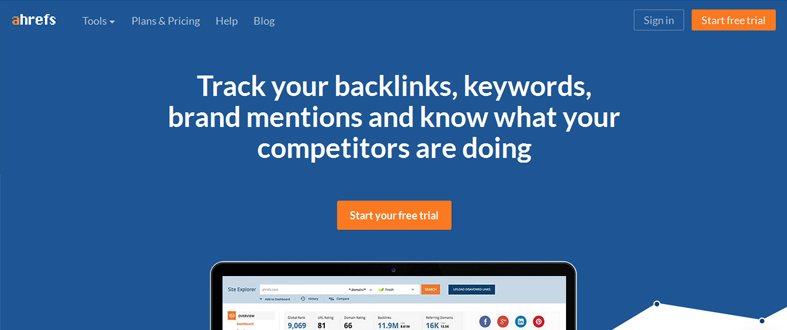 Ahrefs provides a number of tools such as Site Explorer, Positions Explorer, Content Explorer, Position Tracker, Crawl Report and Ahrefs Alerts. With their offered tools you can track your backlinks, keywords, brand mentions and know what your competitors are doing. Under Site Explorer, you get a detailed backlink profile for any website or URL. Under Positions Explorer, you can analyze your competitors' search traffic. Under Content Explorer, you can discover the content that's working well in your niche and you can find out what content is getting the most shares and backlinks so you can build a winning content strategy. You get accurate, daily ranking data with position tracker. Identifying and fixing common SEO issues on your site are done by Crawl Report. With Ahrefs Alerts, you get an email notification whenever you or your competitors get a new backlink or lose one. You'll see exactly where any new backlinks are coming from.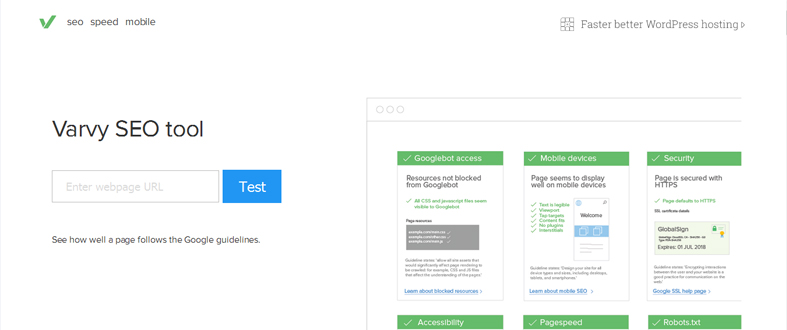 This tool is getting famous among all the professionals since the day Google has started putting a penalty on rule breakers. As Varvy is the tool which tests that whether the guidelines are being followed or not in the process of the SEO of a website. The tool checks about all the guidelines issued by Google so far and generate a comprehensive report, describing where the guidelines are followed and where they are not.
Main headings shown in the reports are Googlebot access, Mobile Devices display, Security, Accessibility, Page speed, Robots.txt guideline, Image alt text, Sitemaps, If Modified Since, Paid links, Valid HTML, Amount of links, Findable links, and HTTP headers. These headings are based on the various guidelines issued by the Google for the process of SEO. A yellow highlight in this shows that the website is not following certain Google guidelines whereas a green light shows that you are good to go in that rule.
7- WooRank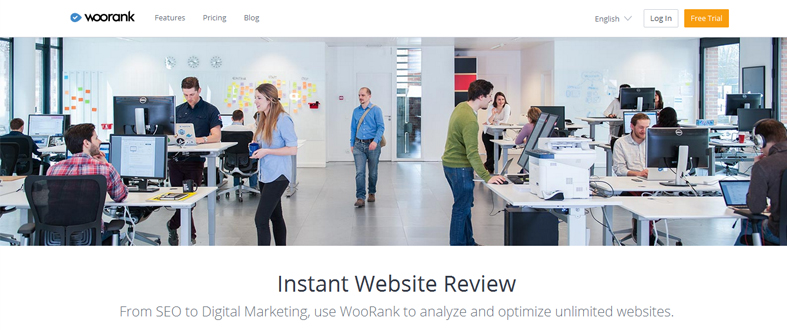 WooRank is the complete package provides information regarding any website. The report is very detailed and also informs about the cons if find any. The varied headings under which it describes the whole website that too in a free version are SEO, Mobile, Usability, Technologies, crawl errors, backlinks, social, local, SERP checker and visitors.
This tool does not leave any part of the website untouched or unviewed before forming its result. The resulting report can be downloaded in a pdf format so that you can analyze it in a better way. It generates a report on instant basis. In the free trial version, one can generate a limited number of reports only, although you can check the old reports at any time of the day. This tool is the perfect place to get all the necessary detail of the website along with the issue it needs to resolve.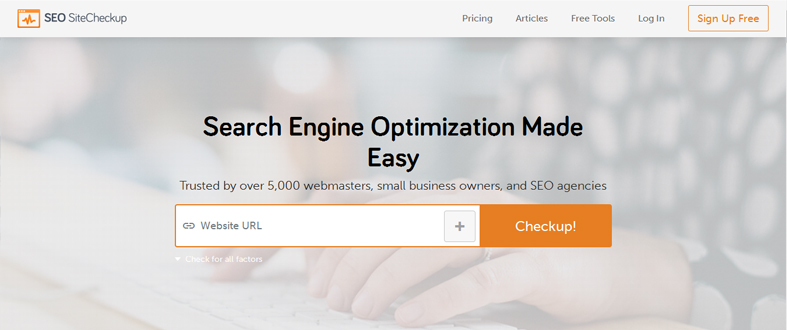 As the name suggest SEO Site Checkup is a tool which runs on the respective site of the seeker and provides a checkup score which tells the standing of the website. Then when you scroll down in the report, primarily it is divided into major headings then into subheadings where the tool describes every good and bad aspect of the website.
If something is wrong then it also suggests some pointers to correct the mistake. In the trial version, you can check a minimal number of websites only. It is surprising to tell that this tool goes through 45 individual checks in 6 different categories. The six basis or categories of analyzing the site are Common SEO Issues, Speed Optimizations, Server & Security, Mobile Usability, Social Media and Semantic Web. The 45 individual checks are the part of these main categories only.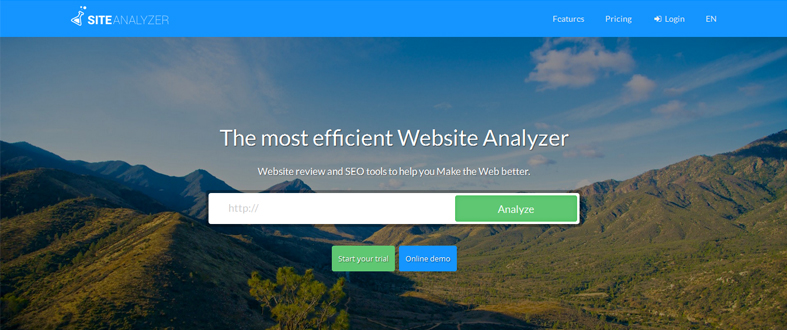 Site Analyzer is a free website analyzing tool which runs almost 71 separate checks under the five main headings of accessibility, design, texts, multimedia, and networking. It tells about the results in the form of percentages as in which task is how much good in overall. If you scroll further then each main heading is broken into smaller parts to make it easy to understand for the reader.
After from these headings it also gives a percentage of the overall health of the website. The tool is mostly used by the professionals when they need a detailed report on the basis of five major divisions done in the report. The report is created to provide an in-depth insight on the website. Along with the results, the tool also offers what does seeker has to do next to improve their score.
10- Small SEO Tools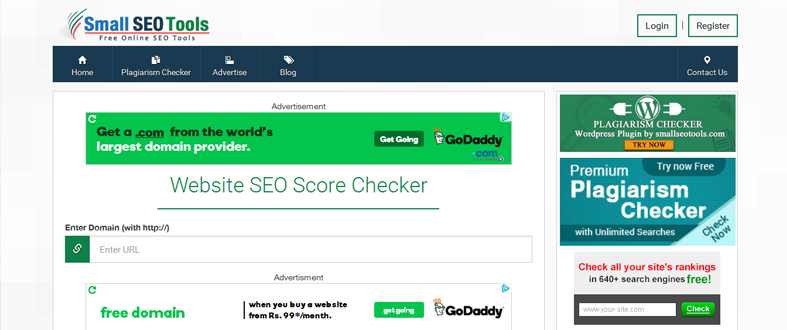 Small SEO tools check the website on the basis of various criteria and offer status to every heading which can be in the form of a tick (passed), cross (failed), info (incomplete) and okay (satisfactory). The various criteria are page title, Meta Description , Meta keywords, Google Search Results Preview, Keywords Test, <h1> Headings Status, <h2> Headings Status, Robots.txt Test, Sitemap Test, Disallow Directive Checker, Broken Links Test, Underscores in Links Test, SEO Friendly URL Test, Image Alt Test, Inline CSS Test, Favicon Test, Deprecated HTML Tags, Noindex Tag Checker, Nofollow Tag Checker, Domain Authority, Page Authority, WWW redirection Test, HTML Page Size Test, and HTML Compression/GZIP Test.
Any tests are taken and scored on the basis of certain standards, in the case of SEO process these scores are given on the basis of Google guidelines. If the score is good then this tool also gift a badge to the website, which can be shown on it.
11- Copyscape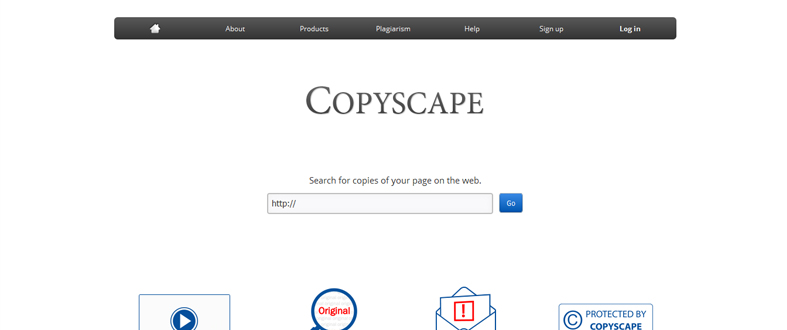 Indigo Stream Technologies Ltd developed a tool known as "Copyscape". This tool will help you to check whether your website content is duplicate or not. It also acts as a free plagiarism checker. Simply enter your domain name in the input box to check for any duplicate content. This tool automatically scans the web regularly to check for copies of your website content. The tool provides free as well as premium services. Premium service includes a lot of features such as copy/paste check, batch search, private index, case tracking etc. By using this tool businesses can check the originality of their website content. This is one of the most popular plagiarism and duplicate checker used by several business owners.
12- Pingdom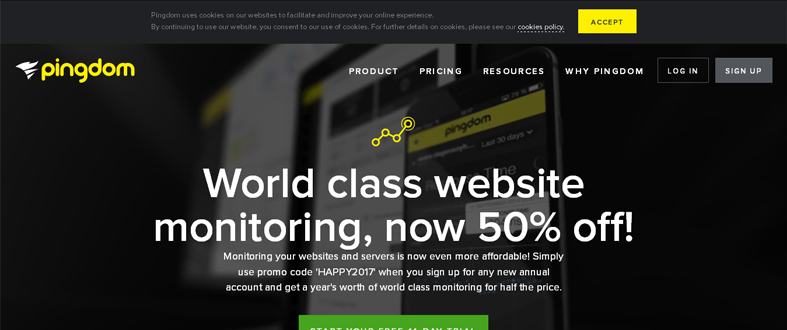 Pingdom makes it easy to monitor your websites and servers. It is the most apt tool for uptime monitoring, real user monitoring, transaction monitoring, and integrate with Librato to correlate your data with cloud metrics in real time to help you improve performance. It is a reliable service which analyzes the root cause of the problem, and improve the team's incident workflow with the right alerts.
Pingdom helps you in automating your interactions to create your own applications with the functionality you find in the interface. Get alerts when your website is down and insights into the ways to its performance and functionality. With this app, now you can improve your SEO rankings after increasing your page load speeds and decrease your bounce rate. This would result in more page views and will increase your page load speeds.
13- Siteliner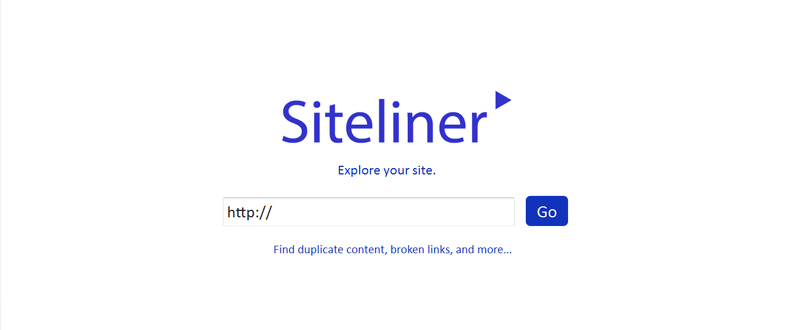 Siteliner is a tool developed by the developers of Copyscape, one of the renowned search engine for duplicate content and plagiarism. This tool helps you to find out various issues that can have negative effects on your site visibility, ranking and traffic. This tool finds out duplicate content, broken links, most prominent pages as well as sitemap reports. You can check whether your domain has duplicate content or broken links. You just have to enter your domain name in the input box. This tool will help you to analyze detail results of different pages of your website. It also provides a comparison of your website with other sites on different parameters such as average page size, page load time, total links per page etc. You can use this tool for free as well as for premium service. In free service, you can analyze 250 pages whereas, in premium service, 25000 pages can be analyzed.
14- OpenLinkprofiler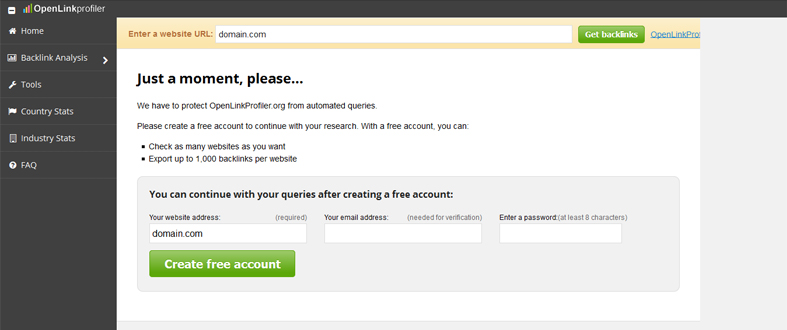 Open Link Profiler is the free tool to access your backlinks and analyze their quality. The free version shows more than 2 lakh backlinks in a single report as well as also allows the seeker to export approx. 1000 backlinks in a CSV file format. This feature is not yet offered by the big names like Ahrefs, majestic SEO, or open site explorer.
The site has its own web crawler under the name of spbot. The tool has the largest database of the backlinks with it. This tool analyzes and shows the fresh backlinks when searched, as in if you enter your domain name in the given space then the result shows the links which were active in the last 90 days and remove the older data, to avoid the confusion. Overall a good tool to use.
Content is the most crucial requirement for a website. Special words known as keywords are useful not only from the perspective of the netizen but also from SEO. It is extremely necessary to analyze all such parameters and aspects that can influence the value of webpage during search. Internet Marketing Ninjas makes available such tools that are extremely helpful for the users. The keyword density tools offered by Internet Marketing Ninjas can be even used to analyze the performance of competitors.
The final report generated by the keyword density tool can bring you effective results. Internet marketing Ninjas offer this free tool of free keyword density analyzer to SEO'S and webmaster. It is important to take a note about keyword frequency and black hat tactics such as keyword stuffing should be avoided.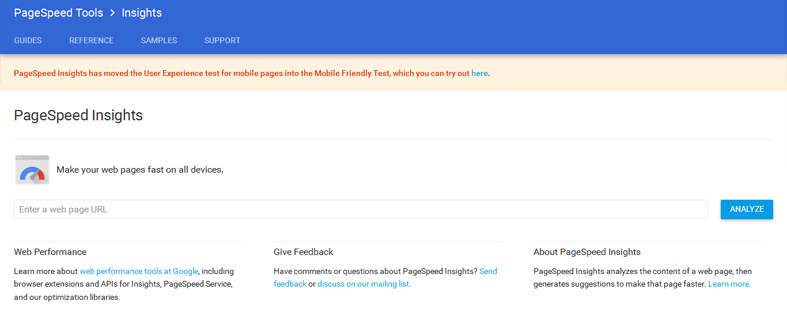 Pagespeed Insights analyzes your website for mobile and desktop and scores this based on the different checks its do. Moreover, this provides you information which testes your website pass and which it fails, and what are the areas that demand improvement. The tool checks landing page redirects, browser caching, server response time, optimize images, compression, Java Script, HTML, CSS, and render-blocking Java Script and CSS. The best thing is that the software tells you how you could fix the errors as well. You get all these details without paying any penny since tool is absolutely free and what all you have to done is you have to type your website URL and click on Analyze.
17- XML Sitemaps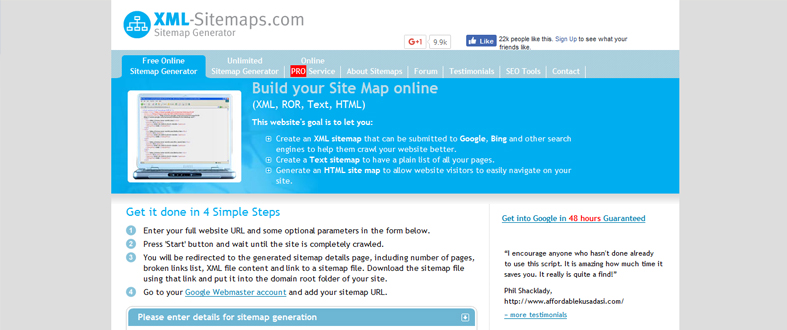 You can generate sitemap for your website in very simple steps with this software. You have to fill up your website URL, select frequency, select last modification, priority, and then lastly you have to click on the option "Start." Once process is done and you get the code then go to your Google Webmaster account and add your sitemap URL there.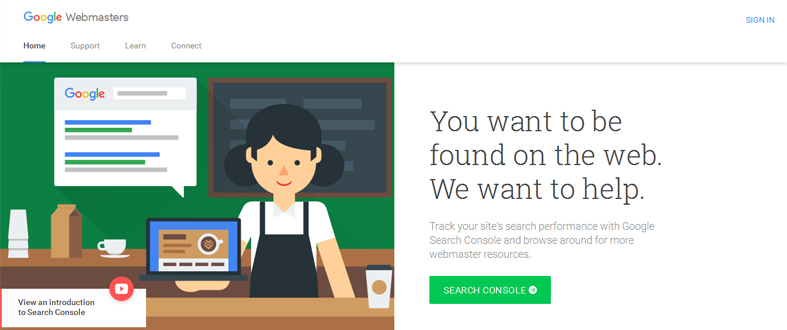 What is the biggest challenge for your website? Perhaps the answer is visibility and its ranking. Website that is not easily visible in the ocean of internet is likely to get lost. Webmasters play here crucial role; these web architects are administrators responsible for managing the entire website. Designing and creating appealing website is a very challenging task. Webmaster can even undertake special tips at Webmaster Academy and learn the ways to design great websites.
Robust web presence can take your business to phenomenal height. Tools, software and applications are readily available for the webmasters to improve the visibility of their website. However, what is more important is to develop great, appealing, useful websites that are SEO friendly and can prove quite helpful in generation of business.
19- Bing Webmaster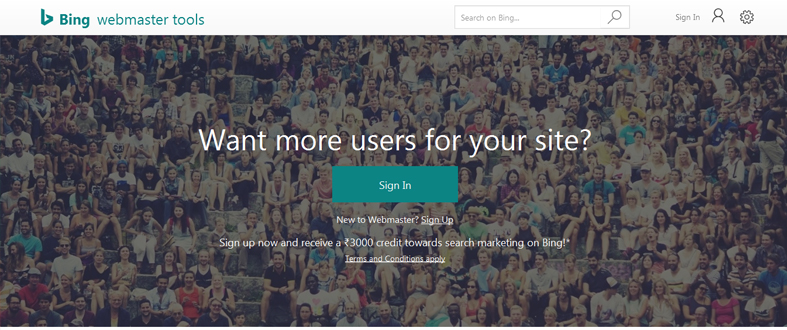 Are you experiencing challenge in navigating your website or magnetizing traffic? If your answer is yes, then it is the time to analyze the performance of website and identify the areas that requires appropriate attention. There is availability of several tools, software and applications that understand the key requirement of webmaster and assist them to enhance traffic. Bing webmaster tools are mobile friendly and even help in indexing. Technical and relevant help is extended to webmasters regarding various aspects such as content, links, social media optimization, indexation, etc.
There is no scarcity of tools and other resources when it comes to optimization of websites. Webmasters should monitor the performance of the website on regular interval and embrace alternative that can boost the performance of business. For more information study the Bing webmaster guideline.
20- FE International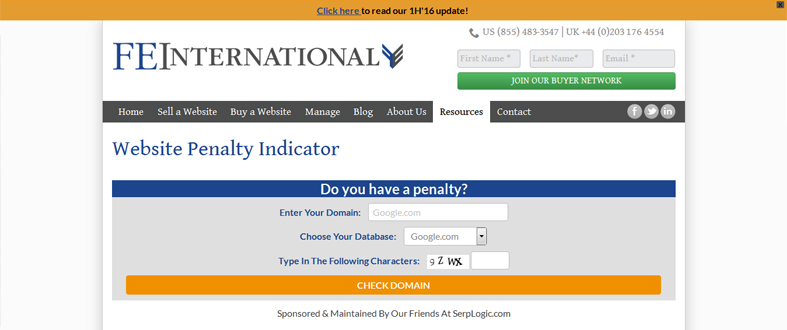 Website Penalty Indicator is a tool developed by FE International in partnership with Hit Reach Ltd. This tool helps you to find any penalty on your website. Simply enter your domain name and database to check whether your domain has a penalty on certain dates. Google updates such as panda and penguin can make drastic changes in your website's ranking and organic traffic. With this tool, you can analyze your website's organic traffic with dates of penguin and panda penalty and phantom update. This tool will help you to know the changes in your ranking and organic website traffic on the dates of google updates. By using this tool businesses can improve their search engine optimization very efficiently. This is one of the best tool used by business owners.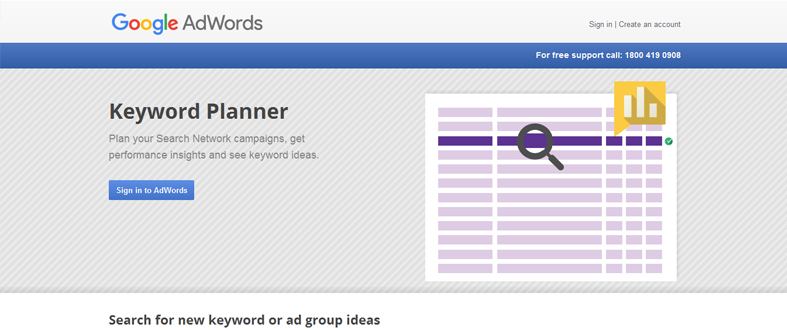 Google AdWords Keyword Planner is the alpha when it comes to looking for keywords which are older than a year or if you are looking for high volume of keywords. This tool offers you almost 800 suggestions of seed keywords and phrases for export. These suggestions can help the seeker to get more ideas about the topic and can help to optimize the concerned page as well.
It is the oldest form of keyword planner and is as easy as it comes. Every SEO professional has worked on Google AdWords Keyword Planner at least once in their lifetime. This planner gives you the knowledge about the trends and also helps you to find out about the relevant keywords used by others working on the similar platform. It also helps in guiding you about the number of searches done on the particular keyword.
22- WordStream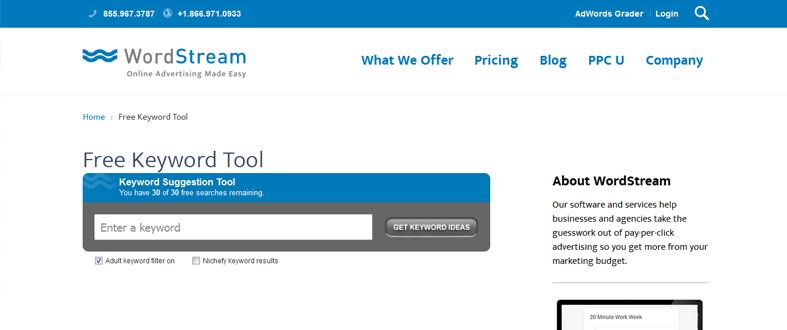 This tool helps you decide keywords for your SEO and PPC campaign. Suppose you are dealing in women's wear then you can type this in the search box and click on 'Get Keyword Ideas'. The software will return with the list of keywords that you can make your choice from. In order to help you pick up the right keywords for your campaign, the tool provides you details of relative frequency, Google search volume, WS search volume, and competition. These details will make this simpler to make your decision. If you want time to think, you can get the details on your emails as well. You will have to fill up your email id and company name and primary interest (SEO or SMO). The details will be emailed to you.
23- http://tools.seochat.com/tools/page-keyword-density-analysis/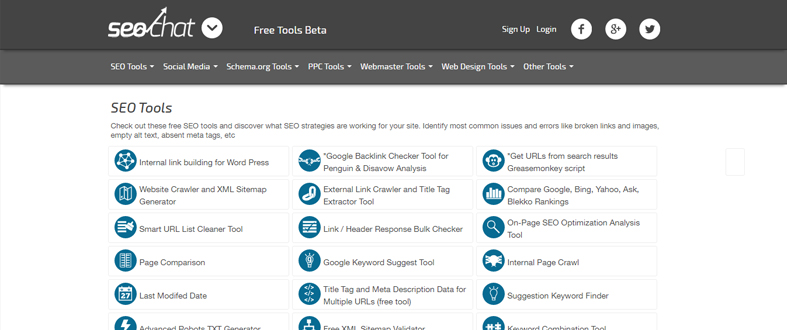 Great tools available free of cost through prominent internet marketers can lift your business to paramount heights. Keyword density analysis is extremely necessary process that enables the webmaster to devise strategies. There are numerous factors that contribute in ranking. Knowledge that is shared turns out to be pretty useful. SEO Chat makes available that platform; the unique combination of several website enable programmer, techies and webmasters to attain knowledge and then pass on the same to others. Availability of relevant tools on SEO Chat is very helpful for webmasters. The tool filters out the stop words (a, the for, of) and analyzes on page keyword usage. Make use of these tools to improve ranking of your website.
24- SEOBook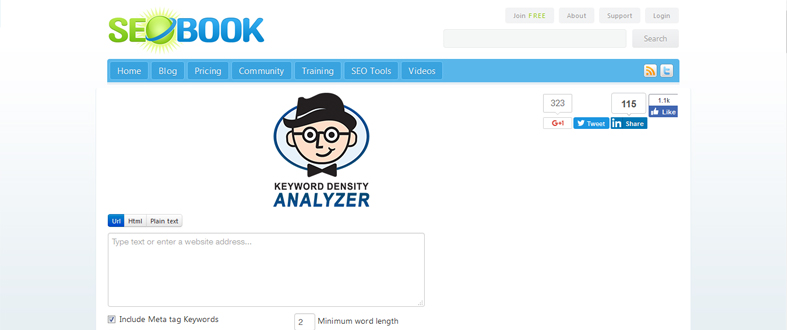 For the information of layman, keyword density is the number of times a particular keyword or phrase appears on a webpage. The density is evaluated with the total number of words present on that particular webpage. It is advised to maintain ideal keyword density. It is crucial to maintain frequency of keywords because neglection can bring adverse effect for the website. Don't allow your competitors to attain leading edge but explore their ranking profile. SEObook.com, a prominent SEO website formed in 2003 can help you with this task.
The most recommended formula that is applied in various scenarios is "big is always better." However, this formula should be applied according to scenario. There is free availability of free legitimate density analyzer tools that can enable your business to exploit opportunities.
25- http://www.seocentro.com/tools/search-engines/keyword-suggestion.html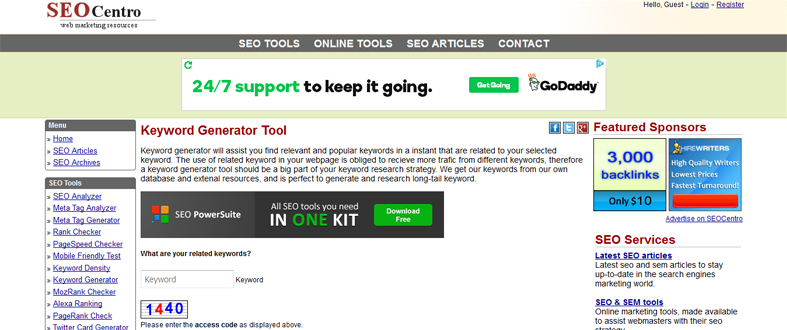 SEO Centro offers a number of SEO tools and online tools. Their Keyword Generator Tool assists you in finding relevant and popular keywords that are related to your selected keyword. The use of the related keyword in your web page is obliged to receive more traffic from different keywords. Their SEO tools include SEO Analyzer which helps webmasters to analyze their web pages on-site and off-site SEO status. Meta Tag Analyzer helps in analyzing your Meta tags and web page and see how search engine friendly your web page really is. The Meta Tag Generator gives webmasters a tool to generate the most common meta tags for their websites. With Keyword Position Check, you can check your search engine keyword position for any keyword in the major search engines and get an advanced report. The Pagespeed Analysis tool gives webmasters an in-depth analysis of their websites speed and much more.
26- AccuRanker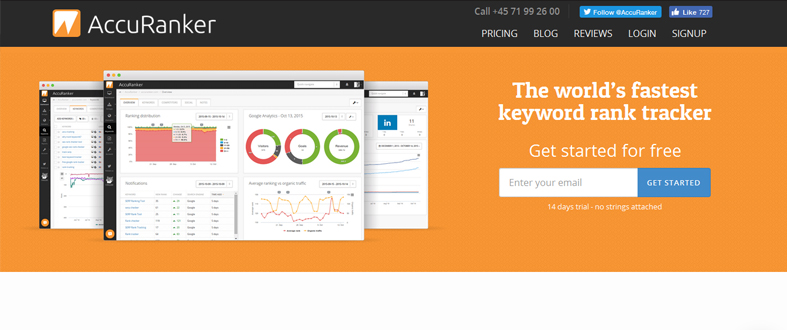 This tool allows you to check the rank of your website on Google and Bing for different keywords you are targeting. Moreover, this tool allows you to see localized rankings for your keywords. The best thing about the tool is you need not provide specific page URL to know how that page is ranking for different keywords being targeted on the same, you can get the desired detail just by putting the homepage URL of the website. Interestingly, you can take eyes on your social media profiles like Twitter, Google+, Instagram, and Facebook pages with this tool. The tool is available for 14 days trail as well. You can take a trail and if you feel the tool to be meeting your expectations you can continue with the tool.
27- Piktochart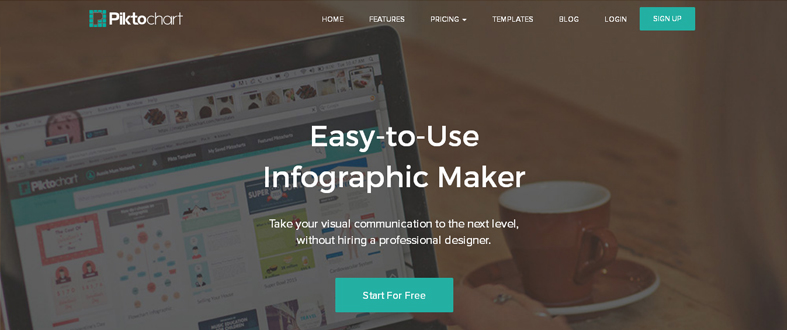 This is an online tool developed by the company "Infographic Geek". This tool helps you to make infographics for your website. This tool is very easy to use. You just have to create an account on the website that is free of cost. After you have successfully signed up, you can choose a template for your infographic as per your choice from a large list of templates available. Next step is to edit the content. You can add images, text, icons etc to your template. It also gives you the option to share your infographic on the web. You can also download and print it. You can also subscribe to its premium service to avail additional features. By using this tool, you can develop eye catchy infographics that will maximize the customer engagement to your website thereby improving the search engine optimization of the website.
28- Canva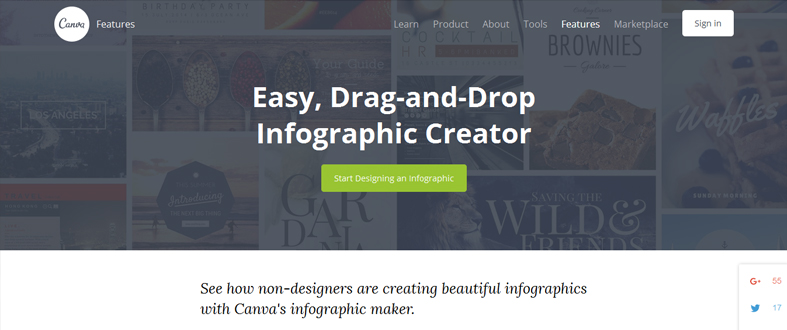 In simple words infographic (also termed as information graphics) are graphical visual representations. They help to understand the clear picture with the help of available information. An alluring, informative, shareable, logical infographic increases traffic, benefits the process of search engine optimization, and enables the expert to understand the whole scene in profound manner.
The simple steps discussed on canva.com can help you to create stunning collection of infographic. It is easy to download the platform of canva on handheld devices. Don't lose the opportunity and cleverly utilize your marketing material for robust impact. The vast, assiduous, adroit team of canva.com specializes in creativity and rules the world of visual marketing. It is the time to take visual marketing to the next level by switching to infographics.
29- Visually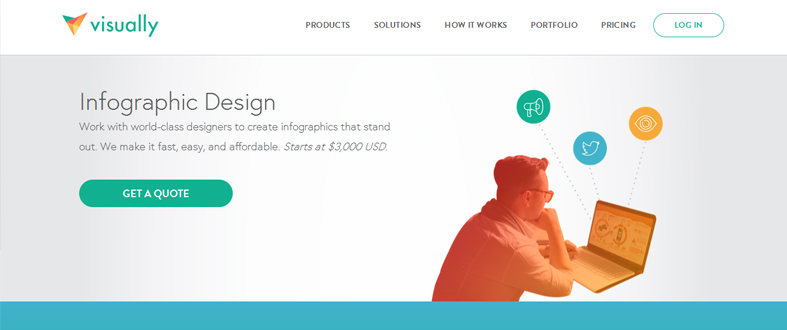 Several tools and applications are easily available that can bring great benefit to your business. When high quality infographic is available then use it for extending benefit to the business. Infographic is a vital tool that can create great effect upon the viewers. Visual content can have striking effect, it is said that human brain easily grabs images and finds the essence when compared with reading.
The solutions offered by Visually are mind blowing and play pivotal role in the task of promotion. Visual content is always more effective and informative. Most of the netizens prefer to watch videos and view graphical images rather than reading long forms of text. Content is very important but infographic has its own caliber to boost the marketing campaign. The platform of visually is managed by an artistic team that delivers economical yet effective infographics. Use the best available tools to approach your customers in promising manner.
30- Easelly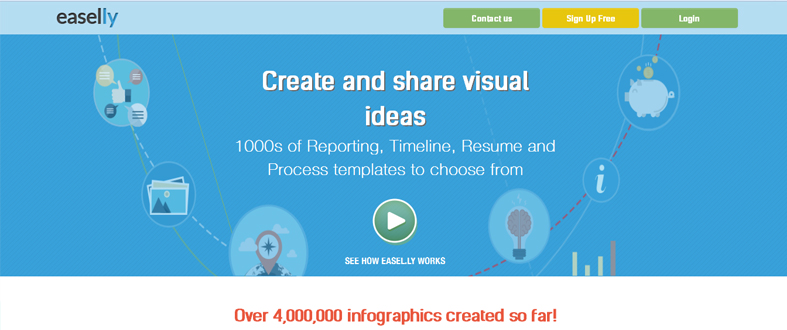 This is a tool that helps you to make infographics for your website. You have to register yourself on this website. For making infographics, first you have to select a template and after selecting a template, this tool gives you options to edit the content. You can add text, images, add background, icons etc. It also gives the option to zoom, resize, download as well as share your infographic with others. This tool provides free as well as premium service. In premium service, you have to pay $3 per month to enjoy additional features. You can create attractive infographics by using this tool that will help to improve search engine optimization for your website. This is one of the most popular online infographic maker tool used by several business owners.
31- XML Sitemaps4u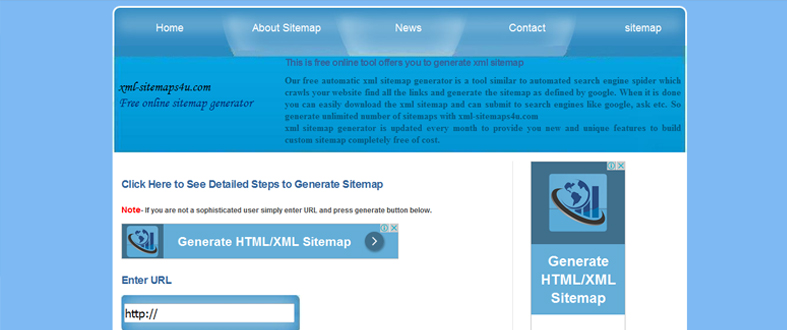 XML sitemap generator is a tool that that crawls your website like automated search engine spider to find all the links and create the sitemap. Once this process is done, you can download the XML sitemap and submit that to search engines. The best thing is that there is no limit to generate sitemap thus you can generate countless sitemap as per your requirements. To use the tool, you have to put the website's URL in the box given below "Enter URL", change the frequency, which tells how often you change the website content, put the last modification date of the website and then select priority. Now, press generate button and wait for a couple of minutes. The XML sitemap will be before you and you can download with full ease.
32- Xsitemap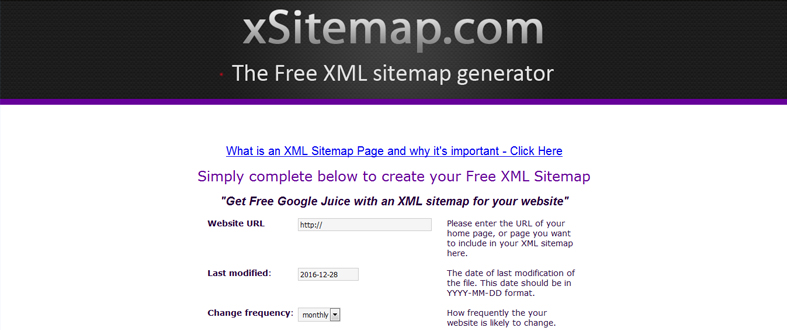 This tool generates XML sitemap. To get the sitemap, you have to fill up some details in given boxes. Firstly, you are asked to put your website URL. Then, last modification date, frequency (how frequently you modify your website), and priority. After these details, you have click on Generate XML Sitemap and the tool generates the sitemap in just few seconds. As you get the sitemap, you can download that put the same on your website. Moreover, if you want to have a comprehensive idea about XML sitemap, you can click on "What is an XML Sitemap Page and why it's important" and you will be redirected to a new page where you will get quite useful information about XML sitemap. On Homepage, you get an option termed as "XML Articles", by clicking on this link you will be redirected to the page whereon you will get quality articles about XML sitemap.
33- Check Domains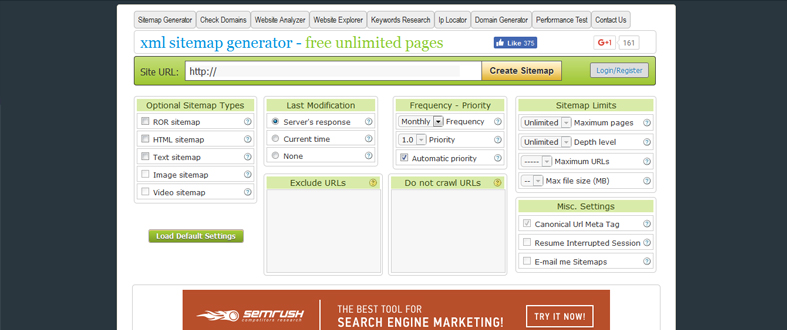 Sitemap by Check Domains is a freemium tool. If you use its free version, you could not access some major benefits. However, this does not mean that its free version is useless. Its free version helps you generate free XML, HTML, ROR, and text sitemap. This does not crawl URLs. On the other hand, paid version generates image as well as video sitemaps; diagnose broken links; detects Canonical URL Meta tags; provides sitemap files through emails also. As some tools ask you to put the details like last modification date, priority, and change frequency, this does not ask for any such details. You just need to put your website's URL in the box and press on 'Create Sitemap'.
34- Backlink Watch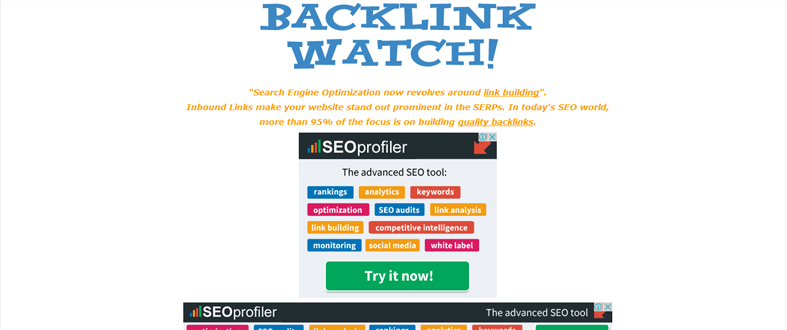 In the vast world of search engine optimization, there are some tools which make its path a smooth sail, out of those tools one of the easiest tools is our free backlink checker tool , Backlink Watch (http://www.backlinkwatch.com). It is the perfect tool to keep an eye on your inbound links and know about its each and every activity.
The tool informs the seeker about "anchor" text, total outbound links on that page, page rank, etc. the best part of the tool is that the results provided by it are trustworthy as it uses Ahrefs' API. All in all a great option to review the status and quality of your backlinks. This tool offers loads of important information regarding the website and has only one flaw that there is a frequent popup of ads.
35- Rank Signals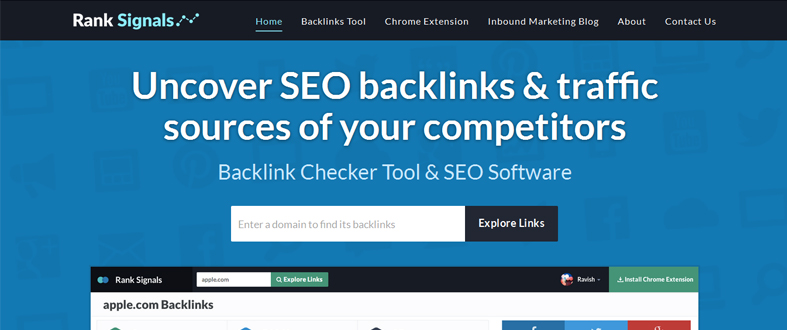 Rank signals is another one on the list of the backlink checker tools. Along with other necessary information, this tool helps you to check your own SEO backlinks as well as the sources of the traffic on your competitors' websites. It helps in revealing the data like quantity & quality of backlinks, PageRank, link anchor text, Alexa Rank as well as the rank of the page from where one is getting its backlinks.
On an overall basis, the tool is smooth and easy to use without any glitches, although the report offered by it is not much extensive in nature. Rank signals fulfill the overall need of links in a website, it improves the quality of current links and also shows the path to new opportunities. It also keeps a track of "dofollow" links and "nofollow links".
36- SEO Review Tools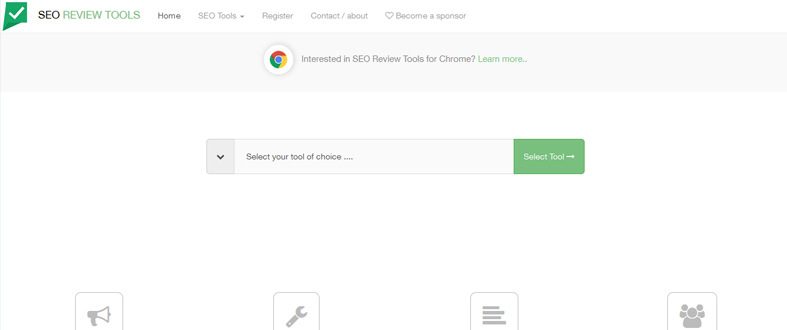 The free version of SEO Review Tools for website authority check shows the details under the two separate headings namely page authority and domain authority. It is the most chosen tool used by the seekers. This tool offers an easy access to the process without any glitches or limitations.
This tool is counted among the best website authority checking tools as it provides information of DA, PA, and Social share together at one place. One of the pluses of this website is that it uses Mozscape API to get results which are accurate in nature and gives a better overview about the age of URL, Website and the external links attached to the domain as well as a page of the seeker's website. These results can be easily exported to the CSV file format for later uses.
37- http://www.maxfow.com
Maxfow's redirect checker tool allows anyone to check the redirect status of the website. This tool is basically there to judge the speed of the website at which it redirects one domain to another domain name. The tool is there to be used by anyone on the free trial basis. Using the tool is an easy effort, one just has to put the URL in the given space and run the tool, within no time the result or status will be in front of you.
It mainly explains about the most common returning of HTTP response code namely 301. The report or result is brief or you can say one-word answer, it does not share other necessary information related to response codes which are offered by almost all the sites. Overall a basic way to test the redirect speed and process.
38- https://seotoolscheck.com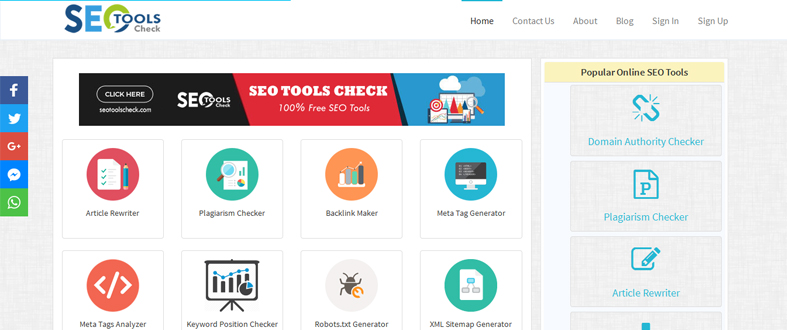 SEO Tools Check offers a set of free SEO tools which are required all the time by the SEO managers. Their demand never ceases. The tools offered, normally helps in the ranking as well as generating traffic for the website. Some tools which are more popular than rest are Domain Authority Checker, Plagiarism Checker, Article Rewriter, XML Sitemap Generator, Robots.txt Generator and Backlink Checker.
The report provided by this tool can be extensive or short. The seeker can ask for shorter details as well as the detailed version of all the checks and test done by this set of tools. The plagiarism checker of SEO Tools Check is famous for its accuracy level. These set of tools have one tool for every aspect of SEO strategies. With more than thousands of followers on Facebook, it has shown its demand in the market.
39- Long Tail Pro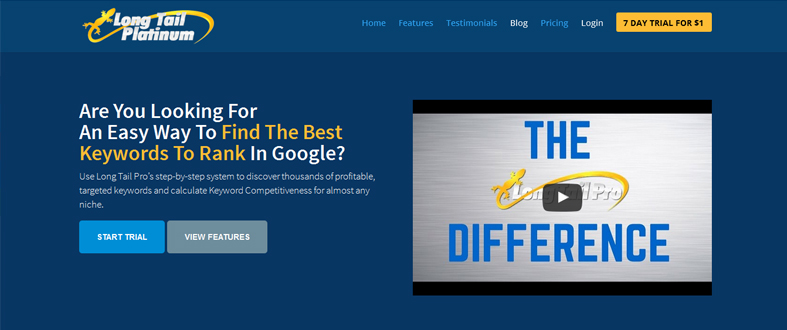 Long Tail Pro is an amazing tool to build a niche website. It has a rate of providing 500 keywords in the matter of few seconds which shows the level of performance by the tool. The tool is easy to handle and use. The feature of showing keyword competitiveness is generally liked by all as it gives the list of keywords along with how many times they are targeted by the competitors as well.
Along with so many pros, it also contains some flaws such as the rank value metric offered by the tool is not accurate all the time. Even though it uses the Majestic SEO for data integration and has the ability to filter on real time basis, still the results on seed keywords are not segmented in the appropriate way. Anyhow, it is an amazing tool which is use by more than 70,000 professionals on daily basis.
40- Ubersuggest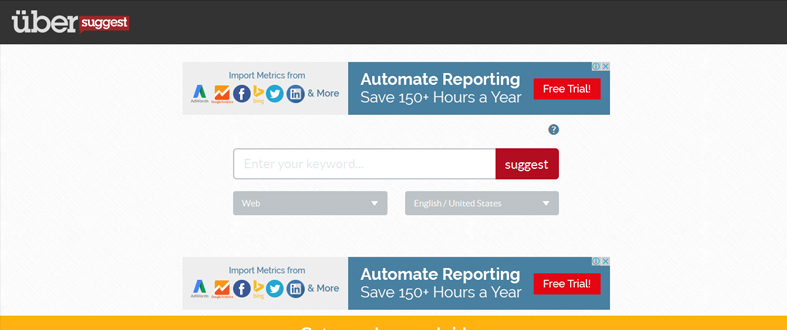 Uber Suggest offers a feature where you can import keywords and can check whether they are worth targeting or not for the concerned website. This tool is appreciated by most of the users, firstly, because it is a free tool and secondly because it offers a large number of variations in the keywords which can be included in the write-ups and do not look like they are imposed on it. It also offers the Google suggestions as soon as you start typing the keywords.
The only flaw possessed by this tool is that it do not provide a competitive outlook on the keywords. It provides loads of keywords and loads of varieties in keywords but not the competitive analysis because of which you cannot judge which keyword to hit more and which keyword to hit less. A nice tool to gather unique ideas about keywords.
41- https://www.hittail.com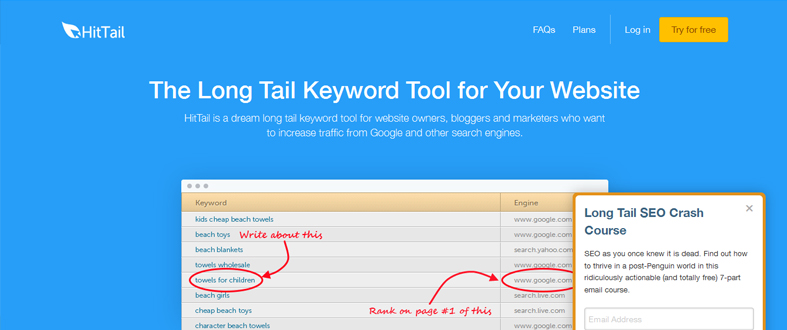 Hit Tail is known for being the only type of keyword planner tool which offers keyword suggestions on the basis of the existing traffic of the seeker's website.it provides the keywords which are relevant and are on a higher scale in the competition. The list is not too long but has everything the seeker is looking for generating the traffic. All the keywords mentioned in the list are precisely related to the nature of the business.
The tool is easy to work on and does not require hundreds of hours of waiting. While you are writing the write-up it keeps on working in the background and will pop-up the results with new and unique keyword ideas. Not much popular yet but definitely well appreciated by those who used it. It also gives a suggestion as in which keyword is ranking what on any search engine.
42- Test My Site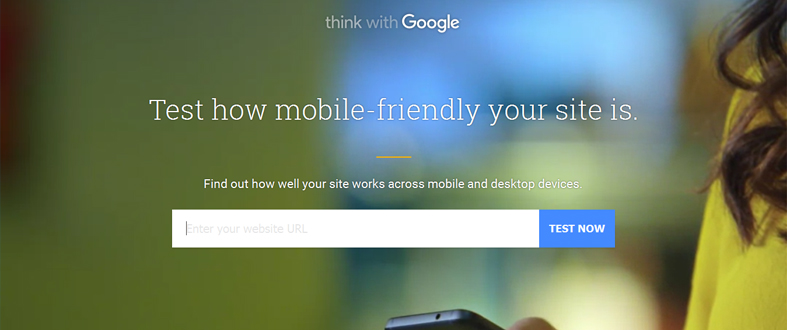 Test My Site tool allows you to check the mobile- friendliness of your website. This tool tests the mobile friendliness, mobile speed, and desktop speed aspects of the website. These aspects are crucial to know when it comes to judging the performance of the website. Mobile friendliness feature not only displays the website correctly on hand-held devices, but also gives readability to the user, which is a very important aspect for the user, like if a user can't able to see the content of website he will immediately jump out of the website. If a website is mobile-friendly, then it will definitely have a lower bounce rate. As today, more and more people are using the mobile devices to browse the information, so only mobile friendly websites will secure their place in this competitive world. This tool is powered by PageSpeed Insights.
43- Dotcom Tools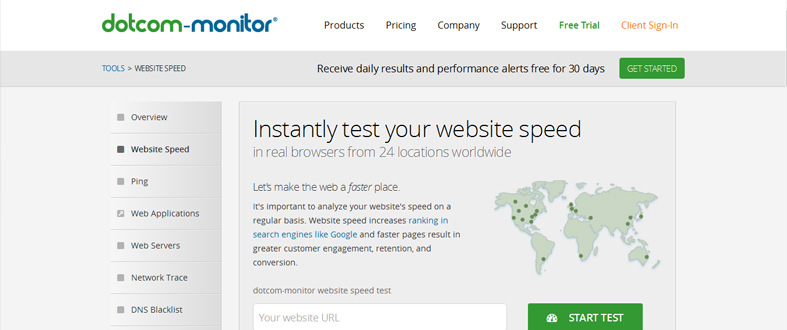 Dotcom-monitor tools offers website speed test which is used to test the speed of the website. This website speed testing tool analyzes the website's speed. The main motive of this tool is to detect the performance gaps of the website around the world. A good speed website is always given a good ranking by the Google on the SERP pages. So, a good website speed is mandatory to secure a high rank in the Google search engine. Additionally, low loading time of the page results in greater customer engagement and good conversion. This instant speed tool can efficiently test the speed of the website from 20 locations worldwide. This tool analyzes the performance of the website. This tool works on all major real browsers.
44- KW finder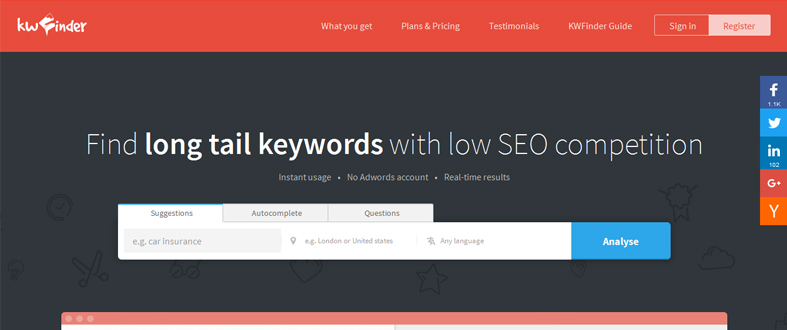 KWfinder helps you in finding hundreds of long tail keywords that your competitors are missing. You can find a bunch of keywords related to your niche with high search volumes and low keyword SEO difficulty. You can save your time while finding SEO keywords. At KWfinder, you can check keyword difficulty instantly so you know which keywords are worth optimization. With this tool, you can get keyword ideas even more specifically. You have to select city, state or country to which the results should be targeted. This tool offers you instant usage, you don't have to install this tool. A number of retrieved keyword ideas can be increased from 100 to 800. Also, they provide precise metrics for keyword PPC competition in a range 0 – 100.
45- Infogram
Infographics makes the data presentable and helps the viewer to understand the entire scenario in profound manner. Infogram extends help to both small and global organizations in preparing infographic representations. It is now so easy to create appropriate report for any sector or purpose. Data that is represented in appealing and magnetizing manner can produce wonderful results. The graphics and data revealed by infographics depict entire stories in engaging manner.
The primary benefits of using infographic in SEO are – usability of statistics, the research data can be released through press releases, links can be earned from outside the industry, complex data can be understood easily. Undeniably, infographic is a great tool to understand measurable result.
46- Small SEO Tool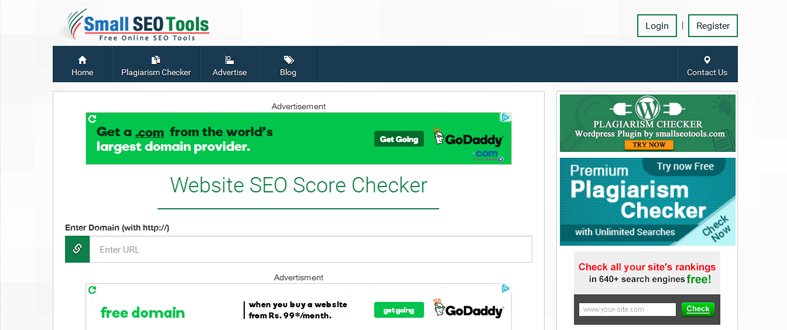 Small SEO Tools has brought a reliable mobile friendly website checker tool to check whether your website is responsive and mobile friendly. This app offers rich user's experience. With this quality tool, you can analyze your website without any signup process or registration.
Since non-responsive website design is unwanted, this tool offers advice to make your website design mobile friendly. To view the change in rankings, you need the best friendly SEO tool for the purpose. With this tool, you can also analyze your website social media signals using social media signal checker tool to get your posts featured on Google Search.
47- Urlitor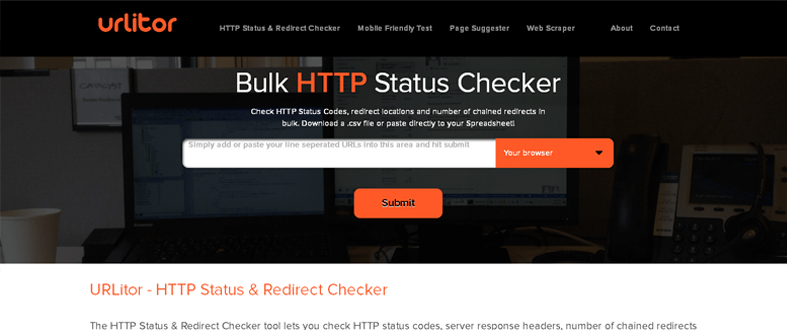 Companies are constantly looking for better comprehensible SEO and the best ways to generate more traffic to the site. Billions of web/online users/consumers use their mobile phones/gadgets to visit every site that sells the needed things online. http://www.urlitor.com/mobile is a Mobile Friendly Checker that provides the actual mobile-friendly score. With this App, you can easily retrieve Google's URL Score based on mobile friendliness. It is mobile ready and mobile friendly checker.
The Bulk HTTP Status & Redirect Checker gives you status codes, redirect locations, and number of chained redirects in bulk. You can download a .csv file or paste the results directly into your Spreadsheet. The Bulk HTTP Status Checker is currently on Beta version. It is free to use and comes with no guarantees.
48- Mobiletest.me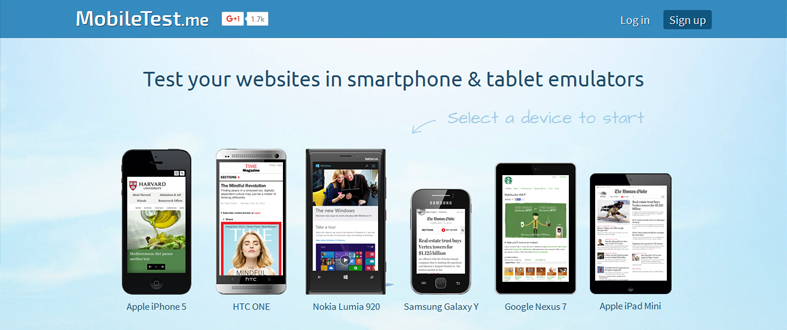 Mobiletest.me is a software tool and online website to test mobile websites on desktop. There are a huge number of devices out there and you need to make sure that your sites work fine for the majority of them. Loading speed of a site in a mobile is a sure factor to encourage or goad the user to leave the website is it is slow. Other factors that affects the user are variable network conditions, pixel densities, relative size of tap targets and real page load times. In a perfect world, every website could be tested on every major mobile device that it might be viewed upon.
With this advanced tool, you can test your mobile sites and web applications right from your browser. You can easily test your websites in smartphones and tablet emulators.
49- http://www.drlinkcheck.com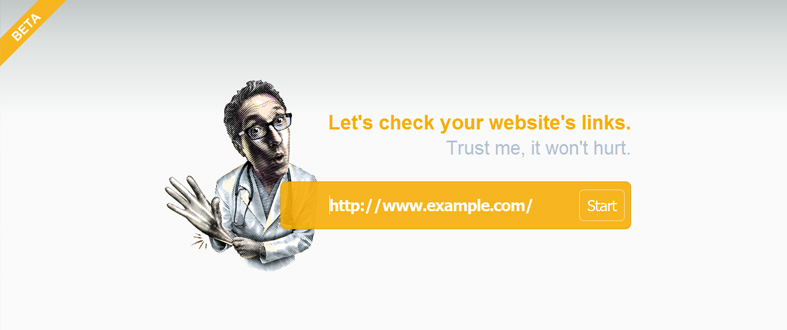 Drlinkcheck allows you to see the links to your websites and the pages they are linked to. So, through this tool, you can come to know how many links in total have been built to your website and which pages are linked to them. Thus you can have a separate data for every page your website has. The ultimate thing about the tool is that you get a detail regarding the broken and blacklisted links to your website as well. Before every link that is broken or blacklisted, the exact type is written. The links that are ideal nothing is written. Therefore, now, you know which links to be fixed. By fixing those links, you strengthen the power of your link building and help your website in increasing its visibility.
50- http://www.brokenlinkcheck.com/broken-links.php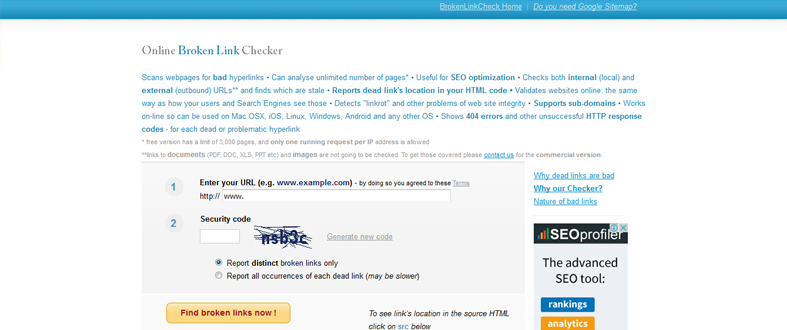 Broken links checker is a free link-building tool by Broken Link Check. This tool checks your link history and tell you the number of links your website has. In addition to this, the tool tells you the links that are broken or backlisted. Thus, by using this tool you come to know which links are creating trouble to your website's visibility on Google. Once you have this data, you can do one thing that you delete or repair such links that are putting the credibility of your link building campaign at stake. One more thing you can stop the process at any point of the time and the tool will tell you the status by the time you instructed the tool by pressing stop button to stop checking more links.
51- http://www.deadlinkchecker.com/website-dead-link-checker.asp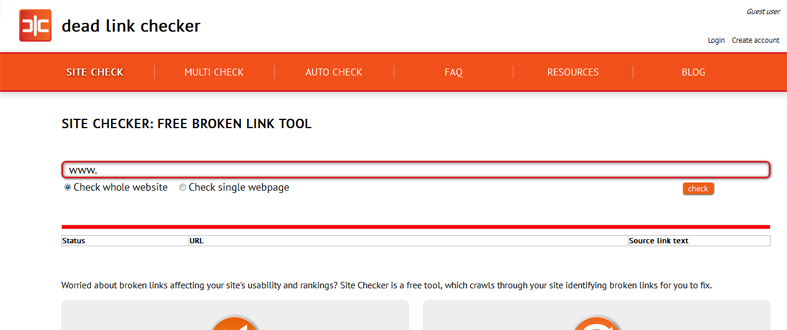 Website Dead Link Checker is an SEO tool that enables webmasters and SEO professionals to diagnose and fix the broken links to their websites. Moreover, this tool allows them to analyze the broken links to their competitor's websites. To use this tool, you have to type your website's URL in the box given below "SITE CHECKER: FREE BROKEN LINK TOOL." Now you have to options to select from – check whole website and check single webpage. If you want the separate the details of every page, you can put the URLs of page, select the option check single webpage, and get the details of every page. On the other hand, if you want the details of whole website together, you can put the homepage URL of your website and simply select check whole website option.
52- https://xmlsitemapgenerator.org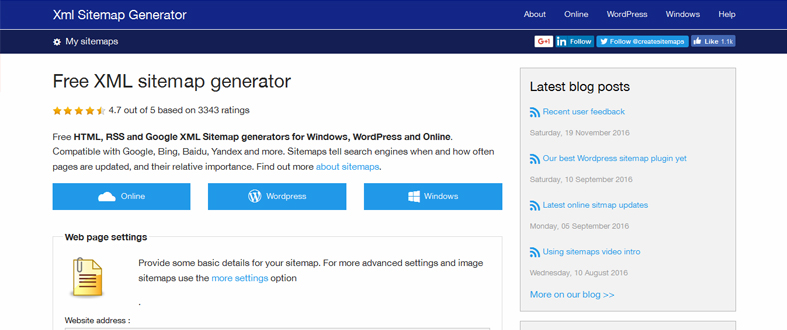 This SEO tool is to generate RSS, HTML, and Google XML Sitemaps for WordPress and Windows. The best thing about this tool is relevant to Google, Bing, Baidu, Yandex, and several other search engines. How useful this tool is this can be assumed by seeing its review rating that is 4.7 out of 5. To generate the sitemap for your website, you have to put certain details being asked by the webpage. Once you press on Generate Sitemap after filling up the details, you will get the sitemap that you can download to proceed on.
53- https://help.yahoo.com/kb/webmaster-resources-sln2248.html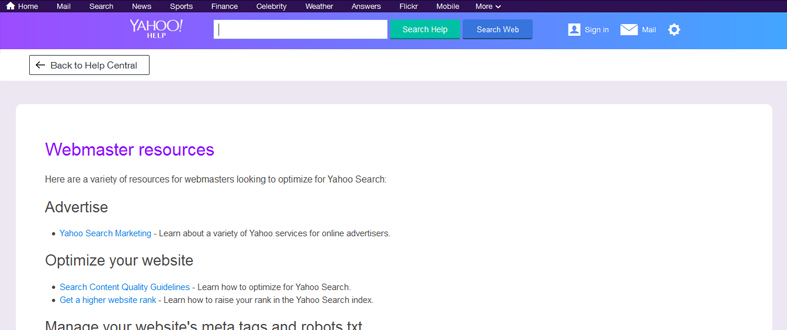 Yahoo, Bing and Google are few names that require no introduction. If your website is enjoying prominent ranking on Yahoo, then it is a big plus point. Learn the easiest ways to optimize yahoo search. The quality guidelines of Yahoo provide immense help to the webmasters. These guidelines also act as source of help to the webmasters and enabling them to raise their Yahoo rank and search indexing.
The webmaster resource also assist in improving website's ranking. It is the one of the key responsibility of webmaster to ensure originality of the content present on the website. Simultaneously, it is very necessary to use meta tags and robot txt because they manage the appearance of website in Yahoo search. So, by utilizing yahoo webmaster resources and guideline, it is easy to uplift your website ranking in Yahoo.
54- http://tool.motoricerca.info/keyword-density.phtml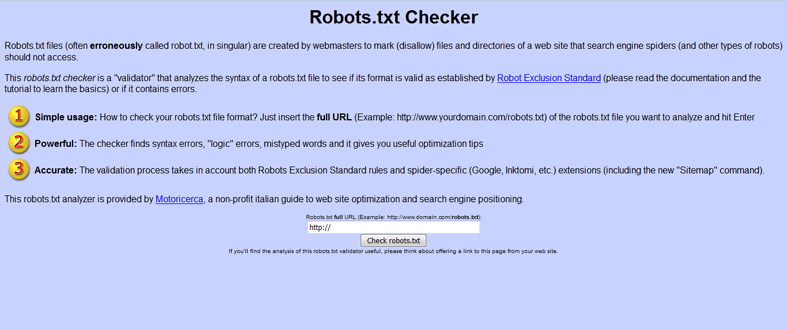 There are several factors that contribute to popularity and visibility of website. Maintaining ideal keyword density is one of them and for this task keyword density tool is used as an analyzer. Two decades back when Search Engine Optimization was in its nascent stage, the webmasters realized that appropriate keyword density plays instrumental role in website's ranking.
Several SEO'S and internet marketing giants provide free SEO tools that comprise keyword density checker. It is easy to use these tools and craft detailed analysis report by using them. Such procedures allow the webmaster to accurate calculate the density of phases. Motoricerca is a noted free Italian guide that provides keyword density analyzer for search engine positioning.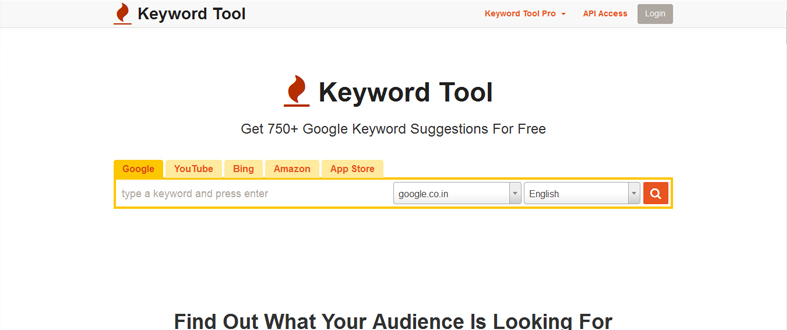 Keyword tool helps you find the keywords that people are typing into google search box. It uses Google Autocomplete to generate hundreds of relevant long-tail keywords for any topic. Google Autocomplete is a feature used in Google Search and its purpose is to speed up the searches performed by users on Google. Keyword Tool helps you employ Google Suggest for keyword research. It extracts Google keyword suggestions and presents it to you in an easy-to-understand interface. To generate long-tail keyword suggestions, Keyword Tool prepends and appends the search term which you specify with different letters and numbers, places it into Google search box and pulls out keyword suggestions. You can find and analyze thousands of relevant long-tail keywords with free or paid version of Keyword Tool and use them for content creation, search engine optimization, pay-per-click advertising or other marketing activities.
56- http://www.keyworddiscovery.com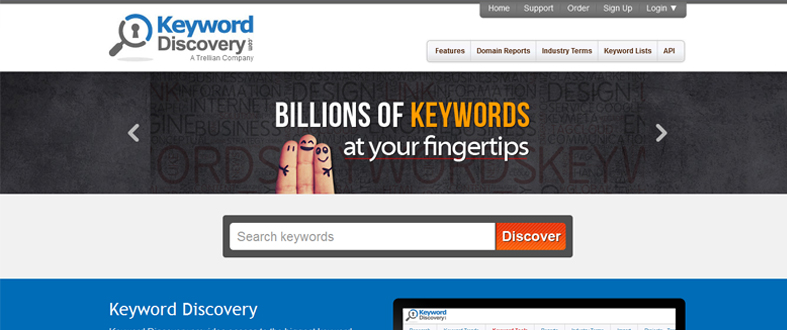 Keyword Discovery provides access to the keyword database derived from all the search engines. With the help of this tool, you can access to search phrases that people use to find products and services, as well as the search terms that drive traffic to your competitors. It optimizes website content and Meta tags. Keyword Discovery maximizes your pay per click campaigns and takes traffic away from your competitors. This tool enables keyword research, spelling mistake research, seasonal search trends, KEI Analysis, keyword density analysis, domain researcher tool and a full list of features. They provide Custom Keyword Discovery Services in which the KeywordDiscovery API allows you to integrate our data into your own tools. The Domain Drop Reports are used for Domineers and get custom exports of large keyword lists via keyword reports and with Industry Keywords, you can search terms that drive traffic to sites in specific categories.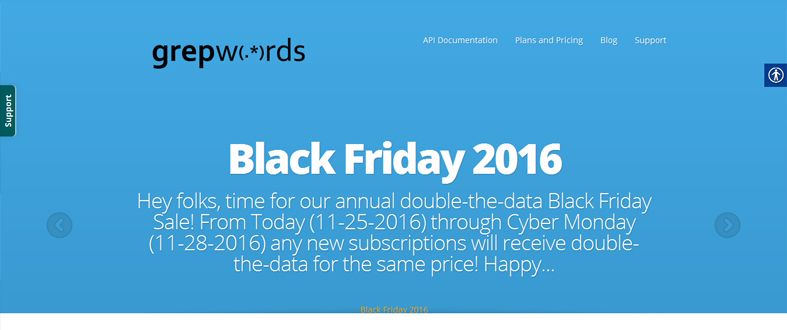 Grepwords merges the keyword database with intuitive tools and the industry leading lookup and related APIs to bring you the keyword tool unmistakably. GrepWords is just like every other keyword suggestion tool, you have to pop in a keyword, and it gives you results. Their query builder is that on steroids. They have five internal tools, first is Query Builder. It allows you to create complex queries to our database using a simple interface ripped right out of Google Analytics. The Lookup Tool exports straight to CSV. With this tool, you don't waste your time with a fancy schmancy interface when you just want the data. With Tag Finder, you have to copy and paste a huge amount of content and it will extract the best commercial keywords from the content. Next is Exact Match Domains, this helps in finding every exact match domain in the list easily and quickly. Question Finder, last but certainly not least, drop in any keyword and find commonly searched questions related to the term. If you are looking for content suggestions, this is where you should turn.
58- http://www.responsinator.com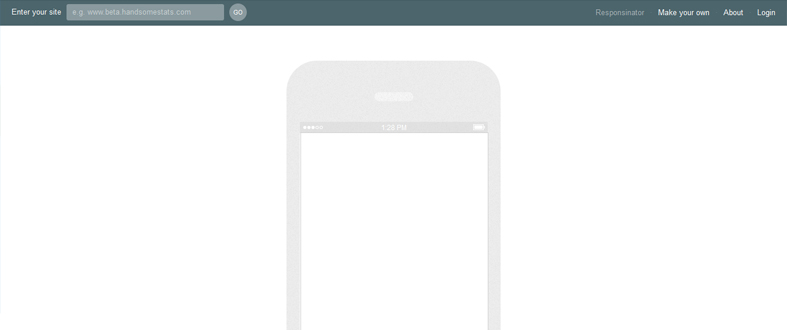 Responsinator helps website makers quickly get an indication of how their responsive site will look on the most popular devices. It does not precisely replicate how it will look, for accurate testing always tests on the real devices. They recommend using Chrome on OSX 10.7+ with scroll bars set to "when scrolling" (System Preferences › General › Show scroll bars › "when scrolling"). This means the device widths aren't affected by scroll bars. Pro tip: append &scroll=ext to move the scrollbars outside of the device frame. The Responsive Design means designing your website to adapt to the user's viewing environment (mobile, tablet, laptop etc.). It does this through the use of media queries, and other clever technology.
59- http://ami.responsivedesign.is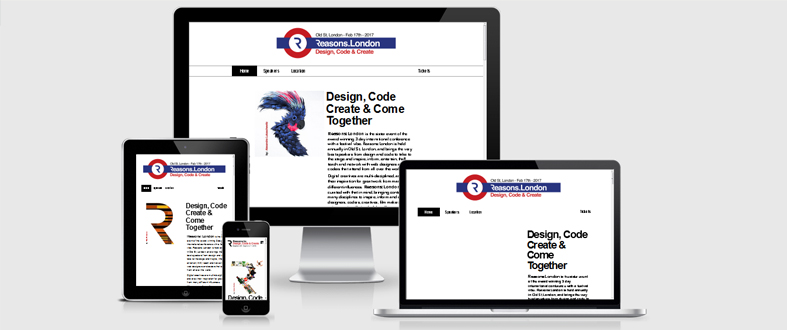 At Responsive Design, you check how responsive your website is. All you have to do is, add your URL to the input field, click GO (reloads the preview) or press Enter (reloads the page). You can check the responsiveness on any site with a single click from your very own browser, no need to come back here to type in the URL. Simply you have to drag the button on the website below up into your bookmark! This tool allows you to get what you need quickly, and hopefully it can be helpful for showing your more visual clients what you mean by responsive design when a suite of products isn't at the ready. This is not a tool for testing, it is really important that you do that on real devices. This instead is a tool for quick screenshots and to visually allow people to "get" what you mean in client meetings.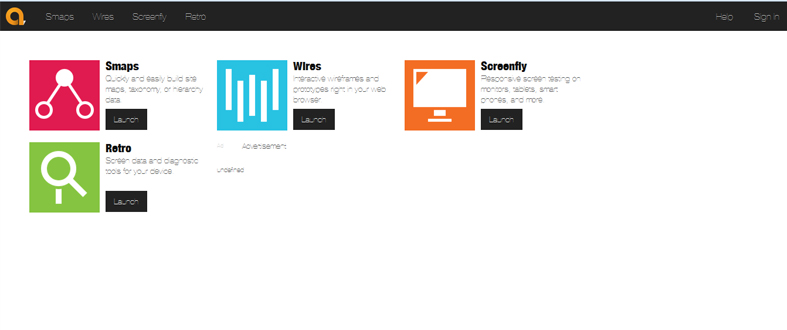 Each tool is a single step in a design methodology polished and tested. From the drawing board to the launch pad, QuirkTools is assisted in every step. Quirktools offers you four tools, first one is Smaps that let you build sitemaps in your browser. Another tool is Wires, which lets you build online wireframe right in your browser. There are no fancy plugins. You can start by adding a new widget to the page. The third one is Screenfly that allows Responsive screen testing on monitors, tablets, smartphones, and more. Last but not the least, Retro tool which is screen data and diagnostic tools for your device.
61- http://semalt.design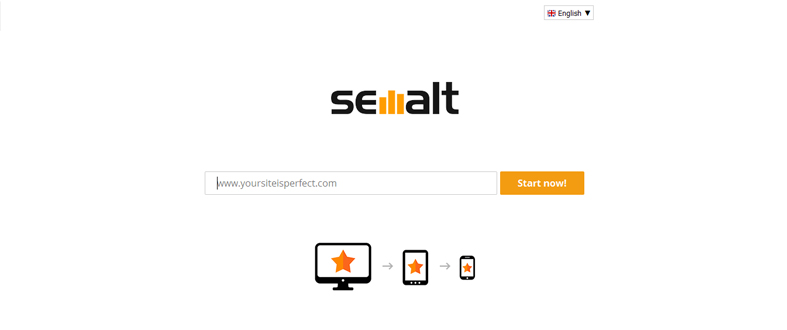 This is a responsive design testing tool that allows you to see your website's layout on tablets, iPhone screens, Android screens, and any other popular mobile devices. With 2 clicks, you can see how your website looks like on the iPhone, tablet, Android or smartphone screen. Just add your website's URL to the field, click Start Now and you will be able to scroll up and down your website's pages right on the virtual screen; click and follow links; visit website sections; watch videos; view images. Their online service takes into account wide range of mobile gadget models, from iPhones (including latest models like iPhone 6) to Android devices and etc. You can even test your website's layout on low-quality models to make sure that your responsive web design will be able to get the most out of the lowest screen resolution!
62- http://www.isresponsive.com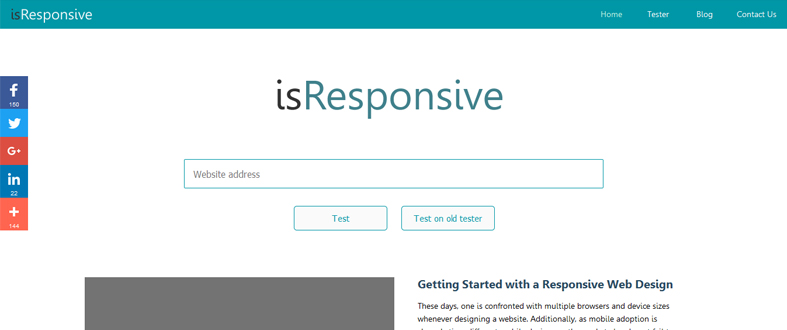 At isResponsive, the Bootstrap tool is used to build the famous social media platform commonly known as Twitter. Bootstrap provides easy to configure CSS front-end framework. It does not only behave and appear great in modern desktop browsers today but also in smartphone and tablet browsers with its twelve column responsive grid, JavaScript plug-ins, dozens of components, form controls, web-based Customizer, and typography. Bootstrap has a number of different forms and shapes such as Retriever Bootstrap, Google Bootstrap, and super exciting Geo Bootstrap. The Unsemantic tool refers to a system of the fluid grid which is the successor to the 960 Grid System. Rather than being a fixed digit of columns, Unsemantic is wholly based on percentages which make any grid more versatile. Responsivepx, this tool offers a way to check your responsive web design's status quo. Encoding the URL to your own website, online or local, lets you utilize the controls in order to modify or adjust the height and width of your point of view so that you can locate the precise breakpoint of widths and utilize that data in your respective media queries.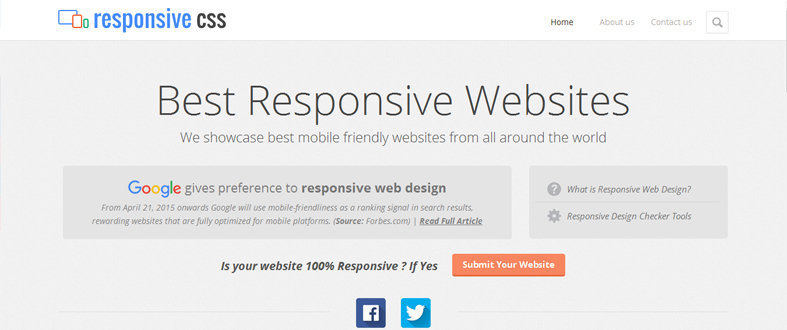 Responsive CSS lets you check how responsive your website is. This website offers few responsive design testing tools which will help you with testing of your responsive websites. The Responsive Web Design Testing Tool is a testing tool that has been built to help with testing your responsive websites while you design and build them. You can enter your website's URL into the address bar to test a specific page. Unfortunately, with the way browser security works, you are unable to navigate your site through the frames that your website appears in. The only way this is possible is if you host the testing tool on your website's own hosting. They provide a GitHub repository for you to download and install the tool on your own site.
64- http://responsivechecker.net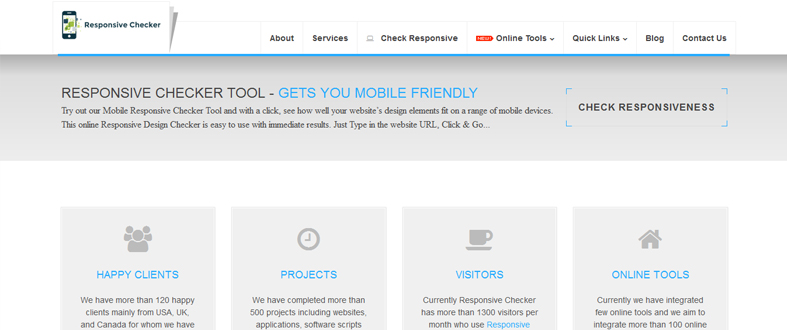 Responsive Checker provides a responsive design checker tool through which you can see how well your website's design elements fit on a range of mobile devices. This online Responsive Design Checker is easy to use tool with immediate results. You have to just type in the website URL and click. They have created websites to help designers and developers by providing them free online tools. These tools include many downloaders, formatters, generators, validators, code minifiers, string escapers, encoders & decoders, web resources and more. Each responsive tool is provided to check the website is mobile friendly or not. For this, they always use browser's in-built features like from Google's Chrome and Mozilla's FireFox. But these browsers have limited resolutions. Then they also use online websites to check our design's responsiveness. They offer a tool for different cell phones for different brands Apple, Samsung, Sony, LG, and Google.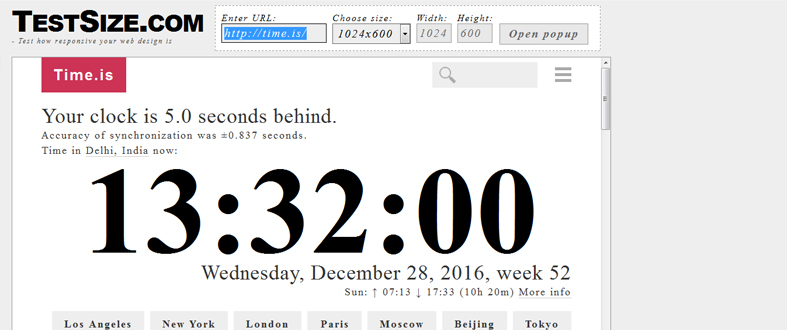 Test Size allows you to test the responsiveness of your website. On Time.is you can find out what the exact time is right now at any of 7 million locations around the world, check the accuracy of your clock and compare time at different locations. Time.is is synchronized with an atomic clock – the most accurate time source in the world. The displayed time will normally have a precision of 0.02-0.10 seconds. The precision depends on your internet connection and how busy your computer is. You will also find a calendar, sunrise and sunset times, information about which time zone a location belongs to, information about today's holidays and observances, latitudes, and longitudes, integrated, full-screen Google Maps, population numbers and key information about every country in the world. Time.is is friendly to mobile devices. It uses minimal bandwidth and the design is adapted to small screens.
66- http://reconsideration.org/penalty-tool/?url
This tool is developed by Reconsideration.org, a Norway-based company that provides google penalty and removal services. The tool "Google Penguin Checker" helps you to analyze penguin penalty on your website. It is free of cost. You just have to enter your domain name and database and click "go" button. The result will be in chart form. You can explore the chart and analyze your website's organic traffic on the dates of penguin updates. This tool also gives you the option to view the results for a specified time period. You can modify the dates as well as zoom the results month wise and year wise such as for 1 month, 3 months, 1 year etc. You can also download the result in PDF, JPEG, SVG and PNG formats.
67- http://pixelgroove.com/serp/sandbox_checker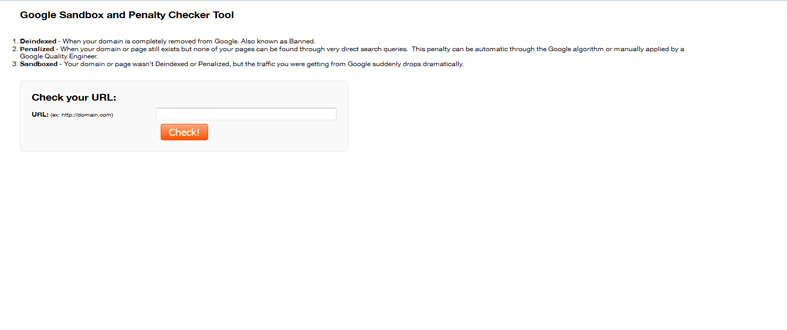 Pixel Groove, Florida based web designing company developed the tool "Google Sandbox and Penalty Checker". This tool helps you to find out whether your domain name is deindexed, penalized or sandboxed. Deindexed means that your website has been removed from Google. Penalized means that your pages are not found by direct search queries. It also means that your website has got google algorithm penalty. Sandboxed means that your website traffic has drastically dropped. You can check whether your domain is deindexed or penalized or sandboxed by Google just by entering the URL of your website into the input box. Then after clicking the check button, the tool will provide you the results.
68- http://www.jellyfish.net/seo-tools/google-penalty-checker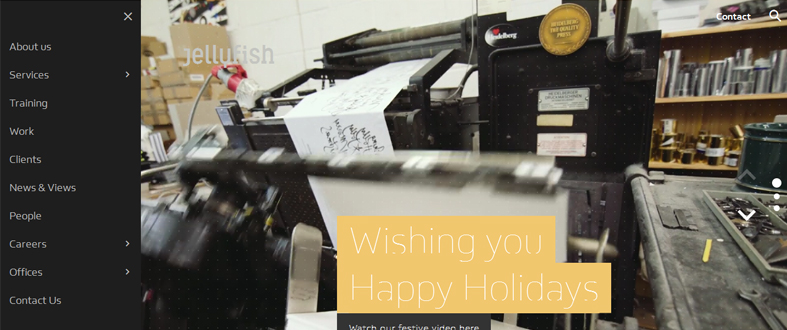 This tool from Jellyfish.net helps you to check any google penalty on your website. A Google penalty can result in low organic traffic as well as low website ranking. This tool works in two steps – in the first step you have to enter your domain name and in the second step you have to enter your name and email id. Then this will create your account on the website and you can view detailed information of your domain. This tool gives you options to view results based on different updates such as Panda, Penguin and other. You can analyze the complete information of your website's organic traffic on different dates in graphical form. It also provides information on Google updates. This tool helps business owners to improve their search engine optimization of their website very proficiently.
69- http://www.duplichecker.com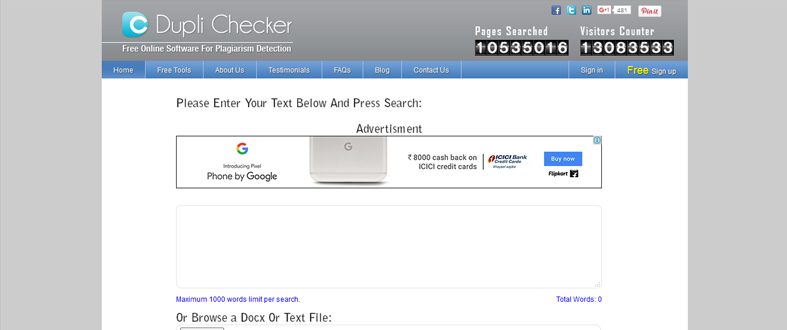 This tool is developed by the company Duplichecker Inc. known for providing content and SEO services. This tool helps you to find whether the content is plagiarized or not. You just have to enter the text in the input box and press "check plagiarism" button. You can check the content of maximum 1000 words per search. This tool will display "No plagiarism detected" in the case of 100% unique content and will show the source pages in case of any duplicated content. Unregistered users can check only one search per day whereas registered users can use this tool to check 50 content articles per day. You can also check the grammar of your content. It is free to use. It is very fast and capable to give results within seconds. Business owners can use this tool to check the originality of their content.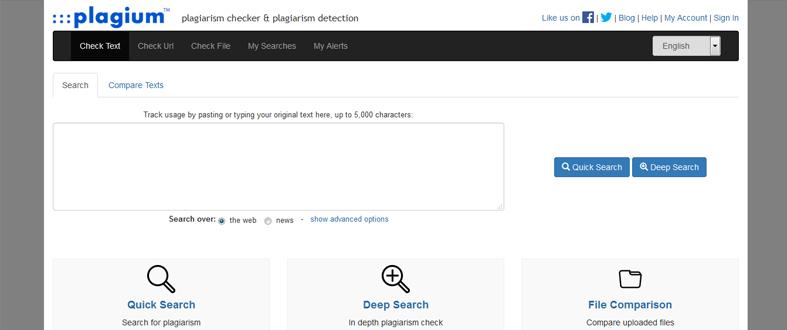 Plagium is a plagiarism checker tool developed by Septet Systems Inc. This tool helps you to find plagiarism in your website content. It checks for around 5000 characters per search. You have to paste or type your content in the input box and click the search button. This tool comes with two search options i.e. quick search and deep search. For occasional content search, this tool provides free services but if you have to check a large number of articles then you should take premium service. In this, quick search option will cost you around $0.04 per page whereas deep search option will cost you around $0.08 per page. Deep search option provides advanced level of search. You can also compare files by using this tool only for $0.05 per page.
71- http://www.webseoanalytics.com/free/seo-tools/duplicate-content-checker.php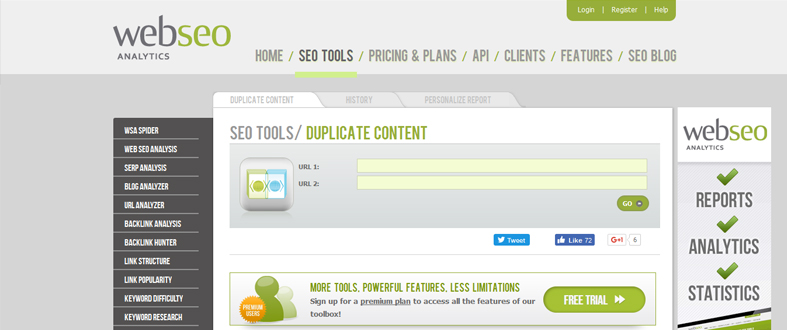 Duplicate content tool is developed by Web SEO Analytics, known for providing powerful SEO tools. This tool helps you to find duplicate content. You can use this tool to compare two URL's and find out the similarity between the two. You have to enter both the URLs of the website you want to compare and then you have to click "go" button. This tool will provide results for duplicate content in percentage. You can use this tool for free and for premium service also. You can use this tool free of cost for 10 days and after that, it costs euros 29 per month. Premium plan includes a lot of advanced features such as downloading reports in different formats etc. By using this tool, business owners can minimize the result of duplicate content.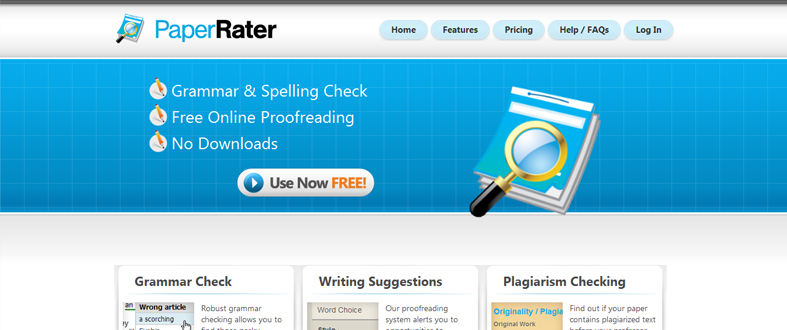 This tool is developed by paperrater.com. This tool helps you to check grammar and spelling mistakes in your content. It also proofread the content to improve the text. In addition to that, this tool also checks for plagiarism in your content. This tool is very efficient and fast and provides results within 5-15 seconds. It does not require any registration, login etc and is free to use. You can use this tool as a free service as well as premium service i.e. $14.95 per month. By subscribing the premium service, you can avail various advanced features such as enhanced plagiarism check, file upload, faster processing etc. This tool also provides vocabulary score that means it will provide you a score based on quality and number of good vocabulary words found in your content.
73- http://sitemaps-builder.com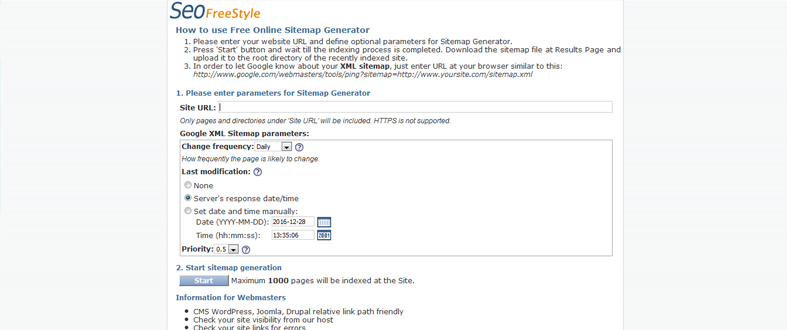 For the information of a layman – site map is a list that includes list of webpages accessible to the user or crawler. It is the sitemaps that establish relationship between content components. At various instances sitemaps symbolize organization and labeling system. There is no shortage of special tools that aim to assist the programmers and webmasters. It is extremely easy to use the sitemap building tool. Just follow the instructions on SEO Free Style. Some minor adjustments have to be made and instantly sitemap generation tool would initiate with the procedure.
Interestingly, 1000 pages can be easily indexed but the webmasters have to take into account other things such as site visibility from the host, site links should be checked for errors. Sitemap generators sometimes accept pages and directories under Site URL. Such aspects have to be considered by the webmasters to achieve the best results.
74- https://www.searchenginegenie.com/google-rank-checker.html
Google Rank Checker allows you to check the rank of any website on Google. You have to put the site's URL and the keyword for which you want to see site's positioning on Google and then select the region wherein you want to check the rankings. After filling up these details, you have to answer a question and then press the submit button. Within a few seconds, the exact position of the site for that particular keyword in that particular region will be in front of your eyes. The best thing related to the use of this tool is that you need not create an account on the site to get access to the tool.
75- http://www.wholinks2me.com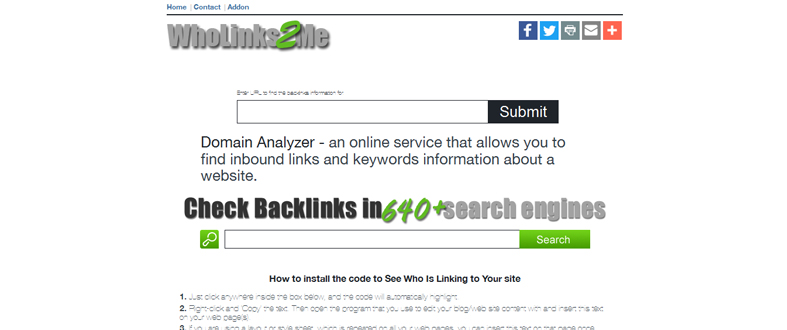 This is a domain analysis tool, which provides almost complete information about a website. Just put the URL of your website and the tool will provide you information domain's registration date, expiring date, any changes in the domain name, Google page rank, Alexa page rank, Alexa Delta, Indexed pages on Google and Bing, backlinks to the site, and much more. Who has checked your domain details through this tool you can know this as well. For this, you have to add some texts given on the tool site to your website. No registration and sign in is required to use this tool.
76- http://www.submitexpress.com/free-tools/meta-tags-generator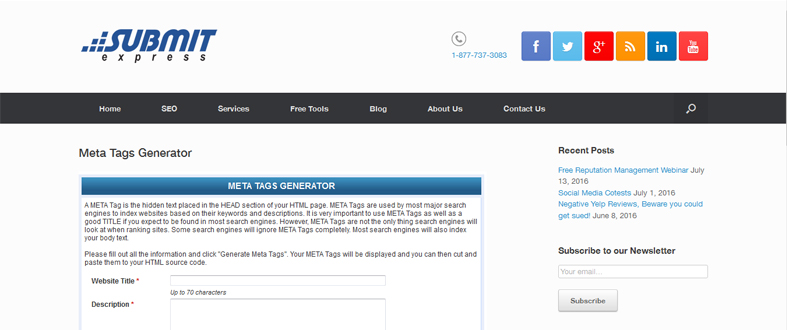 This tool creates Meta tags for your website. To create Meta tags, you have to fill up several details being asked on the software page. For example, website title, keywords, indexing, following, author's name, email, newsletter, and then services. Last four, author's name, email, newsletter, and then services, are optional. Once you filled up the details, just click on the generate Meta Tags button and the tool will show you the generated tags just in a few seconds. This tool does not ask you to register yourself with the website to use the tool.
77- https://www.uptrends.com/tools/website-speed-test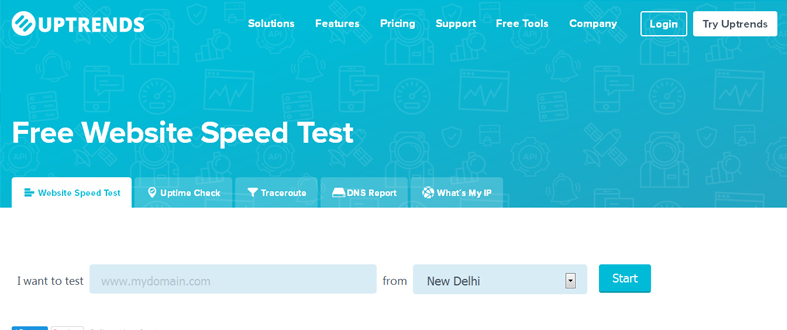 Constant monitoring is extremely important so as to deliver the customers with best performance. A slow website appears uninteresting to the netizens and they immediately switch to some other alternative. Uptrends, a trusted name in website performance monitoring has made its presence felt, several blue-chip companies are associated with it. Don't hesitate to embrace latest alternatives and website monitoring tool offered by Uptrends as they are phenomenal and very promising.
Website performance is an important thing that should be monitored upon regular basis. Astute webmasters keep a tab on the performance and the speed of the website to maximize its uptime and subsequently benefit the business. Synthetic monitoring is used by over several thousand business to deliver their best performance. What is more important is that your website should enjoy global visibility and then deliver phenomenal benefits to the business. By constant monitoring, you can check the problems such as sudden failures, breakdown of the website and get instant alert regarding impending problems.
These free-of-cost KeyCDN tools are designed by Proinity LLC. These online tools analyze the speed and performance of the website. These powerful tools are ideal for analyzing the different aspects of the web page such as speed, IP Location, DNS, Ping, SSL Freak, certificate validation, and so on. The KeyCDN tools simplify the problem resolution tasks as the bottleneck of the website is clearly visible by the test results. The tools also identify the connectivity issues. These online tools check the speed of the full page, Geo location, HTTP header, network, and security which decide the performance and security of the website. The implementation of these KeyCDN tools is extremely easy on the website.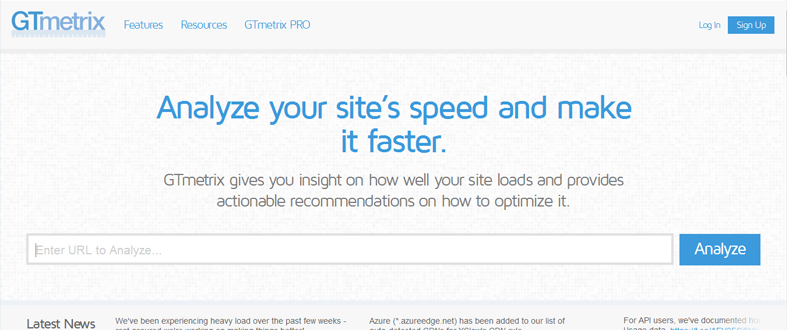 GTMetrix is a very popular speed-testing tools for measuring and keeping track of websites. Since, site speed is one of the biggest scoring factors in missing or gaining of revenues, an accurate metrics for the website is needed by every online company. GTmetrix gives you a better insight on how well your site loads and provides actionable recommendations on ways to optimize it. Setting up Monitor Pages and monitored alerts, with GTMetrix, you can check the performance from multiple regions, analyze with mobile or video capture it as well. One of the biggest drawback of GTMetrix is that it does not offer variable testing. Since a comprehensive tool is needed to test website under a number of circumstances. GTMetrix offers a solution by monitoring a URL hourly, and from different locations. This will give you a complete picture of how your website performs.
80- http://www.pagescoring.com/website-speed-test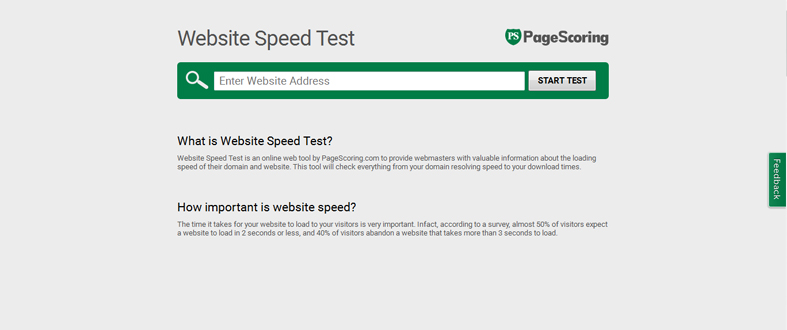 In order for the website to score well with visitors, the maximum timespan that a visitor will spend is not more than 2-3 seconds. Website Speed Test is an online web tool by Pagescoring.com to provide webmasters with valuable information about the loading speed of their domain and website. While checking such parameters as domain lookup, connection time, page size, download time and average speed, this tool will accurately predict your loading time. This is very important as a visitor to the site is attracted or distracted by the time it takes to load full page. This tool will check everything from your domain resolving speed to your download times. With the simple clicking of a button, you enter the website URL and click the Start button.
81- https://performance.sucuri.net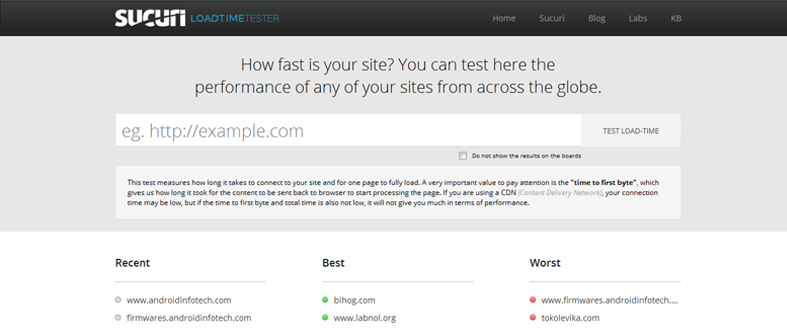 Sucuri Load time tester aka Global Website Performance Tester is a very handy tool and gives an excellent snapshot of how quickly your website loads around the globe. With the help of 3 metrics, this tool accurately measures the performance of any website: connection time, time to first byte, and total load time.
Connection time measures the time taken for the TCP session to be established to your website. Then comes, TTFB or Time o First Byte, which tells you how long it takes for the first byte to be received by the browser. So, as soon as the browser receives the first few bytes, it can start to load the page and display content to the end user. Total Load Time shows how long it takes for the full page to be loaded. Sucuri has 13 testing stations across the globe for best visibility tests.
82- https://www.dareboost.com/en/report/583411e90cf2b8805a21f54c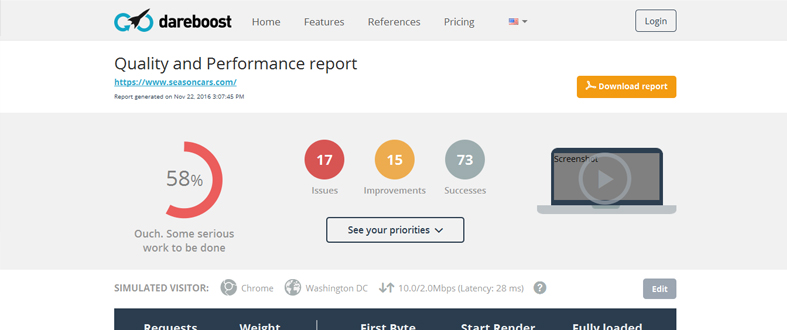 Dareboost is a proactive tool that allows you to perform a continuous quality control on our websites and gives accurate reports on the priority improvements. There are dozens of optimization tips that gives an insightful audit of your website's quality for better performances. It is automatic, easy and effective.
We understand that your selling tool is the performance of the website itself. Therefore, Dareboost provides faster and more efficient websites for you by regulating the speed and controlling the overall performance of the website.
It provides the technical expertise and offers solutions that bring simplicity and synthesis to managers and at the same time offer efficient tools for developers putting management and productivity within easy reach. We provide robustness, reliability and availability by supporting your decision.
83- https://www.webpagetest.org/result/161122_G1_HDB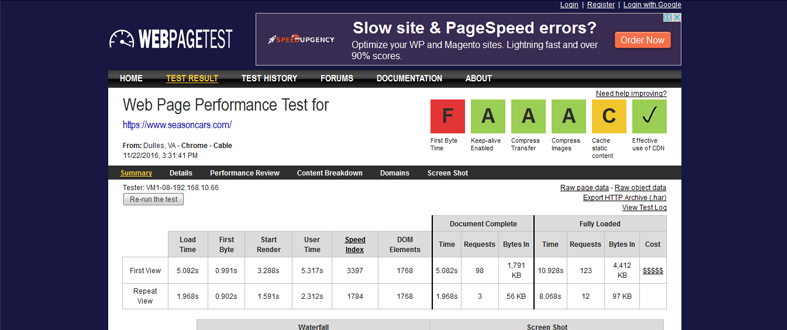 For checking webpage performance, the best tool available online is webpage test. With this tool, one can run a free website speed test from multiple locations around the globe using real browsers (IE and Chrome) and at real consumer connection speeds. It is the best Page Speed optimization checks and suggestions for improvements. There are Simple and Advanced testing ways to include multi step transactions, video capture, content blocking and much more. This will yield rich results including resource loading waterfall charts.
If you have any performance/optimization questions you should visit the Forums where industry experts regularly discuss Web Performance Optimization. Our list of web page partners include big names like Go Daddy, WordPress.com, Quantil, Mauritius Telecom, Catchpoint, HeadSpin, TurboBytes, MaxCDN and more.
84- http://www.yellowpipe.com/yis/tools/robots.txt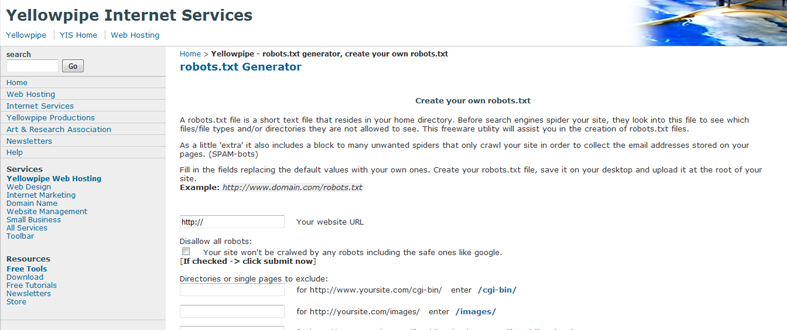 With this tool, you can generate robots.txt for your website pages. The tool features a block that does not allow Spam bot (unwanted spiders that crawl your website to get your email address and other contact details. The tool is free and you are not required to sign up the website to generate the robots.txt file. What all you are supposed to do is you have to type your website URL and the pages that you want them to be excluded. You have to select the two other options "Disallow all robots" and "Disallow unsafe robots."
85- http://tool.motoricerca.info/robots-checker.phtml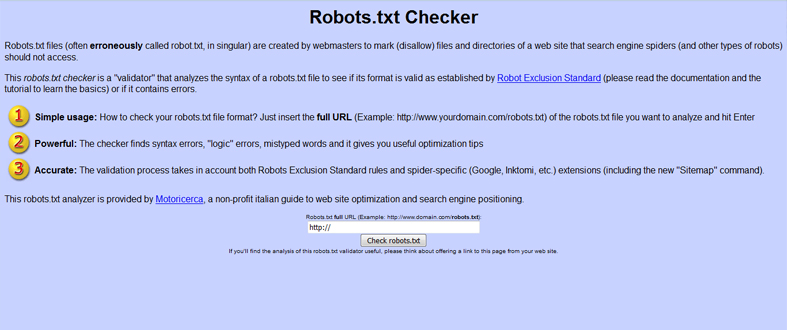 Robots.txt files are created in order to disallow search engine spiders to crawl files and directories. Robots.txt checker is a validator that analyzes the syntax to see if the format is alright as per Robot Exclusion Standard.
To check the robots.txt files, you have to put the website URL and press "Enter." The tool will check for syntax errors, mistyped words, and logic errors and provide you the right suggestions. If your files have some errors, you will get a message "This robots.txt file has some errors. They are marked in pink color." In addition to this, the tool will show you some warnings at the bottom of the analysis, aiming at making you cautious regarding the use of the robots.txt files.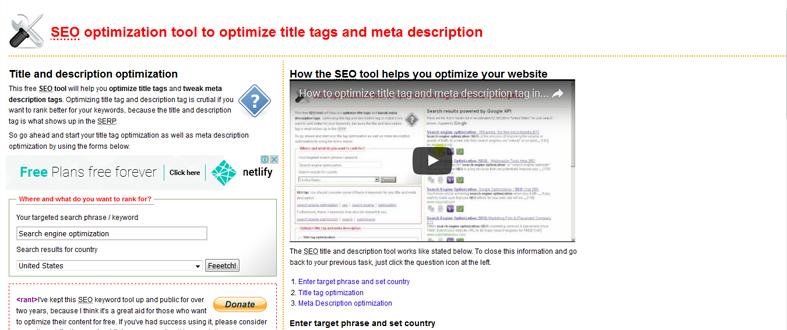 This tool helps you in optimizing of title tags and Meta description. These tools are important to rank better in search results because they are shown in the SERP. You have to type the keywords and the search result of the country in the boxes given below the words "Where and what do you want to rank for?" To optimize the title tag and Meta description, fill up the boxes given below the words "Optimize title tag and meta description." Moreover, on this tool website, you get a link "Add A URL" to click on and that link allows you to link your website to tool provider's directory.
87- https://search.google.com/structured-data/testing-tool
With Structured Data Testing tool, you can detect errors, warnings, and items regarding schema, which is a kind of microdata helpful for search engines to analyze and interpret the content on your website so because of this search engines become able to show your website for relevant searches.
88- https://www.seoquake.com/index.html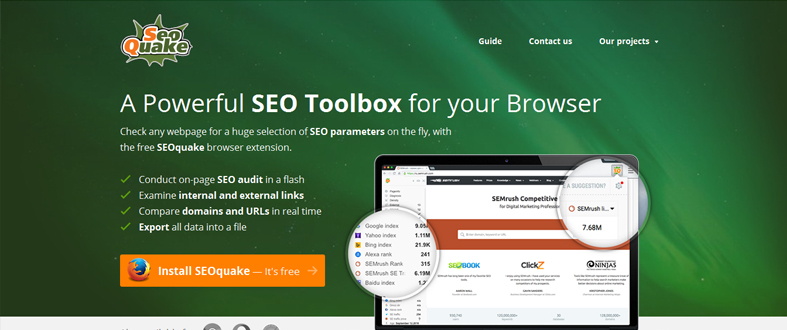 SEO Quake exports all data in one file. This tool allows you to do a comprehensive SEO analysis of your website and that very quickly. You can do real time SEO audit. You can check internal and external links, and do a real time comparison between different domains. Therefore, if you are serious about your website's performance on search engines, this tool can be very much helpful for you.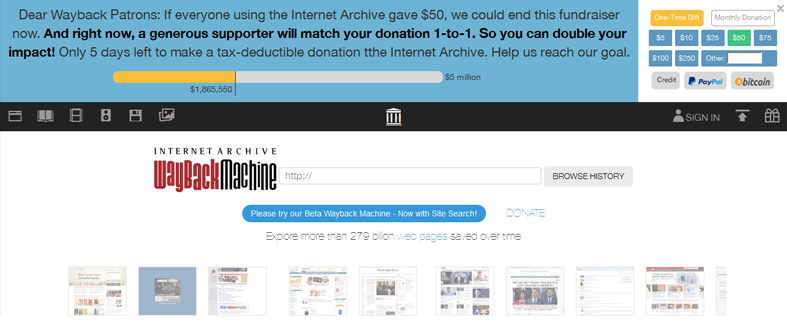 With this tool, you can come to know how the structure of a website was in the past. You can check the titles and Meta descriptions of the website in the past; you can check how the content was in the past; you can check how the website's appearance was in the past. This way, you can do a comparison between the past and present's structure of your website and determine what things you need not include from past website structure.
90- https://www.screamingfrog.co.uk/seo-spider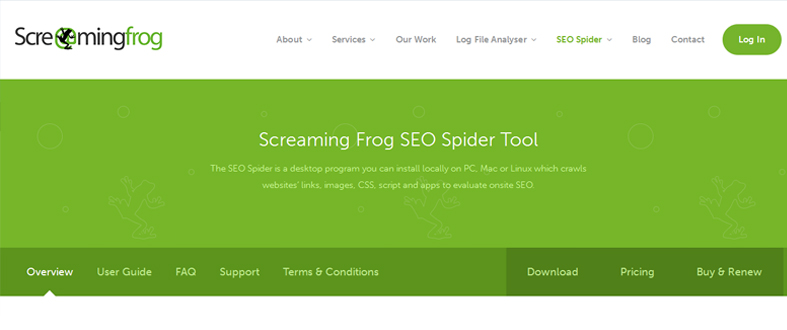 With SEO Spider, you can find broken links and duplicate content, analyze page titles and meta data, audit temporary and permanent redirects, review robots and directives, extract data with Xpath, generate XML sitemaps, and so on. There are many things to check which you will need to take version of the tool. For example- crawl limit, crawl configuration, custom source code search, custom extraction, Google analytics integration, search console integration, and Java script.
91- https://builtwith.com/toolbar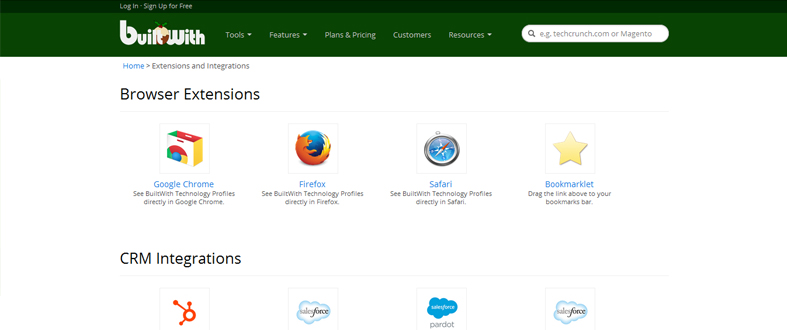 With this tool, you can get useful information regarding technology profile, relationship profile, and detailed technology profile of a website. The technology profile provides you information about webservers, name servers, email services, SSL certificates, hosting providers, frameworks, advertising, analytics and tracking, Java script libraries, and so on. The relationship profile provides you information about tag history. You can check these pieces of information without doing login to the software website. However, if you want to get the detailed technology profile, will have to create your account on the website.
92- https://serpstat.com/keywords/suggestions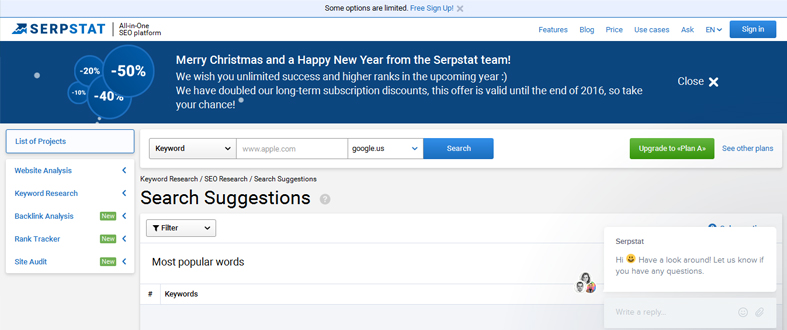 SERPSTAT provides you valuable information about organic keywords, ads keywords, keywords position distribution, subdomains, visibility trend, keywords trend, pages with highest visibility, competitors in organic search, competitors in paid search, competitors graph, SE traffic, and visibility. The best thing about the tool is that you can get these details country wise. If you want to check these details for the US, you have to select Google US and if for the UK, then Google UK and if you want to check the details for any other country, you can check Google for that particular country.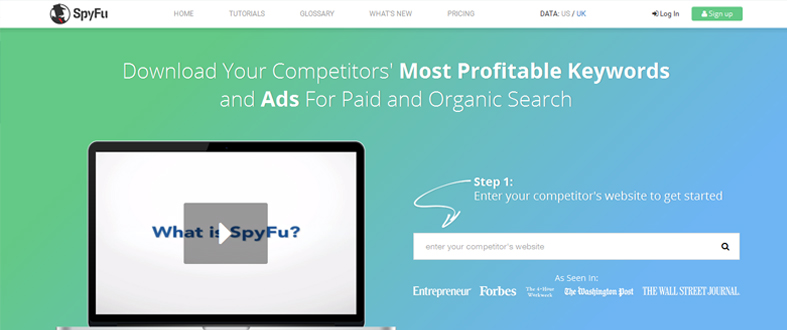 This tool can expose you the formula behind your competitors' success. As you put the domain of any of your competitor in the box and press "search" button, the tool shows you important details like organic keywords, estimated monthly SEO clicks, inbound clicks from Google – organic vs paid, paid keywords, estimated monthly PPC clicks, top organic competitors, top paid competitors, and so on. This way, you have the formula before you and you can determine how you have to move to take on your competitors,
94- http://www.webconfs.com/seo-tools/reciprocal-link-checker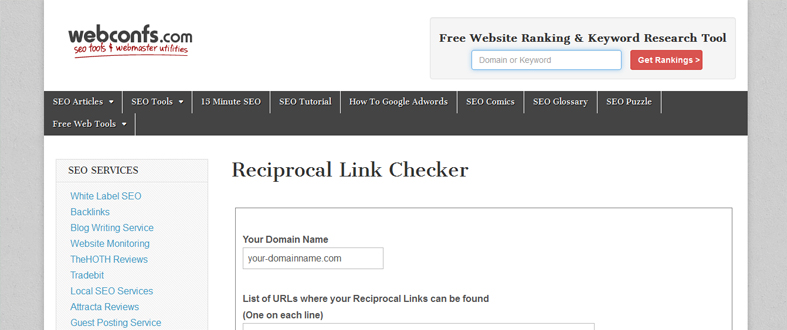 This tool allows you to check the reciprocal links built to your website. You can check whether your link partners have linked back to your website or not. This also helps you define the anchor texts that your link partners use. Moreover, you can add this software to your website by adding the given code on the site to your website. To use this tool, you have to simply put your website's URL and then the websites of your link partners in the box given below. While writing the website URLs of your link partners, you have to take care of one thing that you have to put one website in one line.
95- http://www.ip-report.com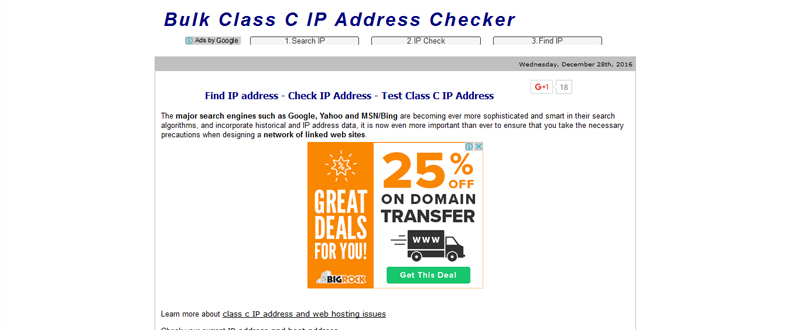 With this tool, you can check the Internet Protocol or IP. You can know about the duplicate class C IP addresses used in link exchanges and web hosting accounts. To use this tool in the best manner, first of all, create a list of domains using text editor. In one line, write one domain. Once you are done with the file, upload this by browsing and then click on check IP. To use this tool smartly, do not forget to read the Help and Usage tips given on the software page. The tool is absolutely free and you need not sign up to check the details.
96- http://www.thinkbling.com/prlinks/backlinks.php
This tool counts the rank of the backlinks you have built to your website. In order to use this tool, you have to provide Google API key in addition to website URL. You can find this key from www.google.com/apis. This tool is also free so you need not pay any money to get the key. Moreover, you have a freedom to change the number of backlinks you want to see.
97- https://www.lipperhey.com/en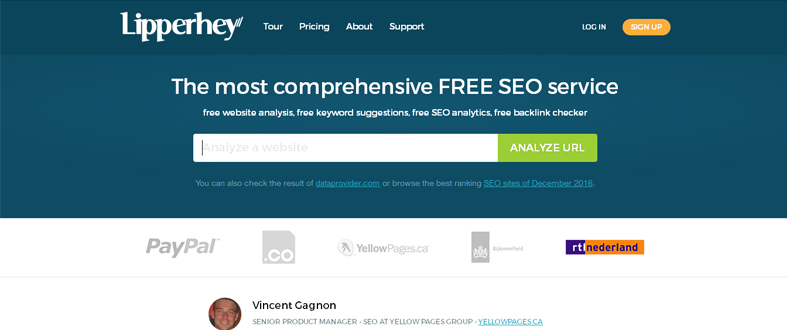 You can analyze your website with this software. The tool provides you valuable information in regards with how many people visit to your website every month, indexability, hosting, design, and on-page SEO of your website. So, you have a detailed information regarding your website and you can know what improvements your website needs to ensure better performance on the web.
98- http://www.contentforest.com/seo-tools/redirect-checker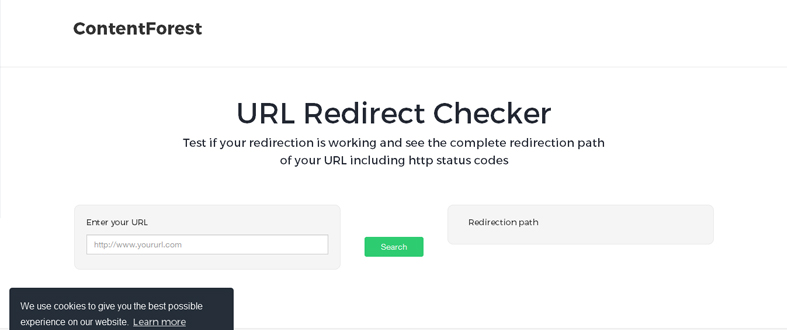 URL Redirect Checker allows you to check the status of redirected links and lets you know whether redirection is working or not. Moreover, you can see the URL redirection path and http status codes.
99- https://www.linkody.com/en/seo-tools/free-backlink-checker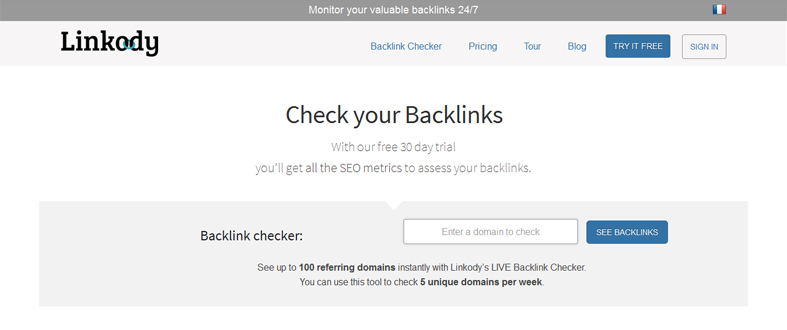 This tool shows you backlink statistics of your webpage. The tool will show you the total number of backlinks and the domains they have been created from. As you enter your website URL and click on "See Backlinks," the tool shows you all backlinks build to that particular page with details like site authority, from, to, anchor, rel (whether link is do-follow or no-follow), IP(Internet Protocol), TLD (Top Level Domains), Moz rank, domain authority, and page authority, and shares. The tool is free for thirty days and you can check and analyze valuable backlinks any time during these 30 days.
100- http://www.checkyourlinkpopularity.com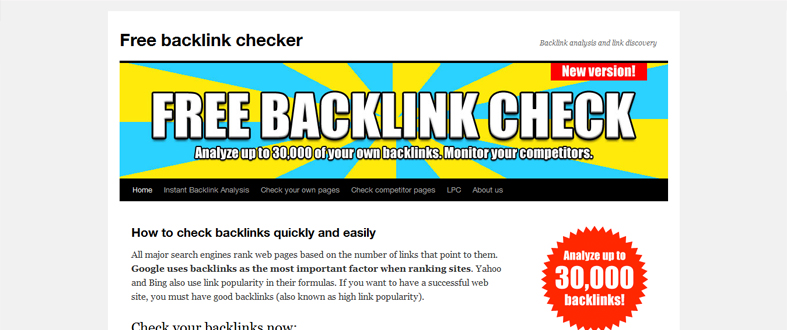 Free Backlink checker enables webmasters to check the status of backlinks created to a webpage. They can know the number of total backlinks, percentage of no-follow links, and link influence score. The software shows you the links as well. The best thing about the tool is that you can check several other things regarding the backlinks like anchor texts, link contexts, link age, link alerts, and so on. What makes this tool more interesting to go with is you do not have to create your account on the tool website in order to check the links. What all you have to do is you have to type the website URL in the given box and press option 'check backlinks now'.
Final Words–
Despite we have checked plenty of SEO tools we do not revoke the probability of missing one that should have been in this list. If you know any such tool that should have been but is missing, do reach us through your comment on the blog. We will warmly welcome your comment and do a comparison between already referred tools and the tool you are talking about. And if that SEO tool passes our test, we will surely include the same in our future update of the list.