Amazon has more than 310 million active customers worldwide, and this behemoth E-commerce marketplace sold goods worth 51.04 billion in the first quarter of 2018.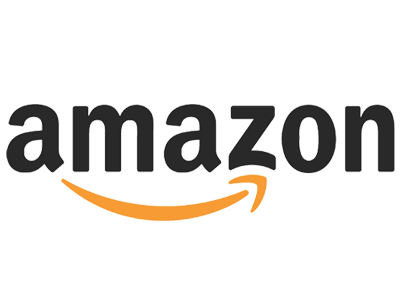 This simply means you have immense opportunities to make money on Amazon. However, to grow sales on this marketplace is not easy.
The reason is simple.
Hundreds of sellers are selling products like yours on Amazon, making it really tough for you to stand out from the crowd.
If your products don't' appear on the top when potential customers search on Amazon search box, there are a few chances that they will buy from you.
Visibility is the key to the success on Amazon.
If they can't find you, they won't buy from you.
How can you improve your visibility on Amazon?
This is what I'm going to discuss today.
In this beginner's guide to Amazon SEO 2023, I will share some proven Amazons SEO strategies to increase search visibility and boost sales this year.
But before that, let's first talk about how Amazon search algorithm works.
Amazon's A9 Search Algorithm

When people want to find something on Amazon, they use the Amazon search box.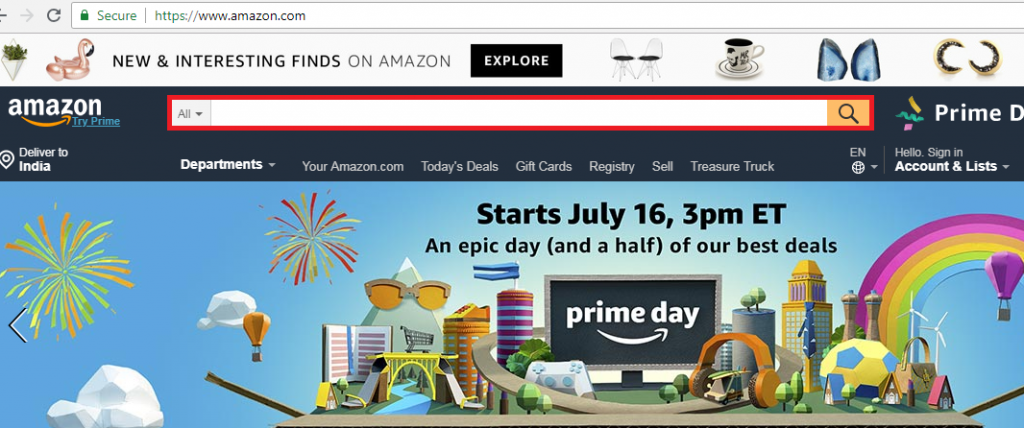 A9, which is the name of Amazon's algorithms for product search, sits behind this Amazon search box and determines Amazon search results.
How A9 works?
How exactly does it work? None can tell, except A9 guys (And I'm sure they won't).
But it is often found in tests that A9 follows a simple keyword method. So you should make sure that your listening has as many relevant terms as possible. This can influence your visibility on Amazon search and sales.
According to Amazon,
Customers must be able to find your products before they can buy your products. Search is the primary way that customers use to locate products on Amazon.Customers search by entering keywords, which are matched against the information (title, description etc.) you provide for a product. Factors such as degree of text match, price, availability, selection, and sales history help determine where your product appears in a customer's search results. By providing relevant and complete information for your product, you can increase your product's visibility and sales.
So you need to work on improving your Amazon listings' relevance and optimize them for conversions.
I will discuss these two parts separately.
Optimizing for Relevance
A good thing about optimizing for relevance is that you won't have to spend lots of time and efforts on getting relevance factors right. You can easily do it.
Let's discuss how to optimize for relevance.
★ Title of Your Product
You only have 250 characters or around 50 words to write the titles of your products, though some categories are allowed to have product titles longer than 250 characters.
How will you use this 250 character limit to write powerful titles for your products?
Here are some best practices:
Write for humans – people should be able to understand your title easily
Write benefit-rich titles
Include your priority keyword in your titles
Capitalize the first letter of each word in your titles
Spell out measurements, and write all number as numerals
You should never include prices, promotions (10% off), symbols (*#$) in the titles of your products.
Amazon has listed its fire 7 with a perfect title.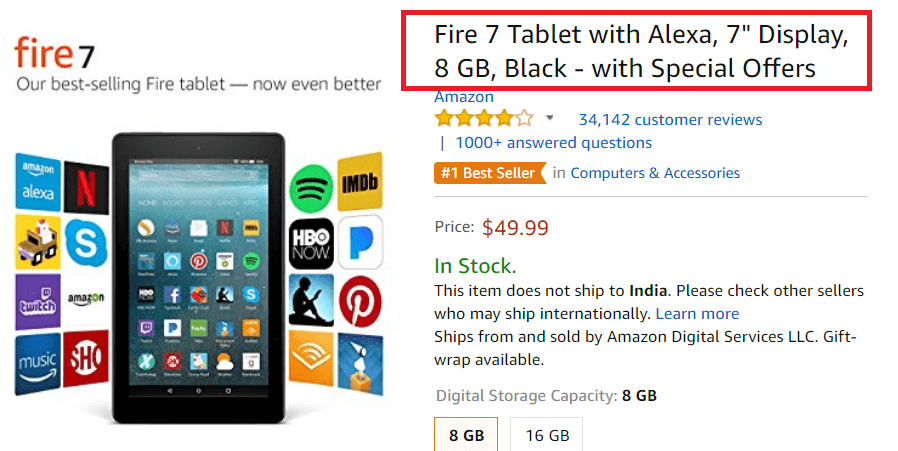 Product titles are important for Amazon SEO. You Should always try to list your products with benefit-rich titles.
★ You Amazon Backend Keywords
Because prospective buyers don't see them, it doesn't mean they are not important.
Yes, I'm talking about Amazon Search terms also popularly known as Amazon backend keywords that many sellers completely ignore.
However, if you think from Amazon SEO perspective, Amazon backend keywords are important.
Amazon backend keywords inform and confirm with A9 that your product is indeed revenant for a particular keyword.
How to find backend keywords for your products?
You can use tools like Google Keyword Planner, SEMrush, or WordStream to find backend keyword for your products.
Here are some best practices to optimize your backend keywords:
Separate your keywords into different lines
Don't repeat keywords
Follow 250-character limit
Don't use punctuation
Last but not the least – always follow Amazon guidelines.
★ Bullet Points & Product Description
Amazon allows you to list down the features of your products in bullet points. You should include five or more bullets points to explain the features of your products.
Here is how Bose has crafted bullet points for its Bluetooth speaker.
Here are some tips on how to create striking bullet points:
Place the most important feature of your product on the top as visitors often skim through the content
Write to address possible queries of your prospective buyers
Explain how the feature of your product will benefit your customers
Try to use keywords in bullet points at least one time
After you have written bullet points, next comes product descriptions. And there is no doubt that product descriptions can make or break sales.
So you should ensure that your products are listed with persuasive product descriptions.
What should your product description have?
The descriptions of your products should clearly explain what your products can do and tell what value your products add to your customers.
Here is how LifeStraw has crafted product destruction for its portable water filter.

Product descriptions are an important aspect of Amazon SEO. You should always write persuasive product descriptions for your products.
Neil Patel has written a detailed guide on product description writing.
Optimizing for Conversions
You have control over relevance factors, but not all the conversion related ranking factors are in your control.
However, it doesn't mean that you should not know them. From the Amazon SEO point of view, it is better to be aware of them.
❖ Your Product Image
A picture is worth a thousand words.
And this is true for America's largest product search engine, Amazon as well.
Products with high-quality images convert more customers than products with low-quality, unclear images, according to studies,
My friend, high-quality product images are essential to Amazon SEO in 2023.
Amazon allows you to add one or more product images. The primary image for the product you upload is called the main image.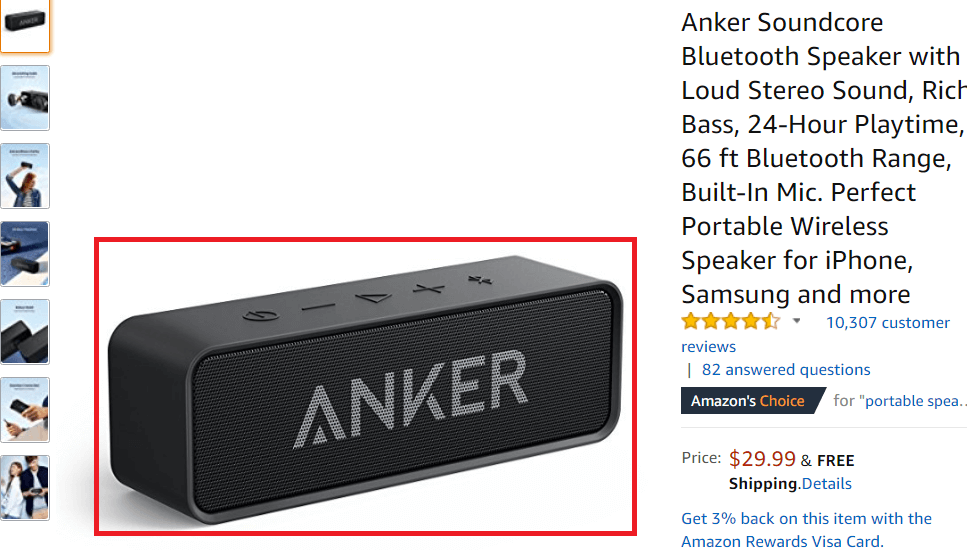 As the main image represents your product on Amazon search results, you should make sure that the image is easy-to-understand and awesomely presented.
According to Seller Central Product Image Guidelines,
Images should be 1,000 pixels or larger in either height or width. This minimum size requirement enables the zoom function on the website. Zoom has been proven to enhance sales. The smallest your file can be is 500 pixels on its longest side.
You can find more information about how to prepare product images on Amazon Seller Central Blog.
❖ Your Amazon Reviews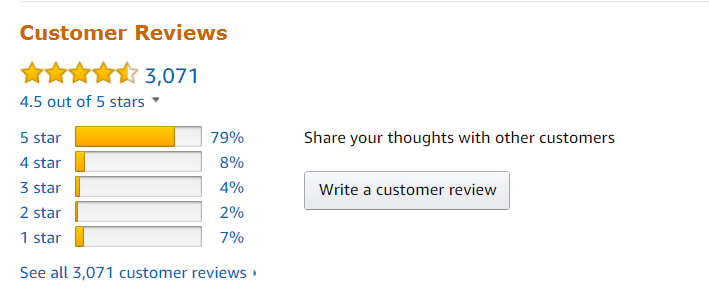 Reviews help you with Amazon SEO efforts. The more positive reviews, the better chances you have to rank high on Amazon product search.
People rely on reviews to assess the quality of products. Amazon knows it too. That's why the E-commerce giant is always working toward cracking down on false reviews.
Positive Amazon product reviews work as social proof and encourage prospects to buy products.
When it comes to getting Amazon product reviews, you cannot do much except offering top-quality products and providing amazing customer support.
If your customers are happy, satisfied, they are more likely to leave positive reviews.
Here are some ways to attract positive Amazon product reviews:
Send follow-up emails after purchase for feedback
Request for feedback via social media
Solicit highly active reviewers
Offer amazing customer experience
Remember, reviews are not something you will usually get after asking. Instead, you have to earn them.
❖ Amazon Fulfilled
Though Fulfillment by Amazon (FBA) does not have a direct impact on Amazon SEO 2023, it can improve your products' ranking.

How?
People trust products more, which are fulfilled by Amazon because these products are directly shipped to them by Amazon, and Amazon also provides customer services for these products.
Because of people's trust in Amazon, products fulfilled by Amazon get sold easily than products that are sold independently on Amazon.
And the more your products get sold, the more chances your products will have to get featured on the top on Amazon product search ranking.
Join Amazon fulfilled program and become more visible and more competitive.
❖ Amazon's Choice Badge
Selling on Amazon or any other marketplace is all about visibility. The more visibility you have, the more you will sell.
Amazon took a step to help buyers find right products.
You must have seen Amazon's Choice badge lately on some products?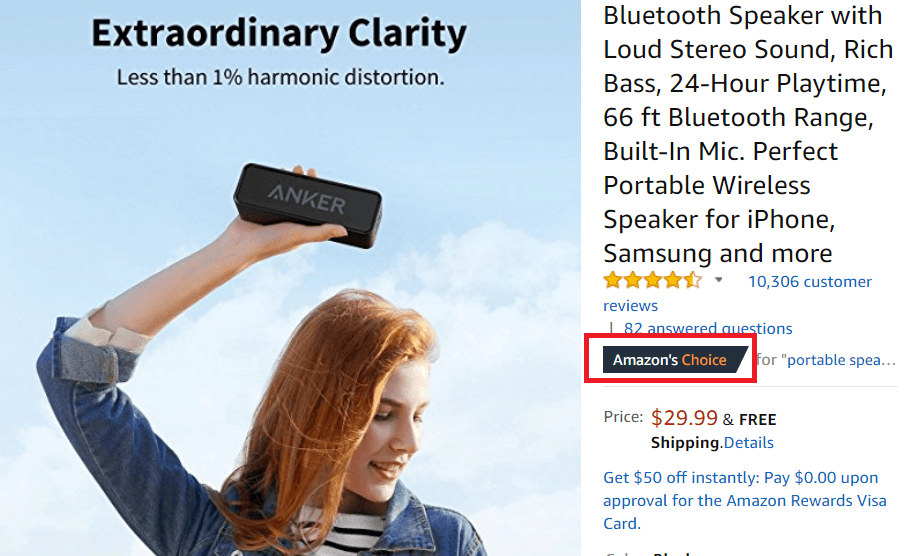 The mammoth E-commerce platform has designed Amazon Choice badges to help its visitors to narrow down their choices and streamline buying process.
Amazon has not made it public completely yet that how it selects products for Amazon Choice.
When you hover your mouse over the badge, it shows the following.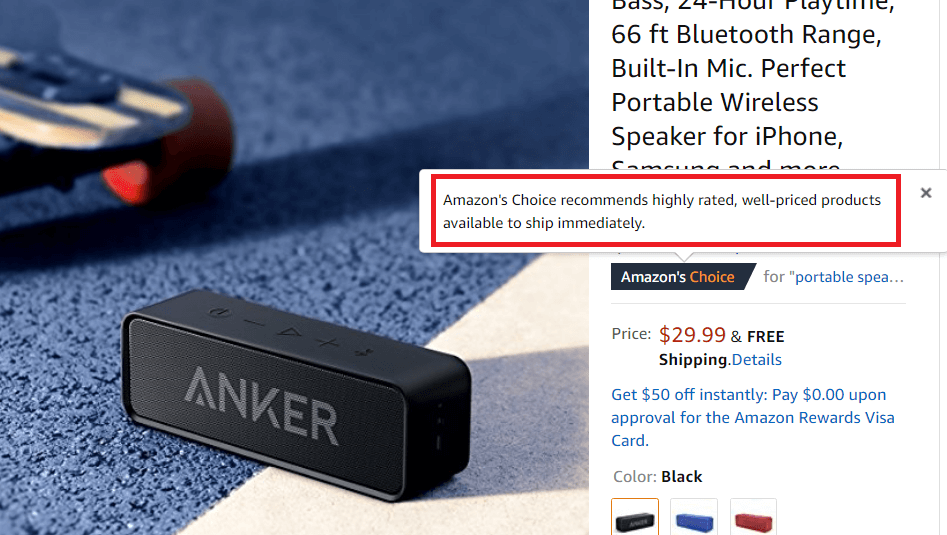 It only discloses limited information: Amazon recommends products that are highly rated, well-priced, and ready to ship immediately.
You should work on these factors and follow Amazon product listing guidelines to stand a chance of getting Amazon's Choice badge.
Amazon's Choice badge will add popularity, trust quotient to your product listing, which will result in more sales and better ranking on product search.
Conclusion
With a growing number of sellers each day on Amazon, it is not easy to stand out from the crowd on this popular E-commerce website. However, if you follow Amazon SEO techniques explained in this article, there is no reason why you wouldn't get success.
What about you? Do you want to share any Amazon SEO 2023 tip? Please, leave it in the comment section. I'd love to know about it.