The author's views in this article on eCommerce analytics are entirely her own and may not always reflect the views of Ranking By SEO.
Running your own brick-and-mortar store makes it easier for you to welcome guests, accommodate their needs, and listen to their concerns during the most crucial point of their buying journey.
However, the increasingly digital world makes it almost impossible for you to accommodate your customers in the traditional way. That is, not without a winning eCommerce analytics strategy in place.
Successful companies like Amazon, Google, and Facebook rely on data analytics as a foundation of the enterprise.
According to a recent academic research, organizations that have data and analytics in their operations show productivity rates that are five to six percent higher than their competitors.
The question is, how can growing eCommerce companies like you take advantage of all these data? How do you turn it into actionable insights?
This is what I'm going to discuss next in this article. 
Why do you need eCommerce analytics?
Having a data-driven eCommerce campaign allows you to stay connected with your customers, even when you're not physically there to address their needs.
It serves as your ears and eyes on the web, allowing you to analyze your customer's behavior through massive amounts of information you see on your dashboard.
What's more, improving your business with solutions based on your customer data—whether that's on your website or your social media platforms—helps you monitor the effectiveness of your marketing campaigns, target the right market, identify market pain points, and take advantage of untapped opportunities.
This kind of data visualization lets you create more informed decisions that are rooted in performance, therefore creating more customer impact and ultimately boosting sales.
Moreover, McKinsey revealed in a study that companies that were able to incorporate data into their marketing and sales efforts increased their marketing return on investment (MROI) by 15 to 20 percent.
Don't know where to begin? Start by learning Google Analytics
Businesses that are playing in the eCommerce field benefit the most from digital marketing tools like Google Analytics.
It gives you an end-to-end overview of how your customers are behaving on your website or any online platform where your brand is present—just the way store owners are seeing how buyers behave in a physical store.
Two actionable information can be analyzed with the help of Google Analytics:
First, you will know your customers' online shopping and checkout preferences
And next, you will know how your product lists are performing.
Here's how to get started with Google Analytics
Step 1: Create your account
Sign in to google.com/analytics by entering your email address and password. If you don't have an account, click sign up.
Set up a property in your Analytics account. This represents your website or app, which then collects all your data.
Choose how you want to view your data by creating filtered perspectives of the info gathered.
Add the tracking code to your website or mobile app to start curating data in your Analytics property.
Step 2: Connect your eCommerce Store to Google Analytics

Once you're signed in, click Admin and navigate to the view you want.
In the view column, select eCommerce settings and set it to ON.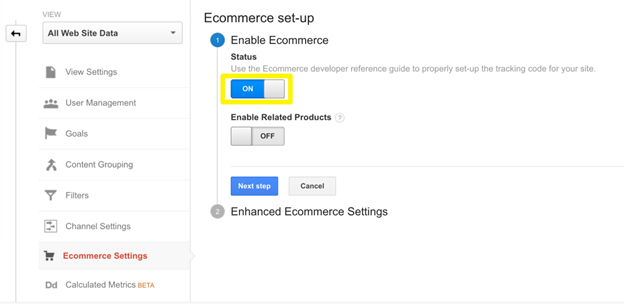 Click Next step and select submit.
From the Google Analytics homepage, click Analytics in the drop-down menu
Choose the account you want to sign in, then choose either Website or App on the next page.
Fill in the form and enter your primary domain for the website URL.
Get the F at the bottom of the page
Read the terms and conditions then click I Accept
Copy the tracking ID code snippet to your clipboard and paste it into the Google Analytics field
Remove password protection to start tracking your visitors
Step 3: Set Up eCommerce Tracking
There are two ways to setup your eCommerce tracking, depending on the platform you want to track.
Tracking code for websites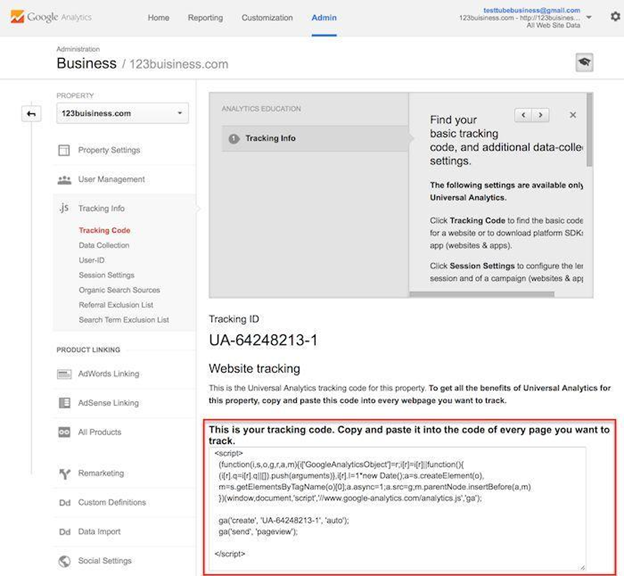 Choose or create a property in Google Analytics.
You can see your tracking ID by going to your Analytics account and clicking Admin.
Select your account from the menu, and a property in the property column
Under property, select tracking info then tracking code.
Your tracking ID is located at the top of the page. You will use this in the tracking code snippet.
Copy and paste the gtag.js tracking code snippet to each web page that you want to track.
Add the tracking code snippet once you open thetag on each page.
Verify if the tracking code is up and running
To collect data from your mobile app, use one of the Analytics SDKs, preferably Firebase.
The great thing about Firebase SDK is that it's specifically designed for its ease of use, be it for Android or iOS apps. Here's how to set it up.
Connect your app to Firebase
Add the Firebase SDK to your new or existing app. Next, link your Firebase app with Google Analytics, so it can start gathering data from both the GA interface and Firebase consoles.
Log custom data
Log custom app events such as purchases, virtual currency spends etc.
Define your audiences
Use your target audiences to segment reports.
Create engagements
Use your target audiences to send a message, promotions or new app features through Firebase features like Notifications and Remote Config, or through Google ads.
Add the Firebase SDK to your app
You can click here for Android instructions, and here for iOS instructions.
Integrating analytics to your eCommerce site or app can help you get a grasp of your customer's preferences and learn from past mistakes by attending to their immediate concerns.
Now that we drilled down the steps, what should you prioritize?
Starting your journey in the world of analytics may be a little bit overwhelming, which is why you need to straighten up your priorities.
As a new player in the eCommerce market, the first thing you have to remember is how to achieve product or market fit, which tells you whether or not you are providing real value to your existing customers.
The truth is, you can only scale once you achieve product/market fit. This includes whether or not your website has effective landing pages or if the overall design is based on the customer's preference. Doing so prevents you from businesses losses or even bankruptcy.
On top of achieving a product/ market fit, it is also imperative to understand how you can achieve the validation phase, which is where you can validate if your store is ready for scaling.
Businesses that have successfully achieved a product or market fit are able to address the immediate concerns of customers. Imagine how much you're likely to grow in terms of sales if your customers loved your product, how you presented them, and how they went through the buying journey from start to finish.
Now that you're ready to start, which metrics should you pay most attention to?
To cap off the guide, these are the metrics you need to closely track:
1- Acquisition

The acquisition shows you how your site visitors actually got to your website. Channels include referral (traffic from another website), organic search (traffic from search engines), social (traffic from social networks), paid search (traffic from Google Adwords), email traffic (anyone coming from your email campaigns), or direct traffic (those who typed your URL directly on browsers or those who bookmarked you).
By looking at Acquisitions, you can identify how you can redirect customers to your website to create leads. This statistics can also tell you if your campaign to bring in traffic to your website is effective or not.
2- Bounce Rate

Bringing customers to your websites is a good thing, but it's not enough. Make sure they stay to explore.
Bounce rates will show you how quick or how long your customers stayed on your website before they decided to leave, giving you insight as to whether your pages are effective enough to keep them engaged. The lower the bounce rate, the better.
3- Location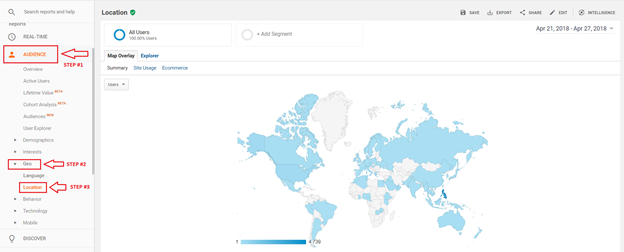 Know who's visiting your website and where they are coming from by looking at your location meter. Getting high visitor rate from one location means that more people in that area are interested in your brand, so you might want to come up with strategies that will engage those living in that particular locale.
4- eCommerce Overview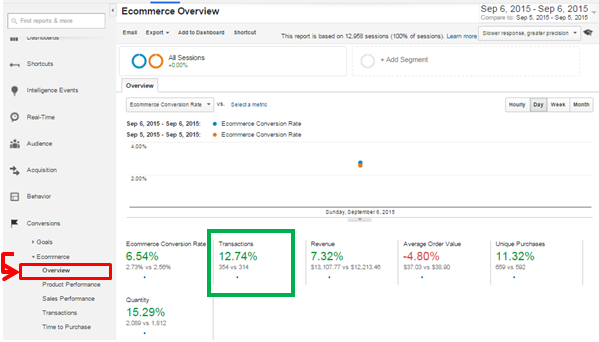 Get an overview of your sales performance by clicking on Conversions > eCommerce > Overview. This page will give you an in-depth data on visitor behavior, as well as which products sell and which don't.
5- Product Performance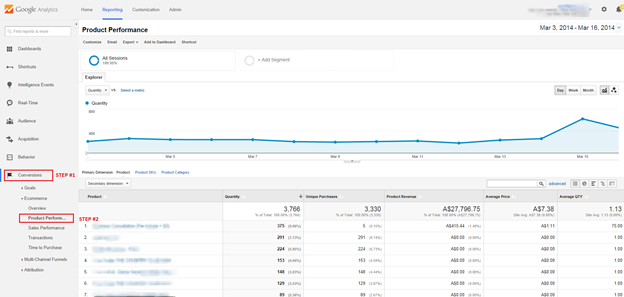 Still, under the Conversions tab, click on Product Performance. On this page, you can check out which products or services continuously win the hearts of your target market. By finding out your most popular products in terms of sales, you can then think of how to further increase your conversions (e.g. discounts, more designs of the same high-performing product, etc.)
To point you in the right direction, look at how successful companies created an innovative approach to installing Google analytics to their websites.
A data-driven culture in your business will produce quantifiable insights about your target market's behavior, allowing you to come up with ways to keep them engaged and encouraged to purchase.
Remember: numbers don't lie. With Google Analytics, you can improve your website and turn it into a profitable success.
Want to share any tip on eCommerce analytics? please leave it in the comment section.