Struggling to make a name for your law agency? Looking for ways to beat the competition? The solution is law firm SEO.
Yes, my friend, you read it right.
A company specializing in doing SEO for law firms can improve your online visibility and help you stand out from the crowd.
It is not only 82% of smartphone users who consult their smartphones on purchases they are thinking about making in-store, a big percentage of people also conduct online research about law firms they are about to visit.
Effective lawyer SEO will improve the search visibility of your law firm and can help you feature on the first page of Google when your potential clients are searching for a law firm.
In today's' article, I'm going to discuss the best law firm SEO tips to improve the search visibility of your law firm.
After reading this article, you will be familiar with practical law firm SEO tactics that deliver fast results in 2023.
Without further ado, let's dive in:
The Best Strategies for Law Firm SEO in 2023
Law firm SEO, in core techniques, is not different than regular SEO.
So almost the same rules of keyword research, On-page optimization, Technical optimization, and Off-Page optimization apply to attorney SEO.
We will discuss all the aspects of law firm optimization in details.
As this article is long, I have divided this article into different sections and added links to those sections for easy navigation.
Table of contents:
1. Keyword Research
2. Law Firm SEO: On-Page SEO
3. Law Firm SEO: Technical SEO
4. Law Firm SEO: Off-Page SEO
5. Local SEO for Law Firms
Keyword Research
I will not be exaggerating if I say there is no such thing like lawyer SEO without keywords.
Right SEO keywords for your law firm work like a guidepost for your SEO campaigns.
How will you find lucrative keywords for your law firm to base your SEO efforts on?
Well, this is what I'm going to explain next:
1- Start with Seed Keywords
Seed keywords are the base keywords for SEO of law firm. Some SEO experts also refer to these keywords as niche keywords.
As law firms practice in different areas, such as commercial litigation, real estate law, personal injury law, labor and employment law, family law, bankruptcy law, and more, finding right seed keywords depend on your law practice areas.
Search your specialty on Google Keyword Planner, you will get ideas for seed keywords for your law firm.
2- Find Out What Your Competitors Are Doing
Once you have made a list of seed keywords, you should google these keywords and make a data of websites ranking on the first page.
With the help of paid tools like SEMrush and ahrefs, you can find other keywords that these websites rank for.
3- Find Long Tail Keywords
I have written a long post on how to find profitable long tail keywords. This guide will help you discover useful long tail keywords for your law firm.
Keyword research is a vast topic and discussing it at length is beyond the scope of this post.
Ahrefs and Backlinko have created long guides on keyword research. These posts can help you learn keyword research framework to find keywords for your law firm.
Law Firm SEO: On-page
On-page SEO is huge.
Making on-page SEO mistakes can cost you low ranking on Google Search.
Here are the top law firm SEO tips on on-site optimization in 2023:
Optimize Metadata
Metadata is all the data that you provide to Google to tell what your content is about.
The elements of Metadata include Meta Title, Meta Description, Meta Keywords, and Meta Robots.
Here are some tips on optimizing Metadata for your law firm:
Front load Meta titles with keywords
Keep your titles with 60 characters
Use keywords in Meta description
Limit the length of Meta descriptions to 160 characters
Optimizing Metadata is important for law firm SEO. Never ignore it.
Optimize URL Structures
URL structures, like Meta titles and Meta descriptions, can influence the ranking of your law firm.
So you should optimize the URL structures of your law agency.
Always create short URLs for the web pages of your law firm with keywords in them.
If your website is www.xyz.com and your main keyword for that page is pqr, then you should create URL www.xyz.com/pqr for that page.
Here is the example of our post about How to do Google Maps Marketing. This post has been written for keyword 'Google Maps Marketing' and the URL is https://www.rankingbyseo.com/blog/google-maps-marketing/
Use ALT Tags Properly
If you are including images in your content, you should properly use ALT tags to tell search engines what your images are about.
ALT tags also help blind people and visually impaired people understand what images on the pages are about.
Here are some tips on writing ALT tags for images of your law firm:
Create descriptive ALT tags
Keep ALT tags short
Try to include keywords in your ALT tags
A thumb rule to write ALT tags is- People can understand images what Images are about after you say ALT tags to them.
Do Proper Linking
Interlinking your content pieces is a must if you want to improve SEO for your law firm in 2023.
Proper interlinking not only aids in the navigation of your website but also passes on page authority and link juice to other pages of your law firm's website.

Want to improve internal linking of your law firm?
Follow these tips:
Your internal linking should be natural
Make all internal links follow links
Don't create massive blocks of site-wide footer links
Anchor texts text should be explanatory, not solely keyword based
Internal linking should add value and logic to your web pages
Interlinking, if done properly, can help your law agency reduce bounce rate and increase dwell time on your site.
Optimize the Content of Your Law Firm
Content is King. However, unique, optimized content brings glory.
So, optimize the content of your law firm if you want to improve the ranking of your law firm in 2023.
If you write long wordy introductions of your web pages without inserting keywords, it is not going to make the cut.
You should always try to use a keyword in the first 50-100 words.
Also, make sure that you use LSI keywords and long tail keywords in your content.
However, you should avoid overusing keywords in your content, or else it would do more harm than good.
Here is the complete guide for optimizing content for SEO.
Law Firm SEO: Technical SEO
According to renowned Internet marketer Neil Patel,
Technical SEO just refers to any SEO work that is done aside from the content. Essentially, it's laying a strong foundation to give your content the best chance it can have to rank for relevant keywords and phrases.
That being said, you should fix all the issues related to technical SEO of your law firm.
Following are some important aspects of technical SEO for a law firm:
Use Structured Data
Google is working towards offering rich results. And Structured data help Google understand page data with more clarity and present that page more attractively on Google search.
See how our blog post on index coverage issues stands out from other search results because of structured data.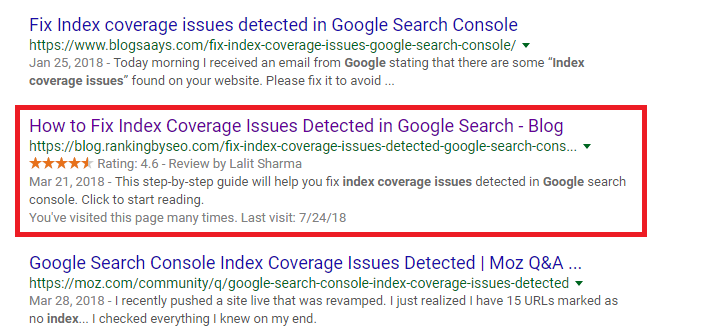 Schema.org has a large collection of pieces of code. You can search this site to find the markup you need for the particular page of your law agency.
Bridget Randolph has published a detailed Guide to Structured Data for SEO on Moz. After reading this guide, you will know everything that you should know about structured data.
Submit Sitemap to Google
Do I really have to tell the benefits of submitting sitemaps to search engines?
For effective lawyer SEO, you should not forget submitting a sitemap to search engines.
You can easily create the sitemap for your law agency.
Visit XML-Sitemaps.com and enter your URL.

After you have created the sitemap, it is very easy to submit it to Google.
Here are seven, easy steps to submit a sitemap explained by Yoast:
Use Canonical Tags
Your law agency might have content that can be found on multiple URLs or multiple websites. The canonical tag is a way to tell search engines that a specific URL represents the original copy of a page.
By using canonical tag (rel=canonical), you can solve problems caused by identical content appearing on multiple URLs, thereby improving the SEO of your law agency.
Optimize for Mobile Devices
Gone are the days when searcher would use desktops as their main medium to conduct online search.
Now. mobile searches are more than desktop searches, and Google has already adopted Mobile First indexing.
This means SEO for your law agency in 2023 will not be completed if you don't optimize your website for mobile devices.
Here are some important points to optimize your website for mobile devices:
Adopt responsive web design
Improve site speed of your law agency website
Don't use flash
Use easy-to-read typography
Never use too small touch elements
Remove intrusive interstitial
Optimize for voice search
You can read my detailed post on mobile SEO in 2023 to know more about how to optimize your law agency for mobile devices.
Create Custom 404 Page
According to Google,
A 404 page is what a user sees when they try to reach a non-existent page on your site (because they've clicked on a broken link, the page has been deleted, or they've mistyped a URL).
This is how a 404 page looks like. As 404 page can appear even when somebody types a wrong URL, you cannot completely remove it.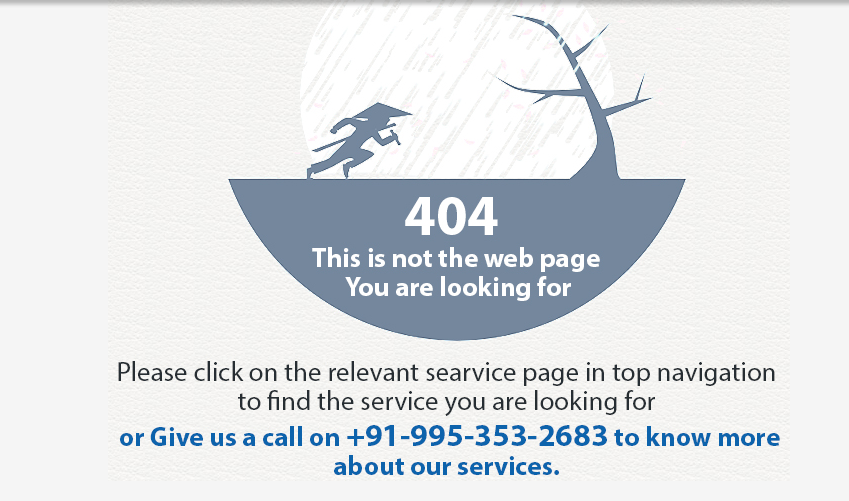 Now, you must be thinking that 404 pages will hurt the SEO of your law agency.
Can use 404 pages to enhance law firm SEO?
Yes, you can.
What you have to do is to create custom 404 pages and fill them with 10-15 important links. This will encourage visitors to click on links relevant to their search queries, increasing search traffic on your law agency.
"In many ways, a customized 404 page with internal links is like an SEO magic bullet," says Neil Patel.
Create custom 404 pages and start getting SEO benefit for your law agency.
Law Firm SEO: Off-Page
Off-page activities are all the things that are done outside your law agency website to increase its ranking. Though completed outside of your law agency website, off-page SEO activities are important to the SEO of your law firm.
I have listed top lawyer off-page SEO activities in 2023, which will improve the ranking of your law agency:
Create and Distribute content
Content and SEO go hand in hand.
You will have to create and distribute tons of content to improve off-page signals.
Common types of content that you can include are guest posts, interviews, infographics, and videos.
Writing guest columns at leading online platforms in your domain not only helps create authority but also promotes your law agency at the same time.
Here are some pro tips to choose legal websites for guest posting:
Use a tool like Ninja Outreach to find relevant sites in your niche
Pick high authority websites
Write a custom outreach mail – avoid using templates
Go for the sites that have relevant traffic
Quality content is imperative for lawyer SEO. The better your content, the better it will perform.
Be Active in Forums
Every industry has some forums where its audience asks questions.
For SEO industry, Warrior Forum, SEO Chat, Google Webmaster Central Help, and Digital Point are some popular forums.
You should search for popular legal forums where people ask questions. And start answering questions. Doing so will not only help with law firm SEO but also make you an authority in the industry.
How can you find popular law forums?
It is easy – just google for 'popular legal forums' and prepare a list.
Consistency is the key to successful forum posting. You can create your authority only when you regularly post on legal forums.
Social Media Promotion
Social media marketing is important for your law agency SEO.
Off-page SEO is all about creating a name for your law agency. And social media promotion can do it for you.
By promoting your law agency on social media, you can:
Increase brand recognition
Improve brand loyalty
Get more opportunities to find clients
Increase inbound traffic
Offer richer client experience
Make an aggressive strategy to promote your law agency on social media.
In addition to supporting your off-page SEO, social media promotion of your law agency also helps you reach more clients who are searching for legal help.
Paid Promotion
Off-page activities for your law firm cannot be completed without including paid promotion in your to-do activities.
Now you must be thinking that why you will need paid promotion when you are doing all the organic off-page SEO activities.
My friends, be it Google Search or Social Media, paid promotion offers a quick boost to your law agency, not to forget organic reach is dying on social media.
You can read this quick-start guide to paid content promotion to promote your law agency.
Local SEO for Law Firm
As people prefer to hire a lawyer from a local law firm, you should ensure that your law agency ranks higher locally if you want to outgrow your competitors.
Following the best local SEO strategies can help you dominate Google Local Search.
Here are the top local SEO strategies to improve law firm SEO:
Google Maps Marketing
Have you noticed recently that Google also shows Google Maps search results for local queries?
And the best thing about Google Maps' results is they feature above the search results.
So it is clear that your law agency will get more eyeballs if it features on Google Maps.
How can you get your law agency featured on Google Maps?
The answer is Google Maps Marketing.
Follow the best Google Maps Marketing practices to stand a chance of getting featured on Google Maps.
Build Citations on Local Legal Directories
Google determines local searches on the basis of these three factors:
Relevance
Prominence
Distance
If you want to improve the local ranking of your law firm, you should work on building relevance and prominence on Google (Of course, you cannot do much about the distance).
Building citations (mention of Name, Address, Phone number, and Website) can help your law agency create prominence on Google, thereby helping with law firm SEO.
Here is a complete guide to building local citation.
Also, you should find and fix broken citation to improve the local ranking of your law firm.
Create Locally Focused Content
Creating locally focused content is one of the most effective law firm SEO tactics in 2023 to improve the local ranking of your law firm.
How will create content for your local audience?
If you look around, you will find many opportunities to create content for your local audience.
Here are some popular ways:
Search for local blogs that target a particular city or locality
Google locally-focused legal websites and create content for them
Participate in local forums
Cohost webinars to connect with the local audience
Search for opportunities to get covered by local media
The more useful your locally-focused content is, the more people will consume your content, the better it will be for your law firm SEO in term of ranking.
Be Active in Local Law Forums
Being active in local law forums improves your visibility locally, which improve local SEO of your law firm.
If you have a local bar association or a lawyer society in your locality, you must actively participate in such groups.
Many a time, local associations publish weekly/monthly online newspapers that cover group activities. And coverage from these platforms will improve your local visibility.
Conclusion
With growing competition in the legal industry, it has become difficult to stand out from the crowd.
However, proven law firm SEO tips explained in this article will improve the search visibility of your law firm and get you more clients.
If you are not able to do these SEO activities yourself, it is better to hire an affordable SEO company to optimize your presence. 
What about you? Do you want to share any tip on law firm SEO in 2023? Please leave it in the comment section. I'd love to know about it.