With more than 2 million mobile applications in the major app stores, getting your application found is probably the greatest challenge that most mobile app developers face today.
In fact, according to Statista, between the years 2016 and 2018, 6,140 mobile apps were released every day on Google Play Store. And out of these, while around 60% see good traffic in the initial days, around 77% see a drop in downloads within the first week itself!
This calls for some strong analysis now, doesn't it?
In case you're in the mobile app development industry, it's imperative to not only fully comprehend the different strategies for advertising your app, but to also analyze how your efforts are driving results.
This brings us to App Store Optimization (ASO), also called app store SEO or app store search optimization.
In this article, you will learn how you can analyze your optimization techniques and figure why you're suffering from a decline in traffic.
Also, you will learn how you can improve your ASO skills and refrain from making the most common ASO mistakes.
But let's first understand…
What is App Store Optimization (ASO)?
ASO or app store optimization is a procedure that promotes a mobile app or game in the topmost app stores like Google Play or Apple App Store.
The objective of executing ASO is to ensure that everybody who is seeking something like your app gets the opportunity to see it in the Search.
With ASO, you increase traffic to your app and get progressively natural downloads (the sweet kind you don't have pay for, in contrast to advertisements or some other paid traffic). In this way, you get more clients out of your buck.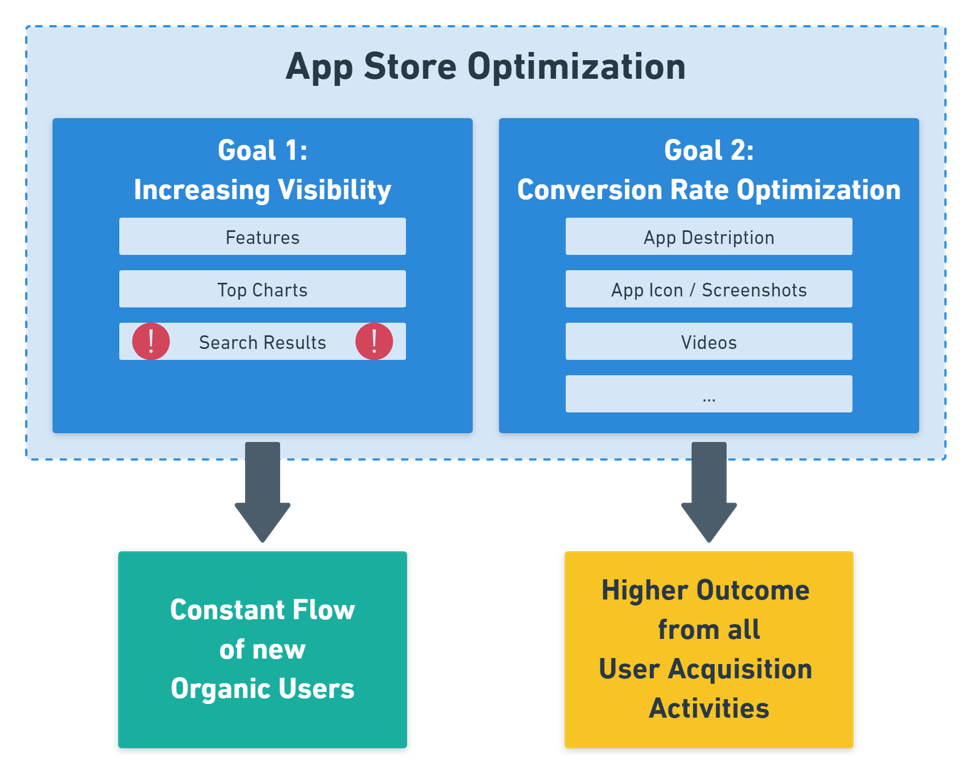 Source: Apps Flyer
Much the same as customary SEO tasks empower sites to show up on the main pages of search engines, high app store search ranking can support an app to top the results in an app store.
Why is ASO Important?
As per Forrester, 63% of applications are found through app store search.
This makes search, in the application store, the most used strategy for finding and downloading new mobile applications.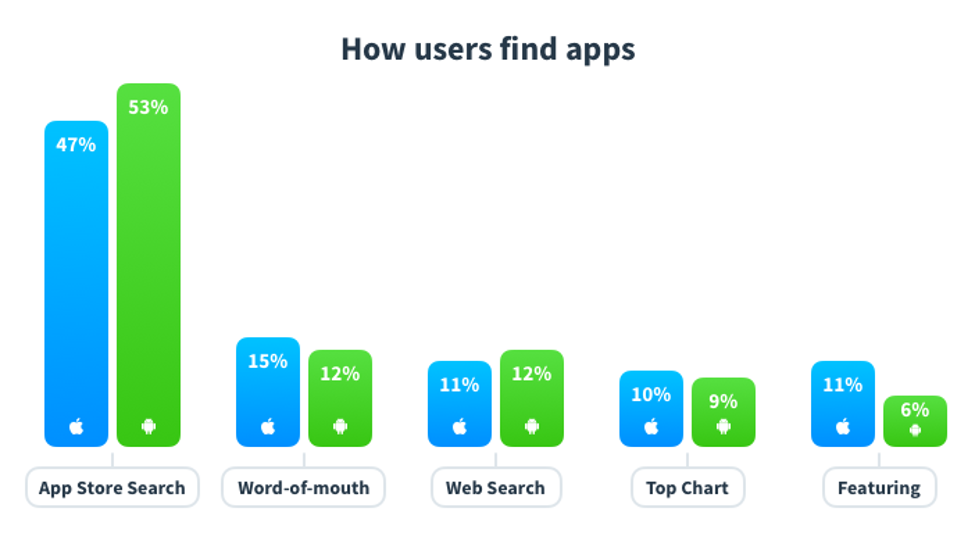 Source: App Radar
Simply put, in case you're not utilizing ASO to build your app's search positioning, you're ignoring the biggest and easiest way to make your app visible in the sea of mobile apps.
With a huge number of applications in each app store competing to rank over each other, the stunning truth is that most of the app owners are not putting enough resources into app store SEO.
So here's my blessing to you: ASO is your distinct advantage. Invest energy resources to consistently improve app store search ranking or hire an app store optimization company to do it for you, and you will see a significant improvement in your app's ranking and downloads.
How Does ASO Work?
App Store SEO is a lot of measures that work together to drive traffic. The fundamental factors incorporate:
Title enhancement – the placement of exact keywords in the title is the center to building up the visibility of your application in search queries. This will also enhance your app store keyword ranking.
Keyword compilation – finding and utilizing the trendiest keywords for your particular objective crowd can drive considerably more traffic to your application.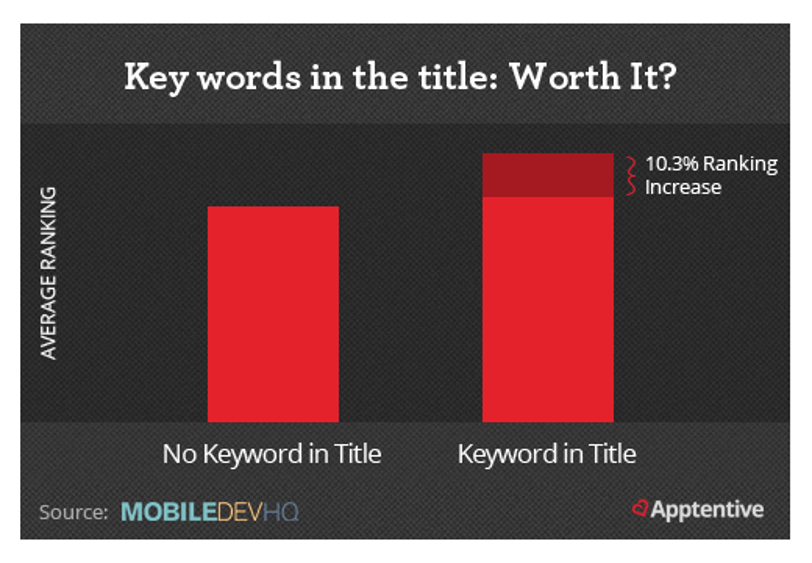 You can further upgrade the page itself and perform certain app store search engine optimization techniques to improve lead conversion.
These can be including a video, pertinent screengrabs, and an informative description. Not only does this help increase the number of downloads but also the number of reviews and visibility of the application.
However, it is imperative to remember that it's not a "set-up and forget about it" sort of work.
It requires consistent tweaking and alteration.
Fortunately, you can seek help from the top app store optimization company to find the correct keywords and monitor the store trends to come up with an excellent app store SEO strategy.
Identifying the Reason for App Traffic Decline
While you can easily find enough information on the internet on how to optimize for app stores and perform the necessary steps to see results, there is nobody talking about how to diagnose the reason for a decrease in app store traffic.
In this blog, you will learn the three major steps to identifying the key points of failure in your app store optimization strategy.
Step #1: Look for potential external causes
There are certain times during the year when there could be a drop in traffic in your app store page.
This could be caused by certain external factors like seasonality.
To gain clarity on the reason for the decline in traffic, you can:
Contact your closest competitor and ask them if they also experienced a decline in traffic. This will help you see whether your app store SEO techniques are going wrong or if it is the season that's causing the drop.
Analyze whether or not your app install rates have dropped. If not, you need to worry about nothing. This could happen as a result of Google's or Apple's efforts to improve their search algorithms.
Once this is done, you can be sure whether you need to work on your app search optimization efforts or not.
Step #2: Analyze the keywords on which there is a drop
Just like in traditional SEO, when you see a drop in your app store page visits, it is wise to look for the keywords (branded or non-branded) which are most affected.
Note: Branded keywords are the ones that have a brand name in the phrase. Non-branded keywords are those that do not have a brand name in them.
This will help you get better clarity on the loss in traffic and you can now move a step ahead in your investigation and improve app store search ranking.
When you see a drop in branded keywords, it means any or all of the following:
Your marketing efforts aren't enough to build product/brand awareness.
There are other companies bidding on your brand-related terms.
You have changed your app or brand name but haven't been able to divert traffic successfully from the previous branded traffic.
Whereas, if there is a drop in traffic in non-branded keywords, you can conclude:
Your recent app store search optimization efforts weren't up to the mark and had a negative impact on these keywords.
Your users have written negative reviews complaining about app crash and app performance.
Your competitors are doing a better job in app store optimization to provide a remarkable user experience, which your efforts are lacking.
(This is most possible when your app gets the majority of the traffic from a relatively small set of keywords.)
There has been an app store search algorithm update and your page isn't optimized accordingly.
Now, in case both non-branded and branded keywords are seeing a drop in traffic, here's what you can take from it:
You can check this data for an Android app using Google Play Console.
Using Google Play Console
Google Play Console gives an abundance of information on the way of your Android application is performing.
It provides especially helpful bits of knowledge on user engagement measurements that impact app store keyword ranking.
Google Play Console presents individual keywords that caused the most downloads for your application (non-branded keywords), however, most of the keyword visits will probably be unclassified: mid to long-tail keywords that create downloads, yet don't produce enough downloads to show up as separated keywords.
Your graph may resemble the one given below.
Source: Moz
In this image, you can see the non-branded app visits on Google Play Store.
You can use Apple Store Connect to check out data for the Apple App Store.
Using App Store Connect
Just as it is with Google Play Console, you can view important user engagement metrics on Apple Store Connect to diagnose the reason for a drop in traffic and app store keyword ranking.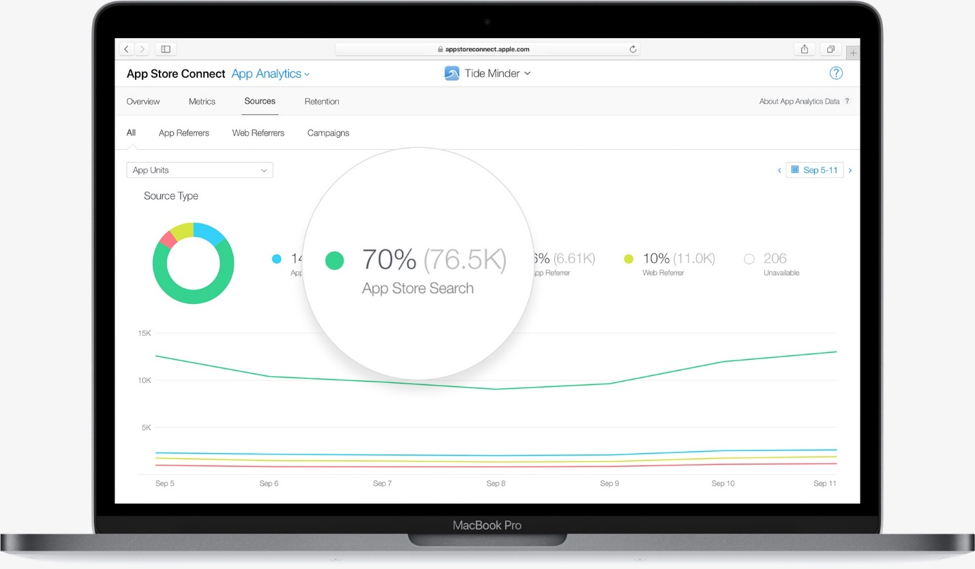 Source: Apple
However, unlike Google Play Console, this will only show you the number of impressions that your app icon has received on the App Store.
In case your app has both Android and iOS versions, it is best to use Google Play Console for keyword performance measurement.
Step #3: Understand App User Engagement Statistics
It is extremely important to see how users engage with your app.
User engagement measurements that support a decent client experience affect how your application ranks.
Google expresses that user engagement metrics such as application crashes, ANR rates (application not responding), and poor reviews can restrict app visibility on Google Play.
In the image below, you can see how user engagement directly impacts revenue generation.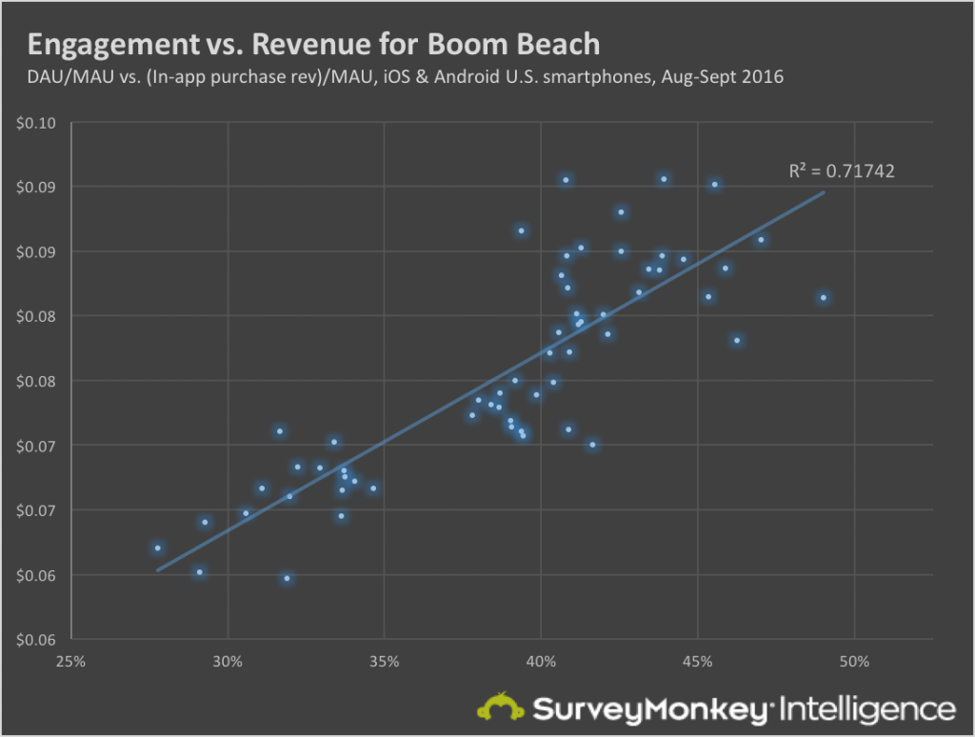 While Apple doesn't exactly think as far-fetched as Google with regards to giving data on engagement metrics, they do express that application ratings and reviews can significantly impact app store visibility.
At last, Apple needs to guarantee iOS applications give a decent client experience, so it's presumable they utilize a scope of extra user engagement measurements to rank an app in the App Store.
While diagnosing points of failure, you should investigate how the following engagement metrics may have changed around the timespan you saw a drop in traffic to your application.
App rating
Number of ratings (more up to date/new appraisals will be weighted more for Google)
Number of downloads
Installs versus uninstalls
App crashing reports and app not responding
You'll have the option to get information for the above measurements in Google Play Console and App Store Connect.
Work on improving these metrics to achieve better app store optimization.
One basic strategy could be to guarantee you answer negative reviews with questions to learn what the user didn't like about your app.
Truth be told, users usually increase their rating by +0.7 stars when they get a response from the app owner.
How to Gain Traffic Back?
Now that you've analyzed where you were going wrong in terms of app store SEO, it's time that you also learned how to gain the lost traffic back.
Step #1: See what your competitors are doing
In order to improve app store search ranking, it is primary to compare the top competitors whose apps are gaining more traffic on non-branded keywords.
Look for the keywords you want your app to rank on in Google Play and analyze the ranking factors for our competitors' app listings.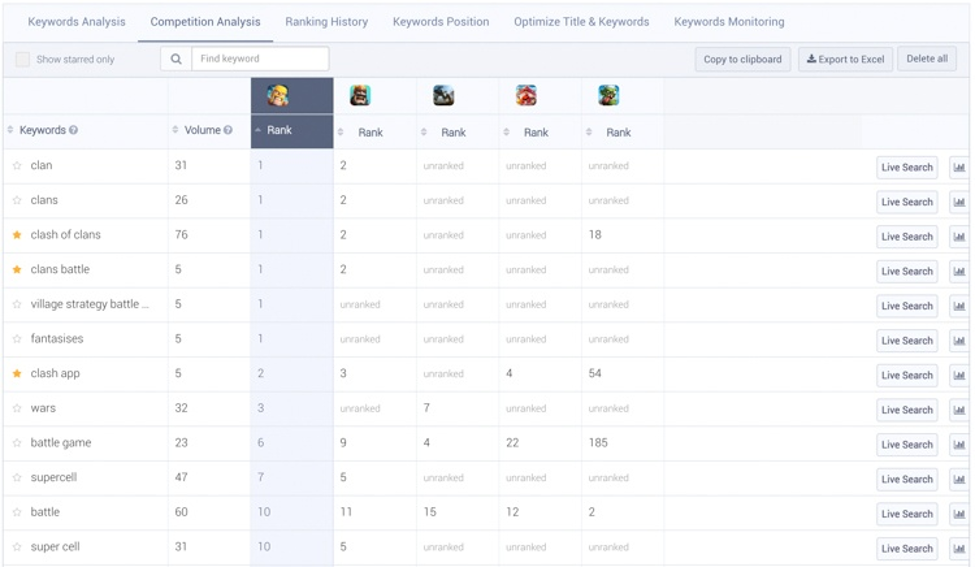 Clearly, you can see which keywords the top apps are ranking on. Also, if you snoop enough, you will be able to get data on the length of title and description, the number of reviews and ratings, and whatnot!
Now see how you can incorporate and make changes to your app store optimization techniques to gain such traffic.
Step #2: Run a keyword analysis
To get your app discovered in a pile of mobile apps, you must add keywords to text fields.
Analyze how your keywords app store SEO differs from that of your competitors and see what changes you can make to your existing strategy to gain an edge over them.
You should add keywords to the following text fields in Google Play:
Keywords in the app title (50 characters)
Keywords in the app description (4,000 chars)
Keywords in short description (80 chars)
Keywords in URL
Keywords in your app name
In the App Store, you must add keywords in:
App title (30 chars)
The 100 character keywords field
Your app name
Step #3: Optimize your store listing
Your store posting in the home of your application on Google Play is the place clients can find out about your application, read reviews, and then gain insight about your app.
Furthermore, shockingly, not all applications exploit building up a vivid store listing experience.
While Google doesn't appear to legitimately express that completely using most of store listing highlights straightforwardly impacts your app store keyword ranking, it's reasonable to theorize that there might be some ranking thought behind this.
Here are some of the app store listing elements.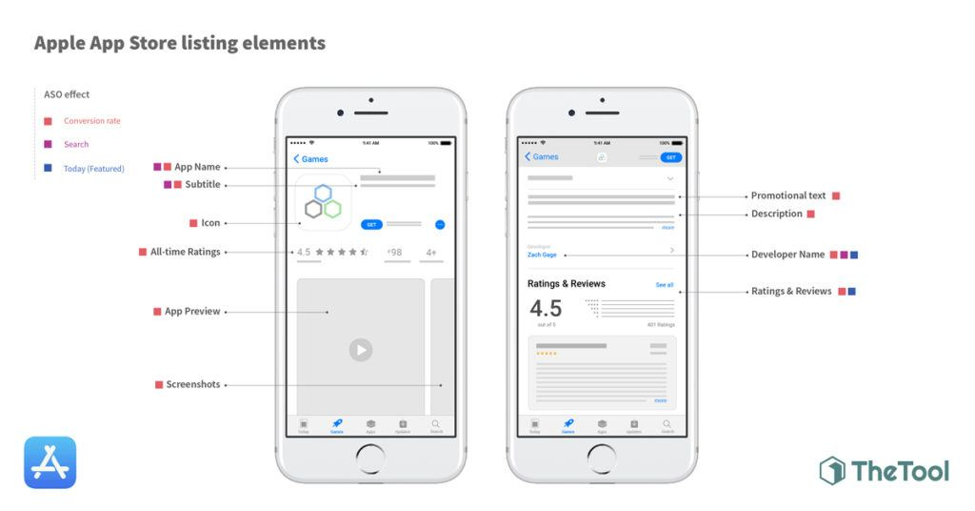 Putting resources into your store listing could improve app performance and you can even run successful A/B tests to quantify the effect of your changes.
You can improve the general client experience and substance found in the store listing by including video trailers of your application, quality resources, your app's icon, and much more!
Step #4: Put resources into localization
The colloquialism goes "think global, act local" and this is unquestionably valid for mobile apps as well.
Past researches have uncovered that 72.4% of worldwide buyers wanted to utilize their local language when shopping on the web and that 56.2% of customers said that the capacity to acquire data in their very own language is a higher priority than cost.
It bodes well. The better you can customize your item for your crowd, the better your outcomes will be, so go the additional mile and localize your Google Play and App Store listings.
Where Are You Going Wrong with App Store SEO?
No matter how strong your app store search engine optimization efforts are, you will need to wait sometime to see results.
"Good things come to those who wait."
This phrase perfectly describes how ASO works.
You can't be changing your strategies in only a few weeks to drive results. Have patience.
Also, you are no expert. You can never think farther ahead than these top app stores! So, understand that some of your efforts can go wrong. And you might not even know it!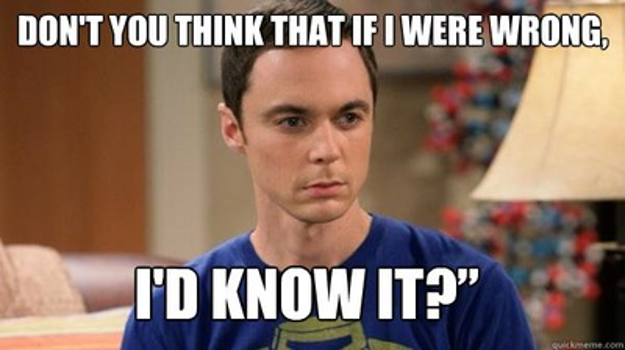 While this is just one of the many major mistakes that business owners make will doing app store SEO, there are a couple of others that should be immediately controlled.
Blindly trusting shortcuts and hacks
If someone claims that they know how Google and Apple rank and index mobile apps, they're lying to you.
Nobody knows the intricate details of their algorithm and how conversion rates, user retention, and other specific metrics affect or improve app store search ranking.
In fact, most mobile marketers or self-proclaimed ASO experts follow app listing strategies that can result in penalization of your app.
These could include keyword-stuffed titles, purchased third-party ratings and reviews, and other shortcuts to try and rank your app.
Understand that these could negatively affect your app's performance and refrain from practicing such "hacks".
ASO gives a focused, faultless, and long term app store keyword ranking by associating an application with its intended audience.
It is a continuous exertion that produces desired ROI over other app advertising methods. No hacks required.
Stuffing keywords in the title
One of the worst "hacks" is keyword-stuffing the title.
Instead of driving positive results, it harms an app's performance on an app store.
Take a look at the example of such a title below:
"Super Explosion – free, fun game like Candy Crush, better than Clash of Clans and it won't make you an Angry Bird or a Flappy Bird, date, music, girlfriend, with Facebook and Twitter"
Would you want to even learn more about the app?
Looks like spam, doesn't it?
Apple clearly states in its policy:

In such cases, despite the customer going to the app page, the conversion is highly unlikely.
In conclusion, keyword-stuffed titles for apps are a huge no-no as an effort to improve app store search ranking.
You can read a detailed article on the most harmful app store SEO mistakes on our blog.
How to Improve Your ASO?
There are several ways you can improve your app store SEO.
One of the things can be inserting your main keyword in the title to enhance app store keyword ranking by up to 10.3%.
Also, you must keep a constant track of your keywords and how your competitors are performing.
Here are a few other tips to improve your ASO:
Focus on the top charts and try to get your app features there. While, yes, 60% of apps get installs due to search results, there are many that get a good ranking due to being featured in the top categories.
This can be achieved by specifying your app category and working towards luring the relevant audience towards it.
Install volumes (regardless of being organic or inorganic) are one of the main factors that help getting featured in top charts.
Source: Localize Direct
Go off-store. Work on building a good image and presence on social media websites, where people spend 135 minutes every day on average.
Invest in video marketing, social media marketing, and content marketing services to gain visibility off-store.
The last tip is to invest all your time and effort into engaging users. All app stores rank those apps that have a high user engagement rate. You wouldn't want to ignore this tip to get high-quality users.
Conclusion
To receive the benefits of ASO, you have to spend a lot of time and effort.
In the event that you do, you'll have a reliable channel directing people to your app.
Being found is one of the most troublesome difficulties for mobile applications, yet it isn't a big deal if you can effectively understand the rules of app store optimization.
A drop in visits or traffic definitely brings panic, but that doesn't mean that the door to opportunities is closed.
I hope that this blog gave you a decent beginning stage to understand why an app's traffic dropped and gave you some fool-proof strategies to win it back.
If you're interested in knowing more about ASO and the intricate details of it works, reach out to our app store optimization experts and we'll help you with your queries.
Additional Resources: